En fait, j'ai eu un énorme doute après avoir écrit ça. Du coup j'ai vérifié et on l'a bien eu dans le mag grand format. J'avais complètement oublié…^^
Je regarderai ce week-end. Merci
Merci. Pour l'info l'auteur en question (que je présente sous le pseudo de Hutch) est connu ici sous le nom de Dennis Colt
edit : vache pile poil 10 ans

Une oeuvre méconnue d'un p'tit jeune prometteur, un certain John Byrne…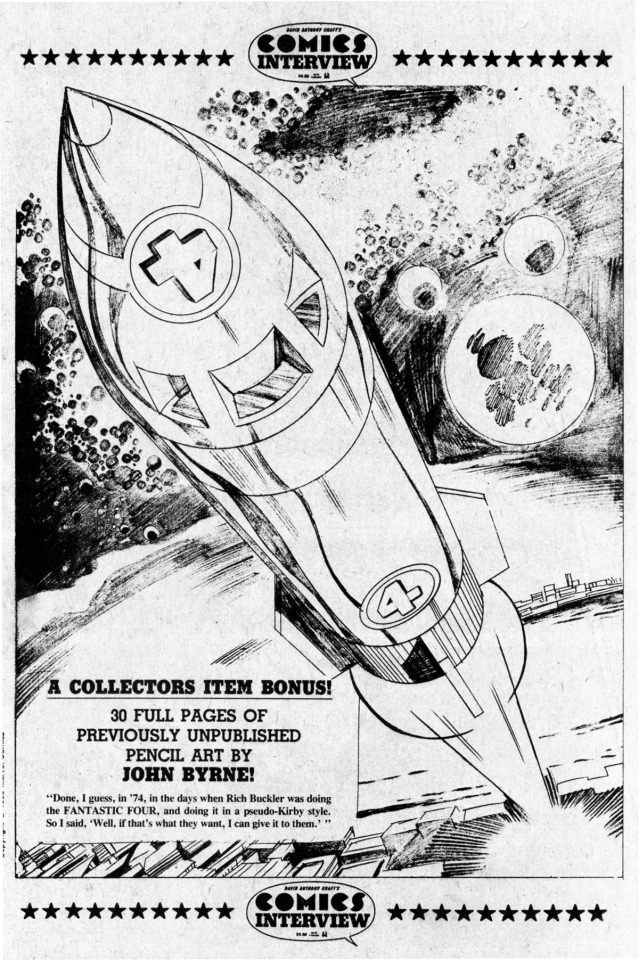 Fantastic Four fan fiction in the style of Jack Kirby by John Byrne, pages 1-10. 1974. Printed in Comics Interview #25. 1985.
"The female Torch is Crystal, but from Counter Earth (which you may recall the High Evolutionary creating in the first WARLOCK).

Basic premise: Altho the H.E. prevented super powers happening on Counter Earth, he did not interfere with the basic genetics, so the strain that produced Medusa and Crystal as Inhumans produced them as mere mortals. The appearance of the H.E. in my story is a flashback to his creation of Counter Earth, and a quick recap of how he shaped events there (with the AniMen interfering and wrecking the « perfect world » he meant to create.) There is also a duplicate Johnny Storm, who meets and falls in love with Crystal there.

Which takes us to the last page. Reed has determined that the female Torch is too volatile to be allowed to remain on Earth, so he decides to duplicate what happened on C.E. when her father (the guy with the beard) launched her into space in suspended animation. Reed swears he will do what he can to find a cure, but offers little real hope. A dejected Johnny (our Johnny) wanders off as Ben observes Johnny is 'the only guy ever to have lost the same girl twice – on two different worlds!"
Les 30 pages (!) de crayonnés sont visibles par là notamment (publiées à la base dans le Comics Interview #25 de 1985) :
Ed Piskor et Jim Rugg y ont consacré une de leur vidéos sur leur chaîne « Cartoonist Kayfabe » :
Byrne à ce sujet (entre autres) quelques décennies plus tard (à un moment où il n'est plus en bon termes avec Marv Wolfman) :
Q: Prior to the time that you received your first freelance assignment from Marvel, did there come a time when you wanted to work on Marvel's Fantastic Four series?
A: There was a period in the mid1970s, up through 1974; Marvel was producing a series under the heading of Giant-Size , so it was - fill in the title - Giant-Size Fantastic Four , Giant-Size Hulk . Those were quarterlies. They were not the actual monthly series. I prepared on spec, I think it was a 38page Fantastic Four story to show to Marvel in the hopes that I would see that published as one of the Giant-Size .
A: I attended a convention in the summer of 1974. I had just been given a six page assignment for a short horror story from Marvel. On the basis of that, I was able to get into a pros only cocktail party that Marvel threw. And I took that story with me to that party and showed it to anybody who would care to look at it.

Q: What ultimately happened with regard to that Giant-Size spec piece you did?

A: They didn't use it.

Q: Do you have an understanding of who was responsible for the decision not to use it?
Q: After having created that Giant-Size spec piece, what did you do with it?
A: Well, the story I have been told from several different sources is that earlier in that same day I had been introduced to Rick Buckler, who was the artist on the Fantastic Four . And in my usual endearing way, I had introduced myself to him by saying, « Hi, I am John Byrne, I want your job. » The fact that I was walking around with a fully finished issue of the Fantastic Four under my arm probably gave him some indication that I was serious. And I am told he went to either Roy Thomas or John Romita and said, « If this guy gets work, I quit. » So the decision was obviously based upon the guy they had versus the untried guy who was trying to get work.
Q: At your deposition, you testified -

MR. DILIBERTO: Objection. Move to strike as hearsay, Your Honor. He was recounting a statement that someone allegedly told him at a cocktail party.

MR. FLEISCHER: Your Honor, it wasn't really being offered for the truth of what was asserted there, but with respect to the witness' state of mind at the time.

THE COURT: I will allow it.

MR. FLEISCHER: Do you recall testifying at your deposition that at the time of this convention yeti were uncertain as to whether Mr. Wolfman was the editor in chief or not?

A: I was probably not uncertain at the time of the convention. But I was uncertain at the time of the deposition.

Q: Has your recollection been refreshed to any extent as to whether or not Mr. Wolfman was the editor at the time of the convention?

A: Yes. I was actually sort of blindsided by that question at the deposition, because it had in my opinion nothing to do with this case. So I rather foolishly allowed Mr. Wolfman's counsel to present facts, quote unquote, which I did not question, suggesting that Mr. Wolfman was the editor in chief and if he was indeed the editor in chief it would have been his job to reject the story. Now, looking back, I realize of course that since it took place in 1974, Mr. Wolfman could not have been the editor in chief and in fact it would have been Roy Thomas.

Q: Did you ever believe that Mr. Wolfman was responsible for the rejection of that spec piece?

A: No.

Q: Did you ever harbor any resentment toward Mr. Wolfman as a result of not having that spec piece purchased by Marvel?

A: No. Even when I thought he had rejected it.

Q: At that convention, were you successful in getting any other work?

A: Yes. I received work from Charlton Comics, regular work, which led to two series at Charlton Comics. And that generated sufficient interest that by early 1975 I was working fulltime at Marvel.

Q: When did you receive your first freelance assignment from Marvel, apart from the brief one?

A: Apart from the eight pager. The actual assignment was probably late1974, because I know I started work on it in January of 1975. It was to be the regular penciler on a series called Iron Fist .
La version colorisée par des fans il y a une quinzaine d'années :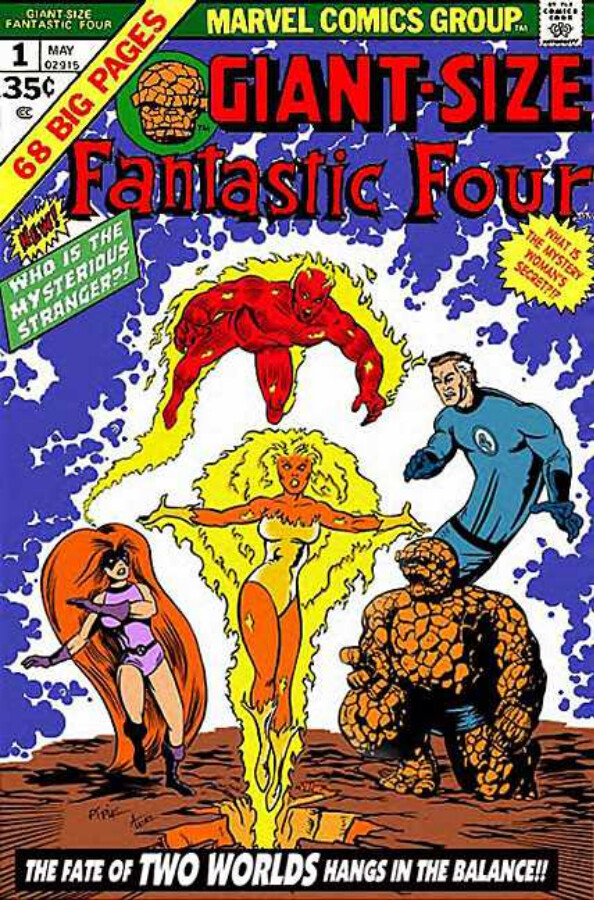 Un design prévu au départ pour une autre rouquine (la Crystal de la Contre-Terre), utilisé par la suite lors de l'activation des pouvoirs de Frankie Raye, avant sa transformation en héraut de Galactus (marquant le début d'un autre changement d'apparence).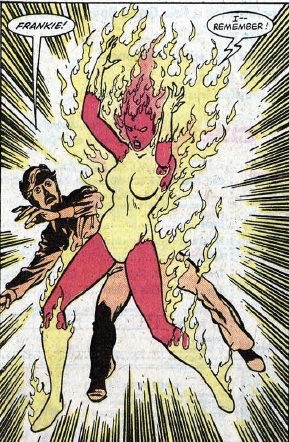 En octobre 1992, Semic a fêté le 30ème anniversaire des F.F. avec quelques mois de retard dans le #274 de Strange Special Origines. Le plat de résistance était le Giant-Size Fantastic Four #6 de Lee et Kirby (j'y reviendrais quand j'aurais relu l'Intégrale 1968) et le reste du sommaire reprenait les bonus de Fantastic Four #358, l'épisode des 30 ans sorti en novembre 1991.
Revenons un peu sur ce numéro pendant quelques posts. Tout d'abord la couverture du F.F. 358, revisitée par Ciro Tota pour celle du Strange Origines :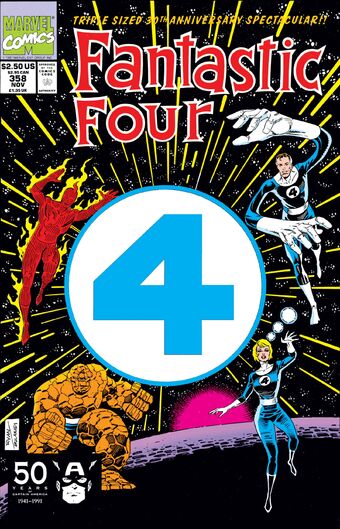 Les deux mini-posters de Mike Mignola :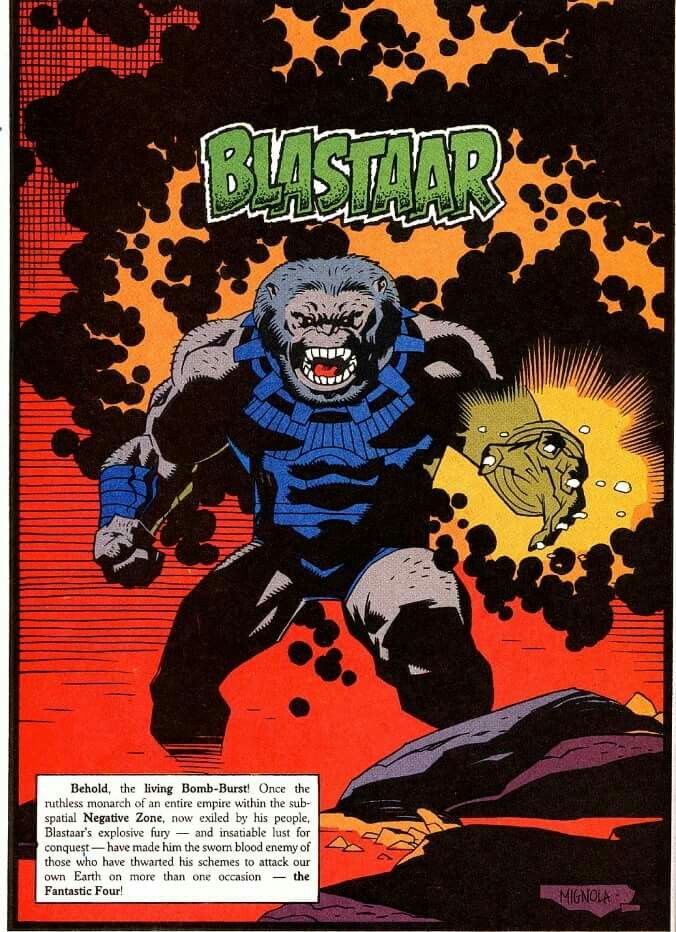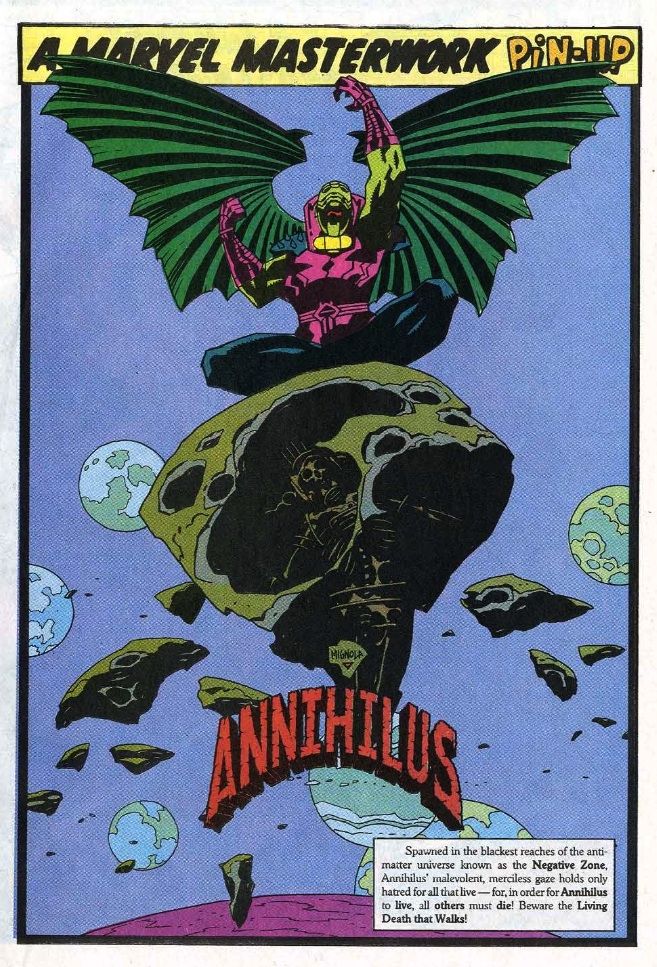 Les F.F. contre l'Homme-Molécule par un p'tit nouveau du nom de Ron Garney :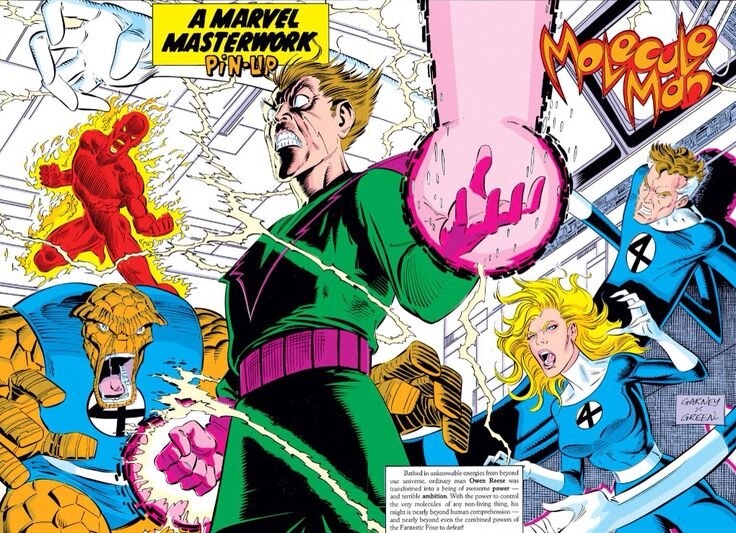 Fatalis par Ron Frenz et Joe Sinnott :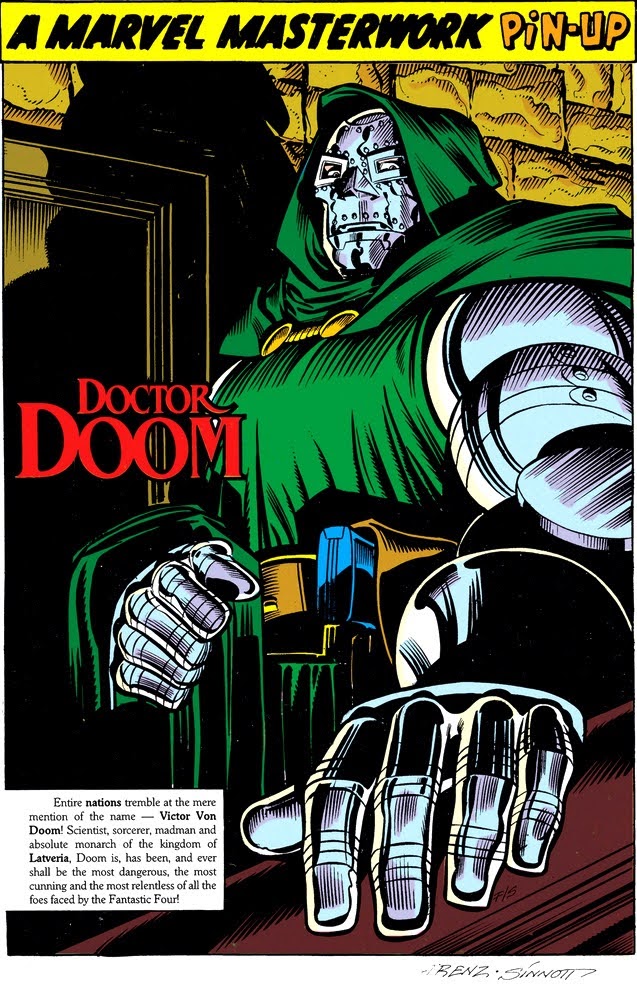 C'est Kirbique à souhait.
Celle de Tota est bien meilleure à mes yeux.
Celle-ci ainsi que les 2 du dessus était dans un Sp Origines il me semble.
Et ça reste magn'indique.
Tu m'as encore lu en diagonale, toi…^^