Dans les années 80/90, Marvel avait l'habitude d'utiliser les annuals publiés pendant l'été pour raconter une longue saga événement, ce qui a donné des titres comme Evolutionary War et Atlantis Attacks.
En cette année du 80ème anniversaire, la Maison des Idées renoue avec cette tradition. Dans la lignée de Acts of Vengeance (crossover publié entre décembre 1989 et février 1990), les héros Marvel vont devoir faire face à des adversaires qu'ils n'avaient jamais combattus jusque-là dans Acts of Evil.
Les trois premiers annuals ont été révélés : le Punisher contre la Reine Brood ! Venom contre Lady Hellbender ! Miss Marvel contre le Super Skrull !
Et ce n'est que pour juillet. D'autres annuals suivront en août et septembre.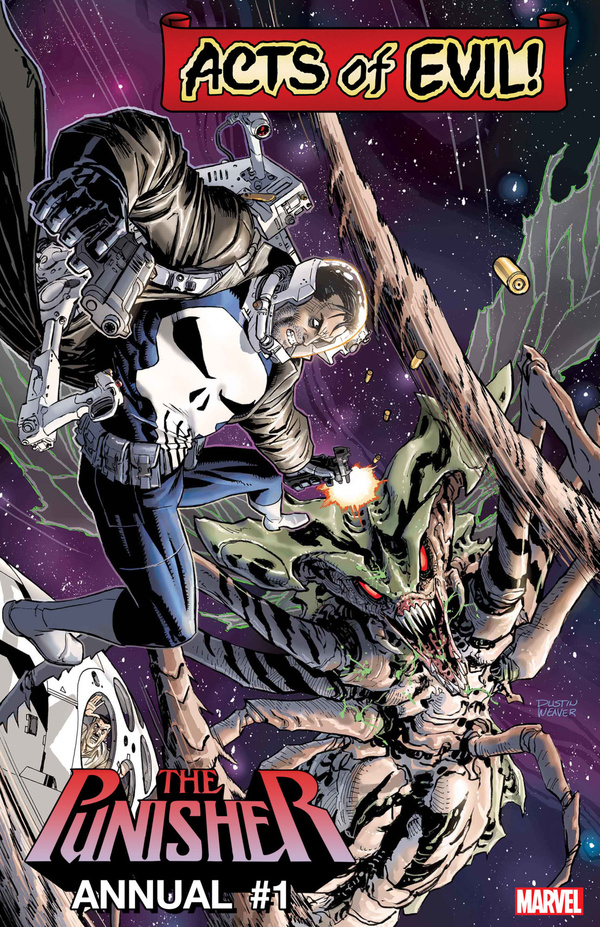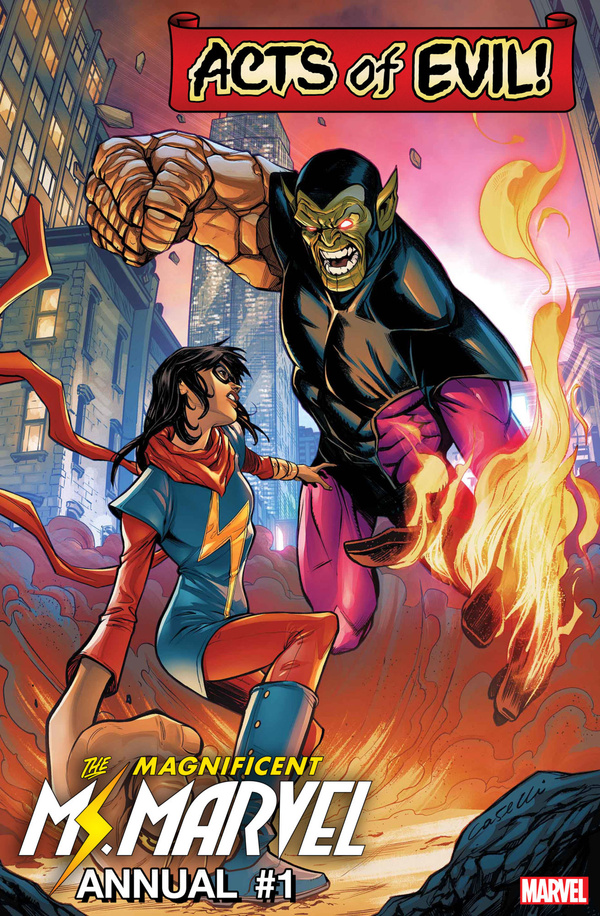 New York, NY—April 16, 2019—Marvel's most iconic heroes meet their match against some of Marvel's most vicious villains in a fight that can only be known as ACTS OF EVIL! From Ms. Marvel to Venom, epic encounters will ensue as Marvel's greatest heroes battle against enemies they have never faced before – leading to an outcome that no one will expect!

"You know what everyone says is worse than the devil? The devil you don't know!" teases editor Kathleen Wisneski. "For ACTS OF EVIL, Marvel is pitting our heroes against villains they'll never see coming, and we've lined up creative teams with fresh takes on these characters to make sure our fans are just as blindsided. So readers should steel themselves! And make sure they don't miss the launch of the next legendary rivalry, or hints at a supervillain's next masterstroke…"

Check out the first three books debuting in July, along with the first three covers!

MS. MARVEL ANNUAL #1: MS. MARVEL VS. SUPER SKRULL
Written by MAGDALENE VISAGGIO
Art by JON LAM
Cover by STEFANO CASELLI

PUNISHER ANNUAL #1: PUNISHER VS. BROOD QUEEN
Written by KARLA PACHECO
Art by ADAM GORHAM
Cover by DUSTIN WEAVER

VENOM ANNUAL #1: VENOM VS. LADY HELLBENDER
Written by RYAN CADY
Art by SIMONE DI MEO
Cover by WOO DAE SHIM

Look for more ACTS OF EVIL titles to come in August and September!
Source : www.bleedingcool.com