DC annonce une nouvelle série de rencontres entre ses héros et les personnages des dessins animés Hanna-Barbera dans quatre numéros spéciaux qui seront publiés le 30 mai.
Aquaman/Jabberjaw (Mantalo en V.F.) est écrit par Dan Abnett et dessiné par Paul Pelletier. L'histoire de complément, par Jeff Parker et Scott Kolins, racontera la première rencontre entre le Spectre, le sorcier Shazam et le Capitaine Caverne !
AQUAMAN/JABBERJAW SPECIAL #1

In a story written by Aquaman writer Dan Abnett with art and by Paul Pelletier and Andrew Hennessey, the town of Amnesty Island is besieged by a series of shark attacks, and the authorities call Aquaman for help! What's unusual about this case is that the shark isn't trying to kill people—he just wants to talk to them. All Jabberjaw wants is to get back to Aqualand, the future undersea utopia where he came from. But that peaceful city where man and sentient sea life have been living in harmony has been turned into a dystopian nightmare created by a new Ocean Master! Now the King of Atlantis and his friendly shark ally must team up to set things right.

This one-shot also includes a bonus short story by Jeff Parker and Scott Kolins that tells the tale of the first-ever meeting between Captain Caveman, The Spectre and the wizard Shazam.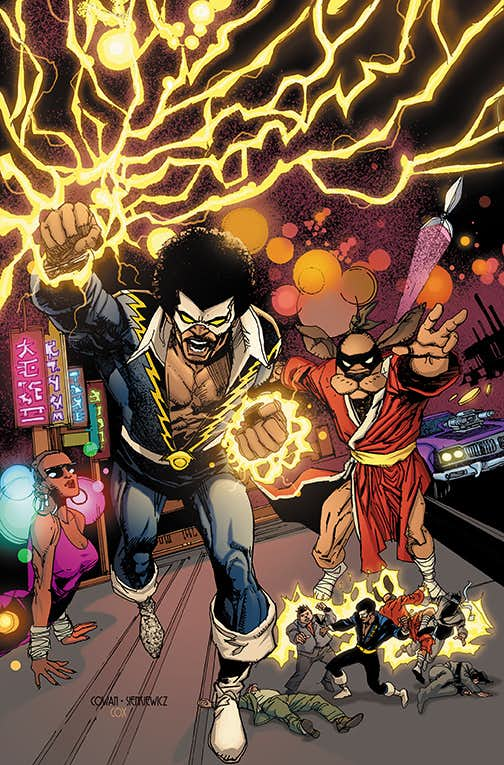 Ambiance seventies pour Black Lightning/Hong Kong Phooey (Hong Kong Fou Fou en V.F.) par Bryan Hill, Denys Cowan et Bill Sienkiewicz. Jeff Parker et Scott Kolins s'occupent également de l'histoire de complément, avec un Jason Blood pré-DEMON et le Funky Phantom.
BLACK LIGHTNING/HONG KONG PHOOEY SPECIAL #1

Back from Vietnam, kung-fu master Hong Kong Phooey has set up his own detective agency in the inner city. Meanwhile, Jefferson Pierce (a.k.a. Black Lightning) has uncovered a plot by three assassins to collect the components of a sacred text revealing the darkest secrets of martial arts magic, and they'll kill anyone who owns them—including the dog who holds the last chapter of the book, Hong Kong Phooey. MICHAEL CRAY Bryan Hill, Denys Cowan and Bill Sienkiewicz team up to deliver a story with all the power of a roundhouse kick to the chops!

Plus, Jeff Parker and Scott Kolins team up once again in a bonus story featuring a pre-DEMON Jason Blood and Hanna-Barbera's own "Spirit of '76," The Funky Phantom.
C'est le choc des bolides dans The Flash/Speed Buggy, un one-shot piloté par Scott Lobdell et Brett Booth.
THE FLASH/SPEED BUGGY SPECIAL #1

RED HOOD AND THE OUTLAWS scribe Scott Lobdell, along with Brett Booth and Norm Rapmund, is gearing up to deliver a rubber-burning story that pushes all the way into the redline! When Wally West tries to take down the villain Kilg%re, he's surprised to find he has an unknown ally who can move just as fast as he can. Dr. Pernell, a brilliant S.T.A.R. Labs scientist, has found a way to power his dune buggy using the Speed Force. When the Flash agrees to help test the limits of the vehicle in a race, something unexpected sends them spiraling out of the Speed Force and into the unknown. They land in a post-apocalyptic future, but Dr. Pernell is missing, leaving a now-sentient Speed Buggy to help the Fastest Man Alive repair the time stream and stop the triple threat of Savitar, Speed Demon Buggy and… Reverse Speed Buggy?
Et dans le dernier numéro spécial, Pete Tomasi et Fernando Pasarin orchestrent la rencontre entre les Super-Sons et le duo Blue Falcon/Dynomutt.
SUPER SONS/DYNOMUTT SPECIAL #1

It's no fun for Jon Kent to be visiting Big City with his parents for the funeral of an old friend, so his best pal Damian Wayne decides to follow along and give him the inside scoop on the city. But when they go to meet Robin's local friend, Dynomutt, they find him injured and in need of help. And Dynomutt's human superhero companion, Blue Falcon, has seemingly turned evil. What's the reason for this betrayal between once-loyal companions, and what role might the evil Red Vulture play in this scenario? Fan-favorite SUPER SONS writer Peter J. Tomasi teams up with Fernando Pasarin and Oclair Albert to tell this story featuring the first encounter of the Dog Wonder with the sons of the Man of Steel and the Dark Knight.
Source : www.cbr.com