Actuellement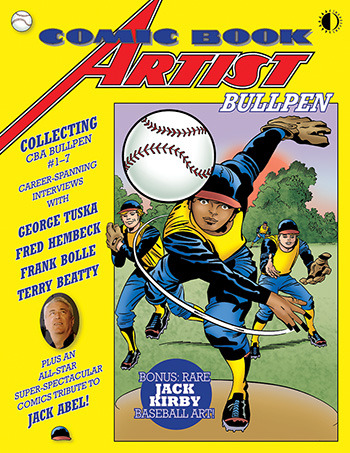 by Jon B. COOKE - 176 page Trade Paperback with COLOR
The CBA Magic returns, in COMIC BOOK ARTIST BULLPEN! It collects every issue of the little-seen labor of love fanzine published in the early 2000s by JON B. COOKE (editor of today's Comic Book Creator magazine), just after the original Comic Book Artist ended its TwoMorrows run. Featured are in-depth interviews with some of comics' major league players, including GEORGE TUSKA, FRED HEMBECK, TERRY BEATTY, and FRANK BOLLE—and an amazing all-star tribute to Silver Age great JACK ABEL by the Marvel Comics Bullpen and others. That previously unpublished all-comics Abel appreciation (assembled by RICK PARKER) includes strips by JOE KUBERT, WALTER SIMONSON, KYLE BAKER, MARIE SEVERIN, GRAY MORROW, ALAN WEISS, SERGIO ARAGONÉS, MORT TODD, DICK AYERS, and many more! Includes the never-released issue #7, a new bonus feature on JACK KIRBY's unknown 1960s baseball card art, and a 16-page full-color section, all behind a Jack Kirby cover!

Diamond Comic Distributors Order Code: JUN211879

ISBN13: 978-1-60549-105-9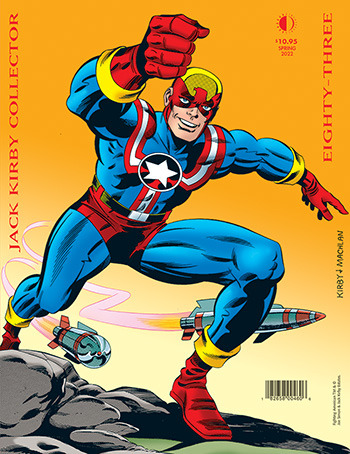 Spring 2022 - 84-page FULL-COLOR magazine
Jack Kirby Collector #83 presents « Famous Firsts », documenting the ways Jack was a pioneer in comics and life! From being the first mainstream creator to work coast-to-coast, to helping launch today's Direct Market of comic book distribution, his innovations are countless, and we're showcasing some major ones, including: the Romance Comics genre, Kid Gangs, double-page spreads, Black heroes, new formats, super-hero satire, and more! Featuring our regular columnists, and the 2021 Kirby Virtual Panel from Comic-Con International, moderated by Mark Evanier. Plus a gallery of Jack's pencil art from Captain America, Jimmy Olsen, Captain Victory, Destroyer Duck, Black Panther, and more! Featuring a Fighting American cover by Kirby and Mike Machlan! Edited by John Morrow.

Diamond Comic Distributors Order Code: JAN221706
Summer 2022 - 84 FULL-COLOR pages
From out of the swamp comes a look at the amazingly eclectic and diverse life of the multi-talented Stephen R. Bissette, best known for his collaboration with Alan Moore on Swamp Thing. The career-spanning chat discusses his early love of dinosaurs and his development from graduate of the Joe Kubert School to breakout as a pro (Heavy Metal, Scholastic, DC), independent efforts with his Spiderbaby Grafix (Taboo, Tyrant, etc.), and his long-running stint as instructor at the Center for Cartoon Studies. Also, Part One of our Mike Gold interview on his Chicago youth, start in underground comix, and arrival at DC Comics, right in time for the DC Implosion! Plus Part Two of our interview with Bud Plant on his publishing days, years as comic shop owner, and start in mail order—and CBC's usual crew of contributors shares their latest insights! Edited by Jon B. Cooke.

Diamond Comic Distributors Order Code: JAN221705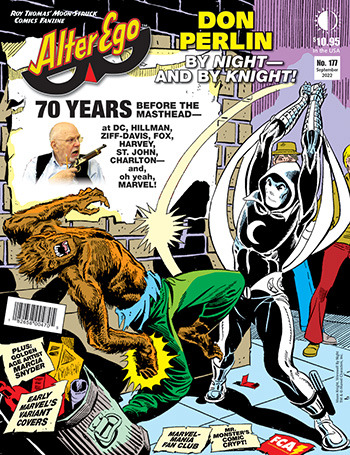 September 2022 - 84 pages (FULL COLOR)
It's a celebration of veteran artist Don Perlin—artist of Werewolf By Night, The Defenders, Ghost Rider, Moon Knight, 1950s horror, and just about every other adventure genre under the four-color sun! Plus Golden Age artist Marcia Snyder—Marvel's early variant covers—Marvelmania club and fanzine—FCA (Fawcett Collectors of America), Michael T. Gilbert on Cracked Mazagine, et al. Edited by Roy Thomas.

Diamond Comic Distributors Order Code: APR221881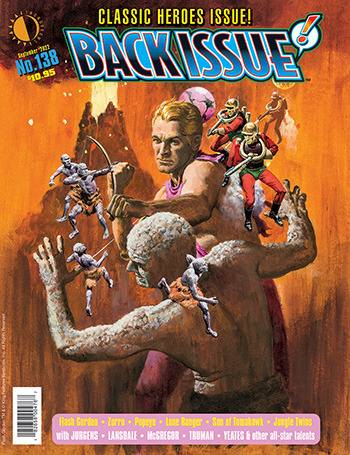 September 2022 - 84 FULL-COLOR pages
Classic Heroes in the Bronze Age! The Lone Ranger and Tonto, Flash Gordon, Popeye, Zorro and Lady Rawhide, Son of Tomahawk, Jungle Twins, and more! Featuring the work of Cary Bates, Gaylord DuBois, Russ Heath, Dan Jurgens, Gil Kane, Joe Kubert, Joe R. Lansdale, Don McGregor, Ruben Procopio, Frank Thorne, Tim Truman, George Wildman, Thomas Yeates, and other star creators. With a classic 1979 fully painted Gold Key cover of Flash Gordon. Edited by Michael Eury.

Diamond Comic Distributors Order Code: APR221882

Don't miss an issue! SUBSCRIBE to Back Issue HERE!