Tenez-vous loin de Pumpkinhead,
sauf si vous êtes fatigué de vivre…
[…]
C'est quand vous pensez qu'il vous a oublié
Qu'il vous conduira à votre perte
Portes boulonnées et fenêtres grillagées,
Chiens de garde qui rôdent dans la cour,
ne vous protégeront pas dans votre lit,
rien n'arrêtera le Pumpkinhead !
Après avoir été au centre d'une tétralogie cinématographique et télévisuelle (les deux premiers épisodes sont des films, les deux suivants des téléfilms SyFy), le Démon de la Vengeance sera à nouveau convoqué par le prolifique Cullen Bunn (X-Men Blue, Monsters Unleashed, Harrow County…), fan du premier Pumpkinhead qui marqua les débuts de réalisateur du regretté magicien des effets spéciaux Stan Winston, dans une mini-série à paraître chez Dynamite à partir de février 2018.
Les dessins de Pumpkinhead ont été confiés à Blacky Sheperd (pour l'histoire principale) et Kyle Strahm (pour la back-up).
Ci-dessous un premier aperçu, suivi de la couverture du #1 par Kelley Jones :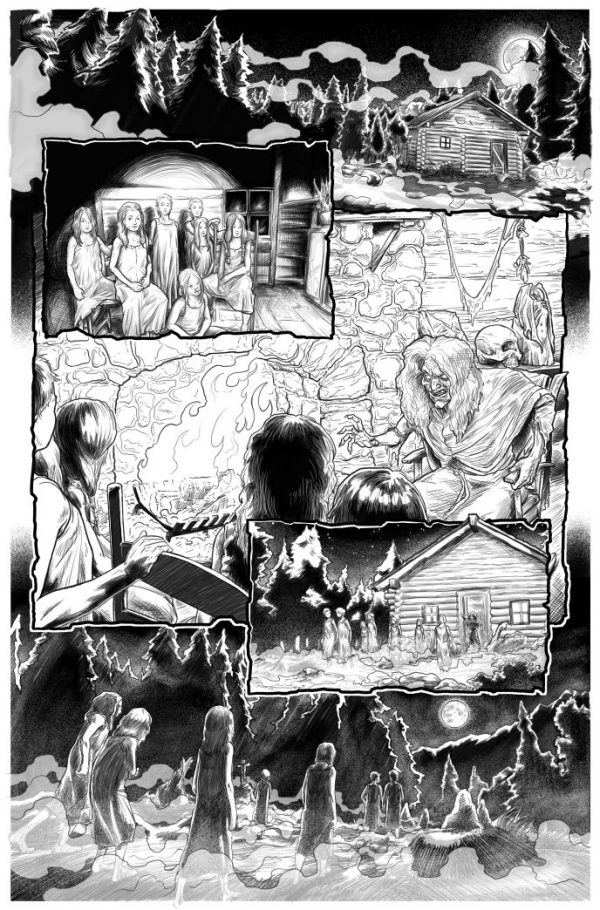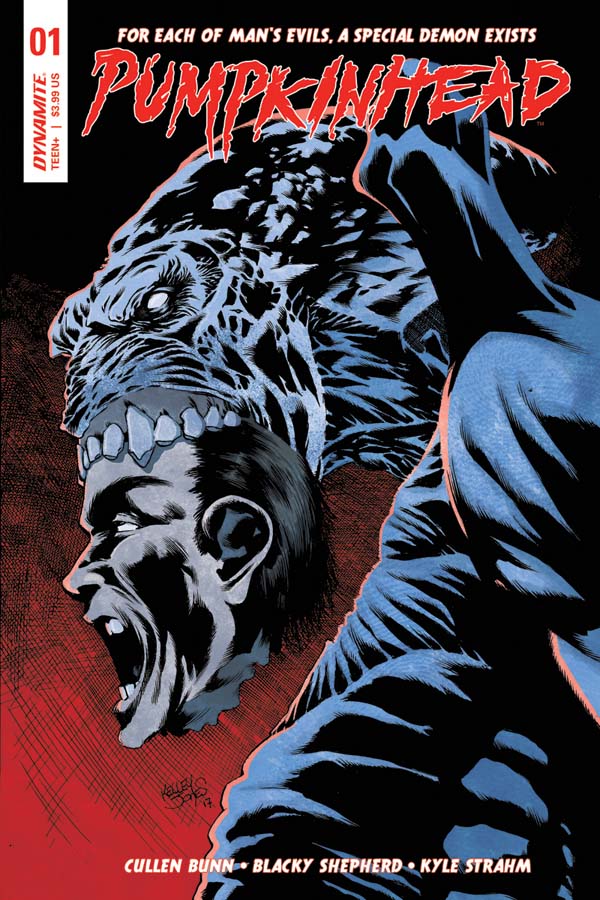 PUMPKINHEAD #1 (of 5)
Cover A: Kelley Jones | Cover B: Photo Cover, Cover C: Ken Haeser | Writer: Cullen Bunn | Art: Blacky Shepherd, Kyle Strahm (back-up)
Publication Date: February 2018, Page Count: 32 Pages, ON SALE DATE: 2/21

"For each of Man's evils, a special demon exists." For thirty years, the demon of vengeance has been still, its corpse buried in a pumpkin patch graveyard in the hills. But when a reckless driver accidentally kills a pair of children, the creature is called up once more. This time, though, the monster's intended target is protected by a cruel backwoods crime family. They hatch their own supernatural plans for dealing with Pumpkinhead. For each of man's sins, a special demon exists, and when seven infernal creatures roam the hills and the hollows, no one–guilty or otherwise–is safe.
Source : www.bleedingcool.com