** DEEP STATE #1**
Retail Price: $3.99
Author: Justin Jordan
Artist: Ariela Kristantina
Cover Artists: A: Matthew Taylor B: Artyom Trakhanov (INCENTIVE)
WHY WE LOVE IT: You know all those conspiracy theories you hear about? Like how the Jonestown Massacre was a failed MKULTRA experiment by the government, or how Lee Harvey Oswald was trained and brainwashed to be an assassin? Well, what if some of those were true? DEEP STATE is a dream (nightmare?) come true for conspiracy theory nuts like us here at BOOM!
WHY YOU'LL LOVE IT: With LUTHER STRODE, DEAD BODY ROAD, and SPREAD, Justin Jordan has become one of the eminent voices in hard-hitting, intelligent, original comics, and Ariela Kristantina (DEATH OF WOLVERINE) brings her unique, idiosyncratic style that has made her a breakout talent. If you're even remotely interested in conspiracy theory stories from comics like Detective Comics and X-Files to films like ENEMY OF THE STATE and THREE DAYS OF THE CONDOR, you'll be gripped by DEEP STATE!
WHAT IT'S ABOUT: John Harrow doesn't exist, and his job is to make sure that other things don't exist, too. At any given time, the government is running dozens of black book operations, experiments that aren't on any official record and are never acknowledged to exist. Some of these are innocuous. Some of them are monstrous beyond reason. And most of the time, they go as expected and the public is never the wiser. Most of the time. John Harrow's job is to handle them when things go wrong, and do anything to make sure the government's secrets stay just that—secret.
DAWN OF THE PLANET OF THE APES #1 (of 6)
Retail Price: $3.99
Author: Michael Moreci
Artist: Dan McDaid
Cover Artists: A: Christopher Mitten B: Jay Shaw (INCENTIVE) C: Garry Brown (INCENTIVE)
WHY WE LOVE IT: BOOM! has a long history with PLANET OF THE APES and for good reason—we love those damn dirty apes. Serving as a perfect tableau to examine society's ills through the lens of science fiction, we were thrilled to explore those themes in the modern setting of the new films.
WHY YOU'LL LOVE IT: Michael Moreci (CURSE, HOAX HUNTERS) and Dan McDaid (MIND THE GAP) bring the hard-bitten world of Dawn of the Planet of the Apes to life—dealing with both classic and modern POTA questions like what the true meaning of "society" is, and if being "civilized" is even possible in a world wracked with strife. Great for fans of end-of-the-world stories like 12 MONKEYS, THE ROAD, and CHILDREN OF MEN.
WHAT IT'S ABOUT: Bridging the 10-year gap between the Rise of the Planet of the Apes and Dawn of the Planet of the Apes films, fans will bear witness to the fall of humanity and the rise of Caesar's civilization. While the apes of the world have yet to advance as a species, Caesar must find a way to unify in them to one cause. On the other side of the country, Malcom must venture into the decaying Americas with his family to find a cure for the plague slowly killing his wife, Rita. World powers will shift as civilizations collapse and rise.
BRAVEST WARRIORS: PARALYZED HORSE GIANT
Retail Price: $4.99
Author: James Tynion IV, Mairghread Scott, Tessa Stone, Pranas Naujokaitis, Kat Leyh
Artist: Erica Henderson, Meredith McClaren, Tessa Stone, Pranas Naujokaitis, Kat Leyh
Cover Artists: A: Tessa Stone B: Jonathan Brandon Sawyer (INCENTIVE)
WHY WE LOVE IT: Ever since he made his epic debut in the Bravest Warriors cartoon, we've wanted to bring Beth's beloved pet to comics and now we can in an oversized issue dedicated entirely to the Paralyzed Horse.
WHY YOU'LL LOVE IT: Do you like quirky, left-of-center things, things that are just so unusual, you're drawn to it? That's pretty much Paralyzed Horse (and all of BRAVEST WARRIORS for that matter)—a horse that can't move but has far-reaching knowledge of the present and future. Plus, we've assembled an amazing team of diverse creators to tell stories of a girl named Beth and her um, unusual horse, including shorts by Mairghread Scott (THE TRANSFORMERS: WINDBLADE), James Tynion IV (BATMAN: ETERNAL, THE WOODS), and BRAVEST WARRIORS vet Tessa Stone.
WHAT IT'S ABOUT: This oversized (48 pages!) one-shot features new original stories from Paralyzed Horse's log that span all of eternity and forever, guest-starring the entire wacky cast of BRAVEST WARRIORS!

CAPTURE CREATURES #1
Retail Price: $3.99
Author: Frank Gibson
Artist: Becky Dreistadt
Cover Artists: A: Becky Dreistadt B: Joy Ang C: Missy Pena (INCENTIVE) D: Amanda Visell (INCENTIVE)
WHY WE LOVE IT: Frank and Becky's side-splitting writing and gorgeous artwork have always been a favorite of ours, especially with their original web comics like TINY KITTEN TEETH. Getting a chance to tell their original adorable creature story and seeing more of what they can do…yeah, we wouldn't miss this.
WHY YOU'LL LOVE IT: Becky Dreistadt (ADVENTURE TIME 2014 ANNUAL) and Frank Gibson (THE AMAZING WORLD OF GUMBALL) are two of the most clever and visually arresting creators in the business, and this one of their most ambitious projects ever. From the vivid visuals to the rad story and hilarious, heartwarming moments, you'll love every second in this world. If you like titles like POKÉMON or DIGIMON, or just like cool things, this is definitely the comic for you.
WHAT'S IT ABOUT: In this new KaBOOM! original series, over a hundred wonderful and terrifying creatures have suddenly appeared on earth. Two teens investigate the origins of these curious creatures and how they can stop those who are trying to destroy them.
GEORGE PÉREZ'S SIRENS #2 (of 6)
Retail Price: $3.99
Author: George Pérez
Artist: George Pérez
Cover Artists: A: George Pérez Wraparound B: George Pérez Character Spotlight (INCENTIVE) C: George Pérez Pencils Connecting (INCENTIVE) D: George Pérez Pencils Connecting (INCENTIVE)
Under attack by their greatest foe, Naida, the Sirens put together a last-ditch plan to keep their team—and their ship—together! With their memories of each other and themselves still hazy, the Sirens must re-learn how to work together before Naida destroys them all.
FICTION SQUAD #2 (of 6)
Retail Price: $3.99
Author: Paul Jenkins
Artist: Ramon Bachs
Cover Artist: Ramon Bachs
Jack, of Jack and Jill, has taken a tumble. Humpty has cracked. The Wicked Witch of the East is buried under a two-story house. Key players are being knocked off right and left and someone is trying to push the Queens of Wonderland and witches of Oz into a gang war. It is up to Frankie, with his partner Simple Simon, to solve the mystery before another death comes knocking at his doorstep.
SLEEPY HOLLOW #2 (of 4)
Retail Price: $3.99
Author: Marguerite Bennett
Artist: Jorge Coelho
Cover Artists: A: Phil Noto B: Jorge Coelho (INCENTIVE)
Based on the hit Fox TV show. When Ichabod begins to toy with a puzzle box Jenny acquired at Corbin's request, the box begins to toy with Ichabod: He grows cruder, crueler, and wilder the longer the box is within his keep. Can Abbie and Katrina solve the mystery of the puzzle box before all that is good in Ichabod is lost forever? Featuring a back-up short story written and illustrated by Noelle Stevenson (LUMBERJANES).
MEMETIC #2 (of 3)
Retail Price: $4.99
Author: James Tynion IV
Artist: Eryk Donovan
Cover Artist: Eryk Donovan
The apocalypse continues in the second installment of the oversized, 48-page MEMETIC. In Day Two of this crisis, Aaron tries to escape his college campus overrun with Screamers, while Marcus and his Pentagon team attempt to track down the source of the meme and eliminate it before time runs out.
WILD'S END #3 (of 6)
Retail Price: $3.99
Author: Dan Abnett
Artist: I.N.J. Culbard
Cover Artist: I.N.J. Culbard
Clive and the others can no longer deny the danger of the alien threat or the violence it's capable of as they struggle to escape the alien targeting them and hope to survive long enough to find answers.
CLOAKS #3 (of 4)
Retail Price: $3.99
Author: Caleb Monroe
Artist: Mariano Navarro
Cover Artist: W. Scott Forbes
Adam and the Cloaks crew rush to track down Evy before she can convince any of the potential candidates from joining her cause—willingly or not. But has Adam been put into the field too soon by his father figure Blackstone, and could he be in grave danger?
CLIVE BARKER'S HELLRAISER: BESTIARY #4 (of 6)
Retail Price: $3.99
Authors: Lela Gwenn, Ben Meares, & Mark Miller
Artists: Daniele Serra & Carlos Magno
Cover Artists: A: Conor Nolan B: Daniele Serra (INCENTIVE)
The descent into darkness continues with more all-new tales of the Cenobites! First, in "Study," Lela Gwenn and Daniele Serra follow a anthropologist who goes from observer to subject, while in the continuing story "The Hunted," Pinhead begins his counterattack against those trying to usurp his power.
HEXED #4
Retail Price: $3.99
Author: Michael Alan Nelson
Artist: Dan Mora
Cover Artist: Emma Rios
It's a battle millennia in the making as Yves and Madame Cymbaline face off for the control of the Graeae family, with Lucifer, Raina, and Val caught in the middle. Equipped with the Binding Frame and Michaelangelo's Torque, the Brisendine Gallery Gala turns into a worlds-spanning warzone as Lucifer makes the ultimate sacrifice.
DAY MEN #5
Retail Price: $3.99
Authors: Matt Gagnon & Michael Alan Nelson
Artist: Brian Stelfreeze
Cover Artist: Brian Stelfreeze
The start of a new story arc! It has been centuries since the last "Dog Fight"—a one-on-one battle between Day Men—but Azalea's fate now rests completely in David's hands. That is, unless he and the rest of the Virgo family are able to uncover evidence of the Scourge's involvement in the fang trade.
ROBOCOP #5
Retail Price: $3.99
Author: Joshua Williamson
Artist: Carlos Magno
Cover Artist: Goñi Montes
No win comes without its losses. Lewis's attempt to play the system has given her elevated status among the people, but she's lost all the trust and power within the police system. She will now forever be in Killian's cross-hairs. RoboCop, now a lone officer, must find a way to defend the streets by a new means.
THE EMPTY MAN #6 (of 6)
Retail Price: $3.99
Author: Cullen Bunn
Artist: Vanesa R. Del Rey
Cover Artist: Vanesa R. Del Rey
Final issue! Agents Langford and Jensen finally come face-to-face with the supernatural culprits who kidnapped the Simmons children, while Sister makes a last-ditch attempt to free her brother from the clutches of the sadistic Reverend Markoff.
THOMAS ALSOP #6 (of


Retail Price: $3.99
Author: Chris Miskiewicz
Artist: Palle Schmidt
Cover Artist: Palle Schmidt
A menace over 200 years old is back, and plaguing New York City's subway system. Thomas Alsop is on the case, but just barely! The city hates him and even his friends are wondering if he's okay. He has to fight an evil smoke monster so no, he's not okay.
BIG TROUBLE IN LITTLE CHINA #6
Retail Price: $3.99
Author: Eric Powell
Artist: Brian Churilla
Cover Artists: A: Eric Powell B: Alexis Ziritt C: Dan McDaid (INCENTIVE)
Jack is always one to know when he's overstayed his welcome. Now it's time to split. Especially after his good pal, Pete the demon, has returned to the service of his original master and tries to take Jack's head off. Wang, Egg, and Jack narrowly escape town with the Wing Kong hot on their trail. As they bust through the honky-tonk of the American highways, the Lords of Death decide to join the hunt for Burton's head.
THE WOODS #7
Retail Price: $3.99
Author: James Tynion IV
Artist: Michael Dialynas
Cover Artist: Michael Dialynas
The swarm has finally arrived, and it's going to take the combined efforts of both the kids and the mysterious hunters to survive the onslaught. Meanwhile, we take a look at Ben on the night of the play one year ago, and his struggles to both be himself and be happy.
DEAD LETTERS #7
Retail Price: $3.99
Author: Christopher Sebela
Artist: Chris Visions
Cover Artist: Chris Visions
As Sam rekindles an old relationship in Here, he also attempts to move forward on his main goal of uniting the boroughs against the Saints of Nowhere, while keeping Charnel's head away from Ma, Jones, and the other vultures circling.
CLIVE BARKER'S NIGHTBREED #7
Retail Price: $3.99
Author: Marc Andreyko
Artist: Piotr Kowalksi
Cover Artists: A. Riley Rossmo B. Christopher Mitten (INCENTIVE)
The lives of the Nightbreed will always spiral down to the catacombs of Midian. Boone must confront his inner demons and relive the life that brought him to this place of darkness. Through the story of Otis and Clay's self-betrayal he may just find the solace he needs to become Cabal.
EVIL EMPIRE #9
Retail Price: $3.99
Author: Max Bemis
Artist: Tyler Crook
Cover Artist: Jay Shaw
How exactly would an Evil Empire effect pop culture? This one-shot issue of EE follows the path of a mega celebrity and gives us a glimpse into what sort of counter-culture a society so lost could create. Illustrated by special guest artist Tyler Crook (B.P.R.D., BAD BLOOD).
SONS OF ANARCHY #15
Retail Price: $3.99
Author: Ed Brisson
Artist: Matías Bergara
Cover Artist: Toni Infante
After leaving Opie to take the fall for arson, Kyle Hobart paid the ultimate price: excommunicated out of the club and all tattoos marking him as a former Son burned off of his body. The only thing Kyle Hobart was left with were scars and a threat: if he ever returned to Charming, the Sons will make sure he never has a chance to make the same mistake again. Kyle Hobart is about to make that mistake.
SUICIDE RISK #19
Retail Price: $3.99
Author: Michael Carey
Artist: Elena Casagrande
Cover Artist: Stephanie Hans
Leo Winters and Requiem have managed to put aside their differences to face the oncoming threat together, but there's a bigger enemy at play, one that seeks not only to destroy Requiem by any means necessary, but possibly, the world…
UNCLE GRANDPA #2
Retail Price: $3.99
Author: Yehudi Mercado & Various
Artist: Yehudi Mercado & Various
Cover Artists: A. Robb Mommaerts B. Evgeny Yakovlev C. Nick Edwards (INCENTIVE)
Good Morning! I wonder what Uncle Grandpa has in store for us with this issue, belly bag….wait a minute! I'm Uncle Grandpa! As your uncle and grandpa, I expect my nieces, nephews, and grandchildren to check out this brand-new issue. The coolest guy I know, Pizza Steve, will be there. And of course, Giant Realistic Flying Tiger, Mr. Gus, and just maybe some more surprises. Please let it be a burrito…
STEVEN UNIVERSE #4
Retail Price: $3.99
Author: Jeremy Sorese
Artist: Coleman Engle
Cover Artists: A. Matt Cummings B. Josceline Fenton C. Tiffany Ford (INCENTIVE)
The Fish Stew Pizza establishment is out of a car and Steven, always eager to help, offers to give a lift with the aid of Lion, officially starting the Cub Cab Service! Pearl has some reservations, but with Steven helping so many people, what could possibly go wrong? Hint: Everything.
ADVENTURE TIME: BANANA GUARD ACADEMY #5 (of 6)
Retail Price: $3.99
Author: Kent Obsorne & Dylan Haggerty
Artist: Mad Rupert
Cover Artists: A. Aimee Fleck B. Kathleen Lolley C. Sean Chen (INCENTIVE)
Princess Bubblegum is faced with a tough choice: fire Lead Banana Guard or give him a slap on the wrist and hope he learns from this mistake. This is what happens when both scenarios occur. Peppermint Butler has to discover which reality is the right one and figure out how to warn his fellow cadets of the oncoming evil approaching Ooo!
THE AMAZING WORLD OF GUMBALL #6
Retail Price: $3.99
Author: Frank Gibson
Artist: Tyson Hesse
Cover Artists: A. Missy Pena B. Paulina Ganucheau C. Drew Green (INCENTIVE)
Gumball just wants one thing in the whole wide world—to be famous. He would make a great star! He's got the charisma, the too-cool personality, the embarrassing family the paparazzi would love…now if only he had some talent.

BEE AND PUPPYCAT #7
Retail Price: $3.99
Authors: Natasha Allegri, Garrett Jackson, & Various
Artist: Natasha Allegri & Various
Cover Artists: A. Felicia Choo B. Geneva Hodgson C. Brian Fukushima (INCENTIVE)
PuppyCat is hungry so he is going to make some pizza… or he would if Bee would stop trying to help. These two pals have to work their way around the kitchen and some unforeseen surprises before they can get some grub!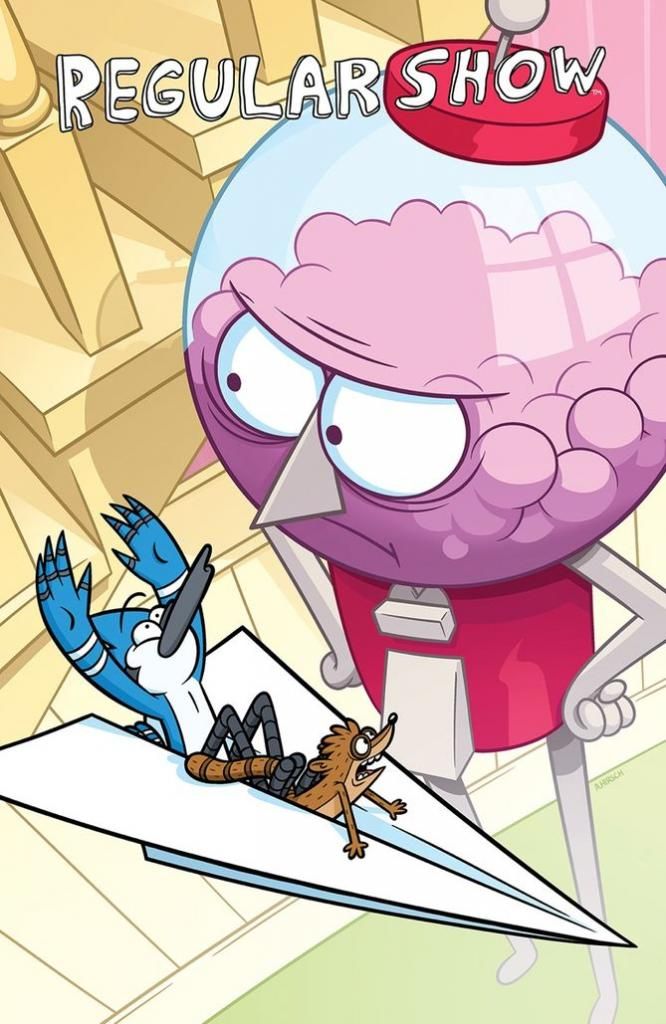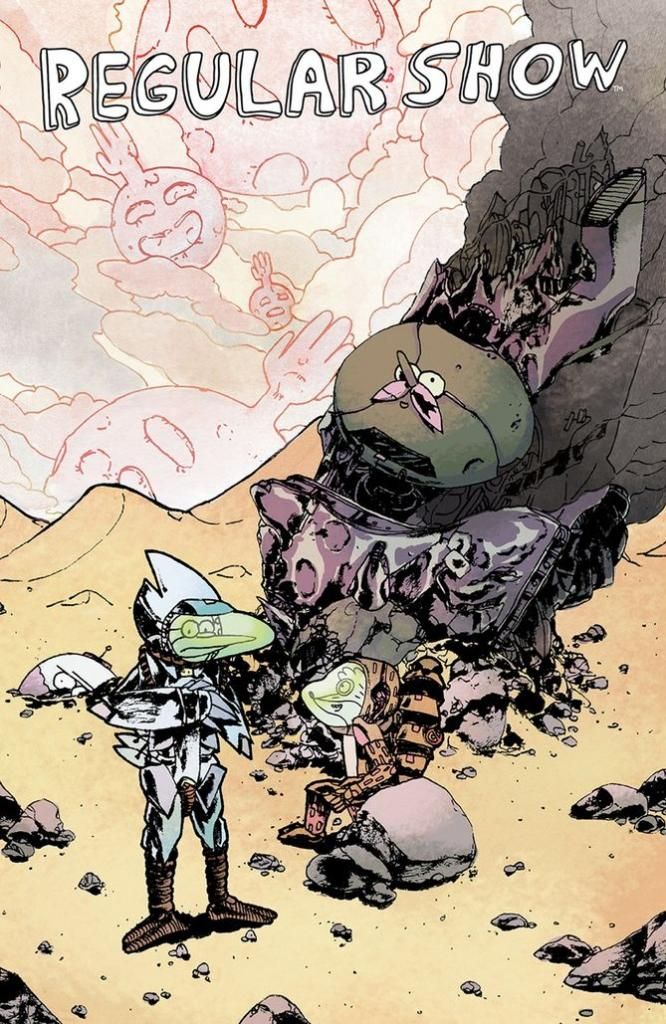 REGULAR SHOW #17
Retail Price: $3.99
Author: Nick Sumida
Artist: Allison Strejlau
Cover Artists: A: Andy Hirsch B: Zack Hazard (Subscription Cover) C: Cole Closser (INCENTIVE)
Mordecai and Rigby are so tired of Benson yelling at them. They just want a break from their ill-tempered boss, but these two park workers are about to get an education on what truly makes Benson tick.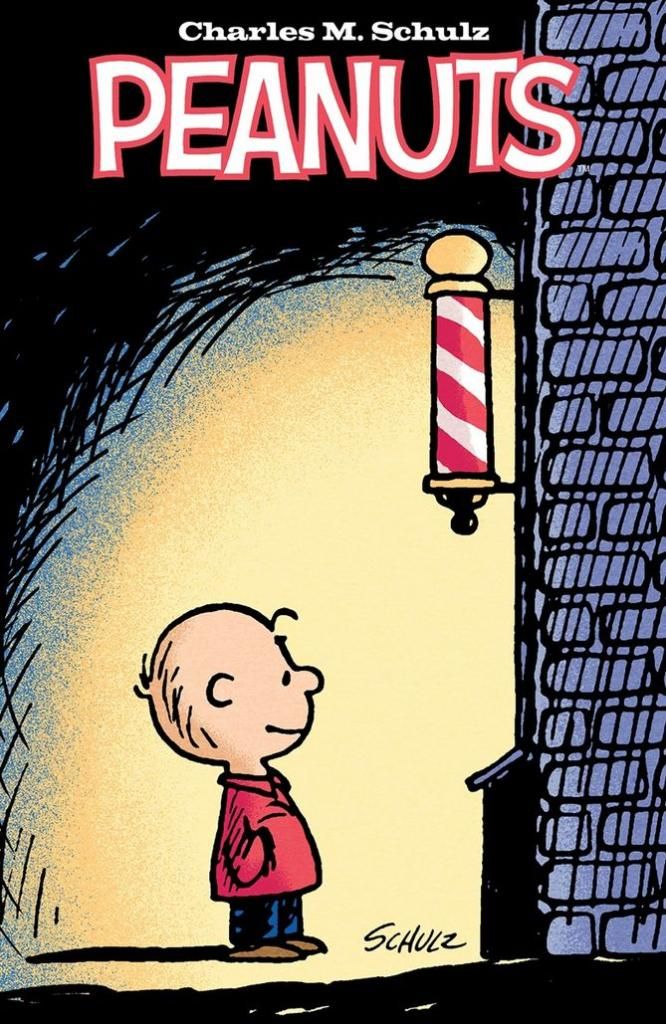 PEANUTS #23
Retail Price: $3.99
Author: Charles Schulz, various
Artists: Charles Schulz, various
Cover Artists: Charles Schulz, various
Good grief! Brand-new adventures with classic Charles M. Schulz goodness for the youngest of fans all the way to the biggest of enthusiasts. This collection of stories is truly for all ages and can be enjoyed from the top of the top of the doghouse to the dugout of the baseball field.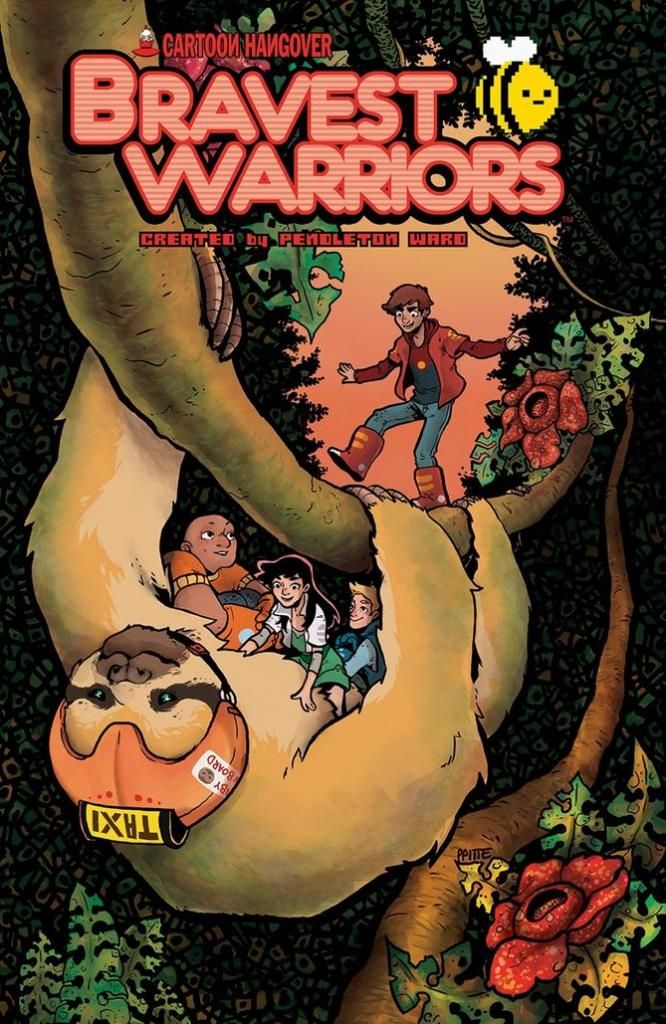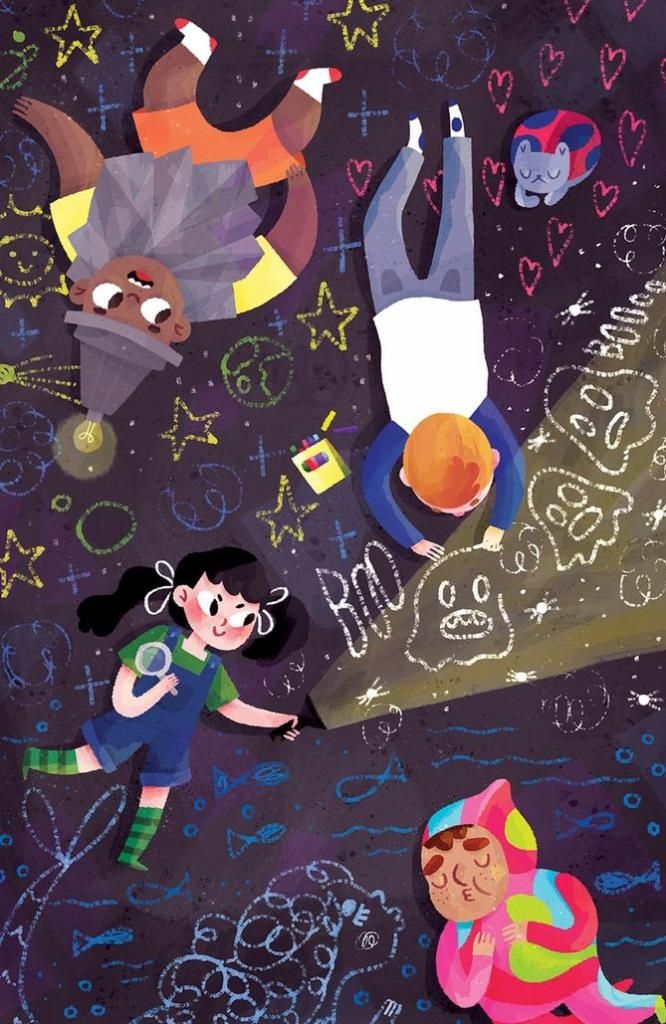 BRAVEST WARRIORS #26
Retail Price: $3.99
Author: Kate Leth
Artist: Ian McGinty
Cover Artists: A: Caroline Breault B: Hannah Nieminen C: Irena Freitas (INCENTIVE)
The Bravest Warriors get a distress call to a planet with a serious giant monster problem! It's the start of an all-new story arc from the creative team of Kate Leth (ADVENTURE TIME: SEEING RED) and Ian McGinty (ADVENTURE TIME: CANDY CAPERS).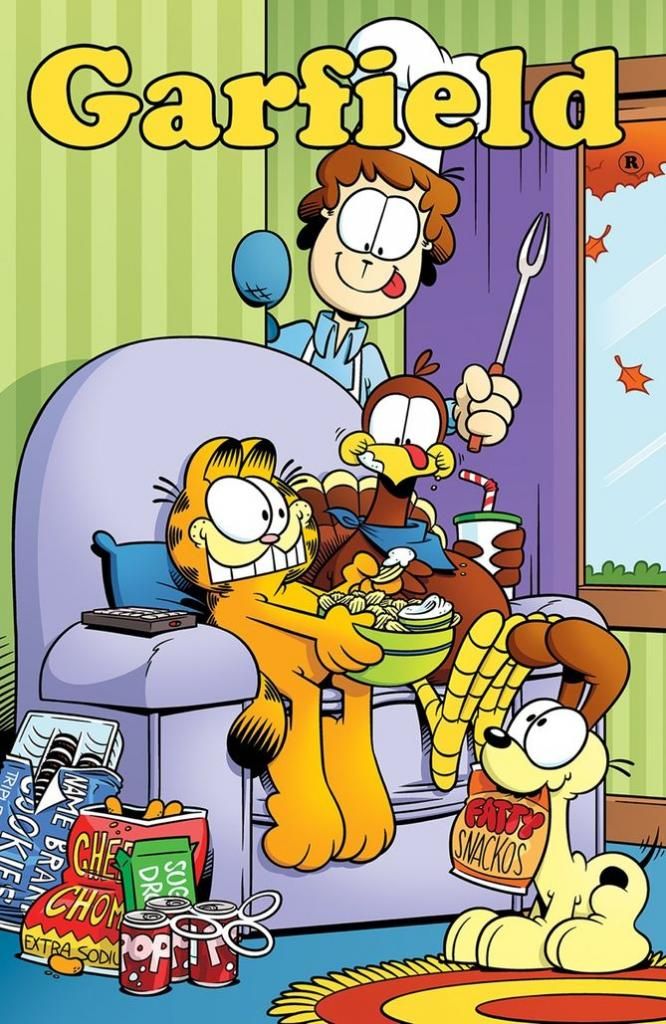 GARFIELD #31
Retail Price: $3.99
Authors: Mark Evanier, Scott Nickel
Artists: Andy Hirsch, Nneka Myers
Cover Artist: Andy Hirsch
Pass the stuffing, cranberry sauce, and the all-new issue of GARFIELD! This month, Garfield shares some holiday cheer with the new neighborhood cats, and guest artist Nneka Myers joins us to show what happens when Nermal tries to mimic the Fat Cat and eat a massive meal before bedtime!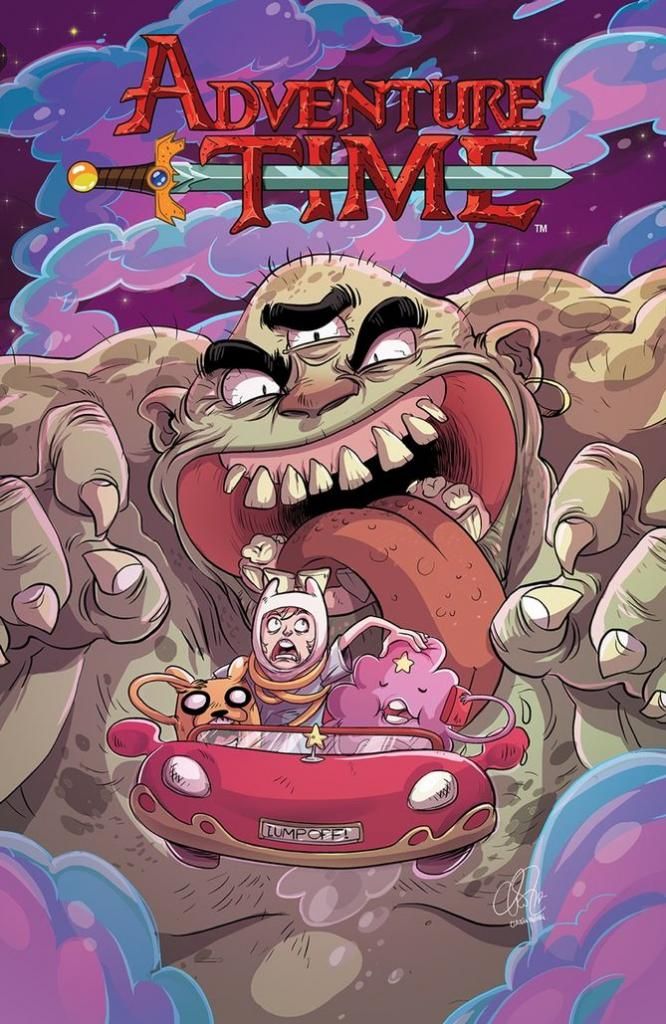 ADVENTURE TIME #34
Retail Price: $3.99
Author: Ryan North
Artists: Shelli Paroline & Braden Lamb
Cover Artists: A: Stu Livingston B: Claudia Aguirre (Subscription Cover) C: Ru Xu (INCENTIVE)
Finn has made it to Magic Man at last! It's time for this adventure to end and for Finn to finally get his memory back. It might seem like an easy end, but it looks like there is still one more trick up Magic Man's sleeve.

TEEN DOG #3 (of


Retail Price: $3.99
Author: Jake Lawrence
Artist: Jake Lawrence
Cover Artists: A: Jake Lawrence B: Jess Fink (INCENTIVE)
Sports. Everyone has their favorite. Teen Dog prefers to get his workout on the street skateboarding. But high school would not be what it is without football teams, cheerleaders, mascots, and the big game. Clear eyes, full hearts, Teen Dog.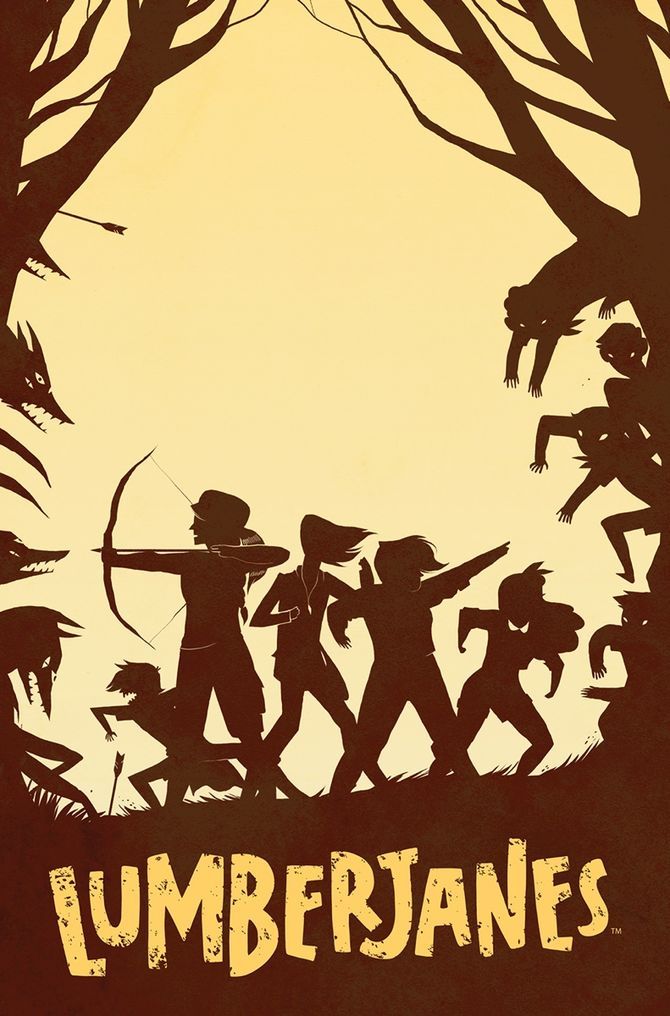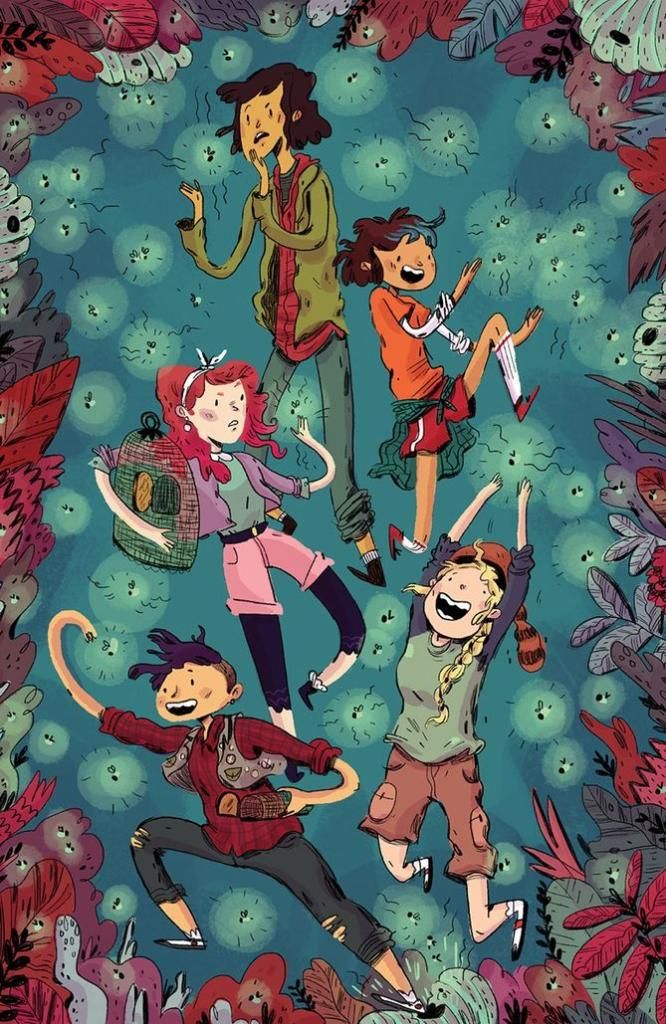 LUMBERJANES #8
Retail Price: $3.99
Authors: Noelle Stevenson, Grace Ellis
Artist: Brooke Allen
Cover Artists: A. Noelle Stevenson B. Kat Leyh (INCENTIVE)
This crazy war between Apollo and Artemis finally reaches its peak and it's up to the Lumberjanes to save their camp from this crazy sibling rivalry. All questions are finally answered and the scouts learn the true importance of trust and friendship.

FRAGGLE ROCK: JOURNEY TO THE EVERSPRING #2 (of 4)
Retail Price: $3.99
Author: Kate Leth
Artist: Jake Myler
Cover Artist: Jake Myler
The Fraggles' journey has led them to the mysterious Crystal Caves where creatures of all shapes and sizes await. They'll need to rely on one another and maybe even sing a song or two if they're going to make it through to the Everspring!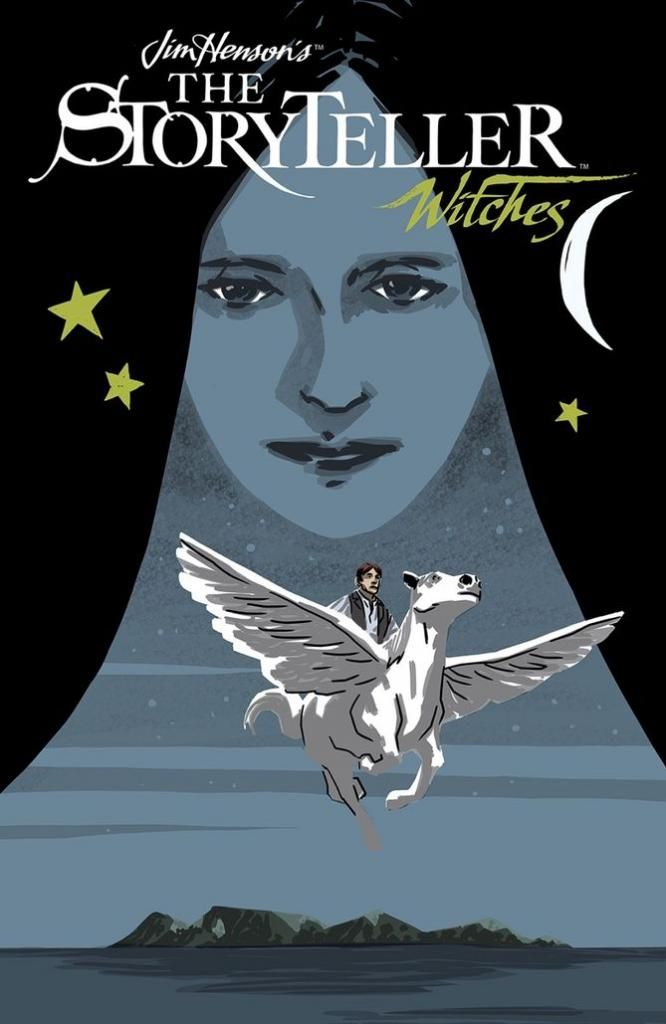 JIM HENSON'S THE STORYTELLER: WITCHES #3 (of 4)
Retail Price: $3.99
Author: Matthew Dow Smith
Artist: Matthew Dow Smith
Cover Artist: Matthew Dow Smith
Matthew Dow Smith (X-FILES, HELLBOY) tells the epic Irish folktale of "The Phantom Isle." When a young man shipwrecks on a mysterious island ruled by a council of witches, he has the choice of freedom or staying on the isle where he does not age. The lure of immortality is hard to resist, but it comes with a price he may not be willing to pay.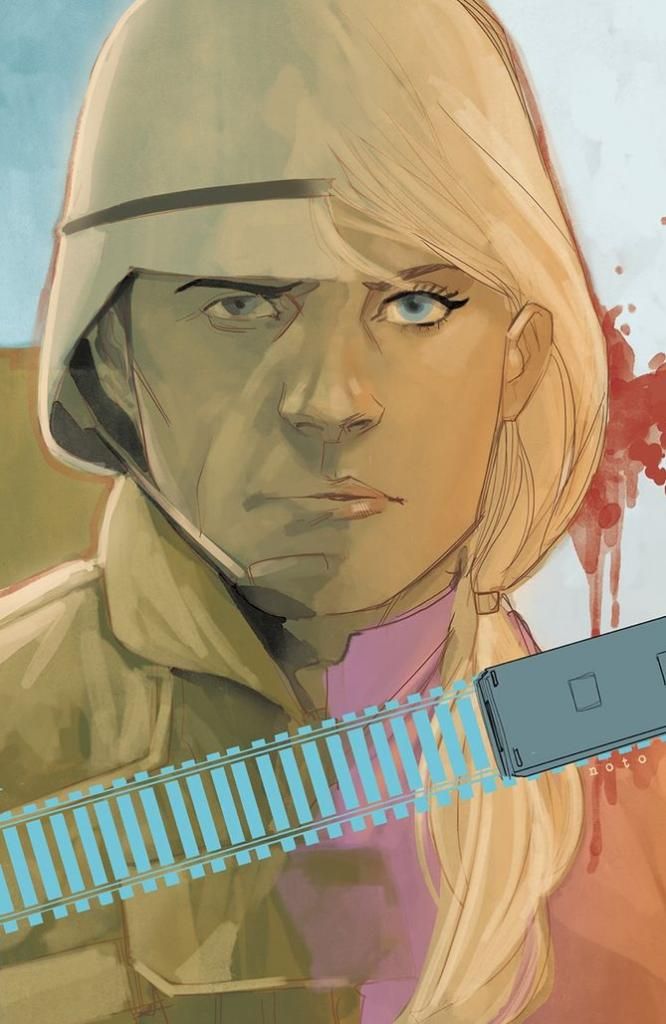 BUTTERFLY #3 (of 4)
Retail Price: $3.99
Story by: Arash Amel & Marguerite Bennett
Authors: Marguerite Bennett
Artist: Antonio Fuso
Cover Artist: Phil Noto
Butterfly's enemies have caught up to her and she's led them and their intentions of violence to her father's door. They will have to work together in order to keep Nightingale's family safe…but that doesn't mean they'll be safe from each other.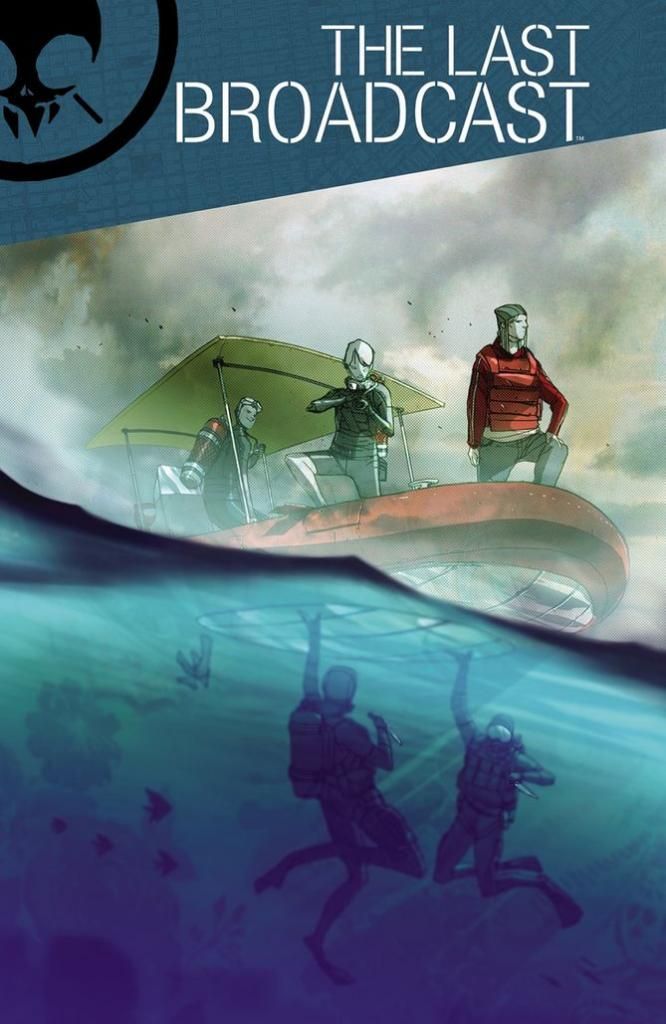 THE LAST BROADCAST #7 (of 7)
Retail Price: $3.99
Author: André Sirangelo
Artist: Gabriel Iumazark
Cover Artist: Gabriel Iumazark
Reunited with Backbone, Ivan must unlock the mysteries of Blackhall's legacy to find the final glowbug and take down S.P.I. once and for all. But will the combined forces of Backbone and the Nonchalants be enough to stop Sir Arthur? Find out in the stunning conclusion to THE LAST BROADCAST!

PROTOCOL: ORPHANS TP
Retail Price: $14.99
Author: Michael Alan Nelson
Artist: Mariano Navarro
Cover Artist: Stephane Roux
WHY WE LOVE IT: We love the premise: PROTOCOL: ORPHANS is an action-packed espionage series with a compelling cast of young characters struggling with their transition into adulthood. It's like James Bond meets RUNAWAYS.
WHY YOU'LL LOVE IT: PROTOCOL: ORPHANS is a tense thriller perfect for fans of fun spy fiction like TV's ALIAS or MISSION: IMPOSSIBLE, with a dash of TEEN TITANS.
WHAT IT'S ABOUT: Grabbed up by the United States government and thrown into training camps, orphans around the country have been raised to become America's next generation of super-spies. Now, as adults, they live among us, ready for "the family" to call them back into action. Collects the complete four-issue limited series.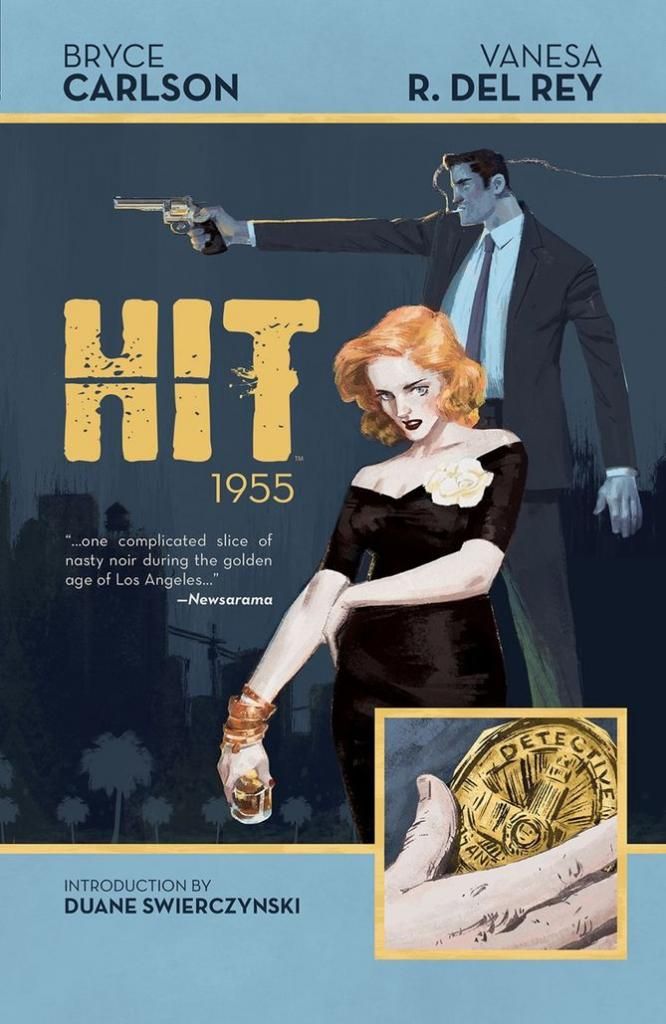 HIT: 1955 TP
Retail Price: $14.99
Author: Bryce Carlson
Artist: Vanesa R. Del Rey
Cover Artist: Vanesa R. Del Rey
WHY WE LOVE IT: You say your crime noir story is based on a group of hard-boiled policemen during 1950s Los Angeles that did a little wetwork under the table, ridding the city of its scummiest residents one lowlife at a time? And it features the art debut of Russ Manning Award for Most Promising Newcomer nominee Vanesa R. Del Rey? Oh, we're so there.
WHY YOU'LL LOVE IT: Noir crime fiction is a part of Americana, from the writing of James Ellroy and Raymond Chandler to the films of Orson Welles and Alfred Hitchcock. HIT joins titles like TORSO, CRIMNAL, and GOTHAM CENTRAL as a grand contribution to crime noir comics.
WHAT IT'S ABOUT: They say the eyes are the window to the soul. You look at Harvey Slater and you'll see a homicide detective chasing cigarettes with a few fingers of bourbon. You look into his eyes, and you'll see a hitman who spends his nights making "untouchable" criminals disappear for the Los Angeles Police Department. But all it takes is a blonde bombshell from his past and a crime syndicate trying to muscle in while Mickey Cohen's in prison to open Slater's eyes to who he really is. Collects the complete four-issue limited series, features the never-before-seen short story, "Bonnie," and includes an introduction by author Duane Swierczynski.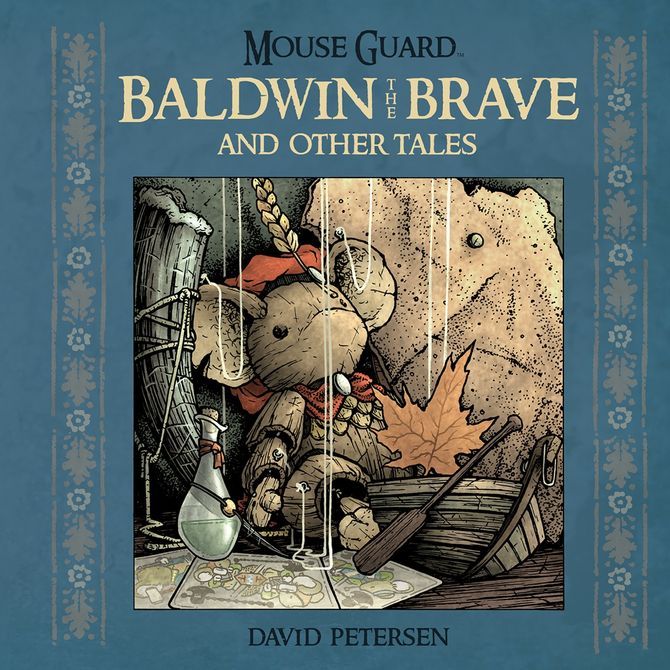 MOUSE GUARD: BALDWIN THE BRAVE AND OTHER TALES HC
Retail Price: $14.99
Author: David Petersen
Artist: David Petersen
Cover Artist: David Petersen
WHY WE LOVE IT: Whether you're of claw, wing, or scale, fairy tales and fables never cease to warm our hearts and fill our imaginations. Every year, we look forward to Archaia's Free Comic Book Day MOUSE GUARD short story by Eisner Award-winning creator David Petersen. Now, four of the stunningly illustrated fables are collected for the first time, alongside two brand-new MOUSE GUARD tales in a beautiful 8" x 8" hardcover.
WHY YOU'LL LOVE IT: If you like fantasy stories that not only feature action and adventure, but also a lot of heart, you'll instantly love MOUSE GUARD. Fans of J.K. Rowling's THE TALES OF BEEDLE THE BARD, THE STUFF OF LEGEND, or classics like WIND IN THE WILLOWS will love this collection of tales meant to be read again and again.
WHAT IT'S ABOUT: Every hero was once a child, listening to stories of the heroes who came before them. It is the same with the Mouse Guard. Six mouse fables are spun to a few familiar youngfurs, reminding us all to be brave, stay true to ourselves, and follow our hearts. Brand-new stories include "Service to Seyan," set in the land where Mouse warriors travel after death, and "Oh Day Away," a tale of the insect faeries of the Mouse world!

ADVENTURE TIME VOL. 4: BITTER SWEETS OGN TP
Retail Price: $12.99
Author: Kate Leth
Artist: Zachary Sterling
Cover Artist: Stephanie Gonzaga
WHY WE LOVE IT: We obviously love the Adventure Time show, and we pour our hearts into the comics. These original graphic novels are extra special because we just love being able to tell a longer story. Plus, we are such huge fans of Kate Leth and Zachary Sterling, who worked on the last AT OGN, so we had to ask them to do a follow-up!
WHY YOU'LL LOVE IT: Our ADVENTURE TIME original graphic novels are long-form stories that play out like an episode of the animated series. It's a self-contained story, done in one, and all the fun, plus now it's in full color. Great if you like our PEANUTS original graphic novels, or fun, all-ages OGNs like MONSTER ON THE HILL and MAX STEEL.
WHAT IT'S ABOUT: It's that lovely time of year where Princess Bubblegum gets to leave the Candy Kingdom and venture out into the outer limits of Ooo. But when her annual quest to visit old friends takes a dark and unexpected turn, it's up to PB and Peppermint Butler to keep the peace by using the true power of friendship. Written by New York Times bestselling author Kate Leth (ADVENTURE TIME: SEEING RED), and illustrated by New York Times bestselling artist Zachary Sterling (ADVENTURE TIME), BITTER SWEETS is a deliciously twisted adventure with a surprising aftertaste.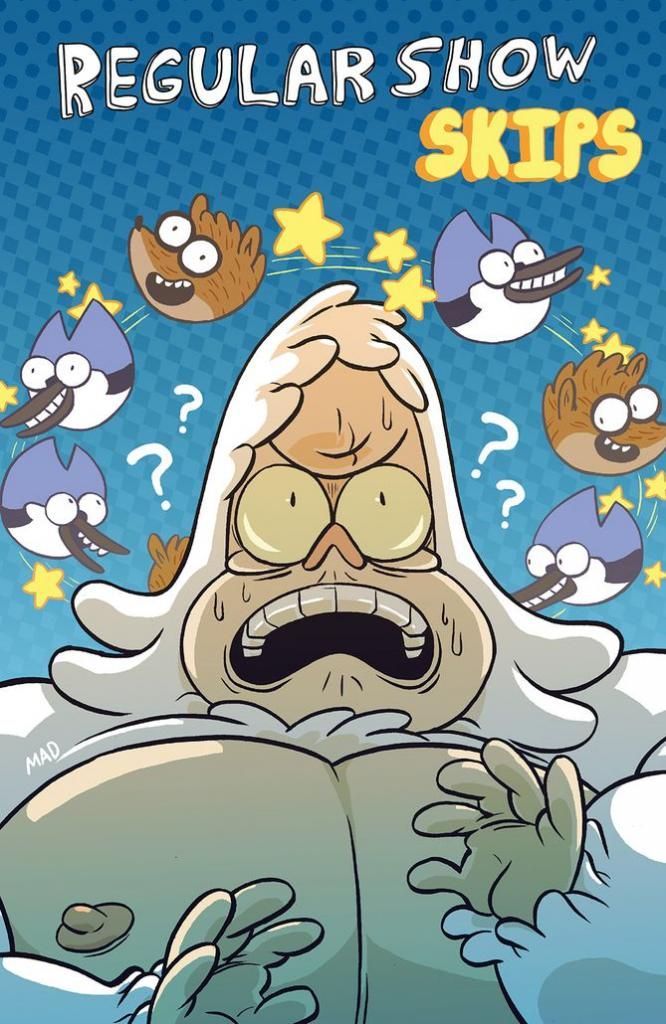 REGULAR SHOW: SKIPS TP
Retail Price: $19.99
Author: Mad Rupert
Artists: Mad Rupert
Cover Artist: Mad Rupert
WHY WE LOVE IT: Have you seen Skips? He's a blue jean-wearing, combover-sporting, white-fur-covered yeti. What's not to love? Okay, so he also stars in our favorite bro-time cartoon, REGULAR SHOW, with those zany mischiefs Mordecai and Rigby, and he just begged to be in the spotlight for once, so here's his chance.
WHY YOU'LL LOVE IT: If you've ever watched a TV show and wanted to know more about one of the supporting characters, you'll like REGULAR SHOW: SKIPS. Skips is one of the least vocal characters on the show, so you'll appreciate he's the main dude for once, because it's usually the quiet ones you have to watch out for!
WHAT IT'S ABOUT: In an effort to lift morale at the Park, Pops sends Skips, Mordecai, Rigby, and Benson on a vacation of Skips' choosing, which takes them to…another park? Skips just wants a peaceful few days with nature but this vacation has other plans. Trapped in a day that will never end, Skips must rely on the help of a new friend to stop the park from exploding and hopefully save the world in the process. Written and illustrated by the crazy talented Mad Rupert (SAKANA), this is a REGULAR SHOW adventure you'll never want to end!