BOOM! STUDIOS FOR FEBRUARY
HOTEL DARE OGN SC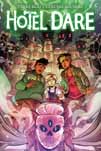 Writer: Terry Blas
Artist: Claudia Aguirre
Cover Artist: Claudia Aguirre
OPEN THE DOOR. ADVENTURE AWAITS.
Olive and her adopted siblings, Charlotte and Darwin, are spending the summer with their estranged grandma at her creepy hotel, and it's all work and no play. They're stuck inside doing boring chores until they stumble upon an incredible secret… behind each door of the hotel lies a portal to a strange and mysterious place.
The simple turn of a knob transports them to a distant magical world filled with space pirates. Behind the next door are bearded wizards. Down the hall is a doorway to a cotton-candied kingdom. But once the doors are open, worlds start colliding, and only one family can save them before the hotel tears itself apart.
This world-hopping fantasy tale breaks down the door to imagination and dares you to embrace the idea that family is everything.
$9.99.
Writer: Jordie Bellaire.
Artist: Dan Mora
Covers: Matthew Taylor, Kevin Wada, Celia Lowenthal (Virgin), Ryan Inzana, Audrey Mok,
The reimagining of Joss Whedon's groundbreaking series continues as Drusilla, the self-proclaimed Mistress and her pet, Spike, make their debut with their sights set on Buffy! Meanwhile, Giles is determined to teach Buffy about her destiny, responsibility, blah blah…can someone tell him to chill? How bad can it get?
32 pages, $3.99.
Writer: Greg Pak
Artist: Dan McDaid
Cover Artists: Lee Garbett, Joe Quinones, Marguerite Sauvage.
The truth about Mal and Zoe's past during the Unification War has been exposed and now the Unificators make their final move against them in the shocking conclusion to the first arc! New enemies arise, heroes fall and the crew of Serenity will pay the price.
32 pages, $3.99.
Writer: Dennis Hopeless
Artist: Serg Acuna.
Cover Artists: Marco D'Alfonso, Xermanico.
All of the sacrifices AJ Styles has made have paid off – he's atop the mountain of WWE and retains the WWE Championship. But there's no time to rest, as perhaps his most dangerous challenge awaits – the Samoan Submission Machine, Samoa Joe.
32 pages, $3.99.
WWE: NXT TAKEOVER SC
Writer: Dennis Hopeless
Artist: Jake Elphick, Kendall Goode, Hyeonjin Kim, Rodrigo Lorenzo
Cover Artist: Lucas Werneck,
NXT has become WWE's third global brand and the launching pad for some of today's biggest Superstars including Seth Rollins, Charlotte Flair, Alexa Bliss and many more.
Collects the entire 4-issue series.
$16.99.
SONS OF ANARCHY LEGACY EDITION BOOK TWO SC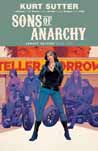 Writer: Ed Brisson, Ryan Ferrier.
Artist: Matías Bergara, Jesus Hervas.
Cover Artist: Robert Sammelin.
BOOM! Studios presents the the second of three Sons of Anarchy Legacy Editions! Collecting the previously released Sons of Anarchy comic for the first time under one cover in an all-new value priced format that no fan can afford to miss.
With stories taking place throughout key seasons of the his show, Kurt Sutter delivers the epic outlaw story of Charming's most notorious biker gang as they to keep the family together, while also staying one step ahead of the law.
Collects Sons of Anarchy (2014)​#7, #15-25.
$29.99.
PLANET OF THE APES ARTIST TRIBUTE HC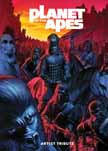 Artists: Alex Ross, Paolo Rivera, Bob Larkin, Michael Allred, Gabriel Hardman, Jay Shaw, Declan Shalvey and more.
Cover Artist: Alex Ross.
Since its original release in 1968, the Planet of the Apes franchise has shocked and captivated authors, artists, filmmakers, and fans across the world with its incredible effects and brilliant narrative. Now, return to the worlds of Planet of the Apes,​both old and new, realized by a collection of classic and modern artistic voices in celebration of one of cinema's most celebrated works.
The Planet of the Apes Artist Tribute ​features illustrations from renowned artists and bold new voices alike, including Alex Ross, Paolo Rivera, Michael Allred, Gabriel Hardman, Joe Quinones, and more.
$24.99.
MIGHTY MORPHIN POWER RANGERS #36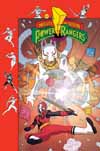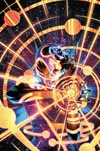 Writer: Marguerite Bennett.
Artist: Simone di Meo.
Cover Artists: Jamal Campbell, Phil Murphy, Linda Lithen.
The newly assembled Power Rangers put everything on the line to win the battle but now a war has begun…and it's one they never anticipated! But if Grace thought her new team had time, she's wrong – the universe itself is collapsing!
32 pages, $3.99.
SABAN'S GO GO POWER RANGERS #17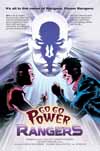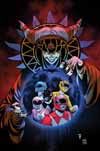 Writer: Ryan Parrott.
Artist: Eleonora Carlini.
Cover Artists: Marcus To, Miguel Mercado, Audrey Mok, Gleb Melnikov.
Rita needs the Green Power Coin to create a Ranger of her own, but in order to move forward she must first go back to the home she left behind?
32 pages, $3.99.
SABAN'S GO GO POWER RANGERS VOL. 3 SC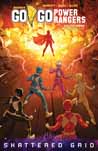 Writer: Ryan Parrott
Artist: Dan Mora.
Cover Artist: Dan Mora.
Shattered Grid continues!
The Ranger Slayer - a dark version of Kimberly Hart, AKA the Pink Ranger- is here at the behest of Lord Drakkon and nothing will ever be the same again for the Mighty Morphin Power Rangers.
The next installment of Saban's Go Go Power Rangers puts the entire legacy of the Power Rangers in jeopardy.
Collects issues #9-12.
$16.99.
Writer: Cullen Bunn
Artist: Jesus Hervas
Cover Artists: Vanesa R. Del Rey, Jesus Hervas.
Hell has broken loose in the neighborhood, and the Kerry family must flee to escape the deadly effects of the Empty Man virus.
32 pages, $3.99.
BONE PARISH #7
Writer: Cullen Bunn.
Artist: Jonas Scharf
Cover Artist: Rod Reis
Even as they wage war on multiple fronts, the Winters family can't help but fracture from within following their shocking loss.
32 pages, $3.99.
Writer: Matt Kindt
Artist:​Tyler Jenkins
Cover Artists: Matt Kindt, Tyler Jenkins
The Badge of Champions reaches its bloody conclusion – which troop will reign supreme, and what terrible secrets will be revealed?
32 pages, $3.99.
SPARROWHAWK #5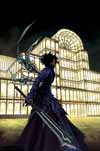 Writer: Delilah S. Dawson.
Artist:​Matias Basla.
Cover Artist: Miguel Mercado.
Art's quest has led her to the Unseelie Queen's palace and the terrible sacrifice she'll have to make to return home.
32 pages, $3.99.
WIZARD BEACH #3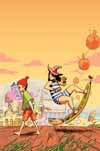 Writer: Shaun Simon.
Artist: Conor Nolan.
Cover Artist: George Schall.
Will the coldness in Hex's heart finally melt under the hot sun of Wizard Beach? Or amidst a game of his least favorite sport, Wand Ball? Or better yet, under the gentle gaze of one surfer witch named Agnes? Probably not.
32 pages, $3.99.
Writer: Simon Spurrier
Artist: Matías Bergara.
Cover Artists: Matías Bergara, David Lafuente
Hum is at rock bottom 00 no Serka, no Nag, all alone in the wilderness of the dystopian wastelands. But just when all hope seems lost, a familiar friend appears.
32 pages, $3.99.
MECH CADET YU VOL. 3 SC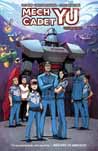 Writer: Greg Pak
Artist/cover artist: Takeshi Miyazawa
After relentless training and defying orders, the Mech Cadets find themselves on the front line of the Second Sharg War. Facing an uncompromising enemy they do not fully understand, Stanford, Park, Olivetti, and Sanchez are Earth's last hope. With all of human existence at stake, their bonds will have to match their courage if they are to protect everything they hold dear.
Bringing Stanford Yu's journey to its stunning conclusion, as the young cadets come to realize the true sacrifice that comes with duty and service.
Collects issues #9-12.
$14.99.
THE THRILLING ADVENTURE HOUR: MARTIAN MANHUNT SC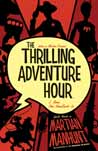 Writer: Ben Acker, Ben Blacker
Artist: J. Bone.
Cover Artist: Jamie McKelvie
Shine your astro spurs and don your robot fists! Justice rides a rocket steed across the crimson plains of the fourth planet, where one man brings hope to humans who make this frontier world their home. He is…Sparks Nevada: Marshal on Mars. Alongside his trusty Martian sidekick Croach, Sparks protects Mars from robot outlaws, alien invaders, and any galactic threat foolish enough to target the red planet.
Written by the creators of the wildly popular Hollywood stage show and podcast, Ben Acker and Ben Blacker, and illustrated by J. Bone, The Thrilling Adventure Hour: Martian Manhunt is a rip-roaring adventure that harkens back to the heyday of old-time radio entertainment.
Collects The Thrilling Adventure Hour Presents: Sparks Nevada: Marshal on Mars #0-4.
$16.99.
JIM HENSON'S LABYRINTH: CORONATION #11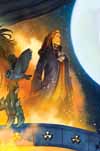 Writer: Simon Spurrier, Ryan Ferrier.
Artist: Daniel Bayliss.
Cover Artists: Fiona Staples, Cory Godbey.
Maria finally reaches the gates of the Owl King's Castle – but did she make it before the clock strikes thirteen?
32 pages, $3.99.
JIM HENSON'S BENEATH THE DARK CRYSTAL #7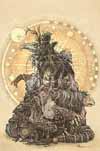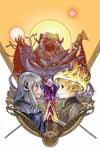 Writer: Adam Smith
Artist: Alexandria Huntington
Cover Artists: ​Benjamin Dewey, David Petersen
Kensho and his companions must journey further into Thra, to a Valley that has not been inhabited in over a hundred years. Meanwhile, Thurma makes a crucial decision that alters her fate and that of the entire Fireling land forever.
32 pages, $3.99.
JIM HENSON'S FRAGGLE ROCK: THE ROUGH SIDE OF THE ROCK HC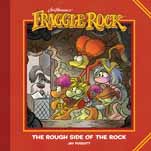 Writer/artist/cover artist: Jay Fosgitt.
It's the annual « Splish-Splash Friend Bash » at Fraggle Pond and all of Fraggle Rock is invited! But when a few bullies decide to crash the party, Gobo, Boober, and the other Fraggles will have to look out for one another and come up with a plan to help everyone get along.
Jim Henson's Fraggle Rock: The Rough Side of the Rock celebrates Jim Henson's timeless television series with an inspiring story of acceptance and friendship for fans of all ages.
Collects Fraggle Rock #2​ in a premium picture book format.
$9.99.
Writers: Shannon Watters, Kat Leyh.
Artist: Anne Marie Rogers.
Cover Artists: Kat Leyh, Brittany Peer
April's elaborate plans for Jo's birthday are well underway, and it's all camper and cryptidhands on deck to pull off the greatest party of all time!But when Mal, Barney, Jo, and Jen become shipwrecked on a mysterious desert island, they have to find a way back before the party is over!
32 pages, $3.99.
Writer: Carly Usdin
Artist: Noah Hayes
Cover Artists: Noah Hayes,​Cara McGee.
​​Charlie is done with team sports. Nope. Not happening. Never again. But Liv and the rest of the Georgia O'Keeffe College of Arts and Subtle Dramatics basketball team are determined to get Charlie to join them, and they've cooked up a ruse to woo her! For basketball. Nothing else.
32 pages, $3.99.
GIANT DAYS #47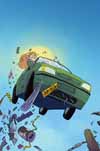 Writer: John Allison
Artist/cover artist: Max Sarin.
It's time for Daisy to get her driver's license, but she may not really be a natural behind the wheel. Can she overcome her nerves to become the ultimate motorist, and (for everyone's safety) should she be allowed to?
32 pages, $3.99.
SMOOTH CRIMINALS #4
Writers: Kurt Lustgarten, Kirsten « Kiwi » Smith.
Artist: Leisha Riddel
Cover Artist: Audrey Mok
Brenda and Mia are prepping for the heist of the century, but the pressure of getting all of their moving pieces in place is putting a strain on their friendship, and rifts are forming in the team! When someone from Mia's past shows up unexpectedly, the question becomes, will they help…or hinder?
32 pages, $3.99.
Writer: John Allison
Artist: Christine Larsen.
Cover Artists: Christine Larsen, Sarah Stern
There's only one person on earth who knows the secrets of Charlesco: Jane and Barney's boss, Langdon Gramercy. To get to the bottom of what's going on in Spectrum, they plan to ply him with wine and crack open the vault of secrets.
32 pages, $3.99.
THE BACKSTAGERS VOL. 3 SC
Writers: James Tynion IV, Sam Johns.
Artists: Rian Sygh, Brittney Williams, Caitlin Rose Boyle, Katy Farina, Savanna Ganucheau, Shan Murphy, Abby Howard.
Cover Artist: Veronica Fish.
The Backstagers are back in (stage) blacks for a festive collection of Valentine's Day and Halloween stories! Join Jory and the rest of the Backstagers as they wrestle with anti-Valentine crusades, totally creepy phantoms (NOT of the opera), and the ever present magic of the backstage world in this romantically spooky third volume of the hit series.
Reuniting the Prism Award-winning team of writer James Tynion IV (Detective Comics, Justice League) and artist Rian Sygh, along with a variety of fan-favorite artists including Brittney Williams (Goldie Vance), Caitlin Rose Boyle (Jonesy), Katy Farina (Steven Universe), and more, these holiday tales will fill your heart with love, spooky spectres, and chocolate. Lots…and lots…of chocolate.
Collects The Backstagers Valentines Intermission and The Backstagers Halloween Intermission.
$14.99.
AMAZING WORLD OF GUMBALL: SPRING BREAK SMASH #1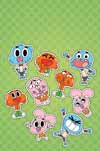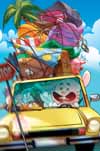 Writers: Mirka Andolfo, Lucie Ebrey, Chelsey Furedi, Caleb Goellner, Julia Prescott.
Artist: Lucie Ebrey, Chelsey Furedi, George Mager, Mattia Di Meo.
Cover Artists: Mirka Andolfo, Grace Park
It's spring break in Elmore. Let the vacations begin! Tobias is planning an epic house party, Hot Dog Guy is looking for love, the Watterson's turn their house into a resort, and more!
48 pages, $7.99.
STEVEN UNIVERSE: CAMP PINING PLAY OGN SC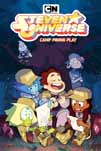 Writer: Nicole Mannino.
Artist: Lisa Sterle.
Cover Artist: Francesca Perrone.
When Peridot and Lapis discover Camp Pining Play fanfiction, they fall in love with Lars' secret story and decide to put on a live performance for Beach City! With Steven, Connie, and the Crystal Gems, Peridot and Lapis become true thespians and work together to find a solution when parts of the story remind Lapis of her time with Jasper and jeopardize the play's production.
Join writer Nicole Mannino (This is Not Fiction) and artist Lisa Sterle (Long Lost) in this newest Steven Universe story that will prove there's no stopping Steven and the Crystal Gems when the show must go on!
$14.99.
Writer: Terry Blas.
Artist: Gabriele Bagnoli.
Cover Artists: Missy Pena, Francesca Perrone.
While on a visit to Lars and the Off Colors, Steven and Connie get more than they bargained for when an escape from Emerald doesn't go exactly as planned. Contains extra story content!
32 pages, $4.99.
GARFIELD: THE MONDAY THAT WOULDN'T END OGN SC
Writer: Scott Nickel, Mark Evanier, Sarah Oleksyk.
Artist: Antonio Alfaro, Sarah Oleksyk.
Cover Artist: Andy Hirsch.
MONDAY BITES!
It's that most dreaded day and, of course, everything is going wrong, wrong, wrong for Garfield. But this is no ordinary Monday, and the frazzled feline finds himself stuck in a time loop, reliving the agony over and over and over. Can Garfield find a way to end this rotten day or will he be stuck forever?
Garfield and the gang are back in an all-new graphic novel with stories written by Scott Nickel and Mark Evanier (Garfield & Friends) and illustrated by series regular Antonio Alfaro. This volume also features a short story by cartoonist Sarah Oleksyk (Ivy).
$14.99.
ADVENTURE TIME: MARCY & SIMON #2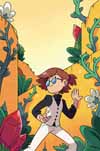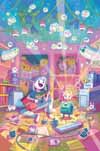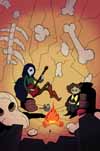 Writer: Olivia Olson.
Artist: Slimm Fabert.
Cover Artists: Brittney Williams, Ray Tonga, Ashley Morales.
Marceline and Simon set off on their question to make amends for Simon's actions as the Ice King and find themselves at their first stop…the Nightosphere! But as Marceline knows too well, relying on Hunson Abadeer always comes with a catch. Written by Olivia Olson, the voice of Marceline!
32 pages, $3.99.
Writer: Ted Anderson.
Artist: Marina Julia
Cover Artists: Jorge Corona, Julie Benbassat, Tara O'Connor.
When Finn and Jake are finally ready to find a new home after their treehouse was destroyed during Golb's attack, an unlikely group makes shore on Ooo, leading Finn to confront the question of where he truly belongs.
32 pages, $3.99.
ADVENTURE TIME VOL. 17 SC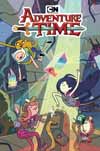 Writer: Conor McCreery, Christopher Hastings, Mariko Tamaki, Ryan North, Kiernan Sjursen-Lien.
Artist: Jorge Monlongo, Zachary Sterling, Ian McGinty, Shelli Paroline, Braden Lamb, Christine Larsen.
Cover Artist: Shelli Paroline, Braden Lamb.
EVERY ADVENTURE COMES TO AN END…
After six years and 75 issues, Finn, Jake, and your favorite characters from Cartoon Network's Adventure Time star in their final collection from the ongoing series. Together, they'll face off against Magic Man stealing the colors from Ooo and take on one of their most challenging quests of all: a royal wedding… And there's even a special adventure starring Fionna & Cake as they retrieve the punch for Prince Gumball's semi-annual Punch Parade!
Collects Adventure Time #74, #75, and the Adventure Time 2018 Free Comic Book issue.
$14.99.