Oh oh :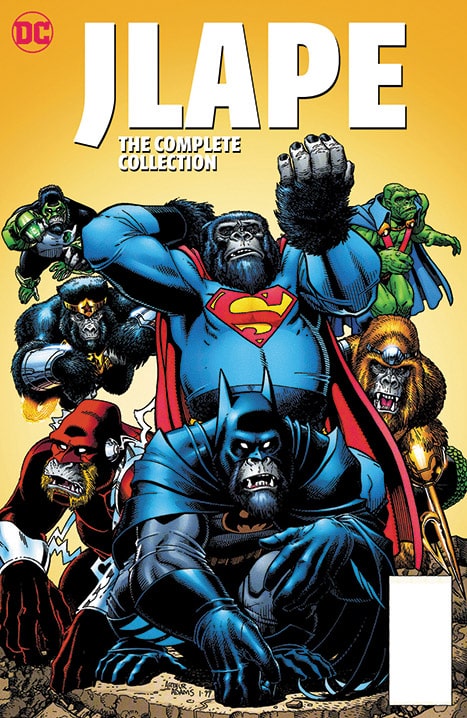 JLAPE: THE COMPLETE COLLECTION
Written by LEN KAMINSKI, JOHN OSTRANDER, KEITH GIFFEN, and others
Art by POP MHAN, JASON ORFALAS, GRAHAM NOLAN, M.D. BRIGHT, and others
Cover by ARTHUR ADAMS
$29.99 US | 352 pages | 6 5/8″ x 10 3/16″ | Softcover | ISBN: 978-1-77952-722-6
ON SALE 3/26/24
Apes alive! When Solovar, leader of Gorilla City, is apparently assassinated by pro-human extremists, Gorilla City's new government declares war on humanity. Part of their plot involves turning the JLA into human-hating gorillas to help carry out their bidding.
Now it's up to Batman (the only member who wasn't transformed, of course) and Martian Manhunter to find a cure for their banana-loving buddies and prevent all-out gorilla warfare from encompassing every civilization from
Atlantis to Themyscira. JLApe: The Complete Collection reprints the entire crossover from Legends of the DC Universe #19, JLA Annual #3, Batman Annual #23, Aquaman Annual #5, Wonder Woman Annual #8, The Flash Annual #12, Superman Annual #11, Green Lantern Annual #8, and Martian Manhunter Annual #2.
Jim