WONDER WOMAN #750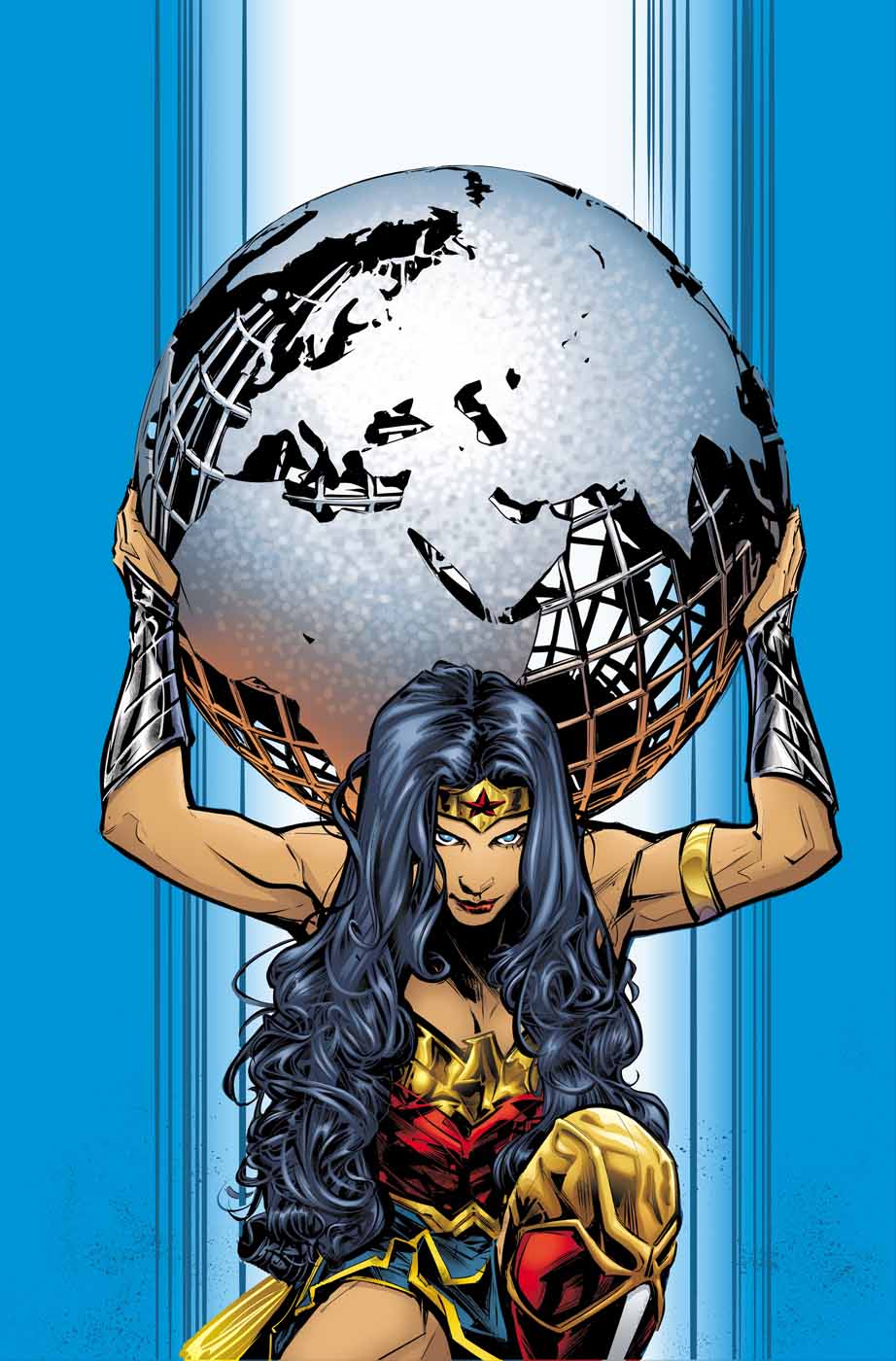 Written by VITA AYALA, MARGUERITE BENNETT, KAMI GARCIA, DEAN HALE, SHANNON HALE, JEFF LOVENESS, STEVE ORLANDO, GREG RUCKA, GAIL SIMONE, MARIKO TAMAKI and others.
Art by ELENA CASAGRANDE, COLLEEN DORAN, JESUS MERINO, GABRIEL PICOLO, and others.
Cover by JOELLE JONES
1940s variant cover by JOSHUA MIDDLETON
1950s variant cover by JENNY FRISON
1960s variant cover by J. SCOTT CAMPBELL
1970s variant cover by OLIVIER COIPEL
1980s variant cover by GEORGE PEREZ
1990s variant cover by BRIAN BOLLAND
2000s variant cover by ADAM HUGHES
2010s variant cover by JIM LEE and SCOTT WILLIAMS
An all-star 96-page celebration of the Amazon Princess by longtime favorites and acclaimed new voices! In the lead story, Wonder Woman's epic « Year of the Villain » battle comes to a close, leading the way to new challenges ahead. Additionally, this oversized gem tells tales from Diana's past, present and future by some of the greatest storytellers in the business – including Colleen Doran, Mariko Tamaki, the Teen Titans: Raven team of writer Kami Garcia and artist Gabriel Picolo, and legendary Wonder Woman creators returning to the character, including Gail Simone and Greg Rucka!
96 pages, $9.99, in stores on Jan. 22.
BIRDS OF PREY #1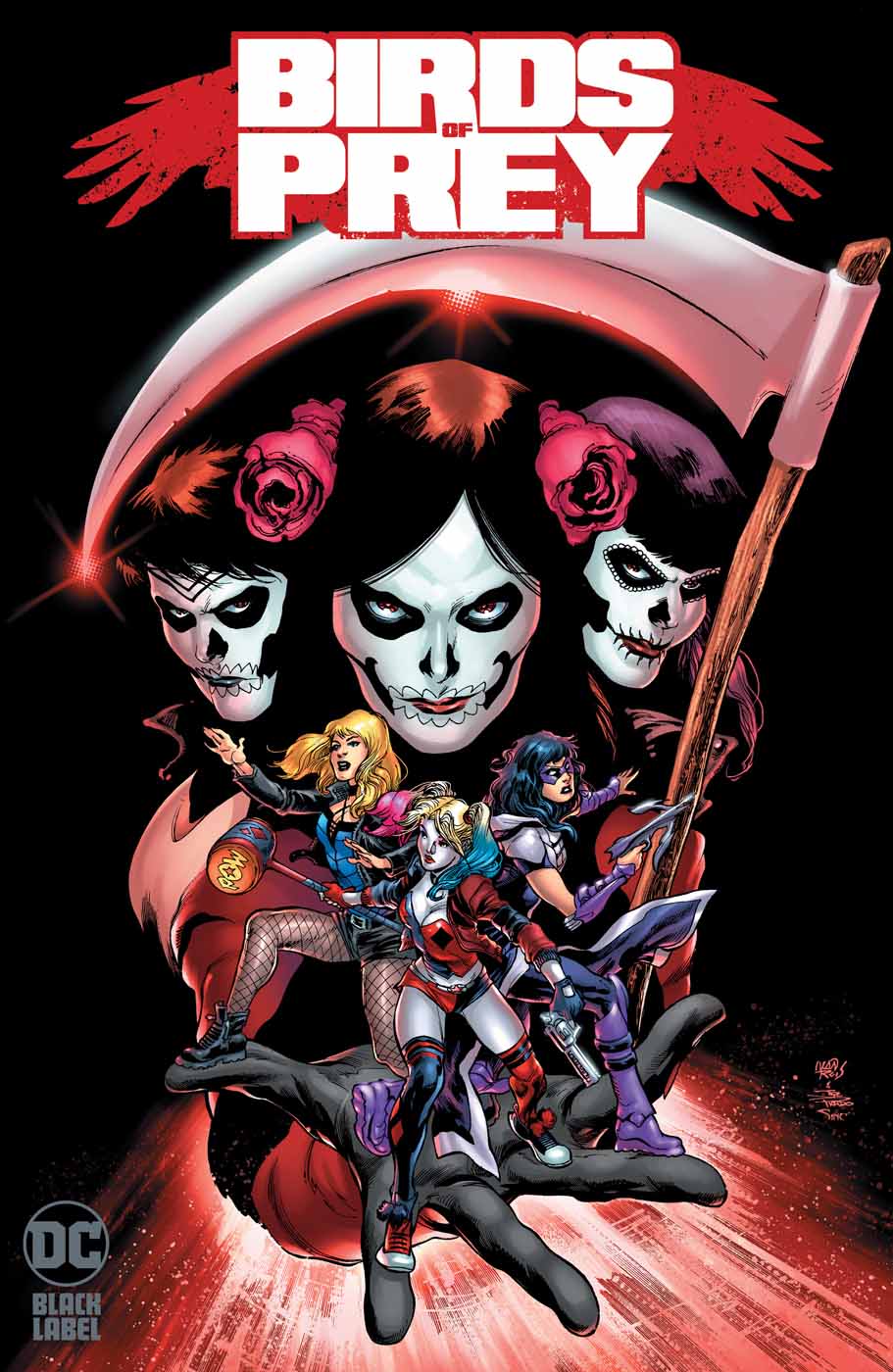 Written by BRIAN AZZARELLO
Art and cover by EMANUELA LUPACCHINO and RAY McCARTHY
Cover by IVAN REIS and JOE PRADO
Variant by J. SCOTT CAMPBELL
Black Canary's life has spiraled out of control: her personal life is going through the ringer and her band is in crisis when an old flame resurfaces only to flicker out and set her on an all-new mission against an all-new opponent. The only thing she has to be grateful for is the fact that she's not alone, as Huntress finds herself on a collision course with Black Canary's quarry at Detective Montoya's urging. Meanwhile, Harley Quinn has resurfaced outside of Gotham City and out of the Suicide Squad, with a new lease on life that is sure to make everyone else's life more complicated. And that's only the first five pages of this high-octane, graphic novel-length one-shot that pushes the Birds of Prey far beyond their limits and puts them up against the most brutal crime syndicate to ever sweep into Gotham City! Hardboiled superstar writer Brian Azzarello and the bombshell art team of Emanuela Lupacchino and Ray McCarthy take the Birds into the no-holds-barred world of Black Label, and none of them will ever be the same!
96 pages, $9.99, in on Jan. 20.
BATMAN #86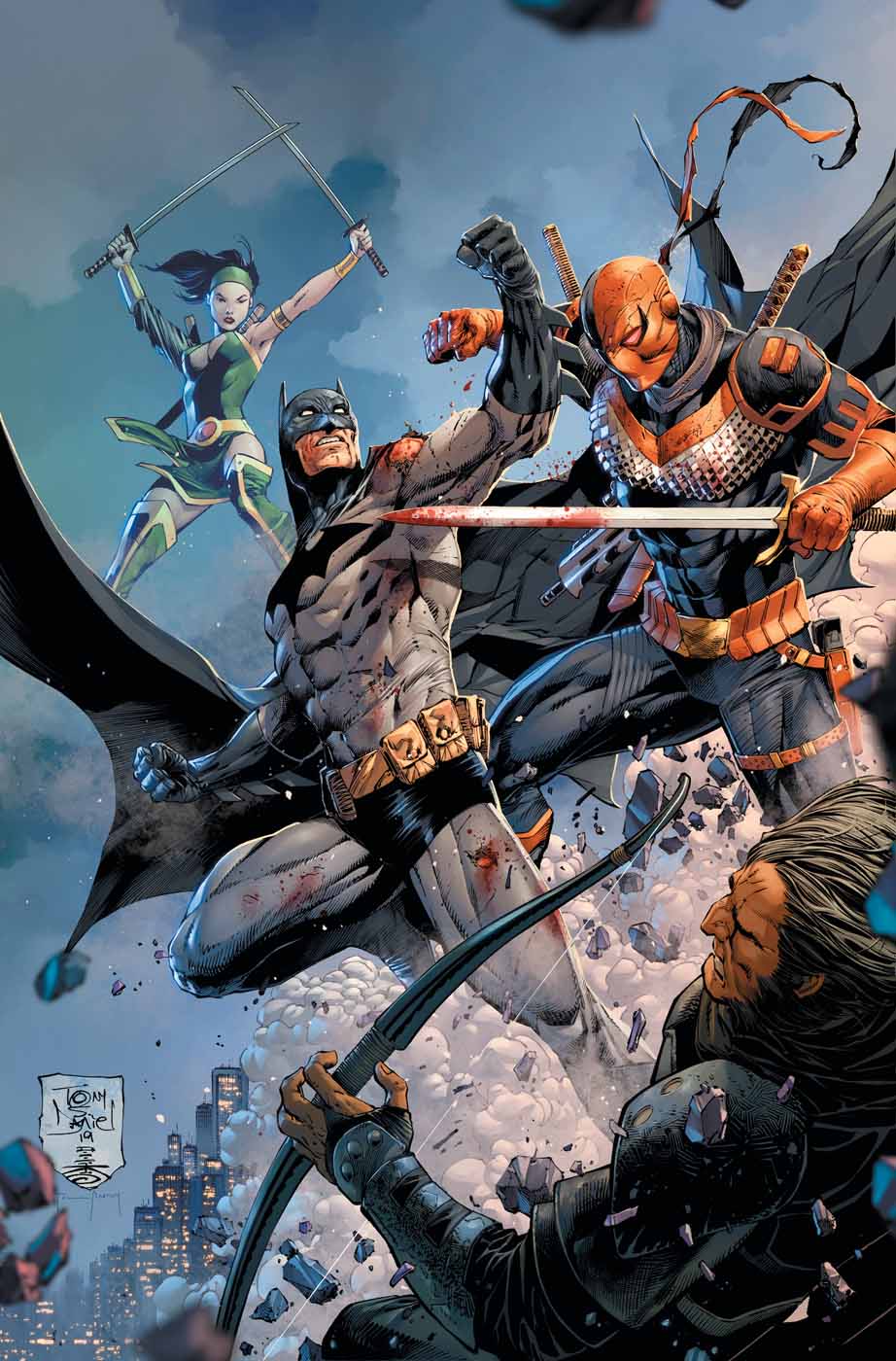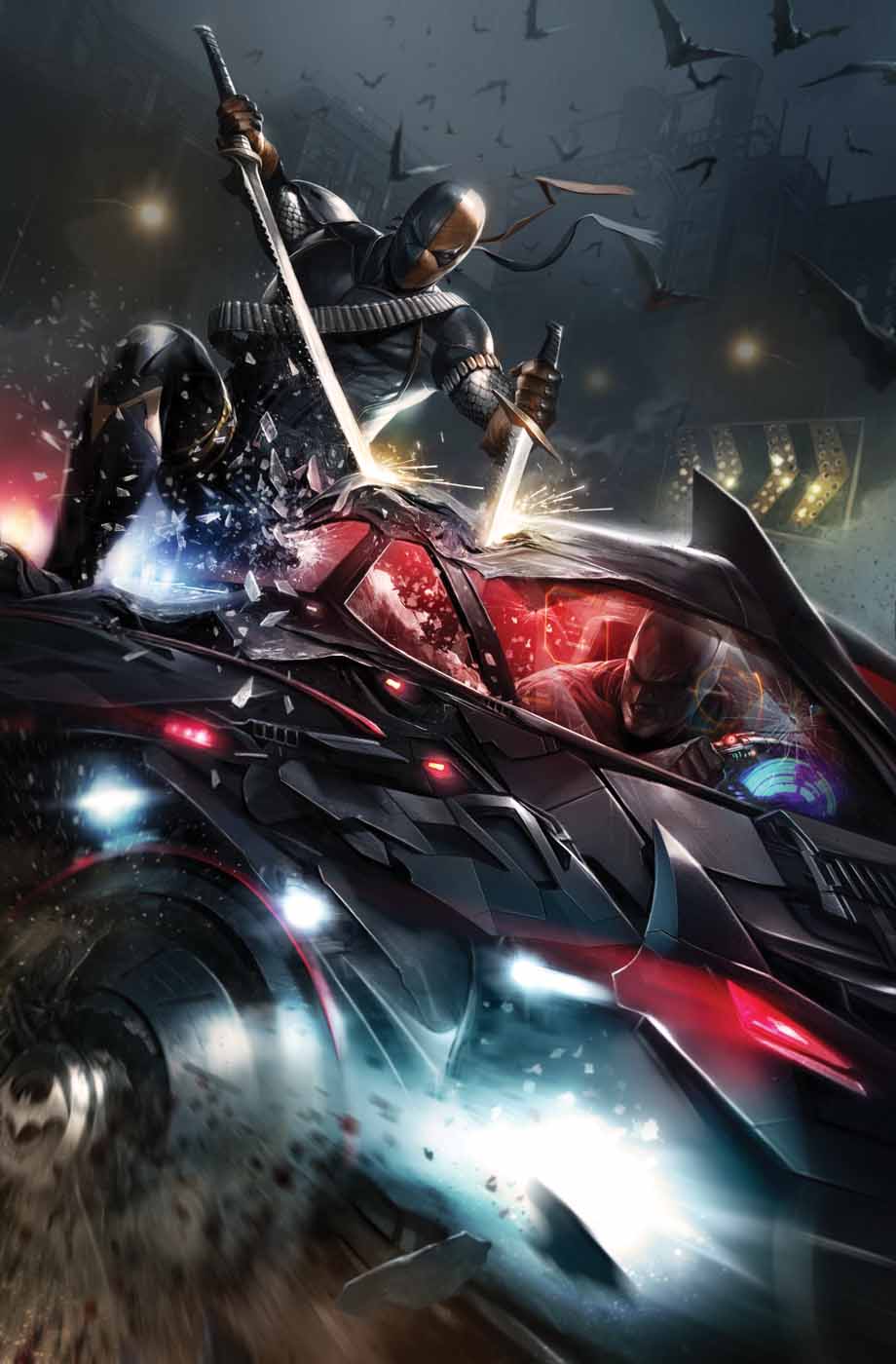 Written by JAMES TYNION IV
Art by TONY S. DANIEL and DANNY MIKIcover by TONY S. DANIEL card stock variant cover by FRANCESCO MATTINA
It's a new day in Gotham City, but not the same old Batman. With Bane vanquished and one of his longtime allies gone, Batman has to start picking up the pieces and stepping up his game. Batman has a new plan for Gotham City, but he's not the only one. Deathstroke has returned as well, under a mysterious new contract that could change everything. Beginning a whole new chapter in the life of the Dark Knight, the epic art team of Tony S. Daniel and Danny Miki are joined by new series writer James Tynion IV!
32 pages, $3.99 (cardstock, $4.99), in stores on Jan. 8.
BATMAN #87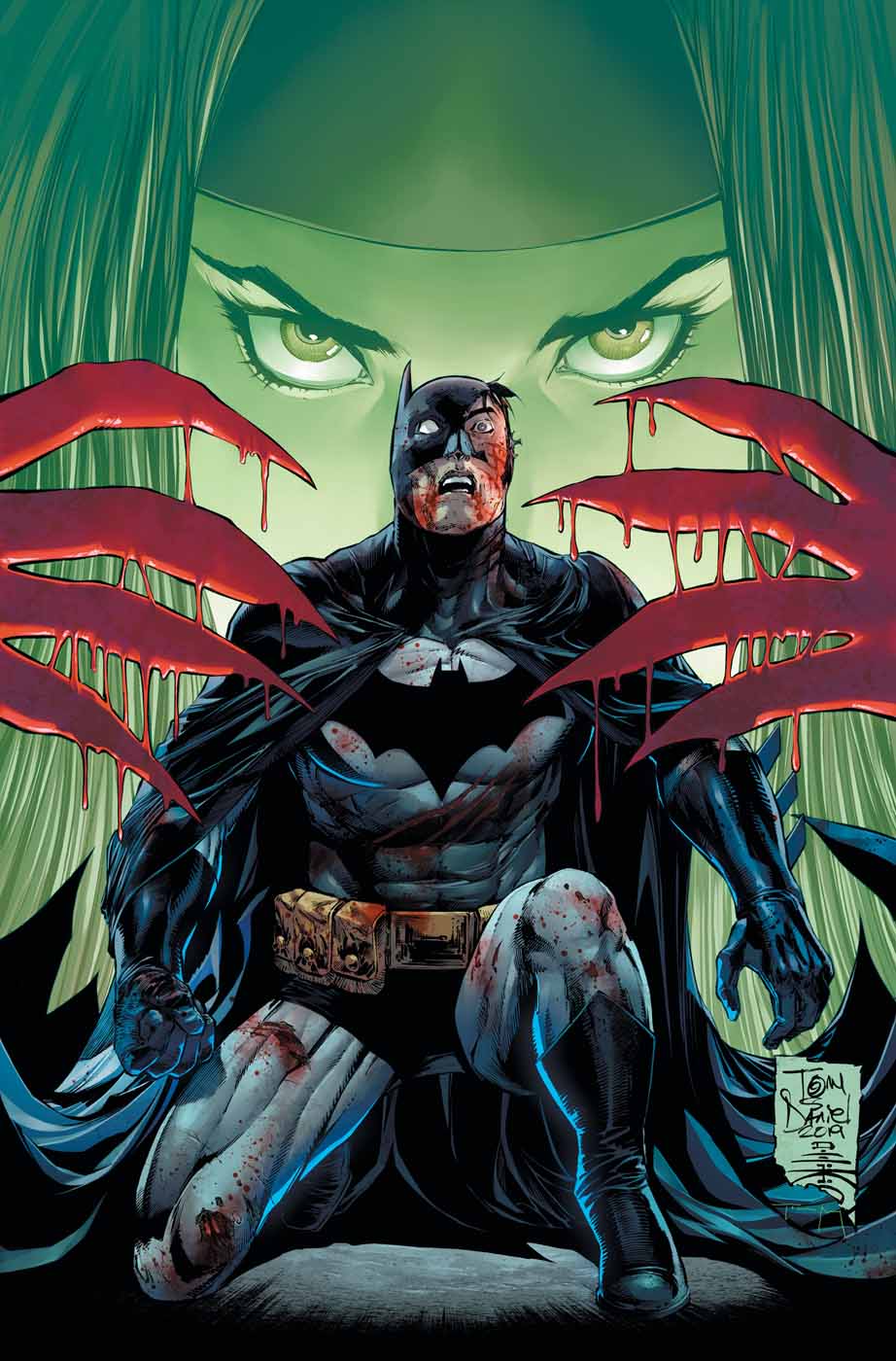 Written by JAMES TYNION IV
Art by TONY S. DANIEL and DANNY MIKI
Cover by TONY S. DANIEL
Variant cover by FRANCESCO MATTINA
The Riddler has been lying low since his humiliating defeat as part of Bane's army – but as costumed assassins start to make their way into Gotham City, Edward Nygma may have the answers he's been looking for. Or at least, the answer to why Deathstroke is trying to kill him! Is it possible that Batman's tussle with Slade Wilson was all just a ruse to get the killer closer to his true target?
32 pages, $3.99, in stores on Jan. 22.
DAPHNE BYRNE #1
Written by LAURA MARKS
Art by KELLEY JONES
Cover by PIOTR JABŁOŃSKI
Card stock variant cover by YASMINE PUTRI
In the gaslit splendor of late 19th-century New York, rage builds inside 14-year-old Daphne. The sudden death of her father has left her alone with her irresponsible, grief-stricken mother – who becomes easy prey for a group of occultists promising to contact her dead husband. While fighting to disentangle her mother from these charlatans, Daphne begins to sense a strange, insidious presence in her own body…an entity with unspeakable appetites. What does « Brother » want? And could she even stop him if she tried?
32 pages, $3.99 (cardstock, $4.99), in stores on Jan. 8.
SUPERMAN: HEROES #1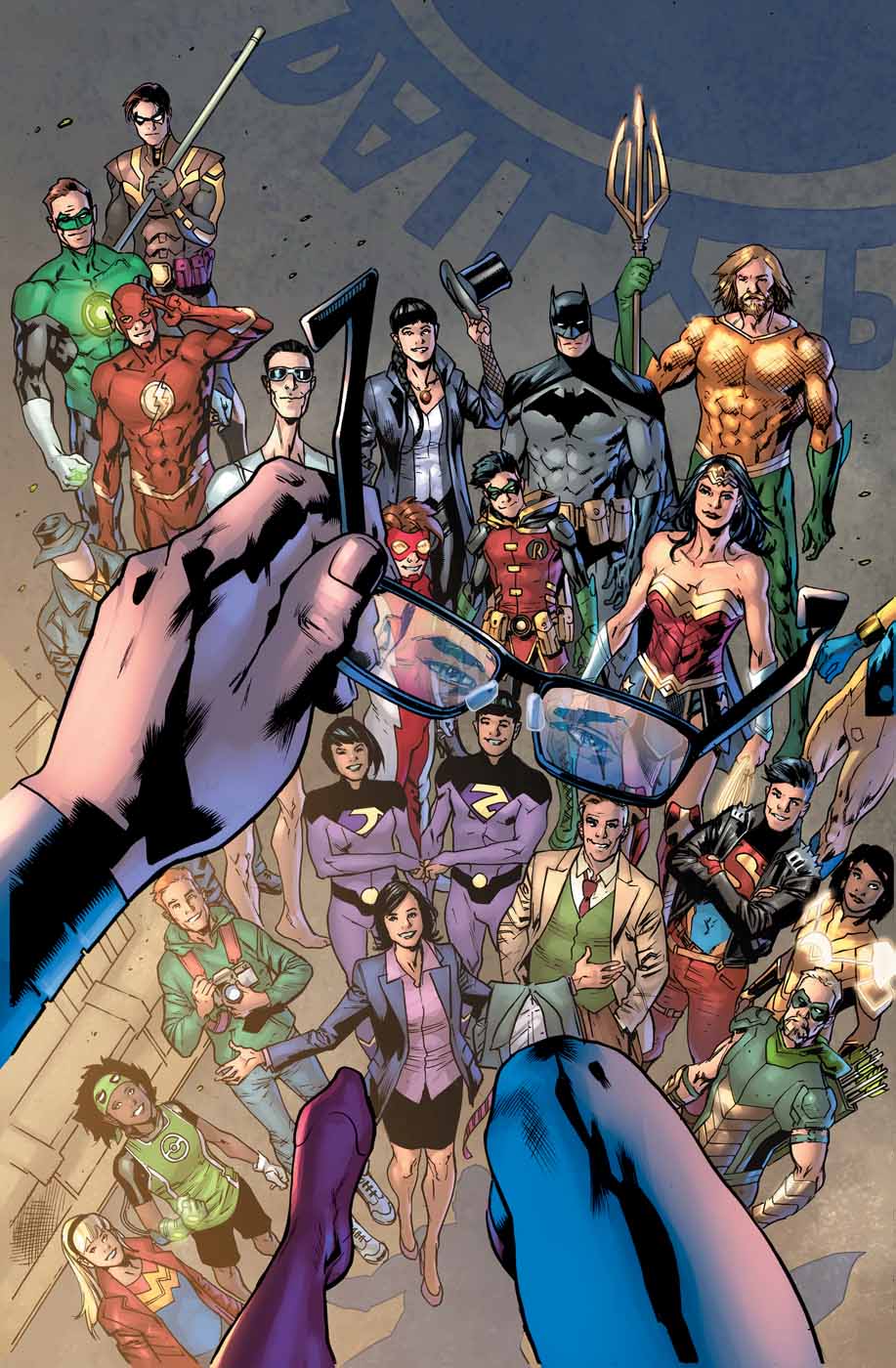 Written by BRIAN MICHAEL BENDIS, MATT FRACTION, JODY HOUSER, and GREG RUCKA
Art by KEVIN MAGUIRE, STEVE LIEBER, MIKE PERKINS and others
Cover by BRYAN HITCH
Lois Lane, Jimmy Olsen, the staff of the Daily Planet, even the Justice League – their lives all changed when Superman revealed his secret identity to the world! This unique Superman experience explores what the identity of Clark Kent meant to those close to him – and what their relationship to Superman will be in the future. All the rules are about to change – and it all starts here.
48 pages, $5.99, in stores on Jan. 29.
YEAR OF THE VILLAIN: HELL ARISEN #2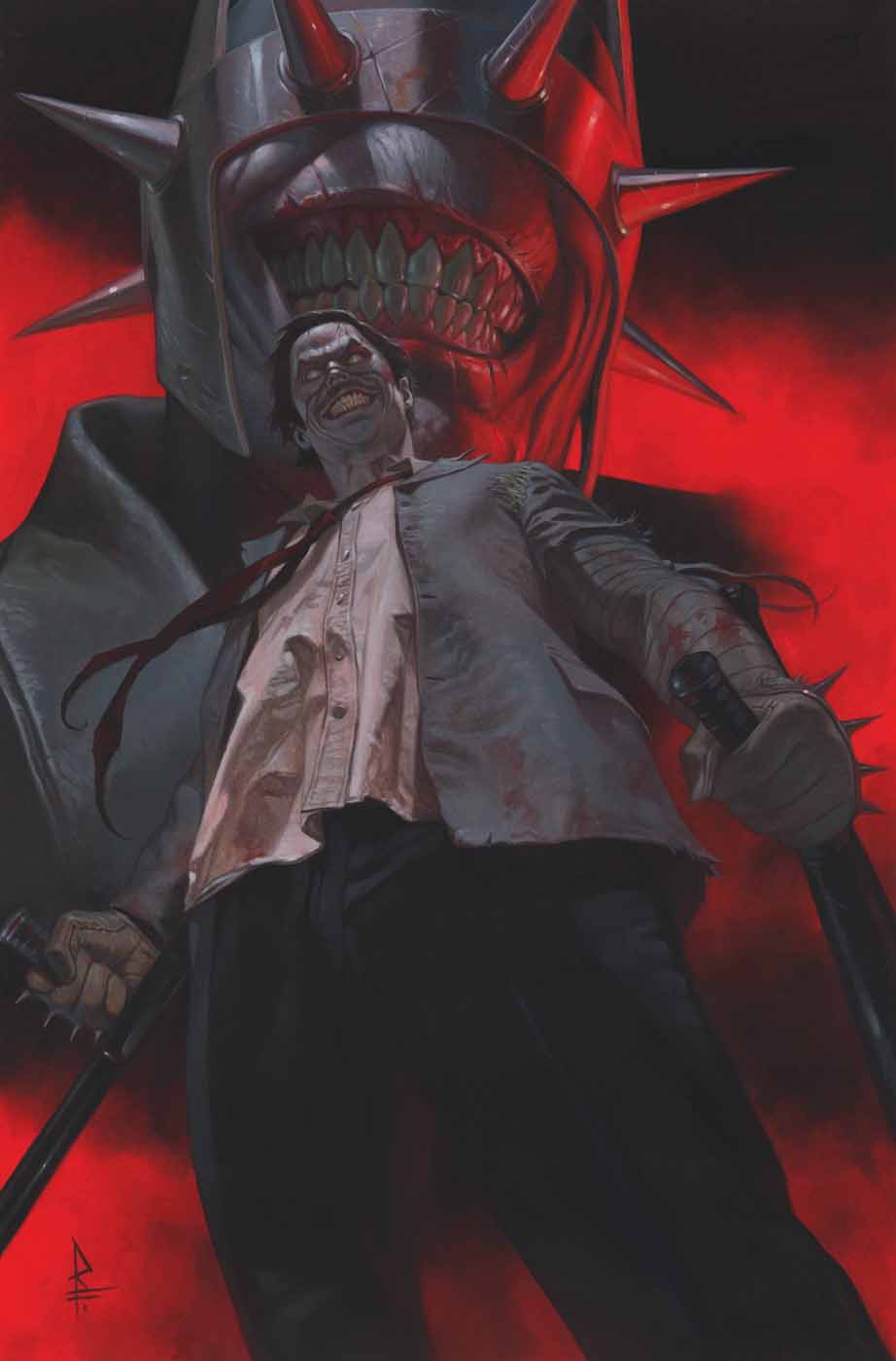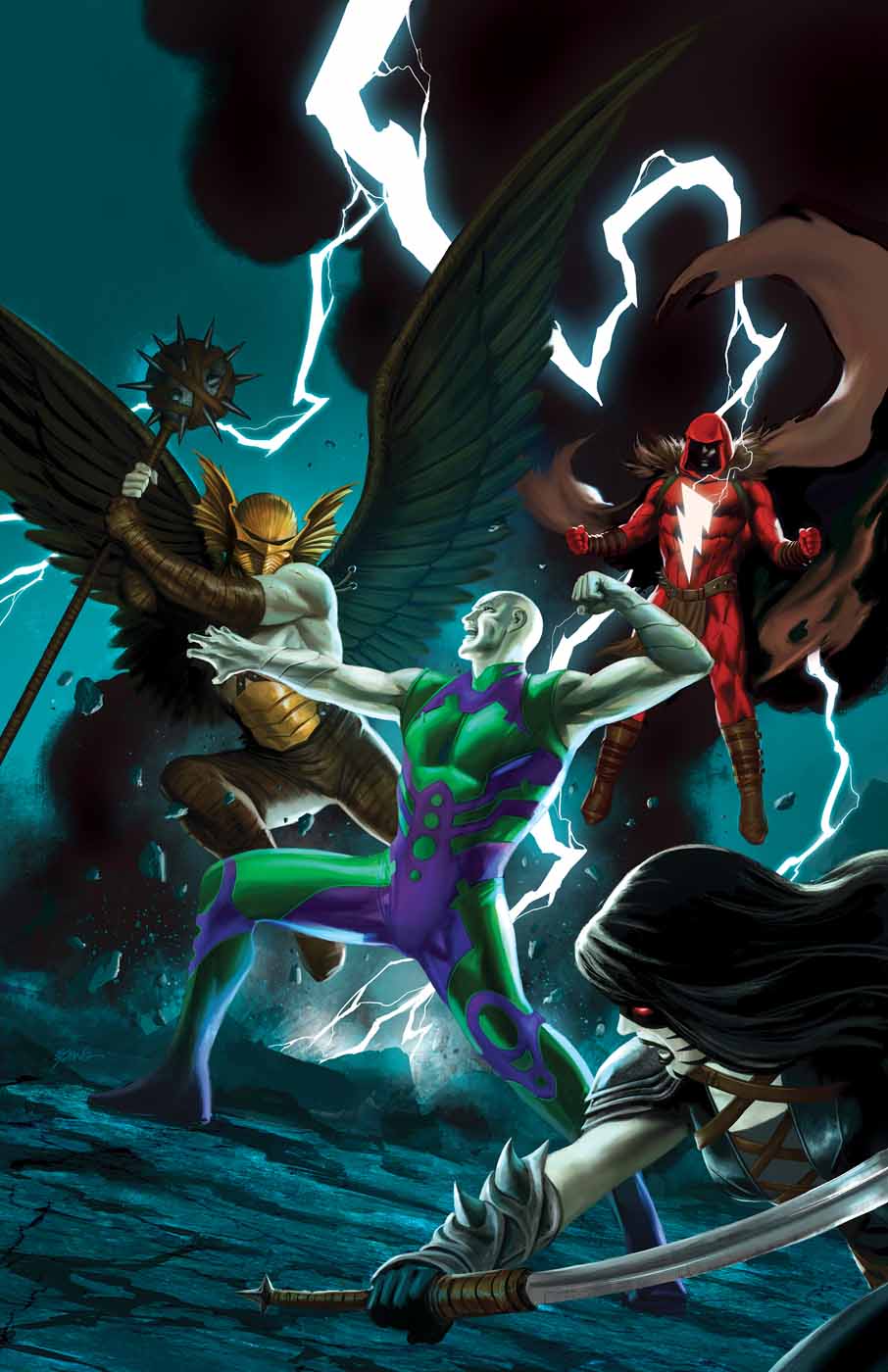 Written by JAMES TYNION IV
Art and cover by STEVE EPTING
Variant cover by RICCARDO FEDERICI
Apex predator Lex Luthor is on the hunt for the Batman Who Laughs. To catch his prey, he must follow a trail of broken heroes…leading him to Jim Gordon, one of the victims of the Batman Who Laughs' deadly virus that turned the heroic police commissioner into the worst version of himself. The trail leads Lex to a lonely cell in the Hall of Justice – but it's not the good guys who come to stop him. It's more of the Batman Who Laughs' dangerous operatives! And if they couldn't resist the influence of the Dark Multiverse, then how can Lex?
32 pages, $4.99, in stores on Jan. 22.
DETECTIVE COMICS #359 FACSIMILE EDITION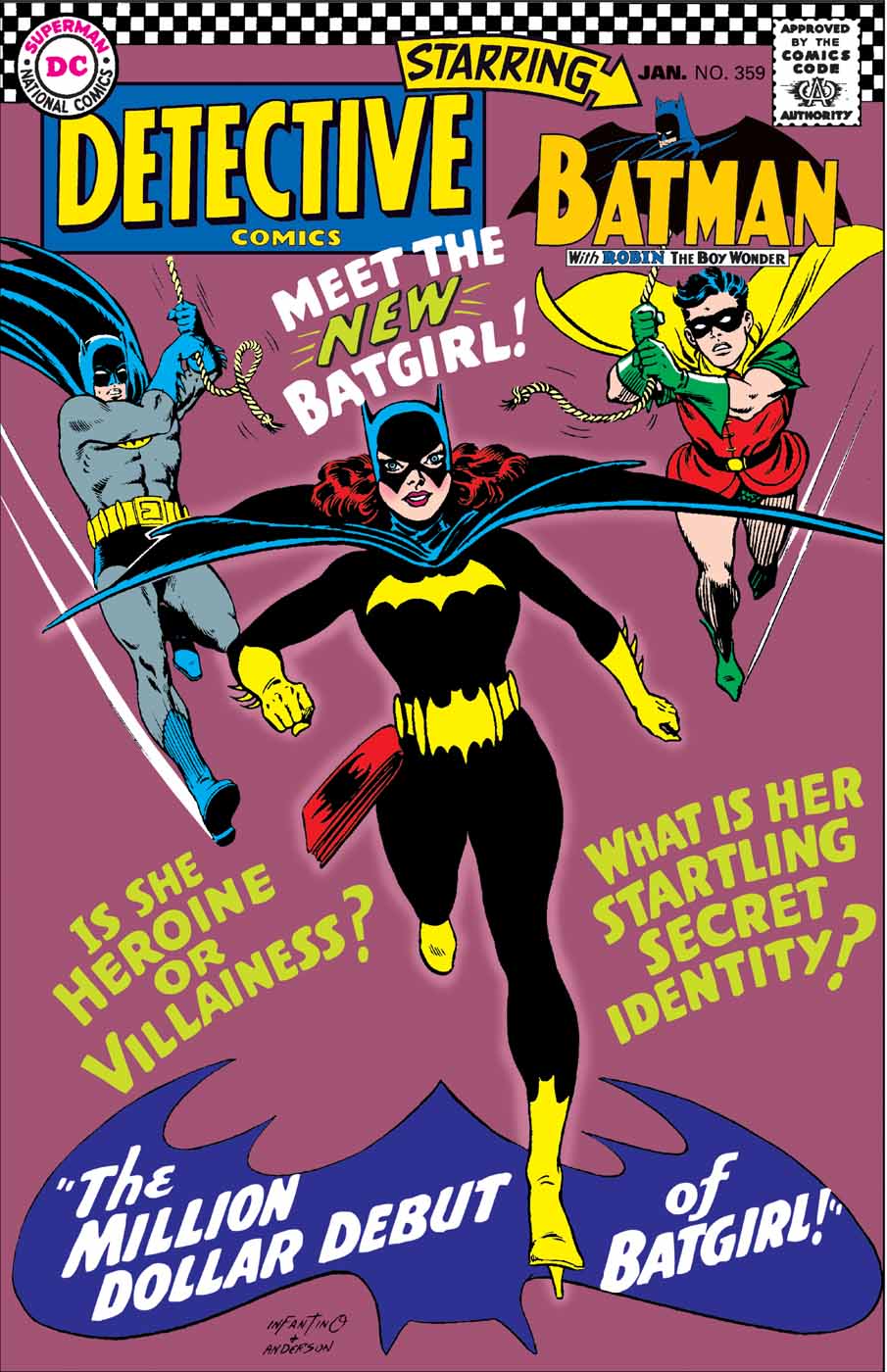 Written by GARDNER FOX and JOHN BROOME
Art by CARMINE INFANTINO, SID GREENE, and MURPHY ANDERSON
Cover by CARMINE INFANTINO and MURPHY ANDERSON
Batgirl makes her first appearance in this 1967 origin story, reprinted in a new facsimile edition! As both Batgirl and Oracle, Barbara Gordon has been a pivotal part of the Batman family for decades. In « The Million Dollar Debut of Batgirl, » what starts as a trip to a costume party sparks a crime-fighting career, as Barbara helps Batman and Robin defeat Killer Moth! Plus, the Elongated Man must solve « The Riddle of the Sleepytime Taxi »!
32 pages, $3.99, in stores on Jan. 15.
BATMAN GIANT #3
By various.
Includes new stories plus classic reprints!
96 pages, $4.99, in stores on Jan. 29.
CRISIS ON INFINITE EARTHS GIANT #2
By various.
Includes new stories plus classic reprints!
96 pages, $4.99, in stores on Jan. 22.
DC SUPER HERO GIRLS GIANT #2
By various.
Includes new stories plus classic reprints!
96 pages, $4.99, in stores on Jan. 22.
TEEN TITANS GO! GIANT #2
By various.
Includes new stories plus classic reprints!
96 pages, $4.99, in stores on Jan. 15.
ACTION COMICS #1019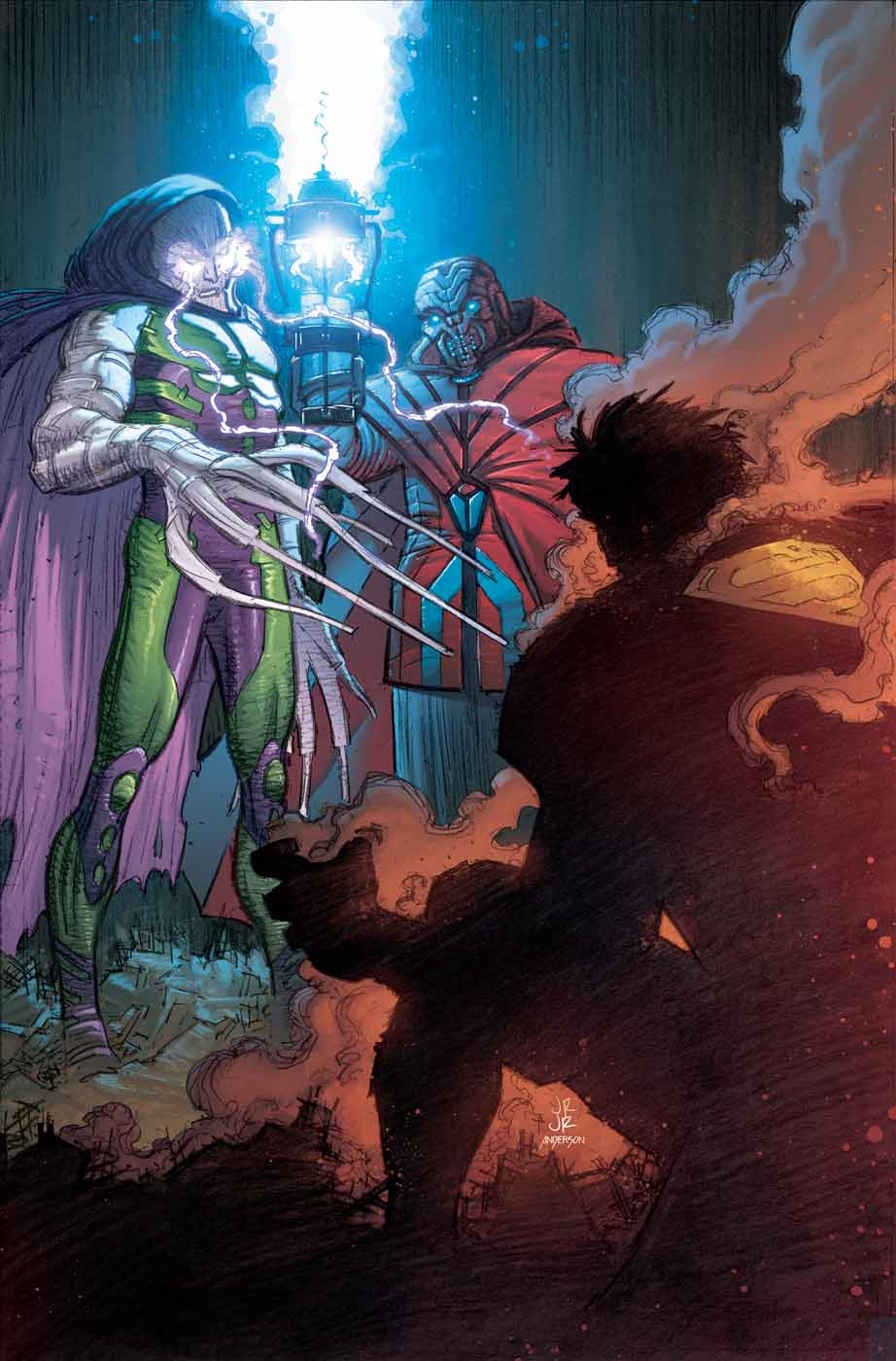 Written by BRIAN MICHAEL BENDIS
Art and cover by JOHN ROMITA JR. and KLAUS JANSON
Card stock variant cover by LUCIO PARRILLO
One of the biggest battles in Superman history tears through Metropolis as the super-villain team-up of Lex Luthor, the Legion of Doom, and Leviathan come to change Superman's city forever! The blockbuster creative team of writer Brian Michael Bendis and artists John Romita Jr. and Klaus Janson create a Superman epic for the ages – as the Man of Steel deals with the public disclosure of his secret identity!
32 pages, $3.99 (Cardstock, $4.99), in stores on Jan. 29.
AQUAMAN #56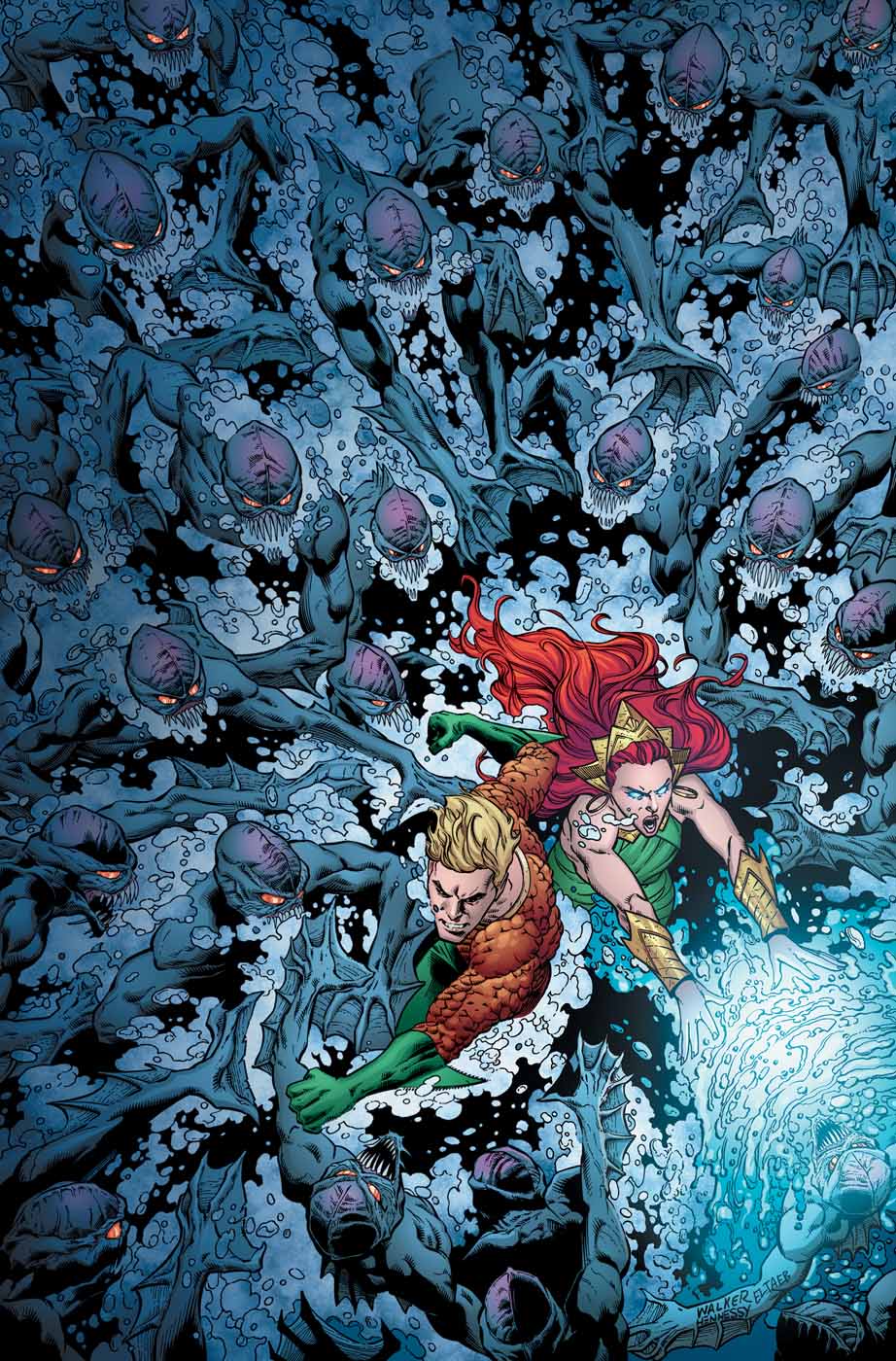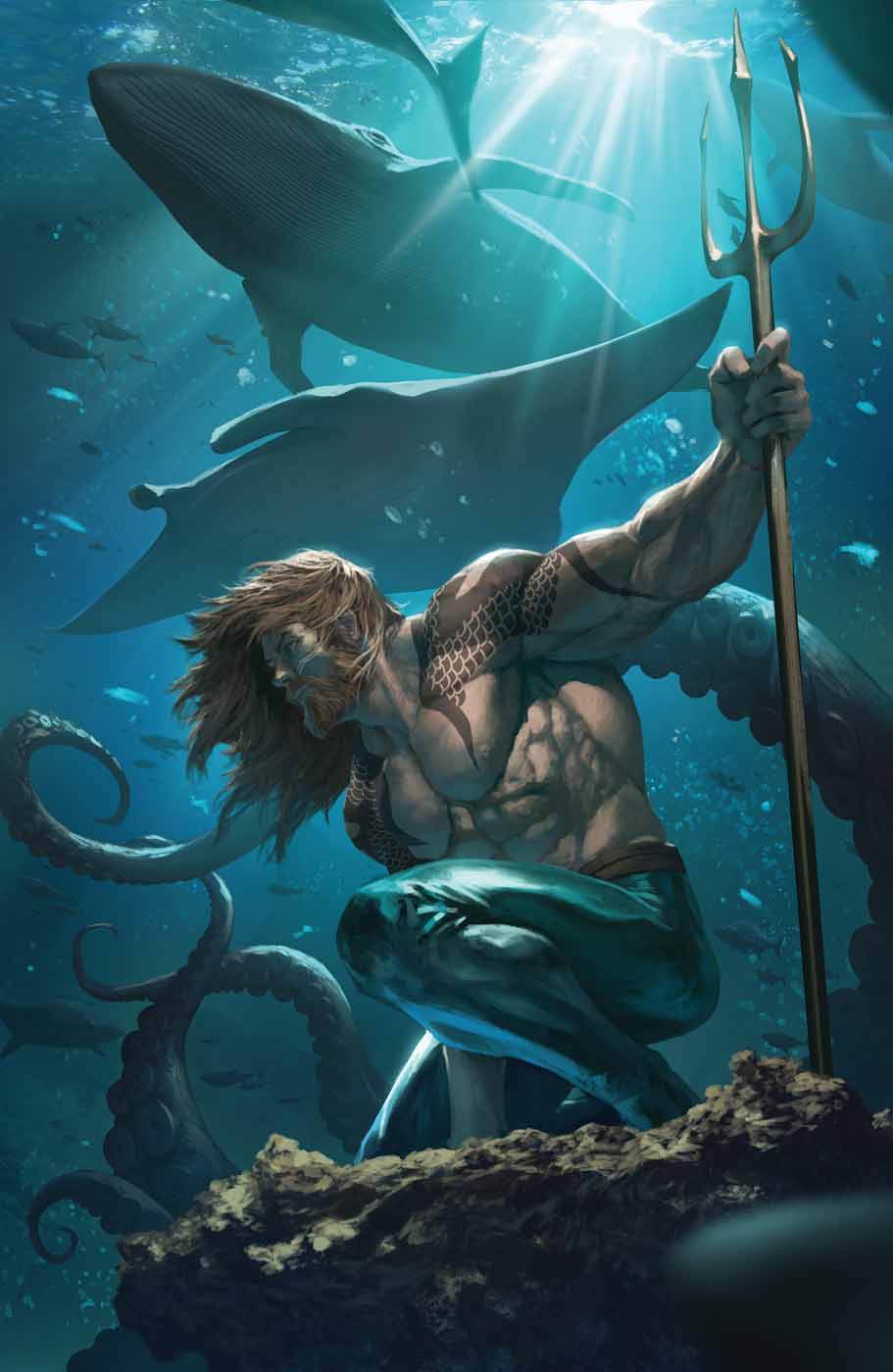 Written by guest writer KYLE HIGGINS
Art by guest artists AARON LOPRESTI and MATT RYAN
Cover by BRAD WALKER and ANDREW HENNESSY
Variant cover by SKAN
The countdown to Aquababy has begun! As the birth of Aquaman and Mera's child grows near, don't miss this special interlude issue! In a story that takes place days after Aquaman and Mera's engagement, a violent encounter with the resurgent Kingdom of the Trench leads to an unexpected outcome, and the conflict sheds new light on Aquaman and Mera's plans for their future.
32 pages, $3.99, in stores on Jan. 15.
BATGIRL #43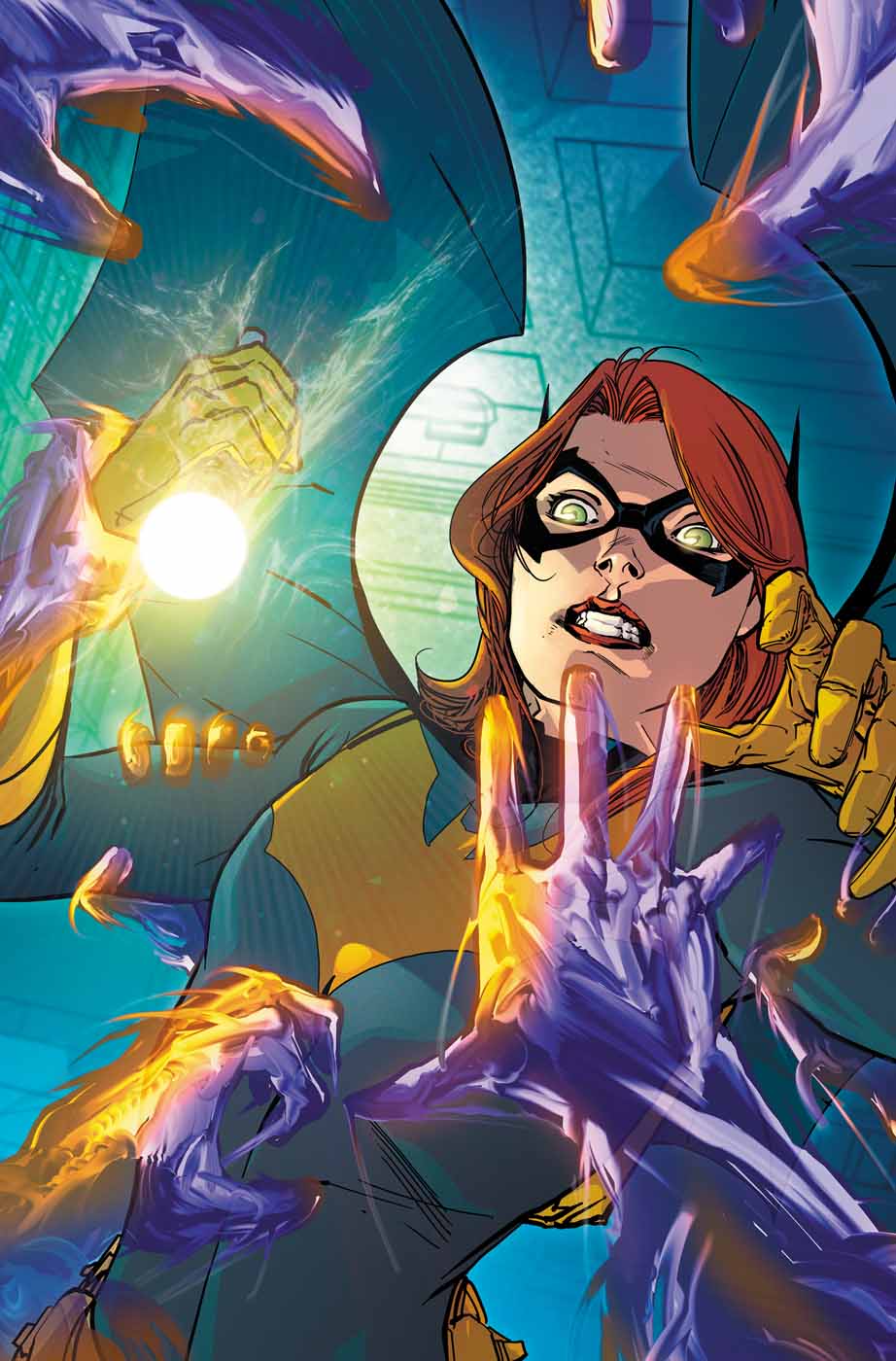 Written by CECIL CASTELLUCCI
Art by CIAN DORMEY
Cover by CARMINE DI GIANDOMENICO
Variant cover by TERRY DODSON and RACHEL DODSON
After her disastrous dust-up with Oracle, Batgirl needs to regroup. But when Barbara Gordon's boss sends her to Chicago, she must confront the city's greatest threat…her estranged mother! Luckily, a dangerous new villain called Opus distracts her from that unhappy reunion by threatening to bury Batgirl in the Windy City – forever!
32 pages, $3.99, in stores on Jan. 22.
BATMAN BEYOND #40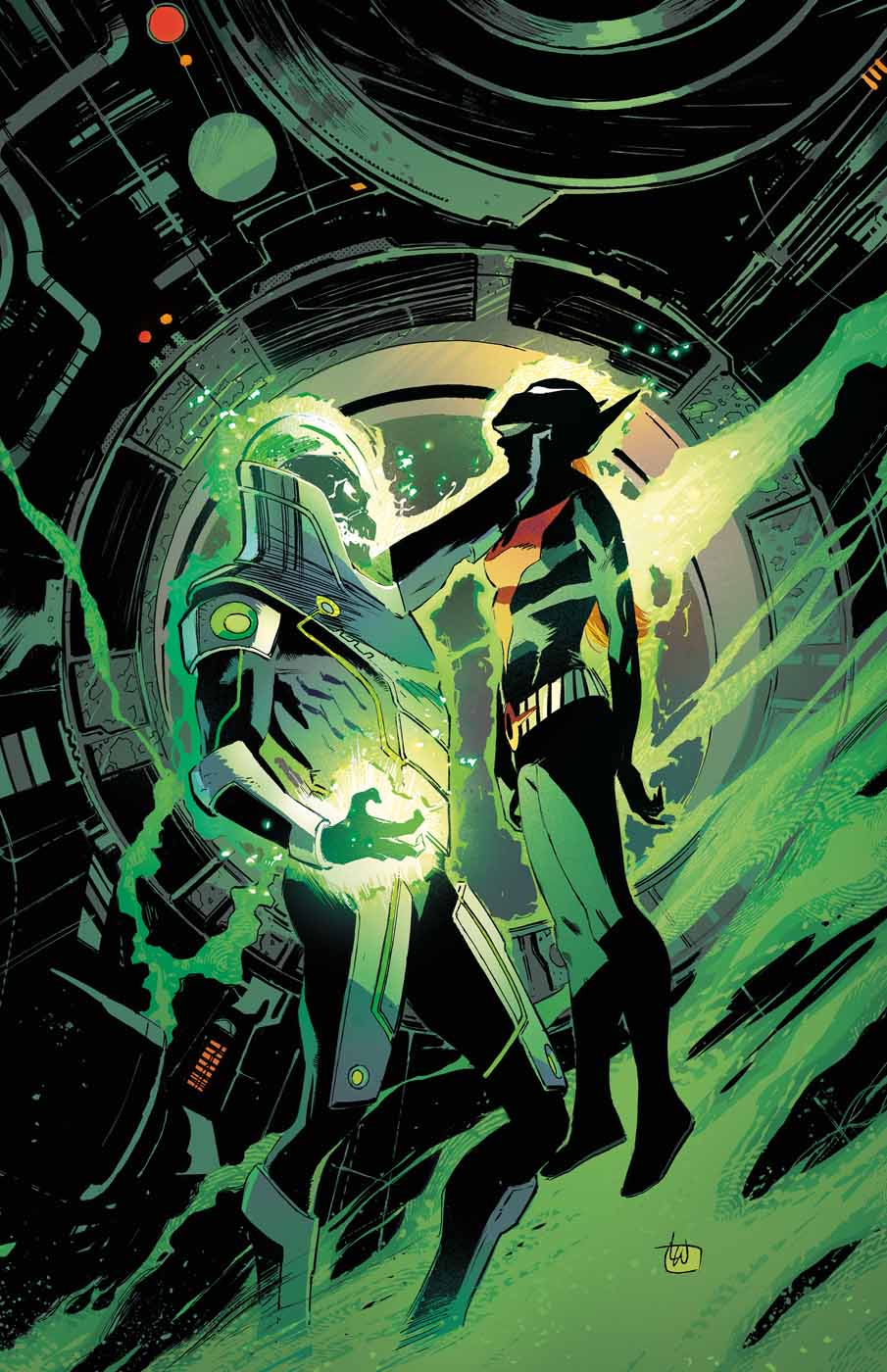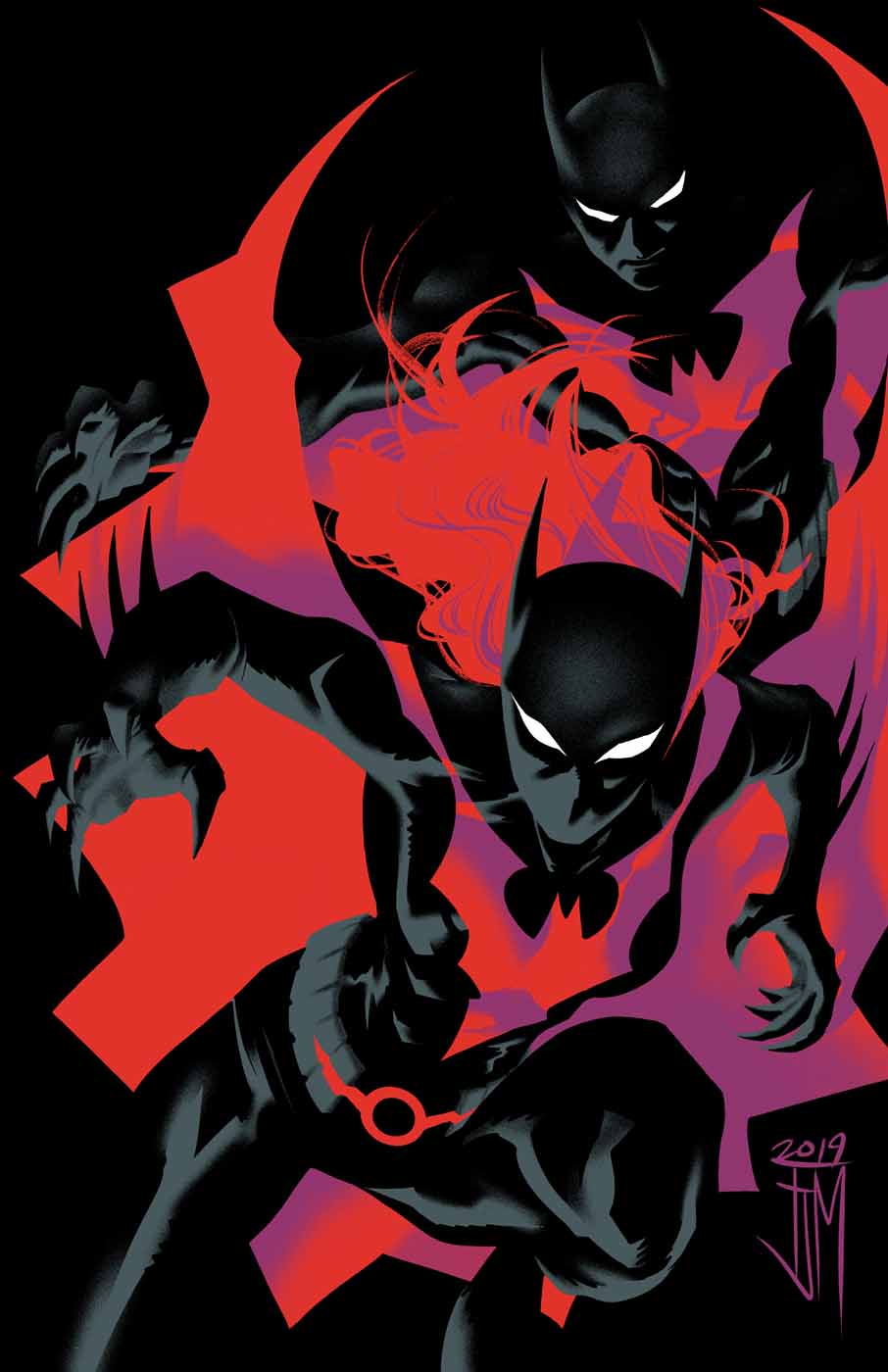 Written by DAN JURGENS
Art by SEAN CHEN
Cover by DUSTIN NGUYEN
Variant cover by FRANCIS MANAPUL
Batwoman is doing her best to find Blight, but time is running out. The evil villain is looking to take Terry's body for good, which would give him a whole new lease on his criminal life. And rather than wait for Batwoman to come to him, Blight takes the fight to her! Meanwhile, Bruce Wayne is surprised to find a blast from his past has returned.
32 pages, $3.99, in stores on Jan. 22.
BATMAN: CURSE OF THE WHITE KNIGHT #6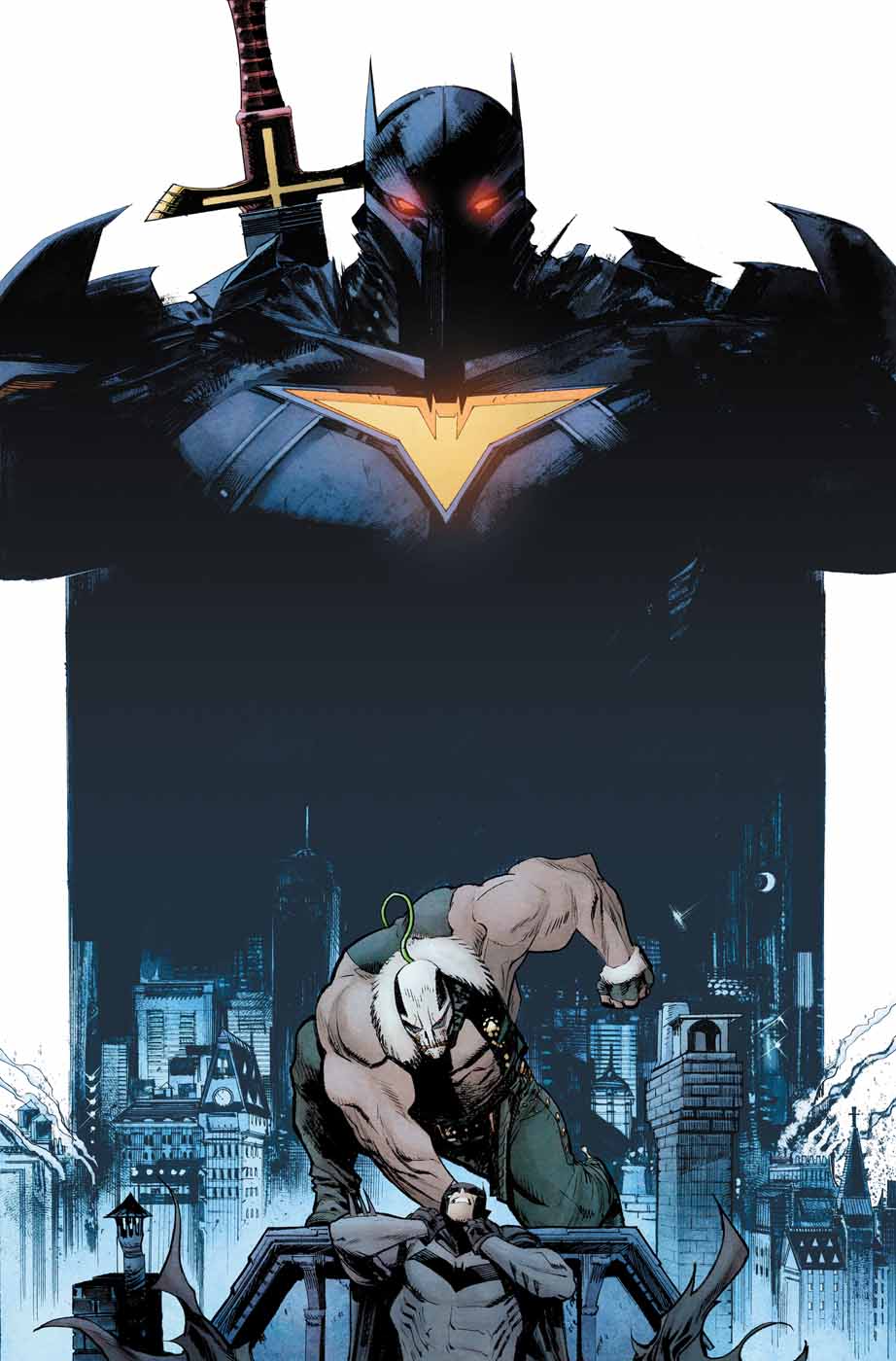 Written by SEAN MURPHY
Art and card stock covers by SEAN MURPHY
Gotham City's crushing curse is uncovered! Everything Batman thought he knew about the Wayne family secret is turned upside down as Azrael and The Joker usher anarchy into Arkham – and after a final word with Jack, Harley faces an impossible choice!
32 pages, $4.99, in stores on Jan. 22.
THE BATMAN'S GRAVE #4
Written by WARREN ELLIS
Art and cover by BRYAN HITCH
Variant cover by JEEHYUNG LEE
Why did a blackmailer become a murderer? How does the Batman survive an opponent who can kill him with his own mind?
32 pages, $3.99, in stores on Jan. 15.
BATMAN AND THE OUTSIDERS #9
Written by BRYAN HILL
Art by DEXTER SOY
Cover by TYLER KIRKHAM
Variant cover by CHRIS BURNHAM
Ra's al Ghul and his army of assassins have turned their attention away from the Dark Knight – and toward Black Lightning! They've done something terrible to him that can never be fixed, and Black Lightning will need the Outsiders to stop him from crossing a line that could change his life forever.
32 pages, $3.99, in stores on Jan. 8.
BATMAN/ SUPERMAN #6
Written by JOSHUA WILLIAMSON
Art and cover by DAVID MARQUEZ
Card stock variant cover by MARK BROOKS
The Secret Six may have met their match when they faced the combined might of Superman and Batman, but don't count these infected heroes out yet. With the Batman Who Laughs freed from his prison at last, the clock is ticking for the Dark Knight and the Man of Steel to track down the escaped Deathbringer, Sky Tyrant, King Shazam, Scarab, and the most tragic to Superman…his cousin Kara.
32 pages, $3.99, (cardstock, $4.99), in stores on Jan. 22.
BATMAN VS. RA'S AL GHUL #5
Written by NEAL ADAMS
Art and cover by NEAL ADAMS
Everyone knows that Gotham City needs Batman – but a shadowy group is running a competition to replace him. Will they choose a man with the necessary skills to keep the people of Gotham safe? Or do they have something else in mind? Either way, Deadman has his own idea of the next steps to take!
32 pages, $3.99, in stores on Jan. 29.
CATWOMAN #19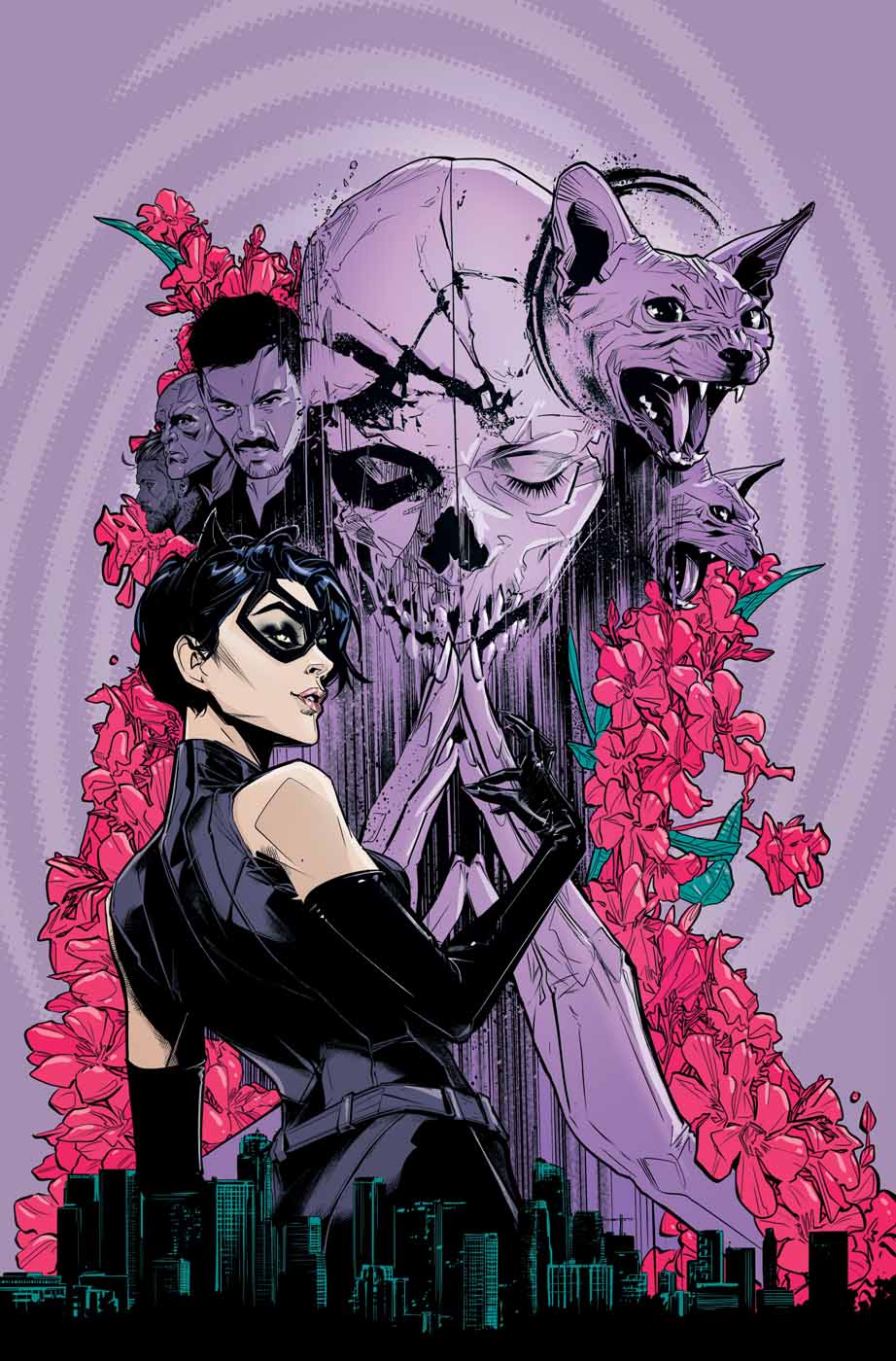 Written by JOELLE JONES
Art and cover by JOELLE JONES
Card stock variant cover by IAN McDONALD
The fight between Catwoman and Raina Creel turns personal, as the Creel goons descend on the pawn shop. Their target? Catwoman's right-hand man, Carlos. If your opponent has better weapons than you, it makes sense to take out the supplier. Especially when you have a new enforcer coming into town to put the hammer down.
32 pages, $3.99, (Cardstock cover, $4.99), in stores on Jan. 8.
DETECTIVE COMICS #1019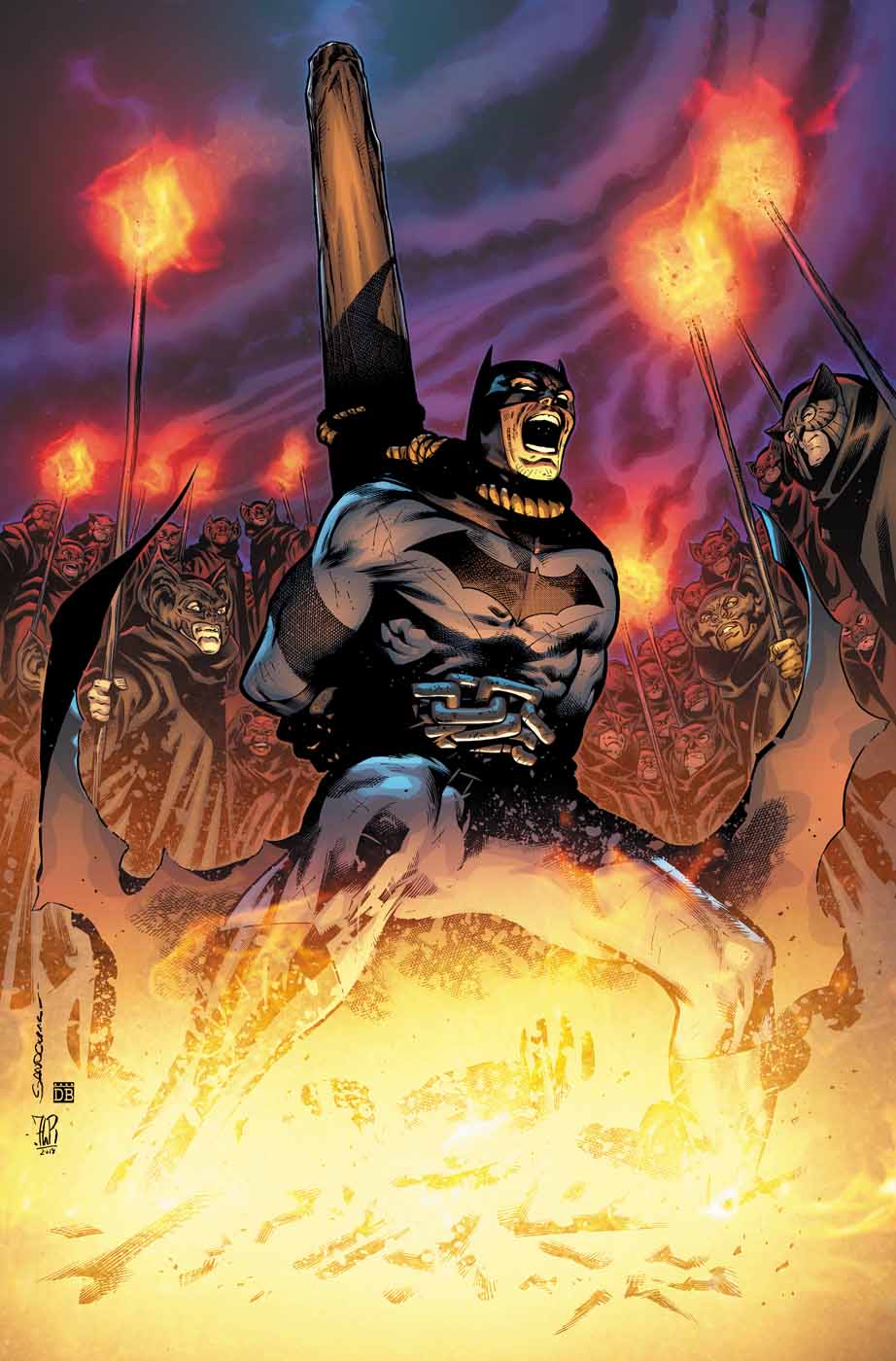 Written by PETER J. TOMASI
Art by SCOTT GODLEWSKI
Cover by RAFA SANDOVAL and JORDI TARRAGONA
Card stock variant cover by LEE BERMEJO
The Dark Knight is on the trail of the figure behind a brutal series of murders across Gotham City – and what he finds will send a cold shiver up his spine! A public attack on Bruce Wayne has brought the possible perpetrator of these murders to light…so what is an axe-wielding cult leader from the 1600s doing in present-day Gotham? Find out for yourself in the conclusion to Batman's « Silent Knight. »
32 pages, $3.99, (cardstock, $4.99), in stores on Jan. 22.
DETECTIVE COMICS ANNUAL #3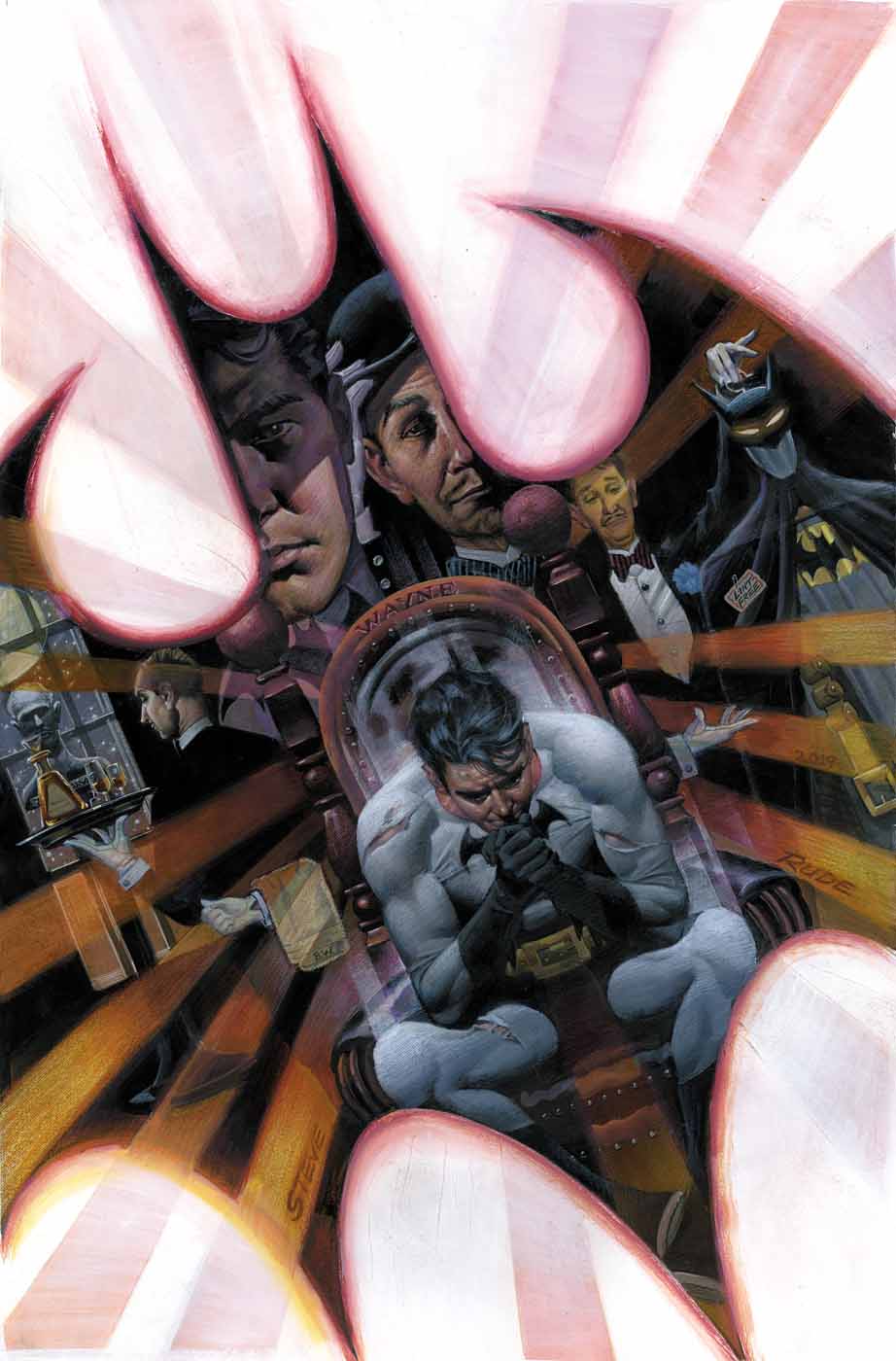 Written by PETER J. TOMASI
Art by SUMIT KUMAR and EDUARDO RISSO
Cover by STEVE RUDE
Of all the mayhem and madness that « City of Bane » visited upon Batman's world, the death of Alfred Pennyworth had the greatest impact. As Bruce struggles to pick up the pieces of his life, the absence of the man who had always helped him is felt with devastating consequences. With new storm clouds brewing on the horizon, does Bruce Wayne have what it takes to honor his dearest friend's memory?
48 pages, $4.99, in stores on Jan. 29.
FLASH FORWARD #5
Written by SCOTT LOBDELL
Art by BRETT BOOTH and NORM RAPMUND
Cover by EVAN « DOC » SHANER
Variant cover by INHYUK LEE
Wally West has gotten to the heart of his mission to save the Multiverse…and the heart he found was his own. When it's discovered that the dark multiversal world that's threatening all of existence is the world in which Wally's children are alive, our hero must overcome his greatest fears, regrets, and anger to do what's right. But what's right is the hardest thing anyone would ever imagine doing…letting go.
32 pages, $3.99, in stores on March 15.
THE FLASH #86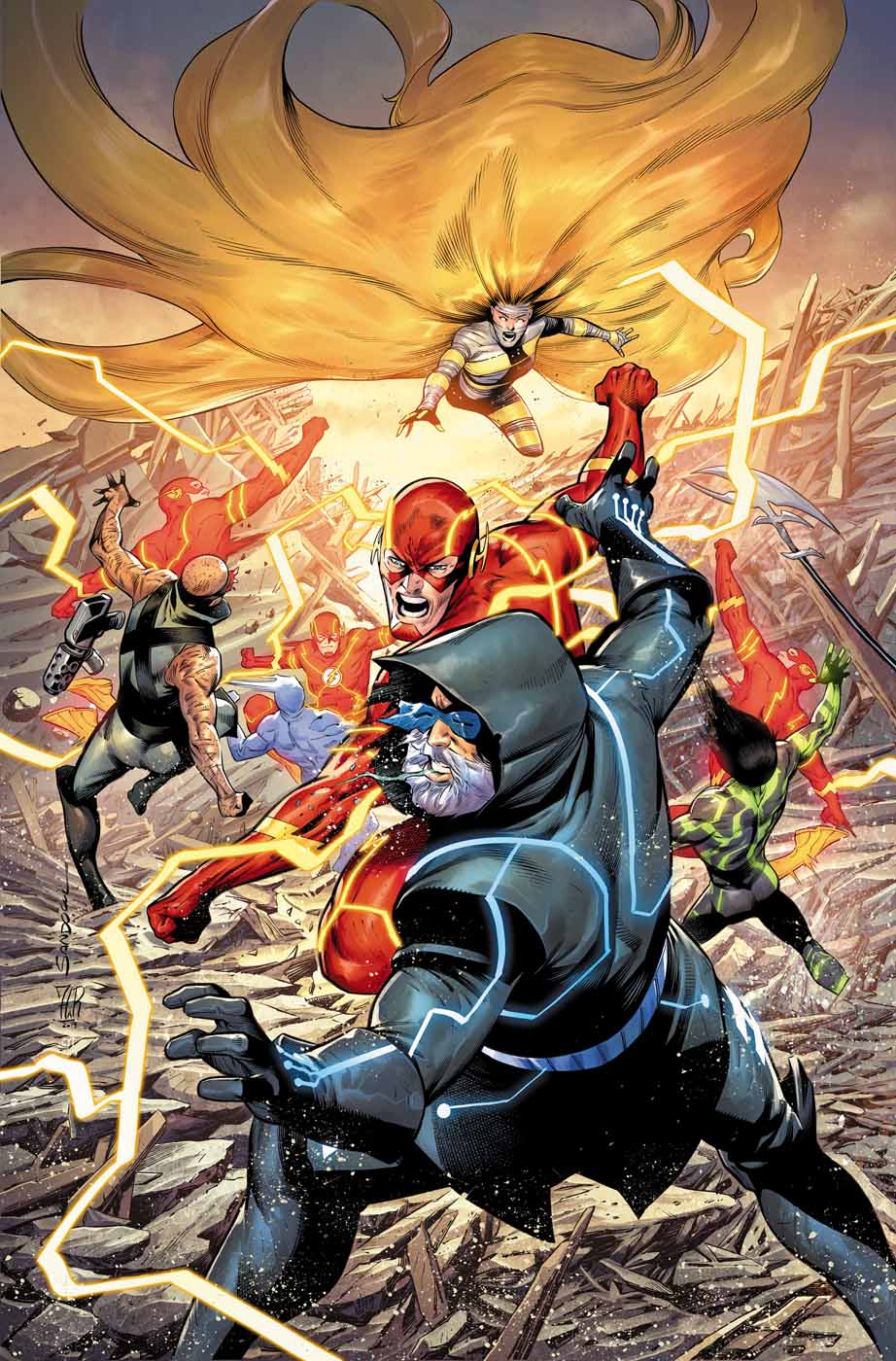 Written by JOSHUA WILLIAMSON
Art by CHRISTIAN DUCE
Cover by RAFA SANDOVAL and JORDI TARRAGONA
Card stock variant cover by DUSTIN NGUYEN
The Flash battles Captain Cold for the last time! The Rogues' Reign is a brutal battle for power over Central City, but the tides are turning and the reign approaches a deadly end! With the Speed Force in chaos, can Glider help channel Flash's powers long enough to overthrow her brother, Captain Cold?
32 pages, $3.99, (cardstock, $4.99), in stores on Jan. 15.
THE FLASH #87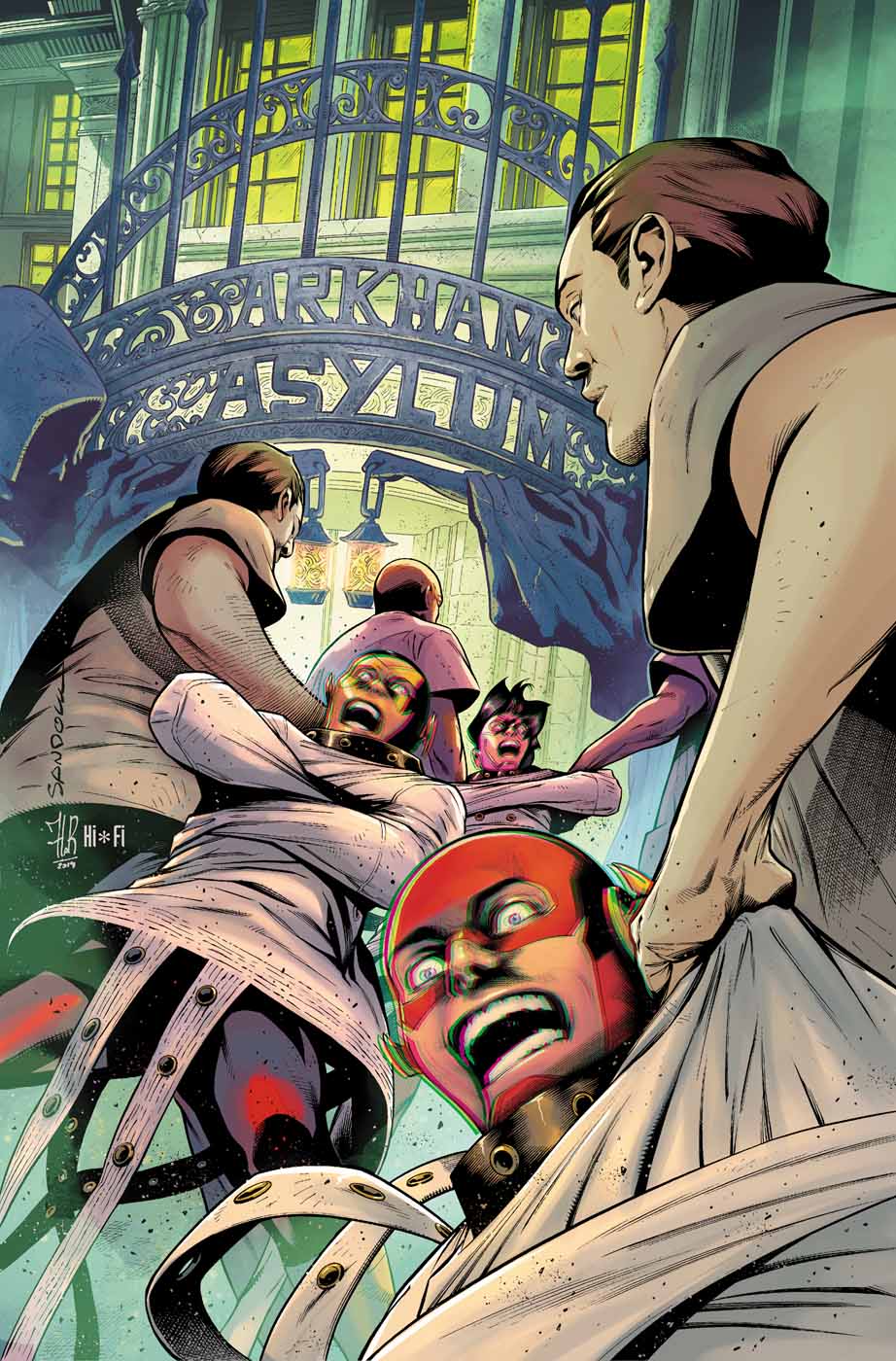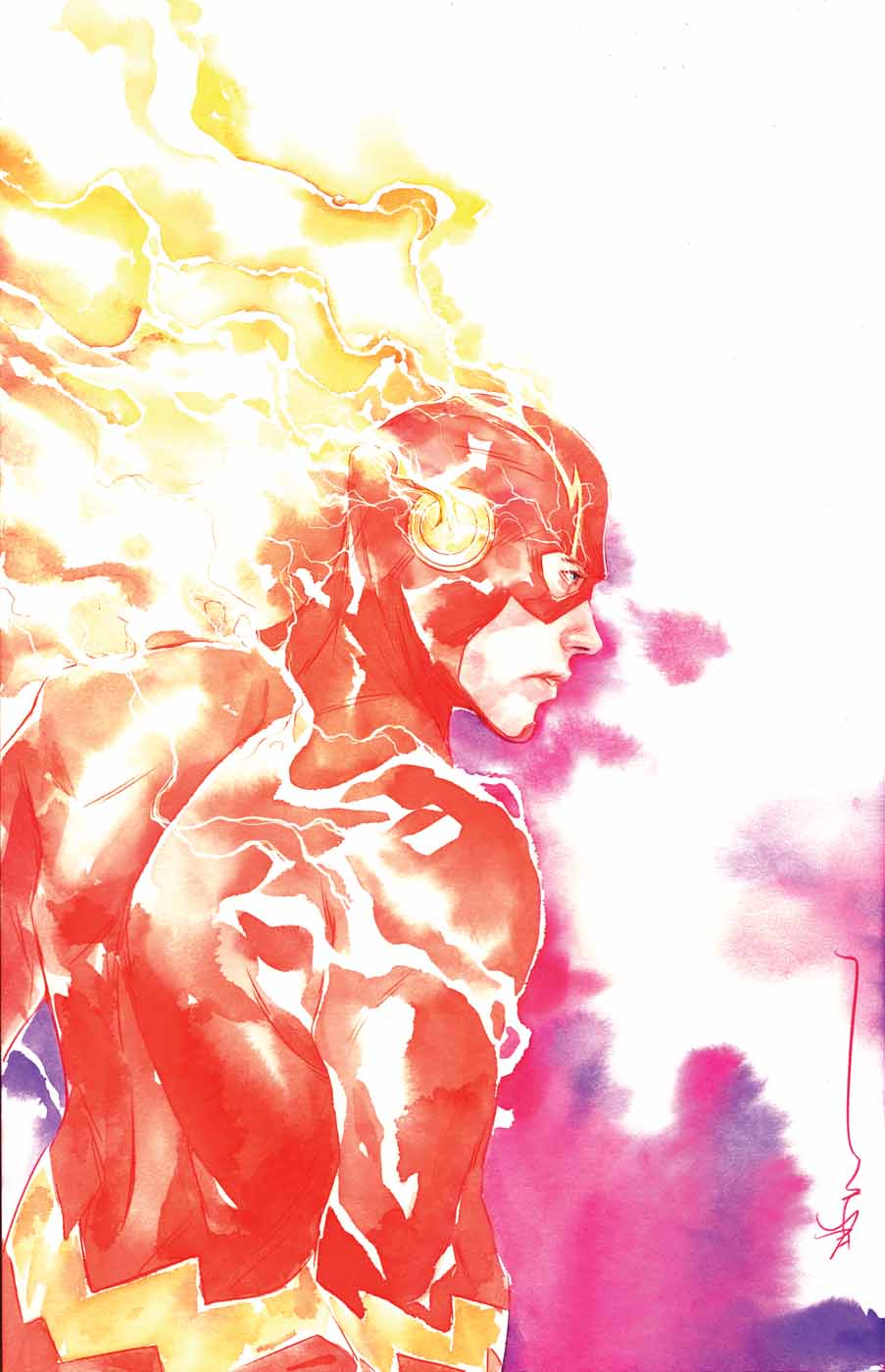 Written by JOSHUA WILLIAMSON
Art and cover by RAFA SANDOVAL and JORDI TARRAGONA
Variant cover by DUSTIN NGUYEN
« Rogue's Reign » aftermath! Central City is in ruins! The Rogues are on the run! The Speed Force is in chaos – and the Flash's powers make him too dangerous to remain free! But who can bring him in? Plus, a surprise character returns from Barry's past with a grave warning about his future!
32 pages, $3.99.
FREEDOM FIGHTERS #12
Written by ROBERT VENDITTI
Art and cover by EDDY BARROWS
The final showdown between the forces of freedom and the axis of oppression crashes to a cataclysmic conclusion! Will a fully powered Uncle Sam be enough to stop Cyborg Overman? What dark impulses must Phantom Lady tap into to stop the Plasstic Men? And…wait a minute, did Adolf Hitler III just murder his own father in cold blood? Oh, you're going to need to read this one to believe it.
32 pages, $3.99, in stores on Jan. 15.
GEN:LOCK #3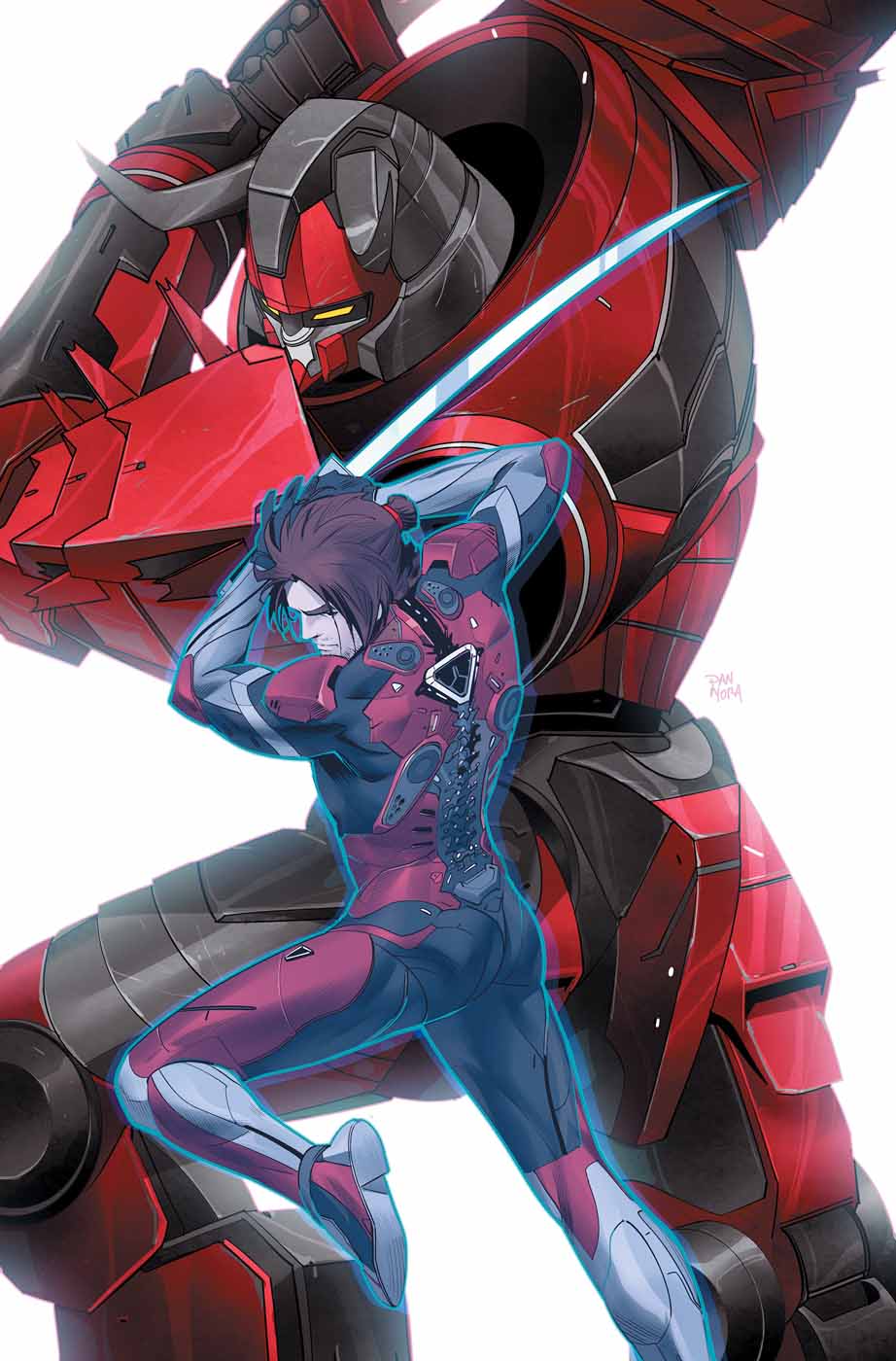 Written by COLLIN KELLY and JACKSON LANZING
Art by HENDRY PRASETYA
Cover by DAN MORA
Chase and the rest of team gen:LOCK seek refuge in Japan at Kazu's childhood home. While the team regroups, Cammie, Chase, and Caliban are attacked by Sycorax in the Ether! While they face down Sycorax, the rest of team gen:LOCK stares down the barrel of the Union's gun as they start to bomb Osaka! Can a split-up team win the war on two fronts, or is this the end of the Polity?!
32 pages, $3.99, in stores on Jan. 9.
GOTHAM CITY MONSTERS #5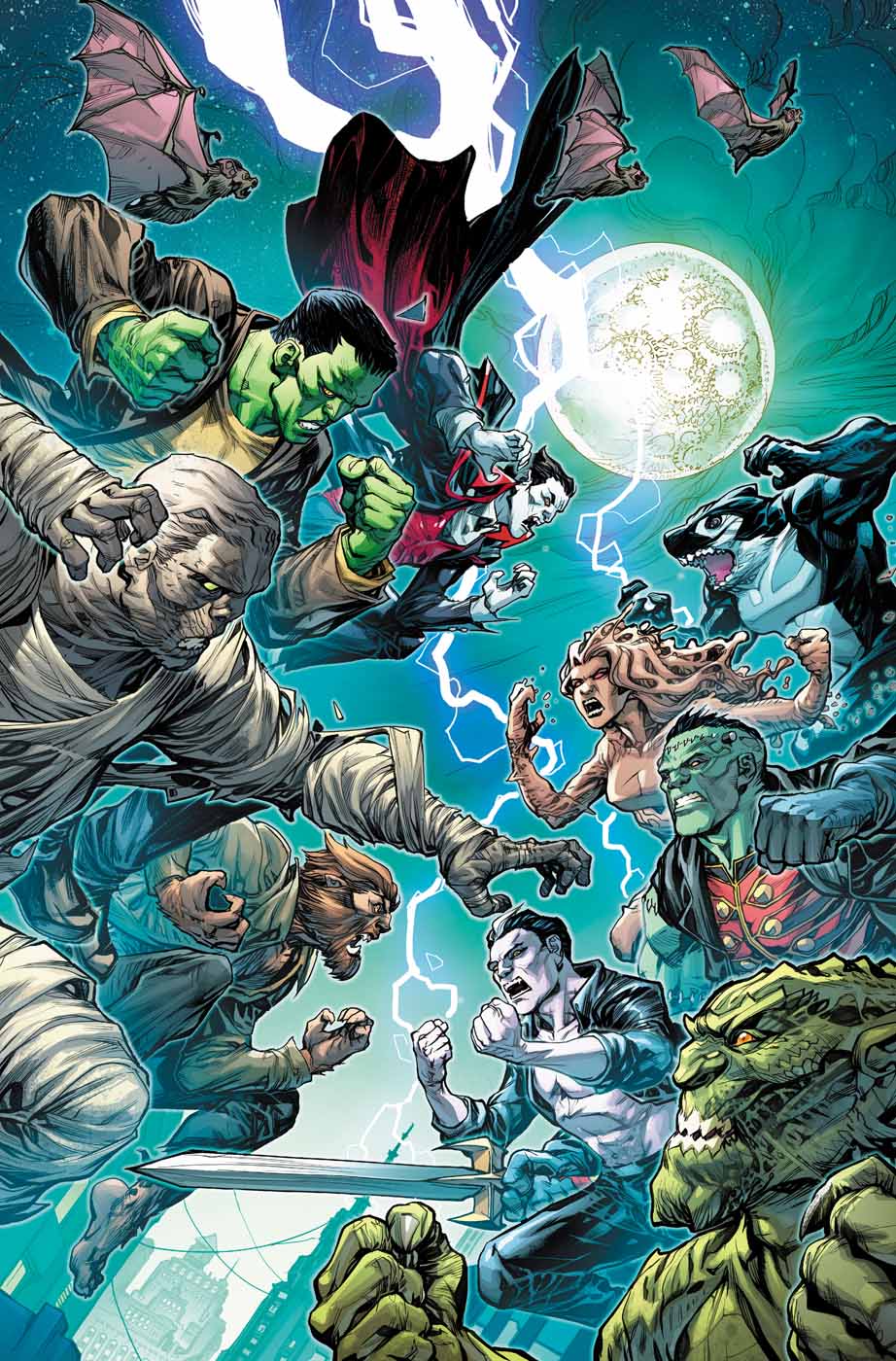 Written by STEVE ORLANDO
Art by AMANCAY NAHUELPAN
Cover by HOWARD PORTER
Melmoth has summoned the Monster League of Evil from the depths of the Multiverse to serve as his minions and destroy the Gotham City Monsters. Dracula, the Wolfman, the Mummy and…Frankenstein?! It's Frank versus Frank in this showdown to save the Multiverse as we know it!
32 pages, $3.99, in stores on Jan. 9.
GREEN LANTERN: BLACKSTARS #3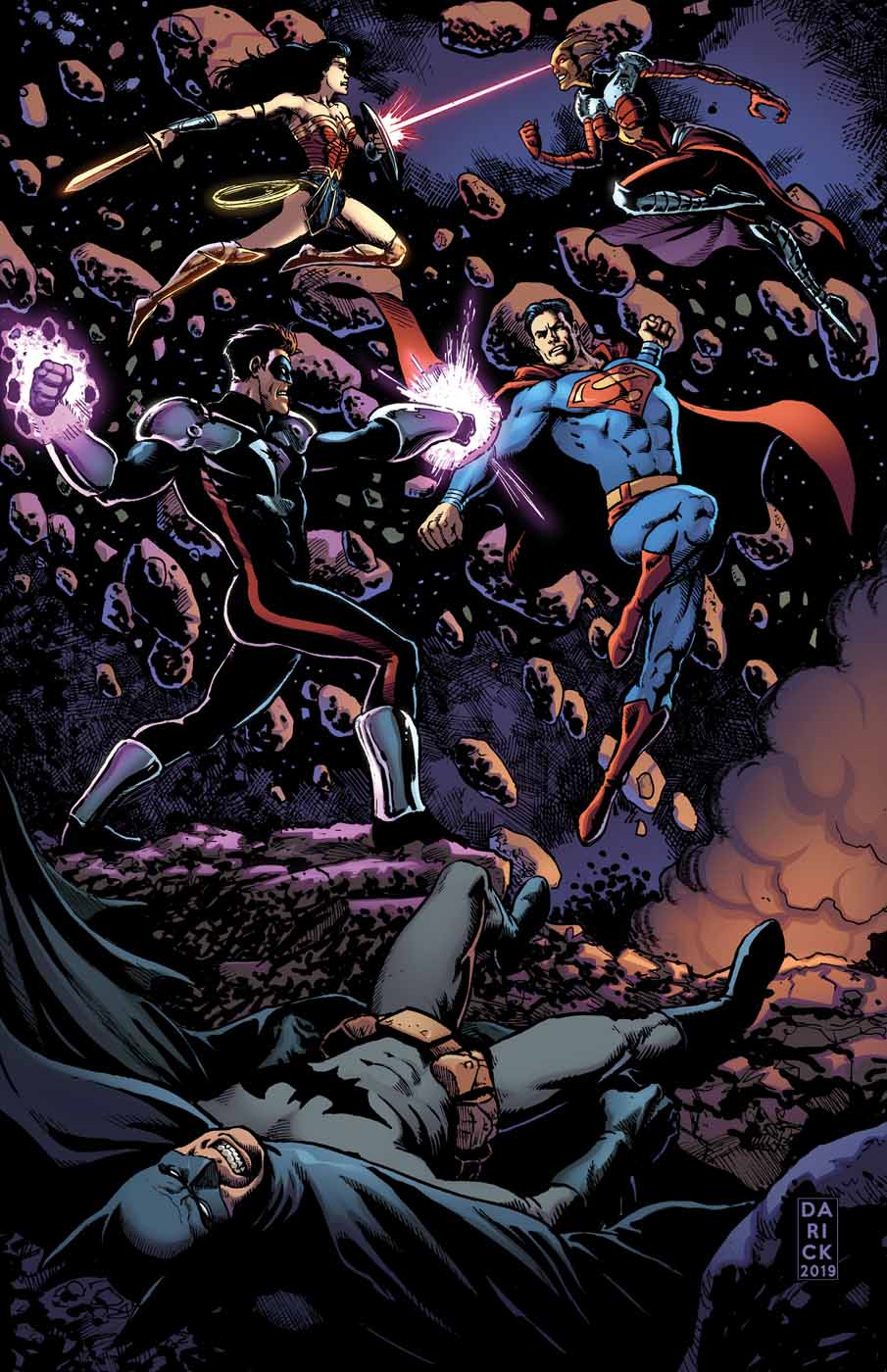 Written by GRANT MORRISON
Art by XERMANICO
Cover by LIAM SHARP
Variant cover by DARICK ROBERTSON
The epic conclusion to this twisted rewrite of DC Universe history! Will Hal Jordan and his fascist band of Blackstars sublimate the entire universe to the diamond will of Controller Mu? Can the timeline ever be restored before more of Earth's heroes perish?
32 pages, $3.99, in stores on Jan. 8.
HARLEY QUINN AND POISON IVY #5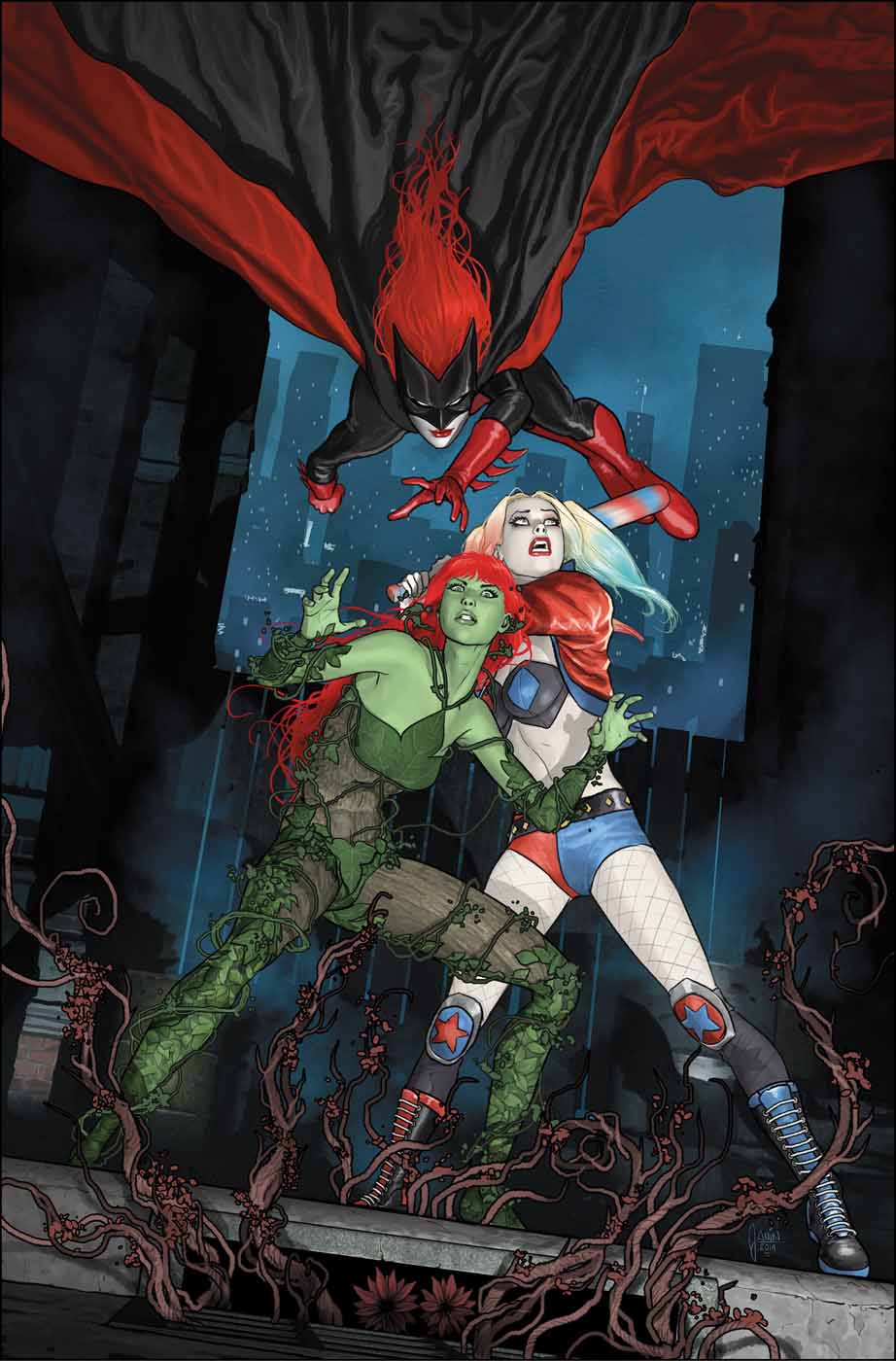 [img]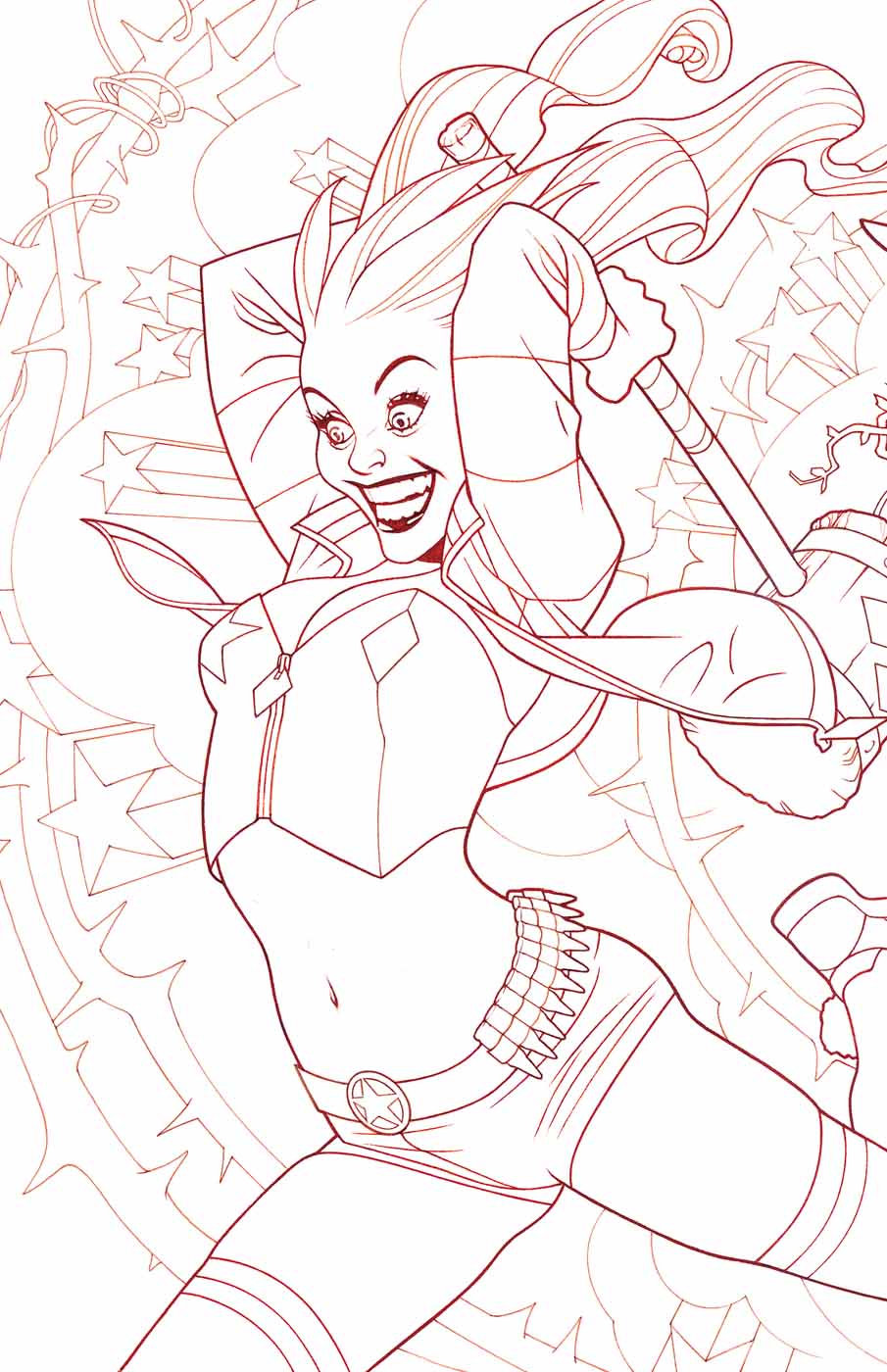 [/img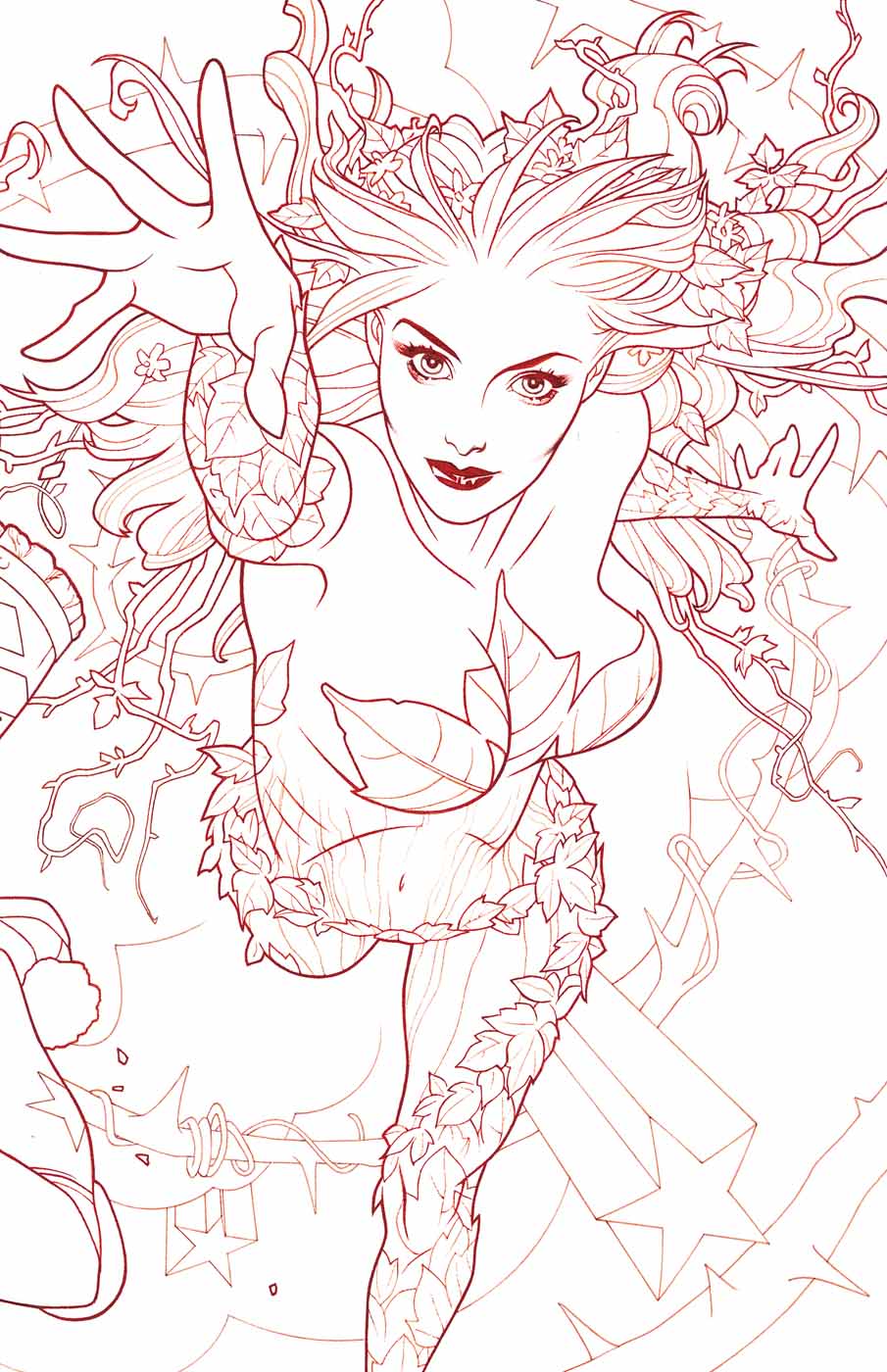 Written by JODY HOUSER
Art by ADRIANA MELO and MARK MORALES
Cover by MIKEL JANIN
Cardstock variants by JOSHUA MIDDLETON
Harley Quinn and Poison Ivy have had it up to here with the Floronic Man's attacks, and now they're ready to bring the fight to him. The only problem is…they don't know where to find him! So they seek out the help of Batwoman – who's hesitant to believe in the good intentions of former villains. Will Harley and Ivy convince Batwoman that they can be trusted in time to save their own skins from the Floronic Man?
32 pages, $3.99, (cardtock, $4.99), in stores on Jan. 8.
HAWKMAN #20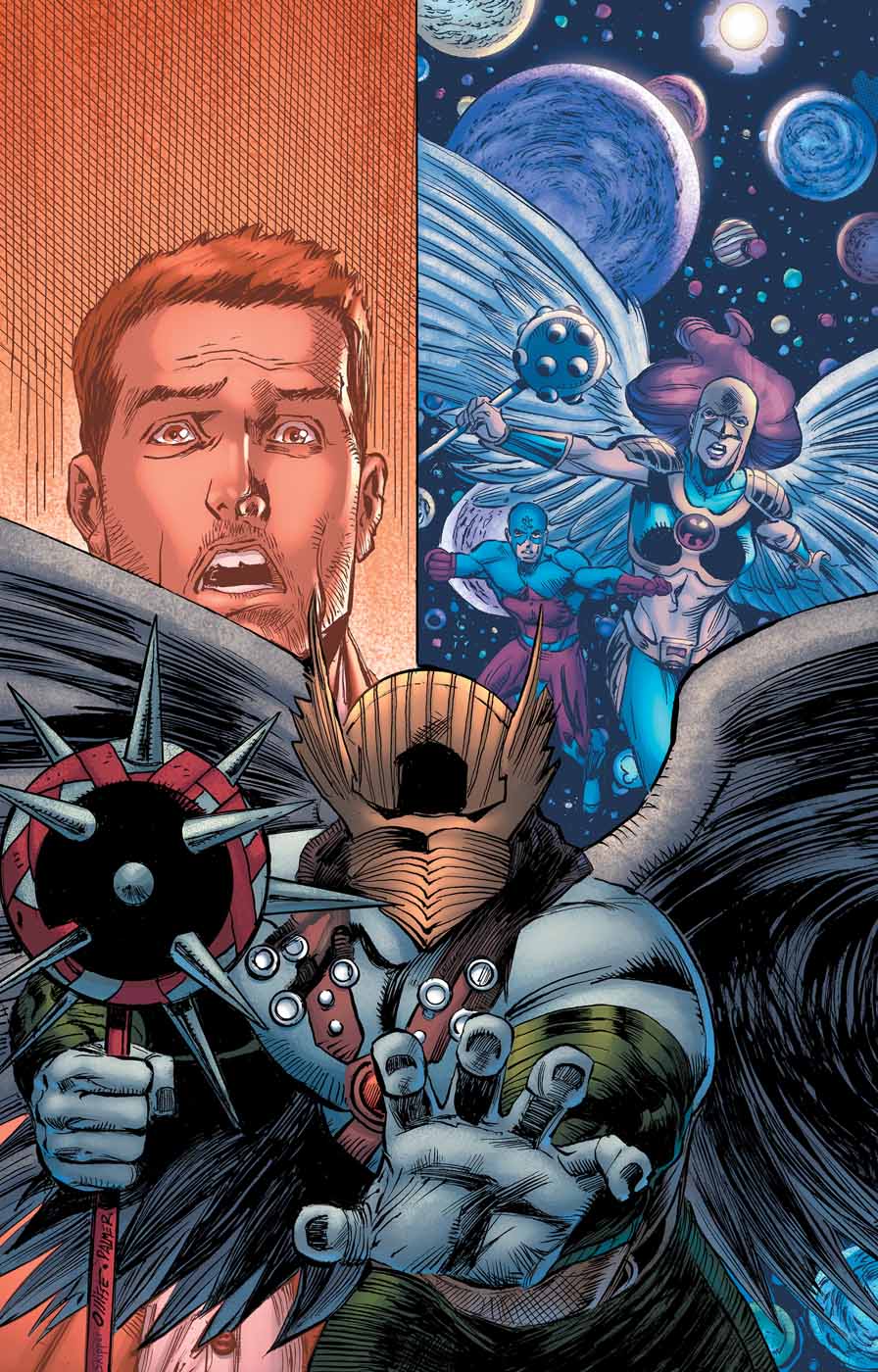 Written by ROBERT VENDITTI
Art and cover by PAT OLLIFFE and TOM PALMER
Variant cover by PAOLO PANTALENA
The Batman Who Laughs has infected Hawkman, and now Carter is drawing on the worst versions of himself from his past incarnations. This evil Hawkman is seeking to access the ancient tomb whence all his powers flow. Meanwhile, the Atom and Hawkwoman are in pursuit, hoping to stop their friend from doing something terrible he can't undo and potentially bring Carter Hall back to his senses.
32 pages, $3.99, in stores on Jan. 8.
HE-MAN AND THE MASTERS OF THE MULTIVERSE #3
Written by TIM SEELEY
Art by DAN FRAGA and RICHARD FRIEND
Cover by INHYUK LEE
Prince Keldor's pursuit of Anti-He-Man leads him and the He-Men of alternate worlds to an Eternia conquered by Skeletor, where they must team with unlikely allies to save Castle Grayskull! Featuring the fan-favorite world and characters of the 2002 Masters of the Universe cartoon and toy line!
32 pages, $3.99, in stores on Jan. 15.
JUSTICE LEAGUE #39
Written by SCOTT SNYDER
Art by JORGE JIMENEZ
Cover by TYLER KIRKHAM
Variant cover by KENNETH ROCAFORT
In the wake of the Justice/Doom War, the Justice League finds themselves stranded at the far end of the universe and facing a challenge they've never faced before. But what will they find on their journey? Has their battle with Perpetua had consequences reaching farther across the cosmos than they ever imagined? Superstar scribe Scott Snyder says farewell to the Justice League with a special story that both winds down all the things he started in issue #1 – and nods toward everything that comes next in the DC Universe.
32 pages, $3.99, in stores on Jan. 15.
JUSTICE LEAGUE DARK #19
Written by JAMES TYNION IV
Art by ALVARO MARTINEZ BUENO and RAUL FERNANDEZ
Cover by YANICK PAQUETTE
Variant cover by GERARDO ZAFFINO
It's Wonder Woman versus Circe in an all-out brawl for the fate of the magical world! Does the Justice League Dark stand a chance against their evil counterparts? Maybe, but one of our heroes will have to make a deal with their greatest enemy to secure a power that could turn the tide of this Witching War! Will it be enough? Find out in the thrilling conclusion to this tale! ON SALE 01.22.20 $3.99 US | 32 PAGES FC|DC
JUSTICE LEAGUE ODYSSEY #17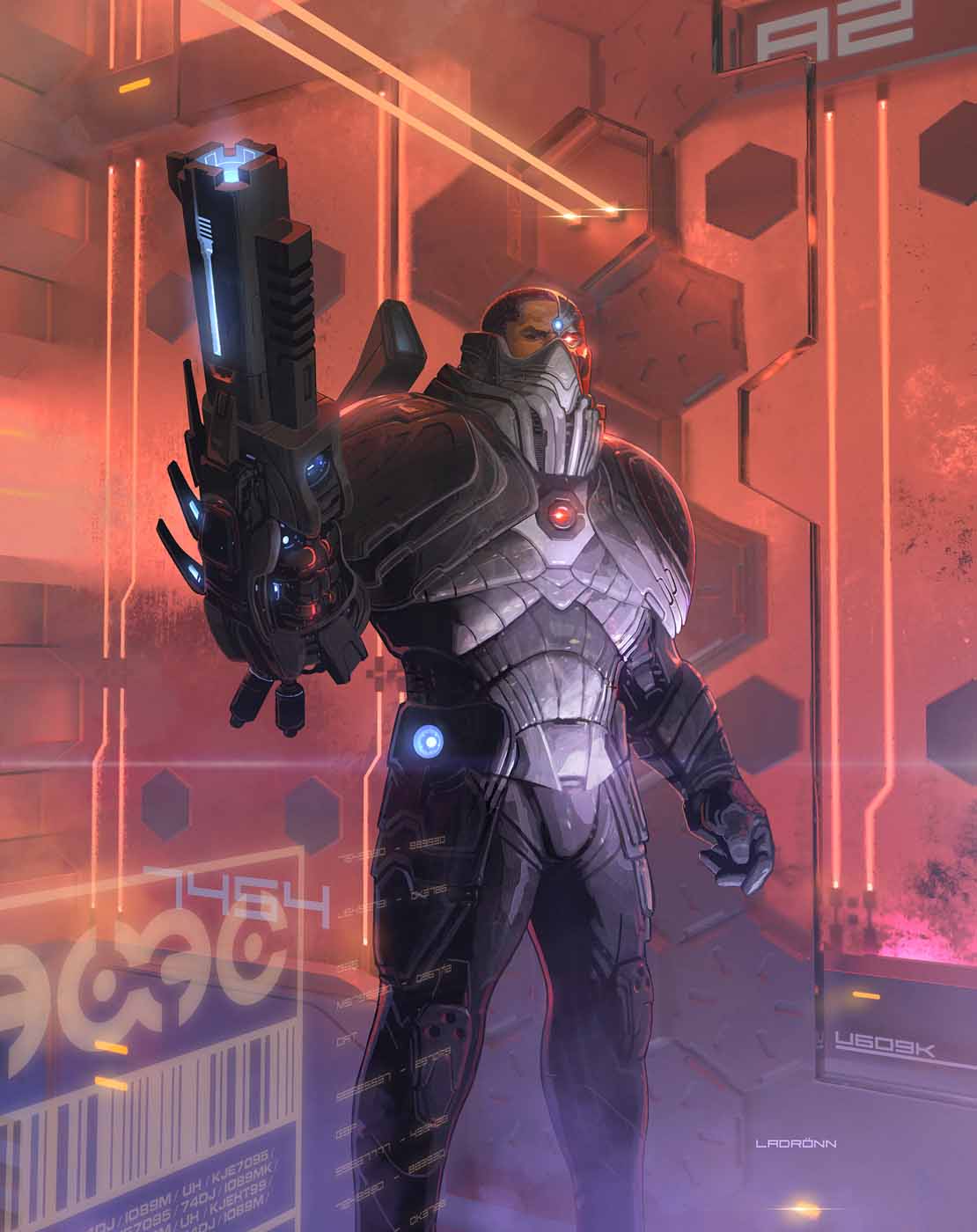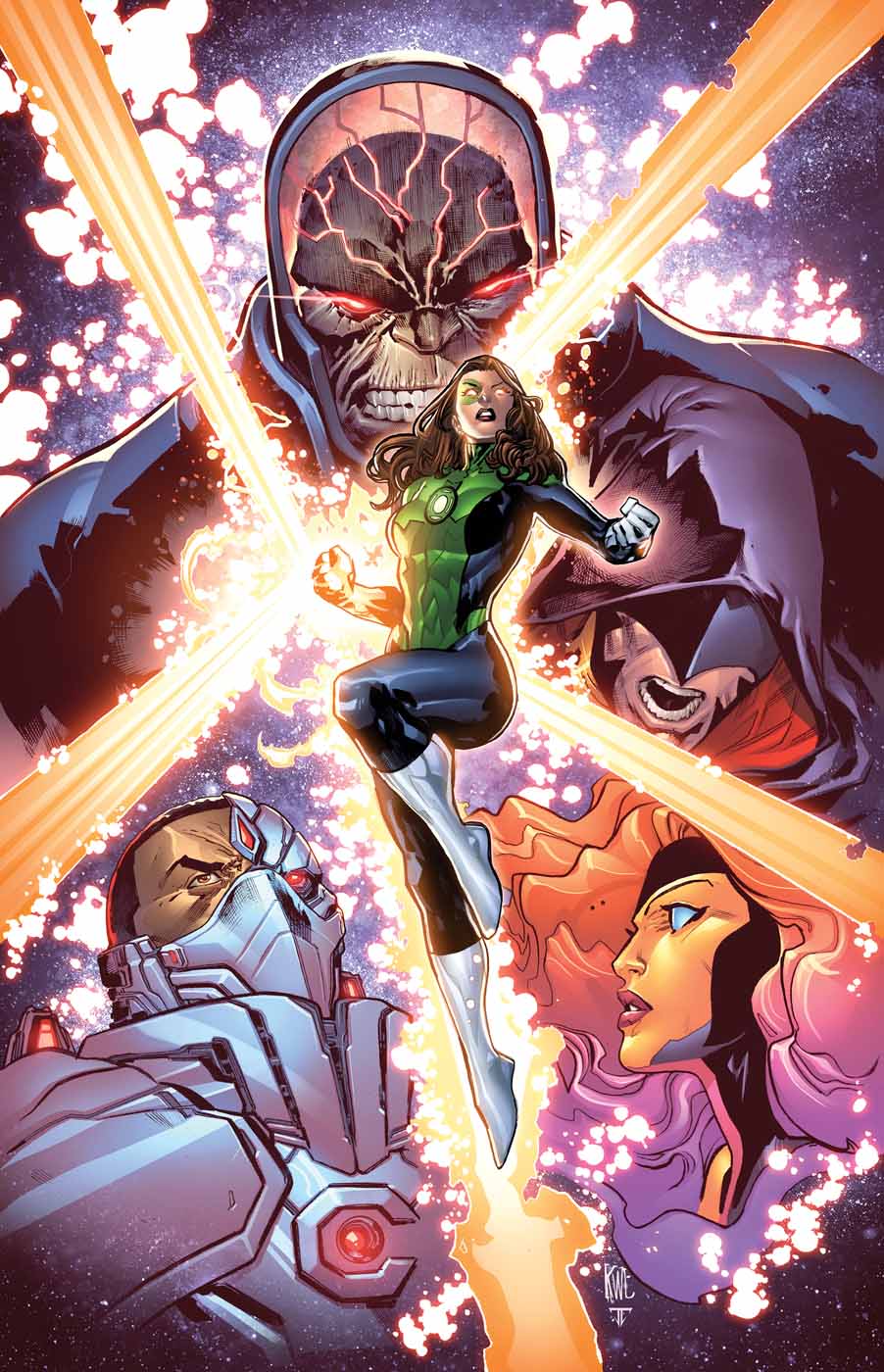 Written by DAN ABNETT
Art by WILL CONRAD
Cover by JOSE LADRONN
Variant cover by KEN LASHLEY
Green Lantern Jessica Cruz and the new JLO have their first encounter with their lost friend Cyborg. Will Victor Stone's hidden messages be the clue to releasing him from Darkseid's deadly grip – or is Vic gone forever? And how much is Jessica willing to risk to save her old friends?
32 pages, $3.99, in stores on Jan. 15.
LEGION OF SUPER-HEROES #3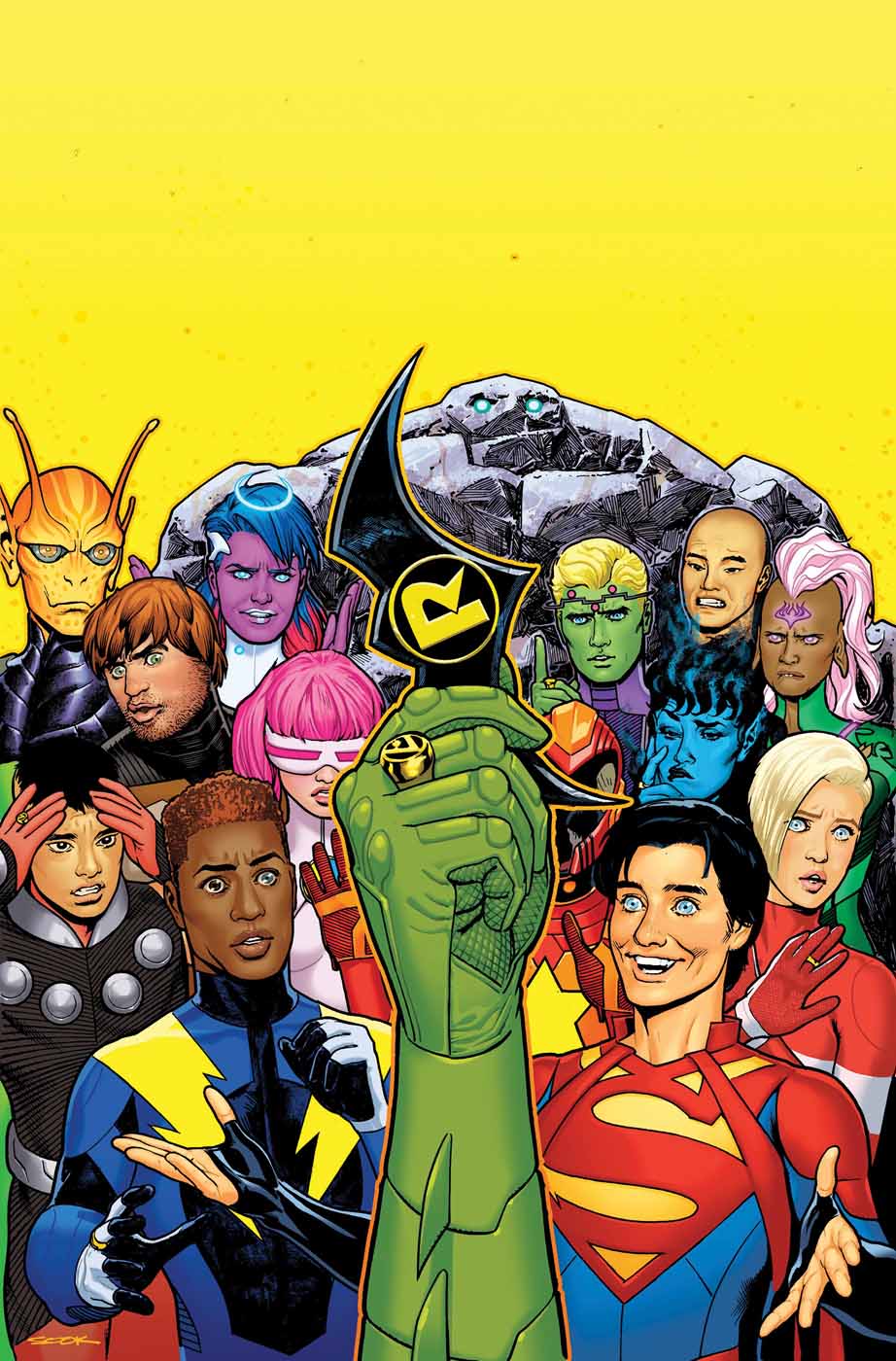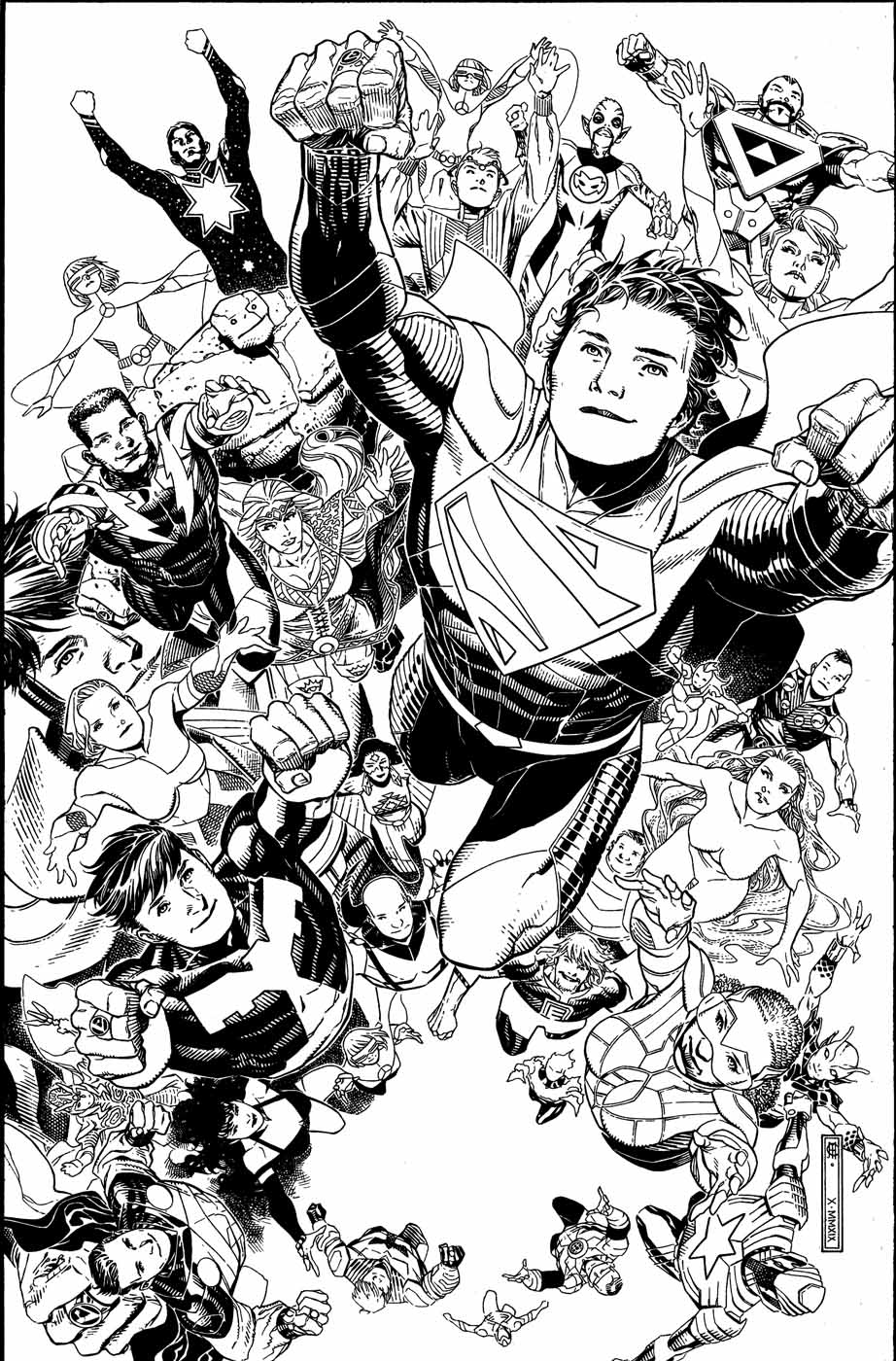 Written by BRIAN MICHAEL BENDIS
Art by TRAVIS MOORE and RYAN SOOK
Cover by RYAN SOOK
Cardstock variant cover by JIM CHEUNG
You knew there was no way Jon Kent was going to leave his best friend behind! Welcome to the future, Damian Wayne! (This is such a terrible idea!) Also, meet the new Legionnaires as they head to a secret undercover mission on the first man-made planet: Planet Gotham. Every page of this new DC epic plants seeds and ideas that will blast out across the DC Universe for months to come! All this, and Monster Boy is on the loose!
32 pages, $3.99, (cardstock, $4.99), in stores on Jan. 8.
LOONEY TUNES #253
Written by IVAN COHEN
Art and cover by WALTER CARZON and HORACIO OTTOLINI
Daffy Duck stressed out? Say it isn't so! Under doctor's advice, the mollified mallard takes off for a tropical resort, anticipating some rest and relaxation. But a familiar face on the premises may provide the exact opposite of the experience Daffy's hoping to find.
32 pages, $2.99, in stores on Jan. 22.
METAL MEN #4
Written by DAN DiDIO
Art and cover by SHANE DAVIS and MICHELLE DELECKI
Whoa, what happened to Gold, and why does he look like that? It looks like Nth metal has given Gold true sentience – and it's threatening to do the same to the rest of the Metal Men against Doc Magnus's wishes! After all, Magnus already gave them sentience to begin with, right? Meanwhile, Lead and Tin are invited to Robot Con, where they meet their number one fan and other famous robots, including a special appearance by OMAC! Except he's not here for fun.
32 pages, $3.99, in stores on Jan. 22.
NIGHTWING #68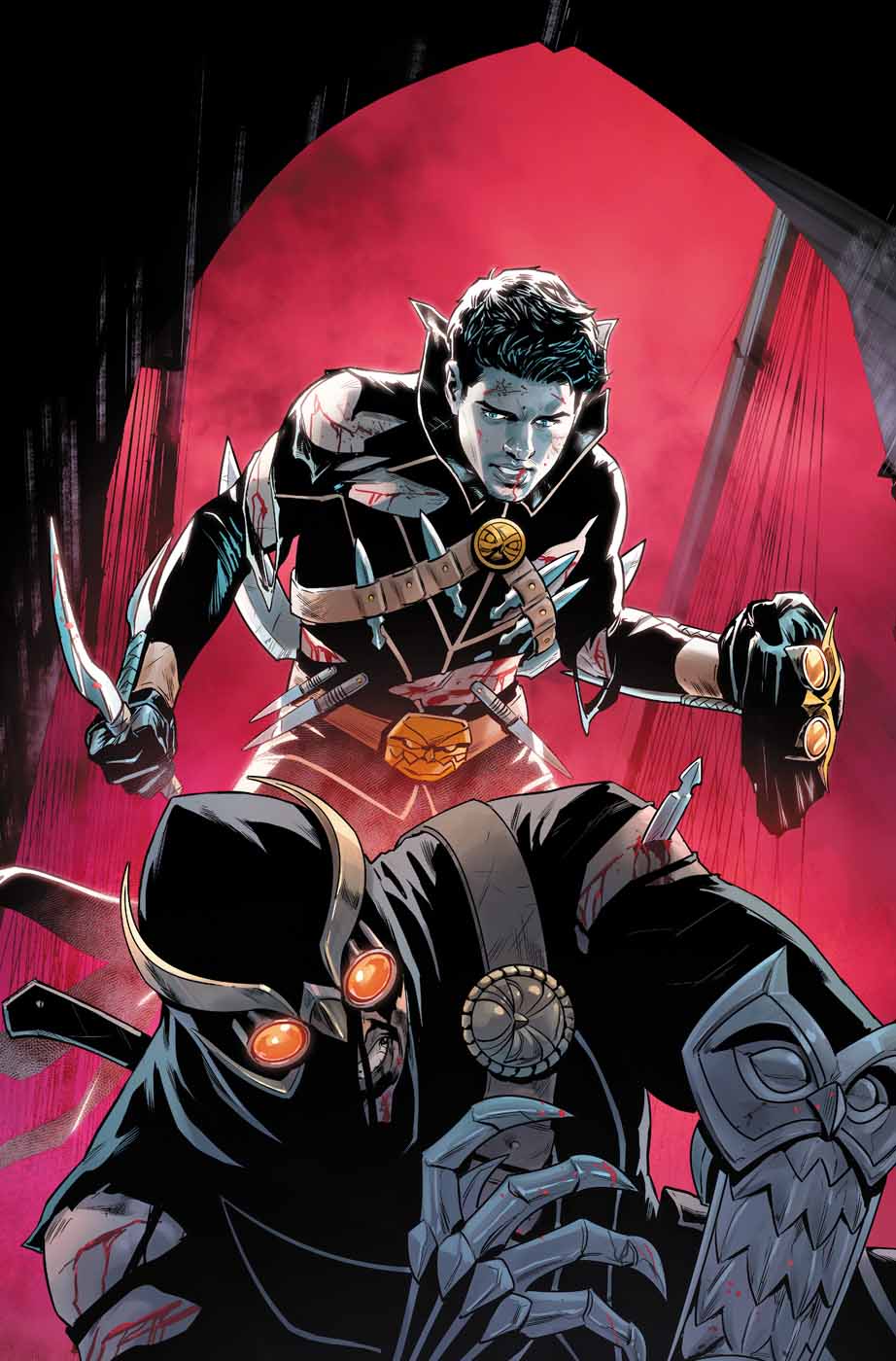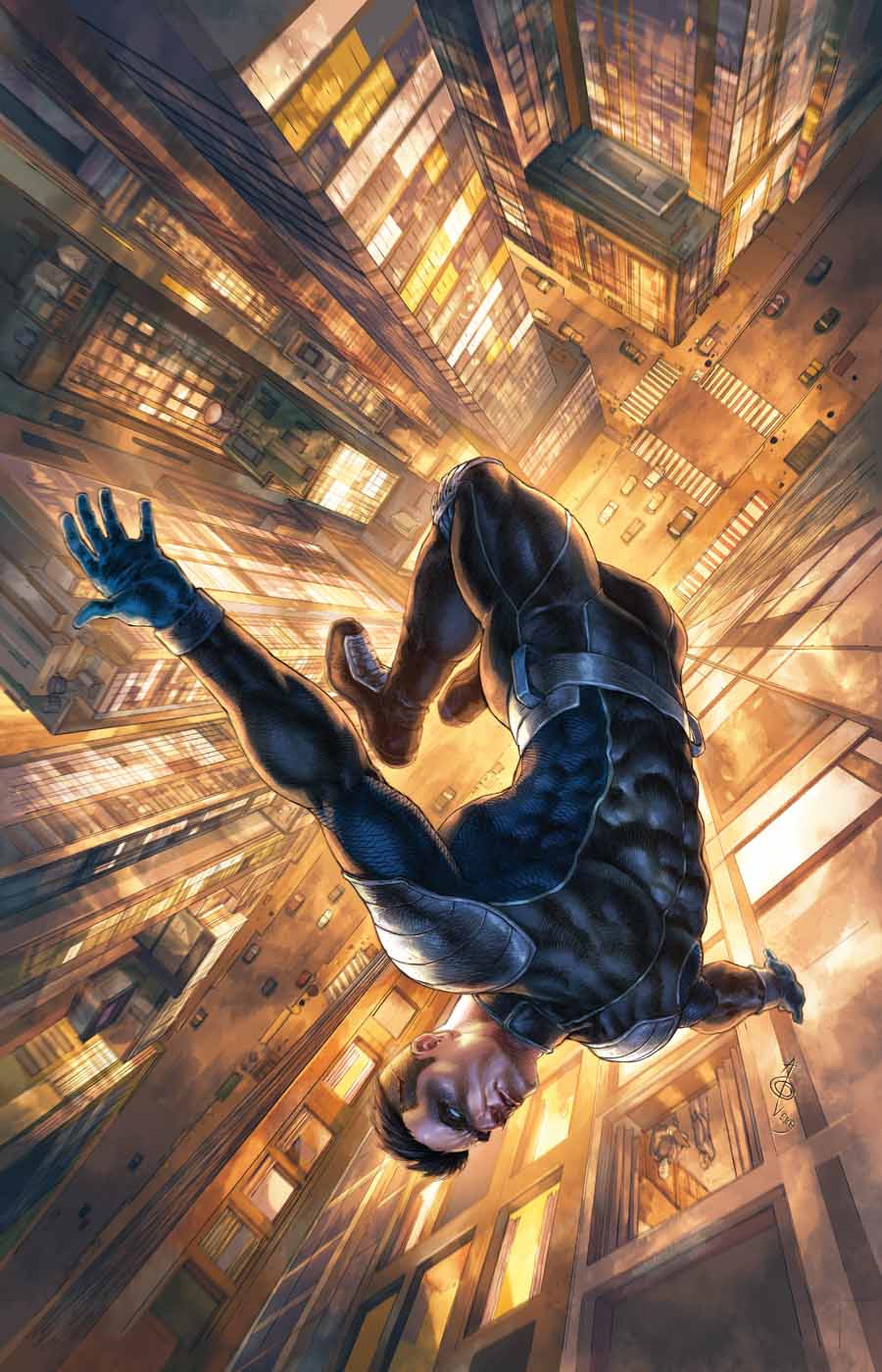 Written by DAN JURGENS
Art by RONAN CLIQUET
Cover by TRAVIS MOORE
Variant cover by ALAN QUAH
Being a superhero often means layers of identities. For Ric Grayson, he once had a life as a sidekick to Batman, a life he forgot when a terrible gunshot wound erased his memories. When his long lost grand-father, who is also a super-assassin called Talon, returned to his life and implanted false memories into his brain, that added another layer. Now, with Talon vanquished, Ric Grayson has to shake loose the truth. Is he the man he has created for himself, or is there still some of the old Nightwing lurking around inside his head? Even if he wanted to, could Ric be Nightwing again when four other people have put on the mask and picked up where he left off? Whichever it is, Talon made a mess of his current life, and now Ric has to start putting it all back together.
32 pages, $3.99, in stores on Jan. 12.
THE QUESTION: THE DEATHS OF VIC SAGE #2
Written by JEFF LEMIRE
Art and cover by DENYS COWAN and BILL SIENKIEWICZ
Variant cover by EDUARDO RISSO
In modern-day Hub City, Vic Sage died. And then he woke up. In Hub City…in the 1800s! The legend of the Man with No Face rides across the Old West, discovering a shocking connection running through history all the way to the day he died…and pointing to more carnage yet to come!
48 pages, $6.99, in stores on Jan. 15.
RED HOOD: OUTLAW #42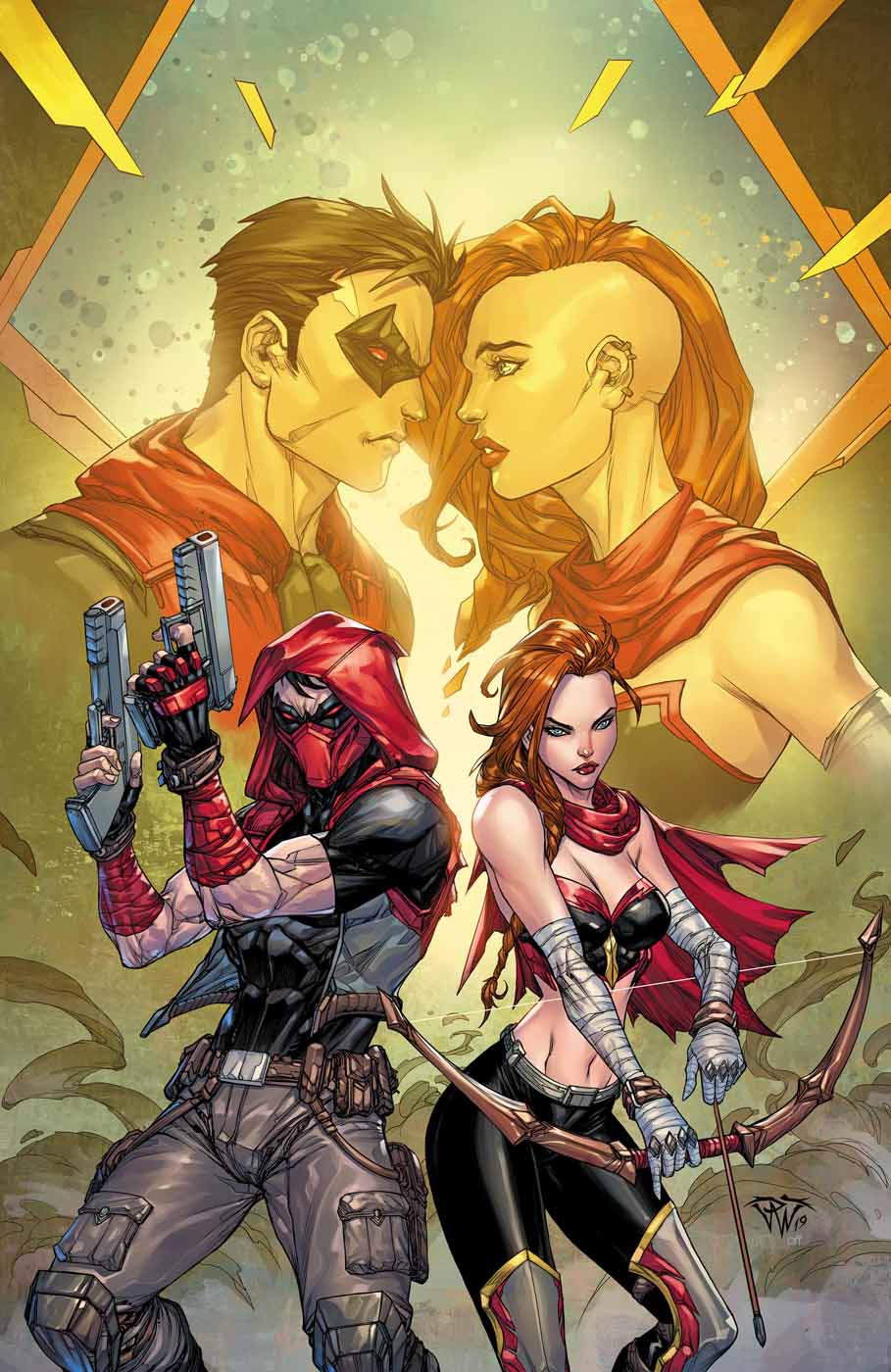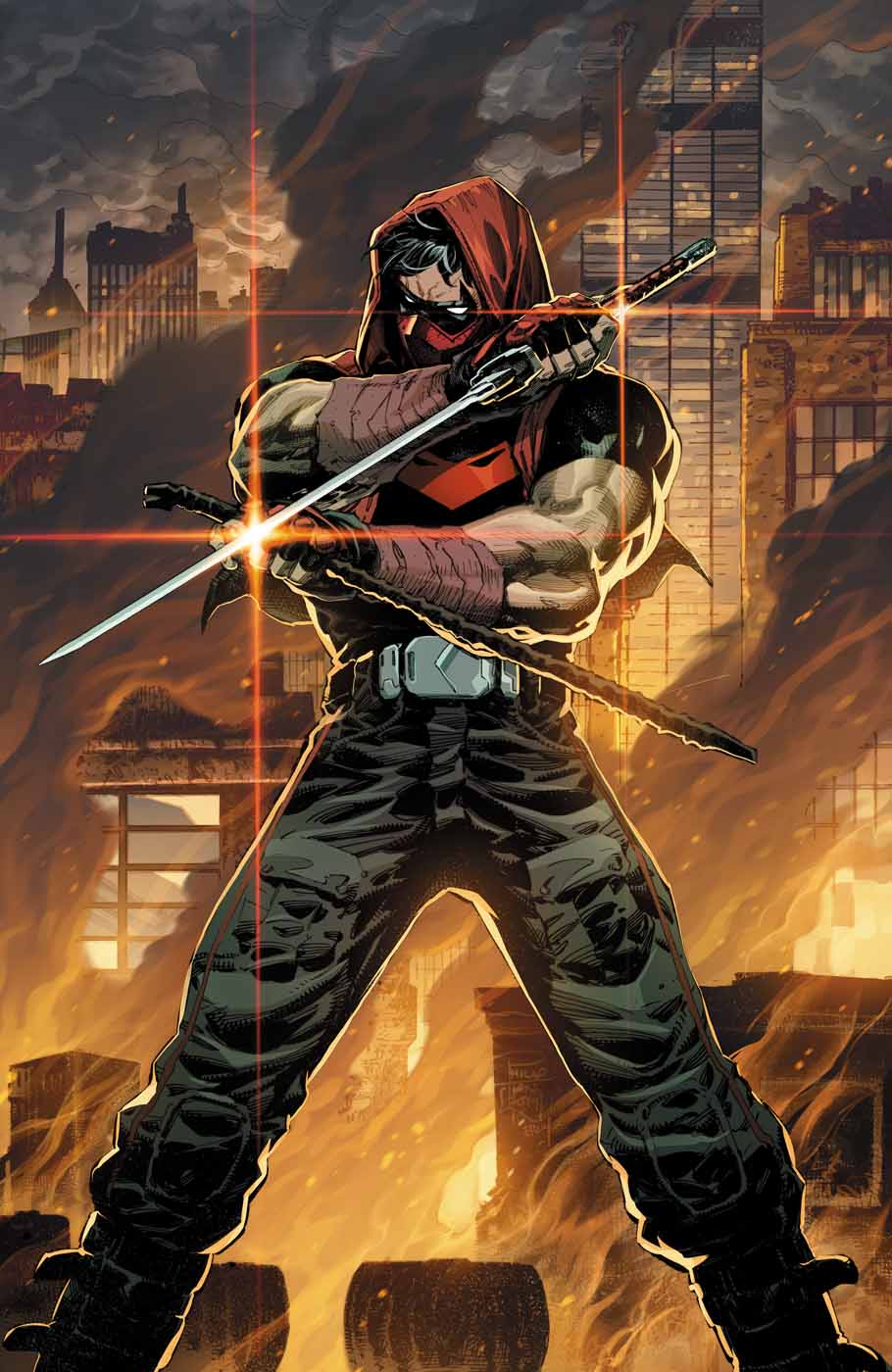 Written by SCOTT LOBDELL
Art and cover by PAULO PANTALENA
Variant cover by PHILIP TAN
No one was harmed in the making of this issue! Red Hood is thrilled Artemis and Bizarro are back…but so much has changed for the Outlaws. For the moment they're mentors to the next generation of super-villains, and if you don't think the kids are going to challenge their new teacher, Bizarro…then you don't know Generation Outlaw! Plus, Jason and Artemis finally follow up on that kiss (you know the one!)…but their feelings surprise them both! In the meantime, an unspeakable darkness reveals itself…did the Outlaws finally come together just in time to watch helplessly as the world ends around them?
32 pages, $3.99, in stores on Jan. 22.
RWBY #4
Written by MARGUERITE BENNETT
Art by MEGHAN HETRICK
Cover by SARAH STONE
Card stock variant cover by STANLEY « ARTGERM » LAU
Yang reminisces about an adventure with Blake during their time at Beacon Academy. Meanwhile, Blake seeks guidance from her mother. How can Blake ever face her friends again when all she does is cause people pain?
32 pages, $3.99 (cardstock cover, $4.99), in stores on Jan. 15.
SHAZAM! #10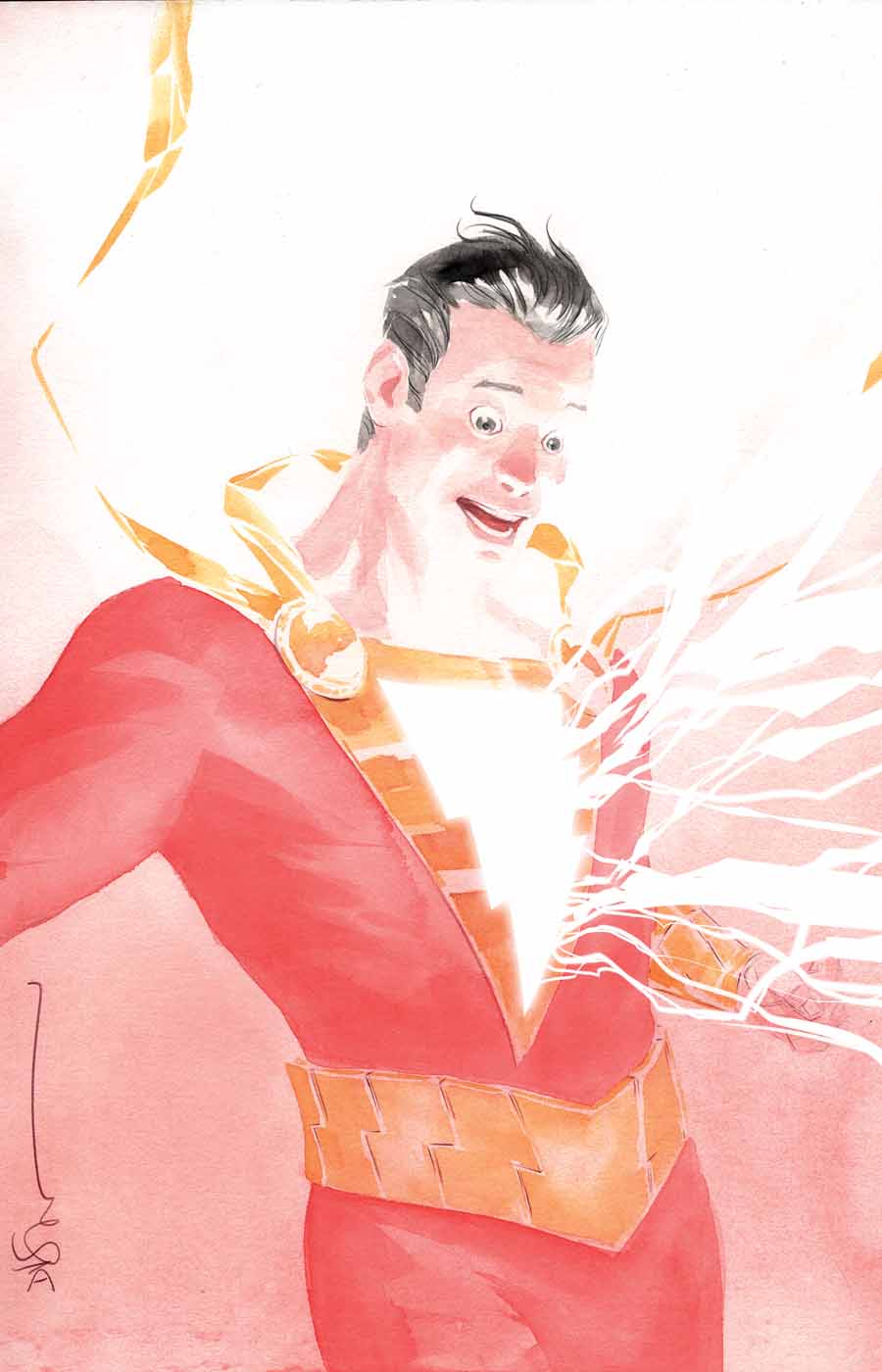 Written by GEOFF JOHNS
Art by DALE EAGLESHAM and MARCO SANTUCCI
Cover by DALE EAGLESHAM
Variant cover by DUSTIN NGUYEN The magical superhero adventure continues as the seventh member of the Shazam Family is finally chosen – and it will change Billy Batson and his brothers and sisters forever! But can this new family come together to stop the deadly, all-new Monster Society? Plus, Mary's pet rabbit, Hoppy, makes a startling discovery.
32 pages, $3.99, in stores on Jan. 22.
SUICIDE SQUAD #2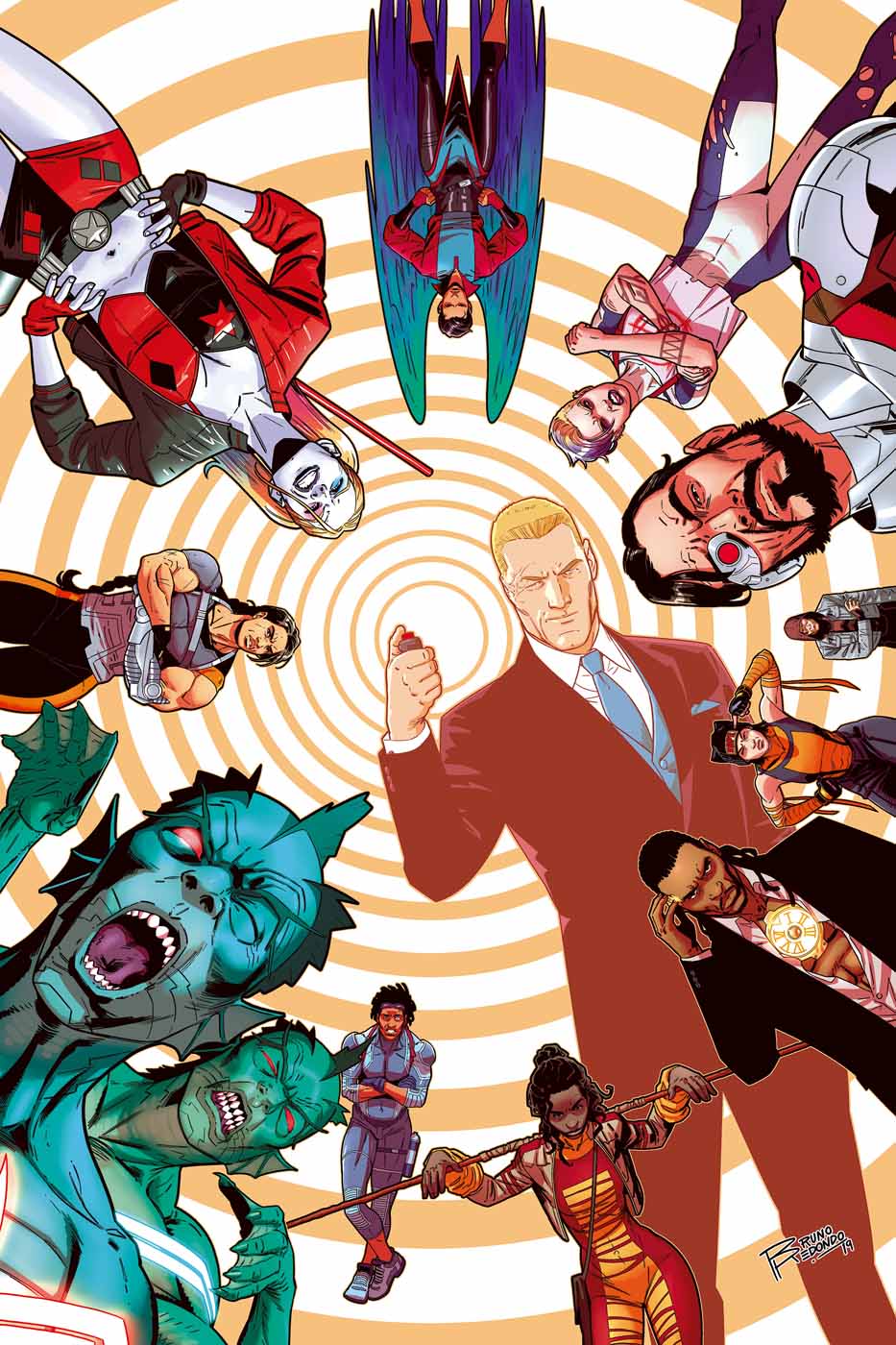 Written by TOM TAYLOR
Art and cover by BRUNO REDONDO
Card stock variant cover by RYAN BENJAMIN
After the absolute carnage of Suicide Squad #1, a new Task Force X has been assembled – even before the bodies of teammates and friends have had a chance to cool! What's left standing may be the most capable and uncompromising Suicide Squad ever brought together. But it's also the most divided. Forced to fulfill the agenda of a cruel new taskmaster, this Squad might survive their next mission, but they may not survive each other.
32 pages, $3.99 (cardstock cover, $4.99), in stores on Jan. 29.
SUPERGIRL #38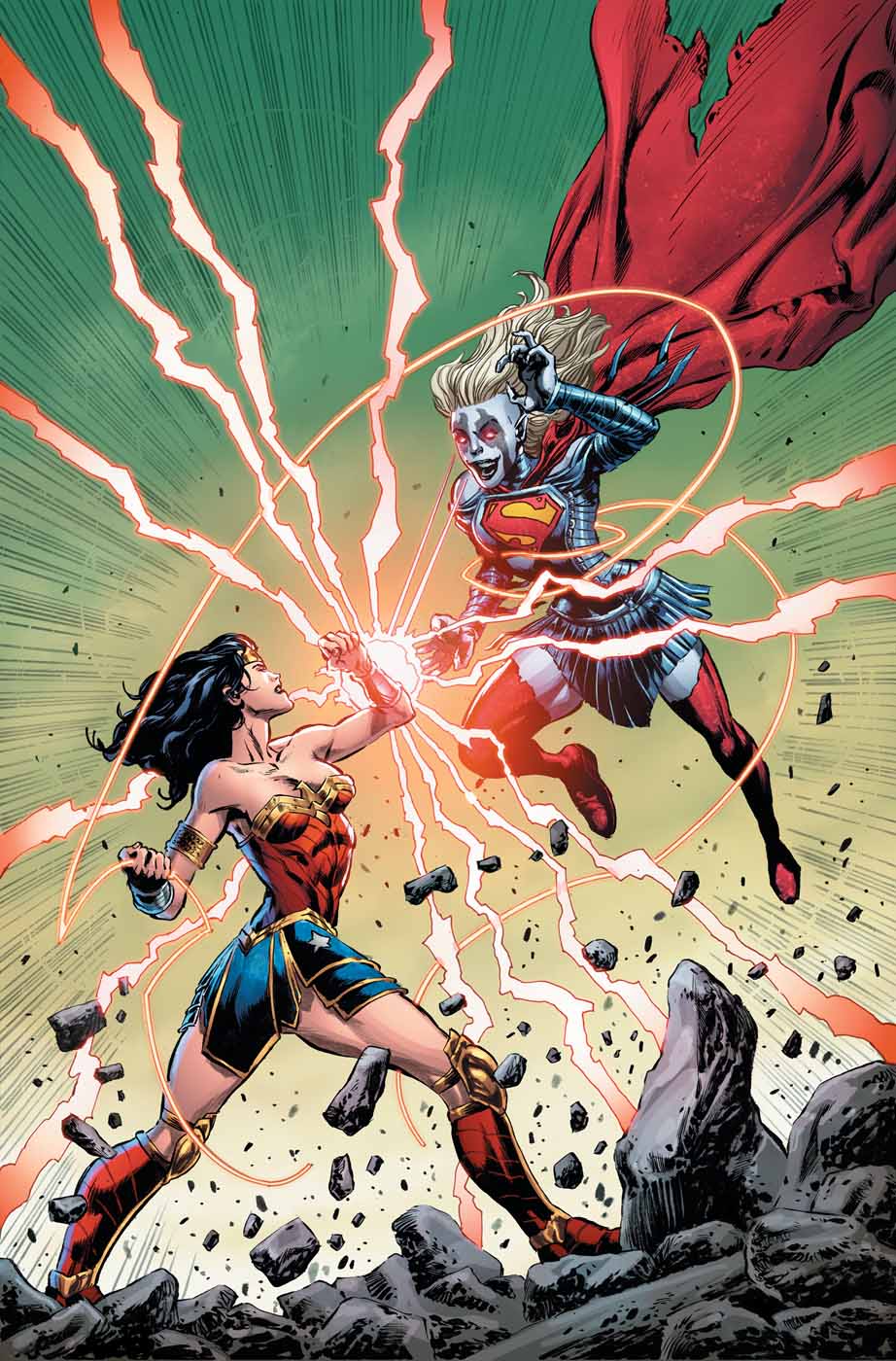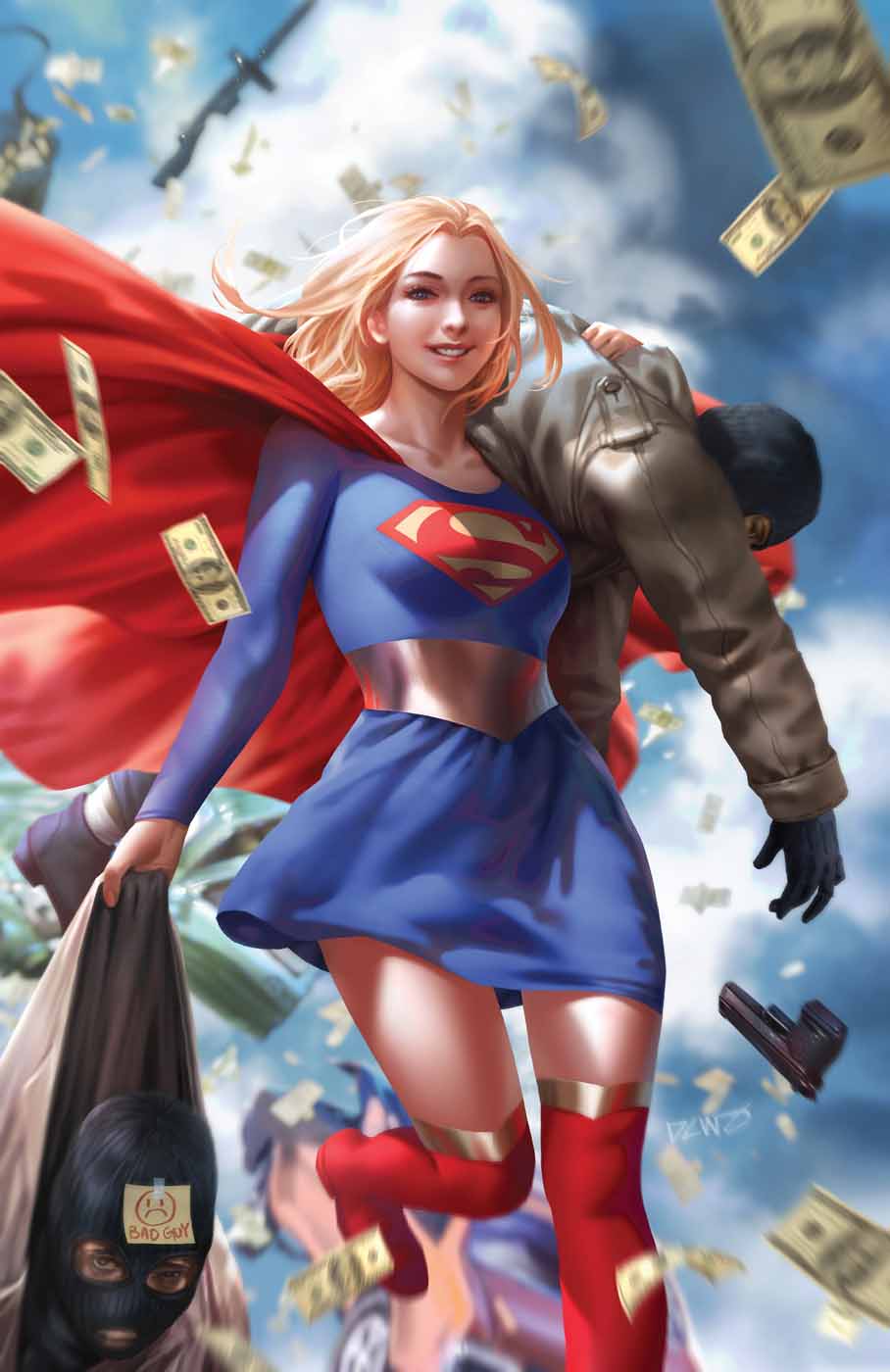 Written by JODY HOUSER
Art by RACHAEL STOTT
Cover by MIKE PERKINS
Cardstock variant cover by DERRICK CHEW
After Batman and Superman couldn't stop the Infected Supergirl from trying to thee entire world, they knew they had to call in the only person they trust can bring Kara back…Wonder Woman! Will Diana's compassion be enough to cure Kara of the infection that's taken over? If not, what's a fight between an uninhibited Kryptonian power house against a god like? You'll find out here!
32 pages, $3.99, (cardstock, $4.99), in stores on Jan. 8.
SUPERMAN #19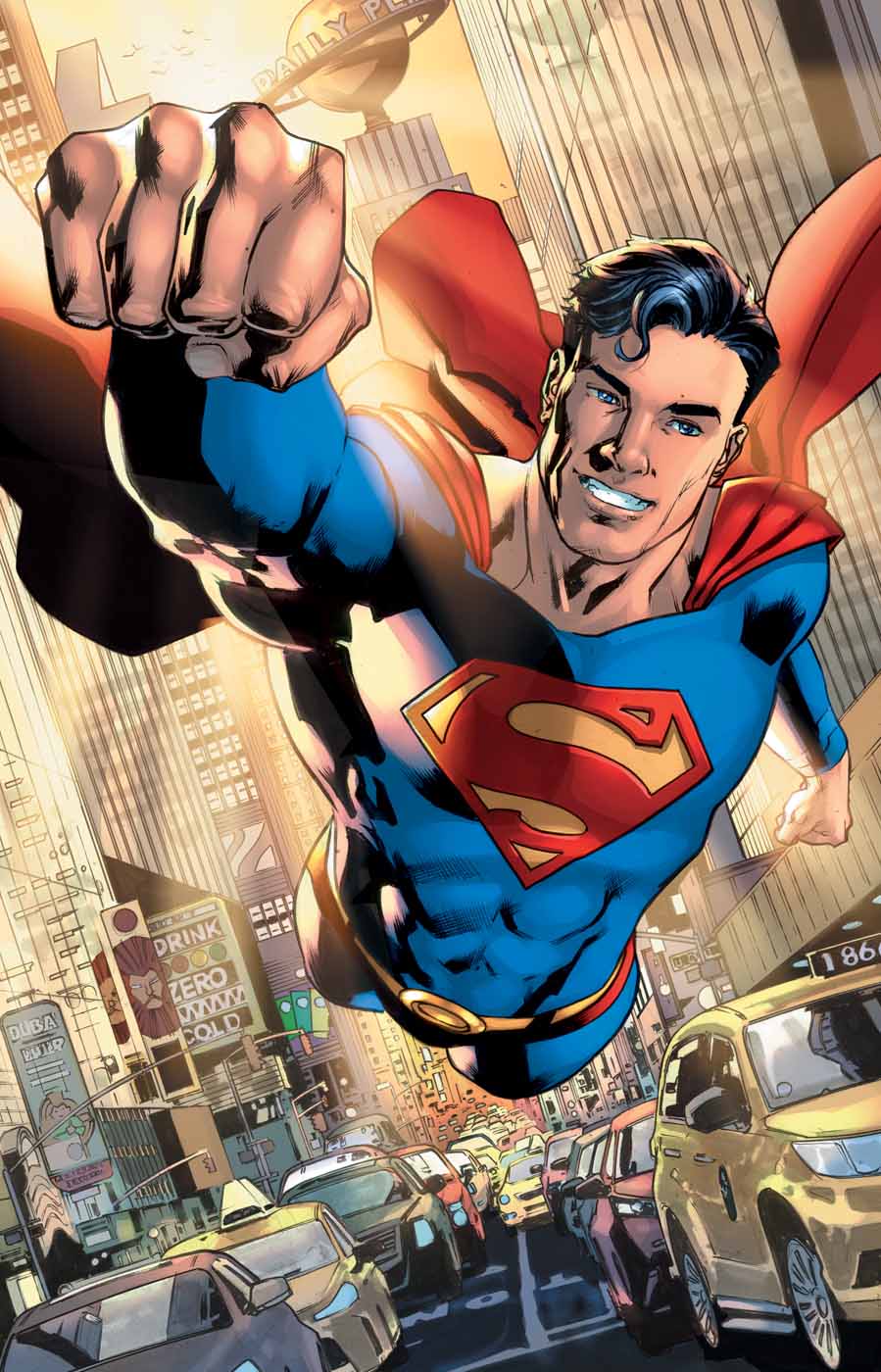 Written by BRIAN MICHAEL BENDIS
Art and cover by IVAN REIS and JOE PRADO
Variant cover by BRYAN HITCH
One day later! What happens the day after Superman reveals his secret identity to the world? And what repercussions will his decision have across the entire DC Universe? Plus, Superman: president of Earth?
32 pages, $3.99, in stores on Jan. 8.
SUPERMAN'S PAL JIMMY OLSEN #7
Written by MATT FRACTION
Art and cover by STEVE LIEBER
Variant cover by BEN OLIVER
The doctor will see you now, Jimmy…and you, Jimmy, and you, and you, annnd you, too, Jimmy! How can there be five different Jimmy's, and how will our Jimmy handle keep the other four Jimmy's together without bursting into smithereens? Well, to answer that, Jimmy will first have to us about your mother. And what about your brother Jamie and sister Janey? Ah, yes, but how does that make you feel, Jimmy?
32 pages, $3.99, in stores on Jan. 15.
TEEN TITANS #38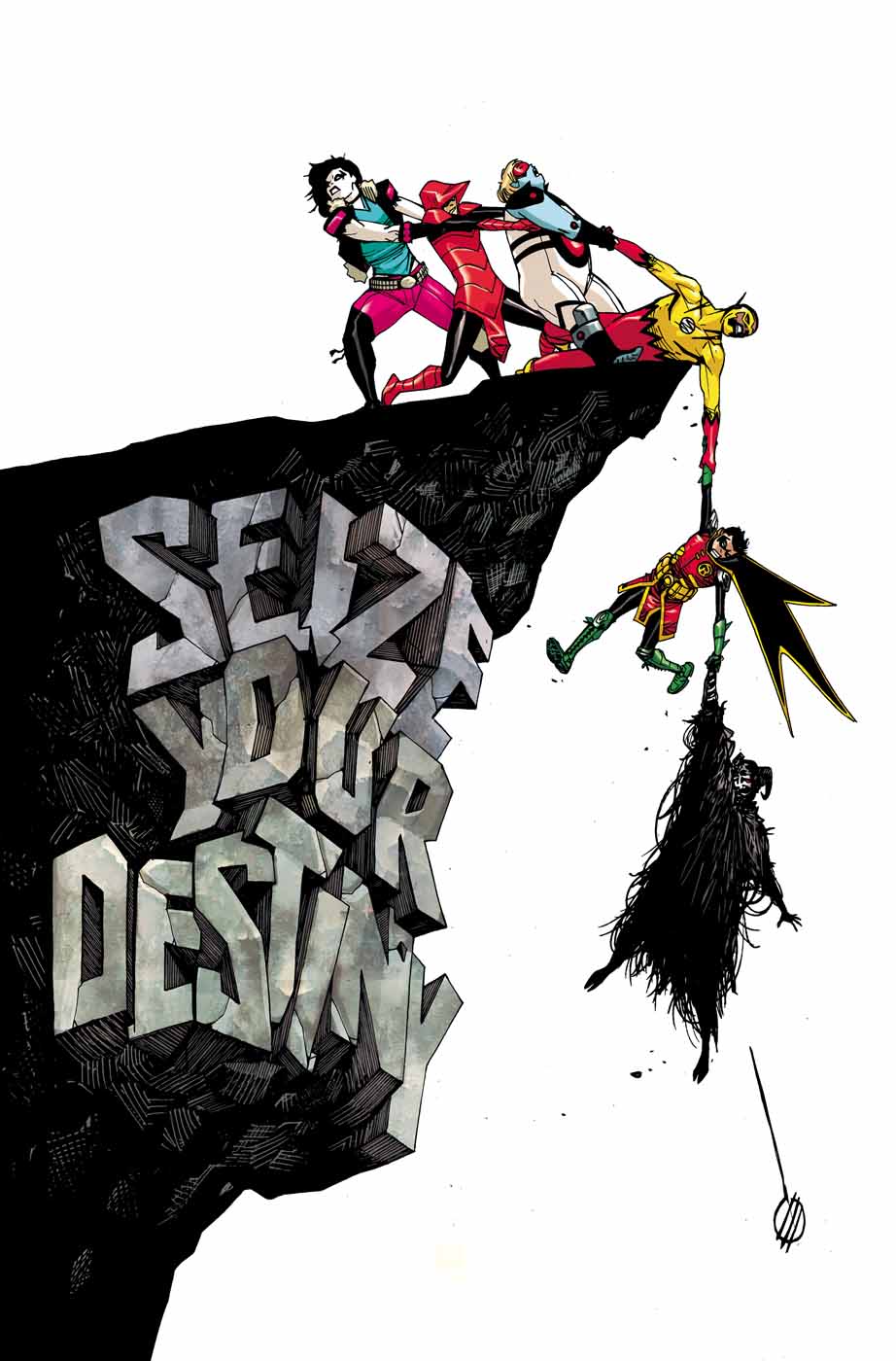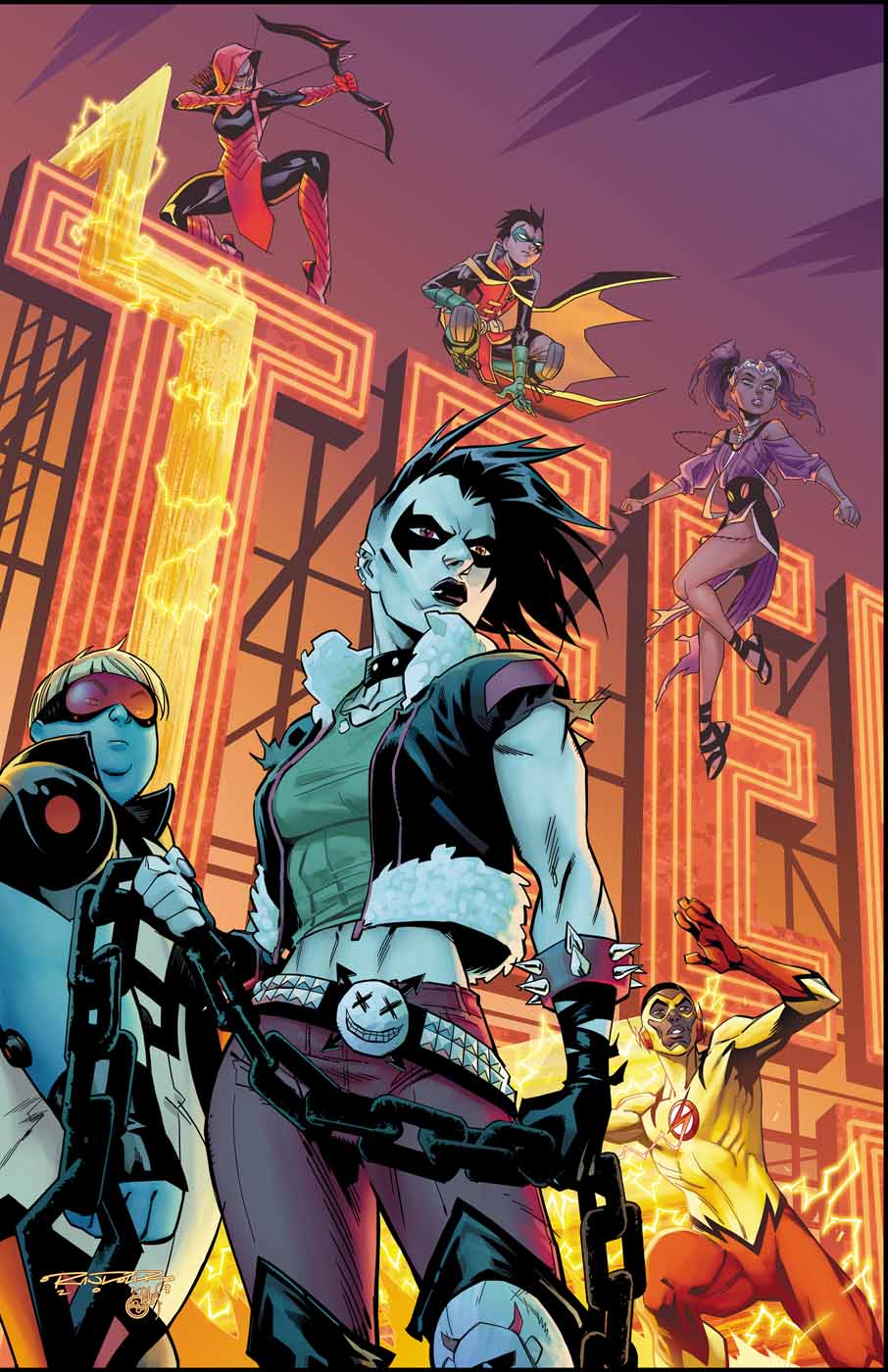 Written by ADAM GLASS
Art and cover by BERNARD CHANG
Variant cover by KHARY RANDOLPH
The Other's identity has been revealed… and it's someone very close to Damian! Now that he understands the Other's mission, will Damian be tempted to join him? How will the rest of the team react to Roundhouse's rescue attempt after he so cruelly betrayed them? And will Djinn ever escape her ring?
32 pages, $3.99, in stores on Jan. 15.
THE TERRIFICS #24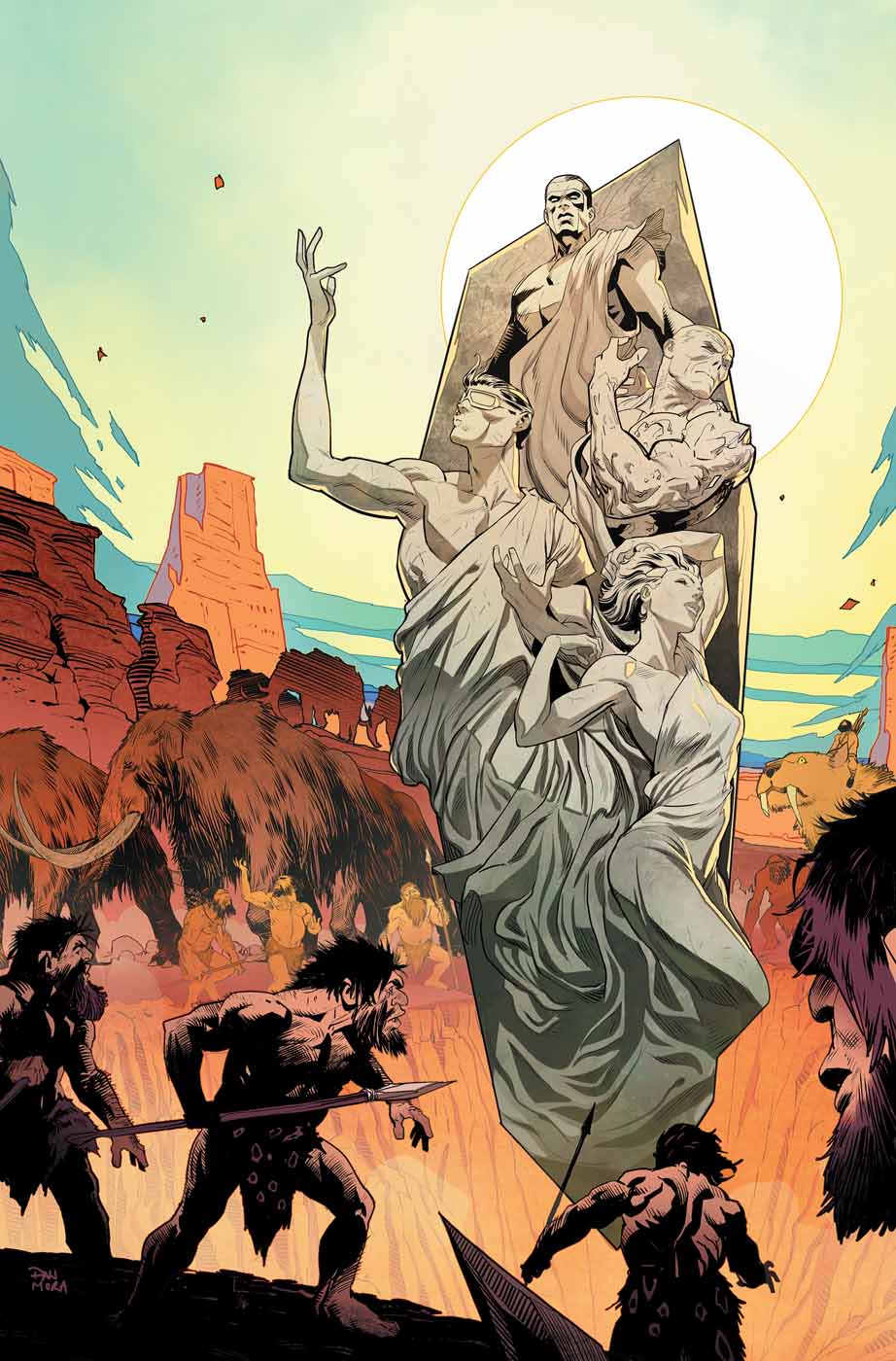 Written by GENE LUEN YANG
Art by SERGIO DAVILA and VICENTE CIFUENTES
Cover by DAN MORA
Variant cover by MICHAEL GOLDEN
« The One Where Bizarro Screws Up Time » part two! The Terrifics have traveled to the very beginning of time to put an end to Bizarro's reign of clock-clashing terror! But who are the mysterious angels helping Ms. Terrific navigate the void?
32 pages, $3.99, in stores on Jan. 29.
TITANS: BURNING RAGE #6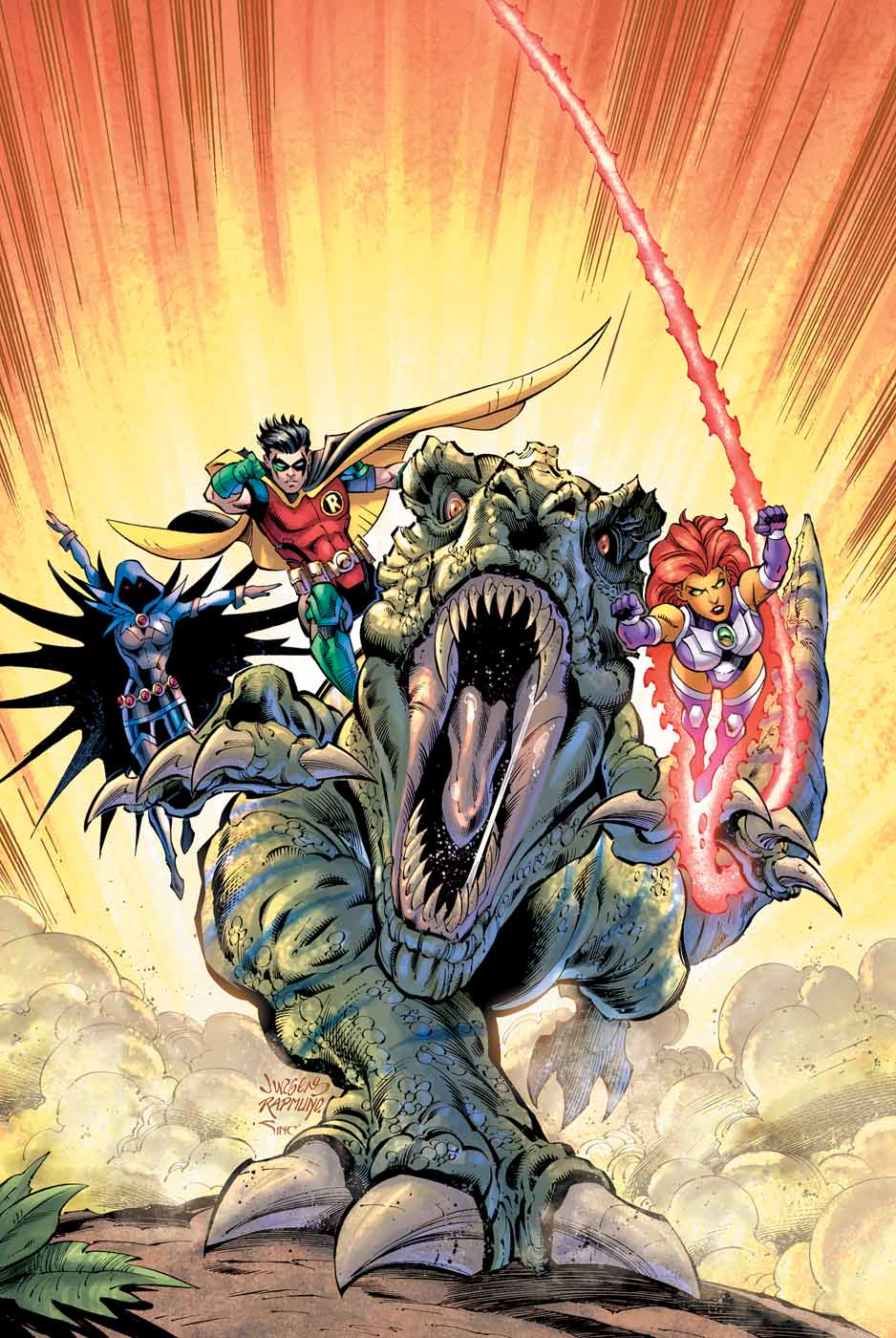 Written by DAN JURGENS
Art by SCOT EATON and WAYNE FAUCHER
Cover by DAN JURGENS and NORM RAPMUND
Available to comics shops for the first time! The Titans have traced the source that induced paranoia in the streets – but Steve Dayton, the former Mento, had nothing to do with it! In reality, the mayhem was instigated by his disgruntled assistant, who now plans to kill Dayton – unless the Titans can stop him! Originally published in Titans Giant #4 and #5.
40 pages, $4.99, in stores on Jan. 29.
BATMAN: OVERDRIVE TP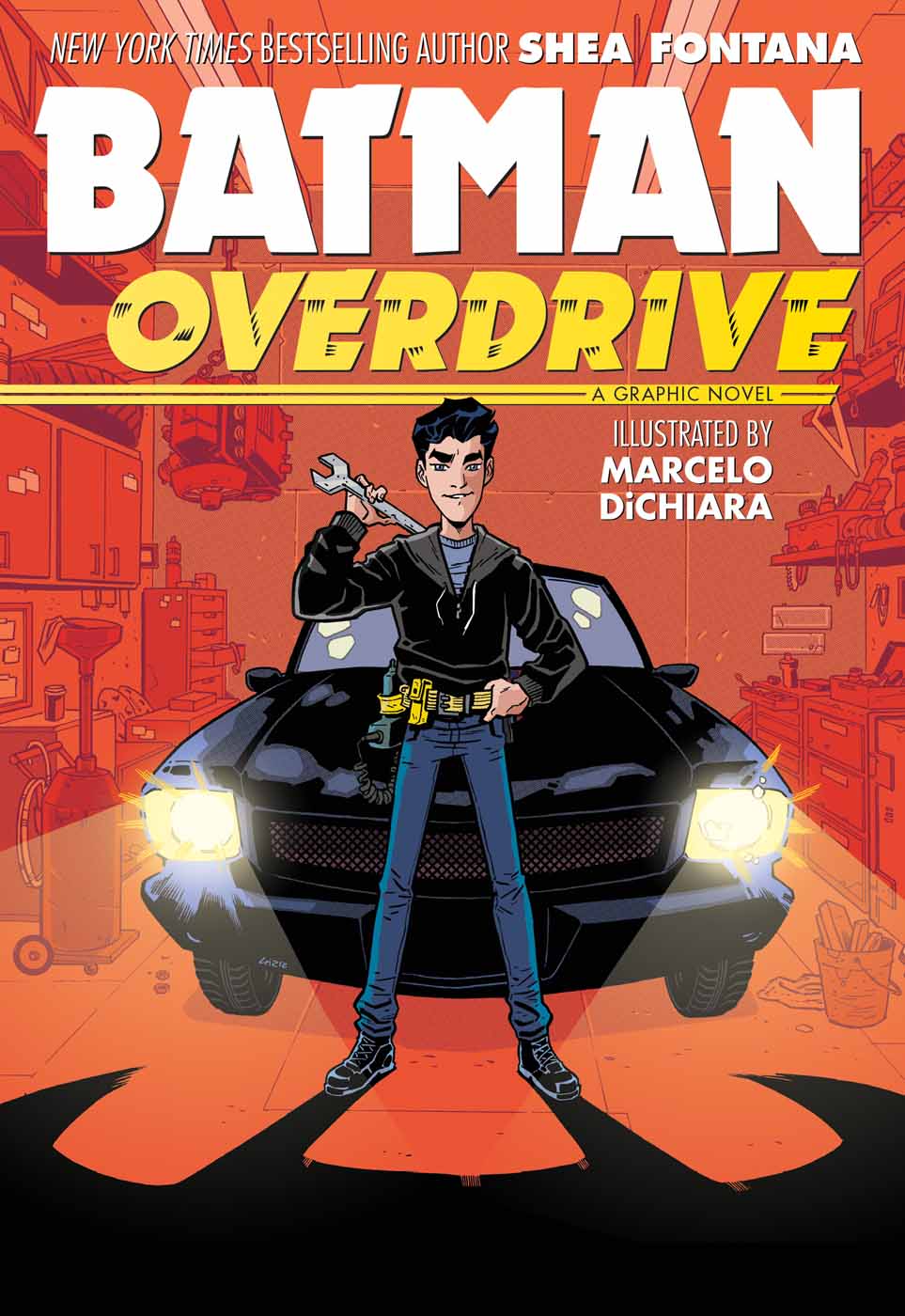 Written by SHEA FONTANA
Art and cover by MARCELO DiCHIARA
Driven to solve the mystery of his parents' murders, teenage loner Bruce Wayne hones his detective and combat skills as he scours the underbelly of Gotham City looking for clues. Feeling responsible, Bruce is eager to find someone to pin the blame on so he can absolve himself of the guilt he feels. As he rebuilds his dad's first car, his quest for freedom – while still clinging to the past – becomes clear. Finding the correct parts forces Bruce to open himself up to new friendships and challenges, ultimately leading him to what he desires most: freedom!
144 pages, $9.99, in stores on Feb. 26.
DC SUPER HERO GIRLS: POWERLESS TP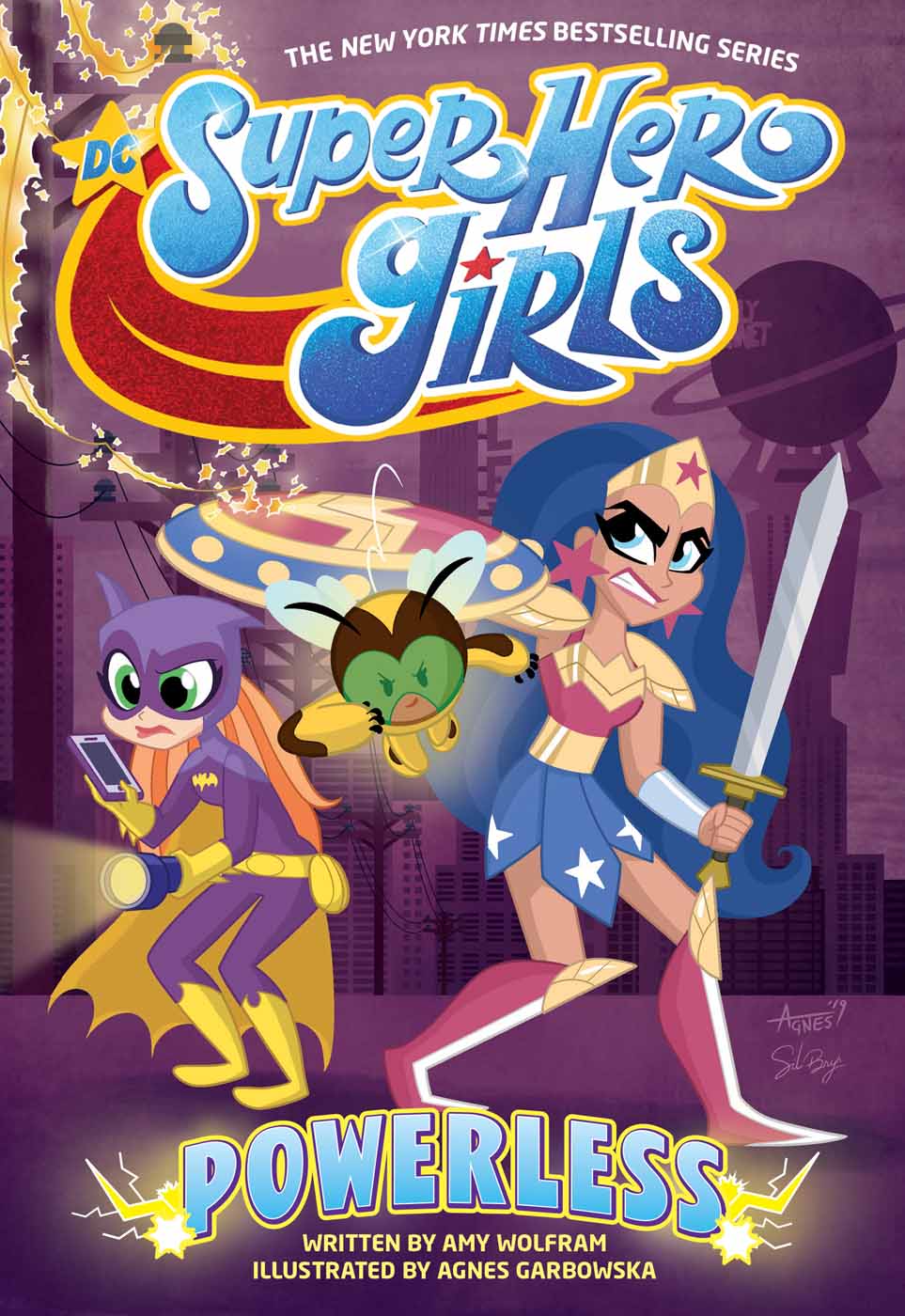 Written by AMY WOLFRAM
Art and cover by AGNES GARBOWSKA
When the electric grid and cloud computing get knocked out on the same night, the Metropolis High Hamsters aren't quite sure how to deal…with a cafeteria that only accepts cash? And some of the girls are more affected than others: Batgirl without her smartphone barely makes it to school at all, but Green Lantern is mostly determined to keep her friends safe. Speaking of which, has anyone seen Bumblebee? With half the team out of commission, how will the girls find the source of the problem and fix it before Sweet Justice runs out of non-frozen desserts?!
144 pages, $8.99, in stores on March 11.
THE ORACLE CODE TP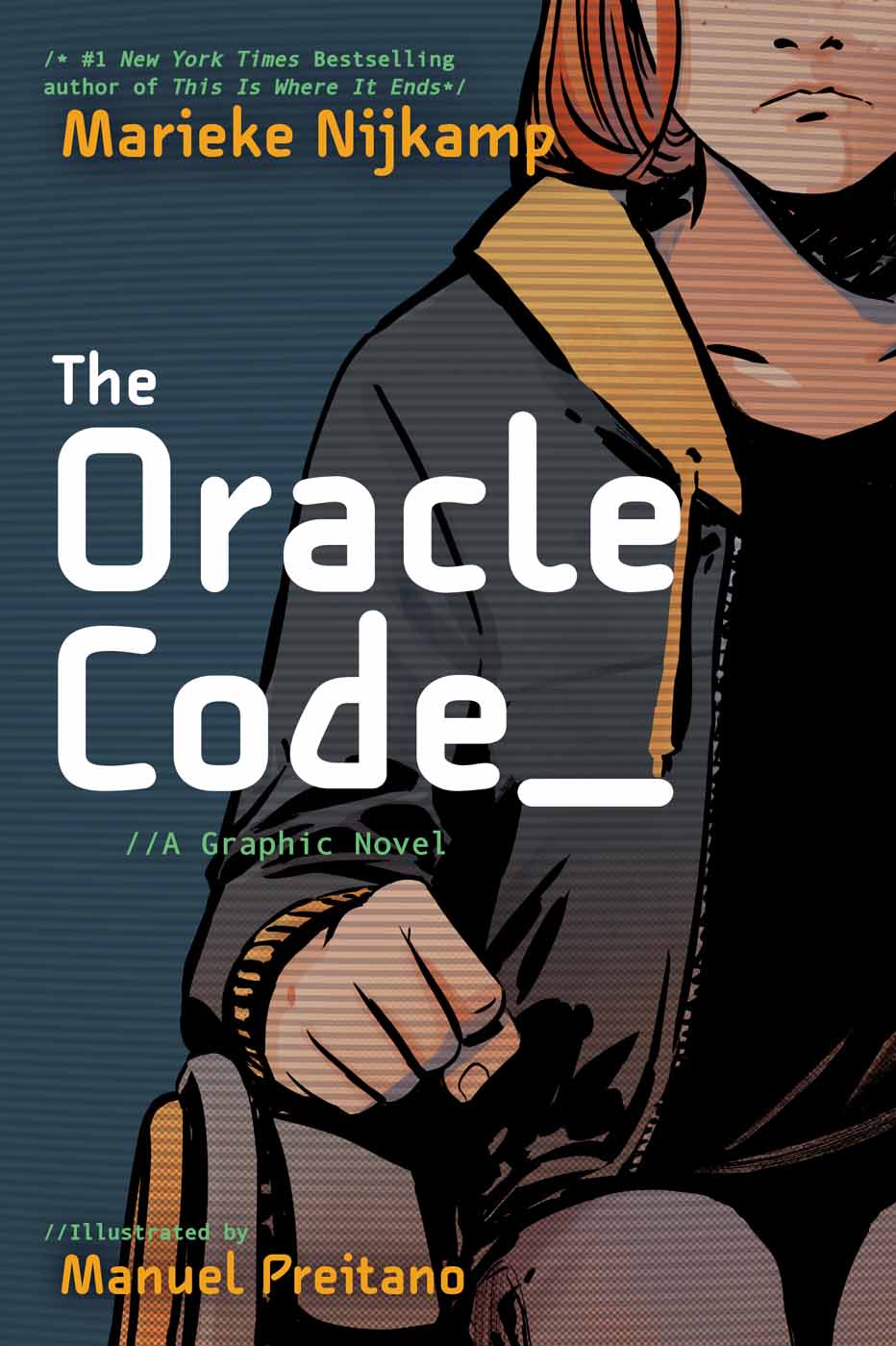 Written by MARIEKE NIJKAMP
Art and cover by MANUEL PREITANO
Author Marieke Nijkamp and artist Manuel Preitano unveil a graphic novel that explores the dark corridors of Barbara Gordon's first mystery: herself. After a gunshot leaves her paralyzed below the waist, Barbara Gordon must undergo physical and mental rehabilitation at Arkham Center for Independence. She must adapt to a new normal, but she cannot shake the feeling that something is dangerously amiss. Strange sounds escape at night while patients start to go missing. Is this suspicion simply a result of her trauma? Or does Barbara actually hear voices coming from the center's labyrinthine hallways? It's up to Barbara to put the pieces together to solve the mysteries behind the walls.In The Oracle Code, universal truths cannot be escaped, and Barbara Gordon must battle the phantoms of her past before they consume her future.
208 pages, $15.99, in stores on March 4.
BASKETFUL OF HEADS #4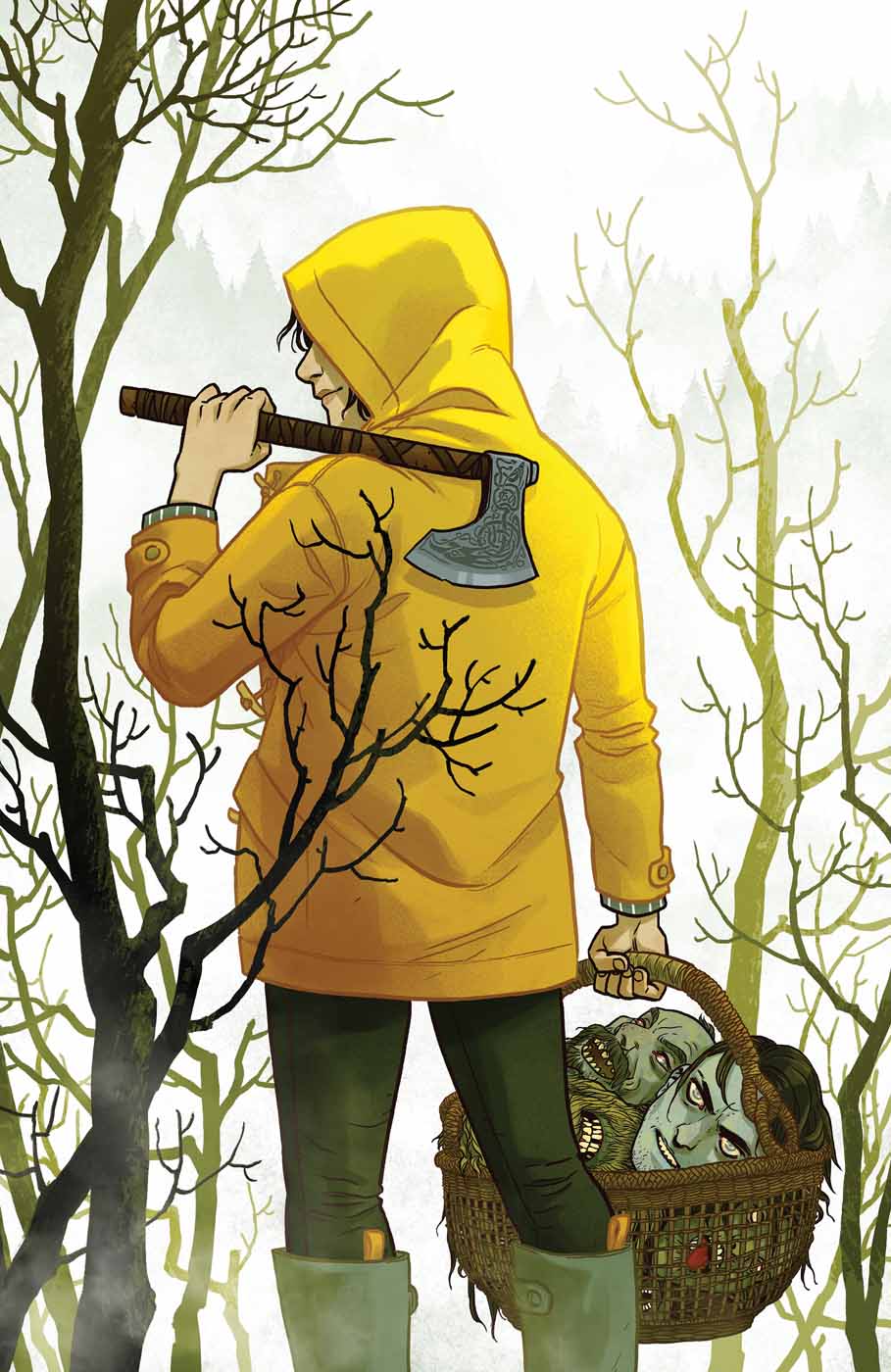 Written by JOE HILL
Art by LEOMACS backup story
Art by DAN McDAID
Cover by REIKO MURAKAMI
Variant cover by BECKY CLOONAN
Is June Branch a woman fighting for her life – or a deranged axe murderer with a basketful of paranoid fantasies? In the long hours of the night she makes a desperate run for the Brody Island Police Department, unsure whether she's a victim who needs protection – or a killer who must be stopped!
32 pages, $3.99, in stores on Jan. 22.
THE DOLLHOUSE FAMILY #3
Written by MIKE CAREY
Art by PETER GROSS and VINCE LOCKE
Cover by JESSICA DALVA
Variant cover by JAY ANACLETO Childhood ends. Children grow up. And young Alice is now a mother herself, raising her daughter alone in 1990s London. But the Dollhouse has never forgotten the promise that she made. The Dollhouse knows where she's gone. And so does Jenny, the ghost of the girl who died in her orphanage…
32 pages, $3.99, in stores on Jan. 8.
THE LOW, LOW WOODS #2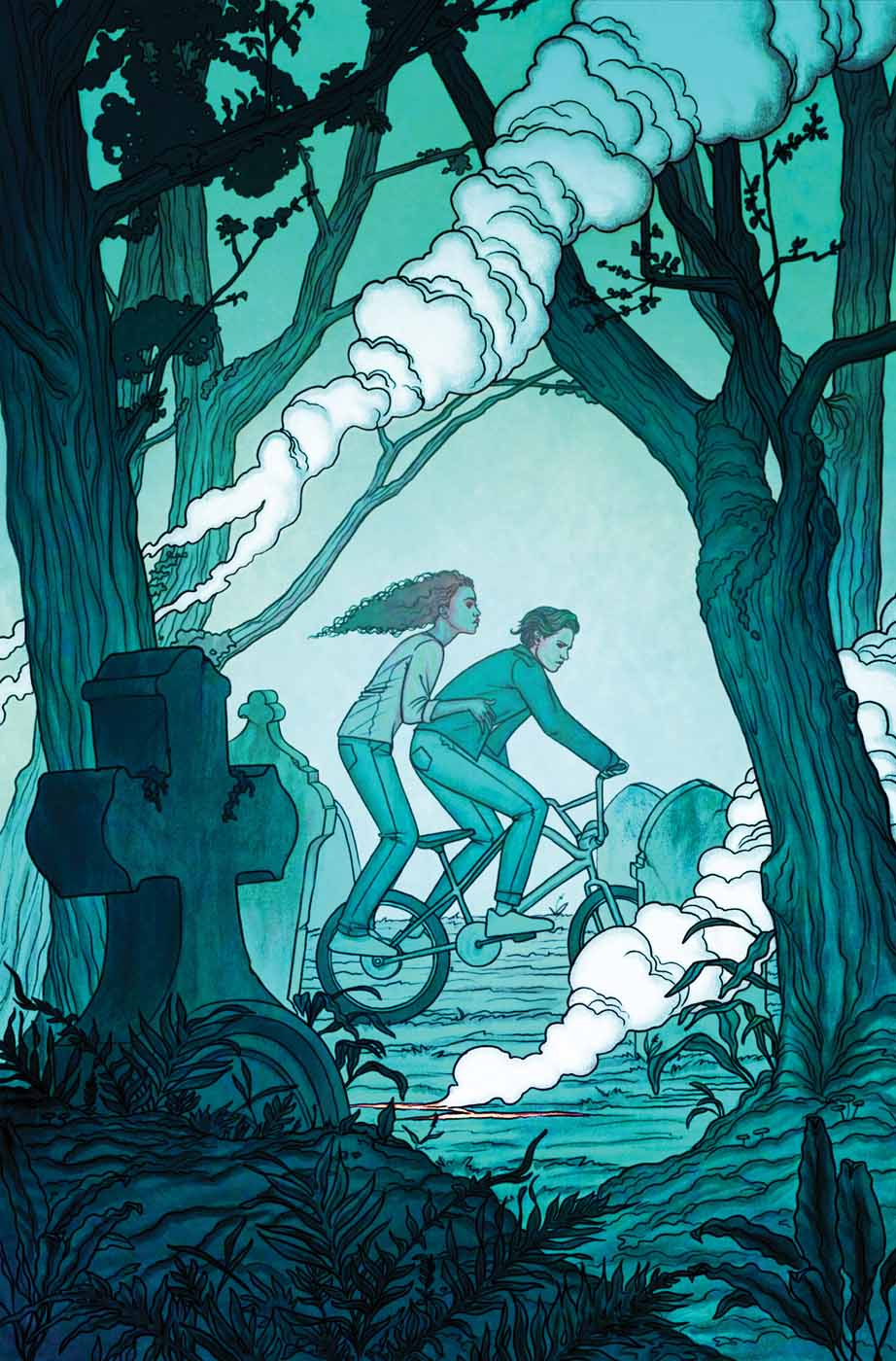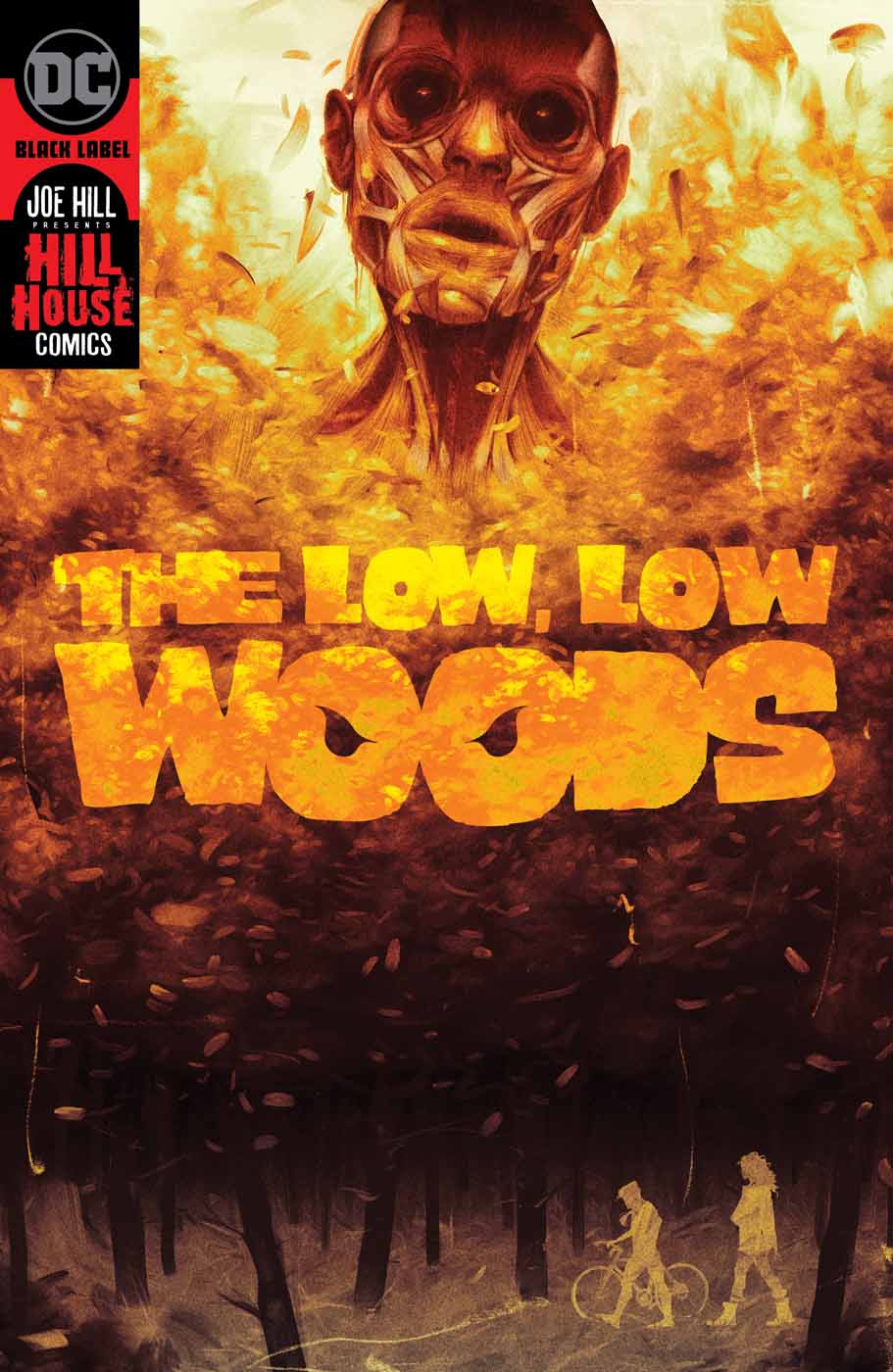 Written by CARMEN MARIA MACHADO
Art by DANI
Backup story art by DAN McDAID
Cover by SAM WOLFE CONNELLY
Variant cover by JENNY FRISON
El and Octavia's memories have gone missing. Like so many women in Shudder-To-Think, PA, before them, all they have is a void where the truth once was. But as time passes, El finds herself needing to know more about what has happened, while Octavia wants nothing more than to forget the forgetting. Can these two teenage dirtbags reconcile their differences before the horrible things lurking beneath their town emerge and swallow them whole?
32 pages, $3.99, in stores on Jan. 15.
BOOKS OF MAGIC #16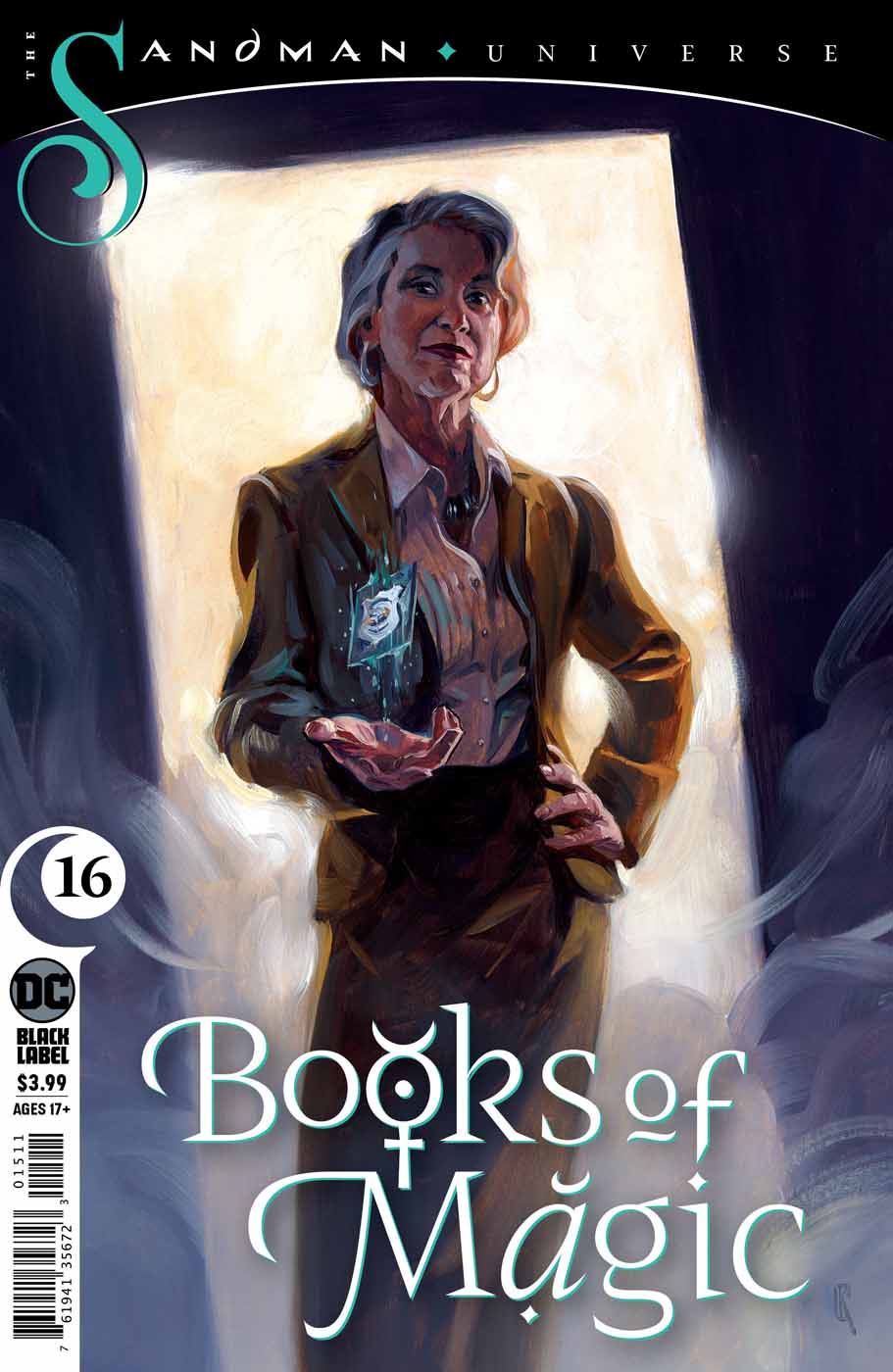 Written by KAT HOWARD
Art by TOM FOWLER and CRAIG TAILLEFER
Cover by KAI CARPENTER
Tim's burgeoning magical abilities got onto the radar of the London police, but he was able to keep them at bay…until Detective Celia Culpepper of the Other Side took his case. She's a sorcerer herself – quite a powerful one, it seems – and now there's no place Tim can hide! But should he hide? Or does Celia have much grander plans for Tim than locking him away? He'd better decide what side she's on soon…because Tim's evil doppelgänger is on the loose, and Tim can't stop him on his own!
32 pages, $3.99, in stores on Jan. 22.
HOUSE OF WHISPERS #17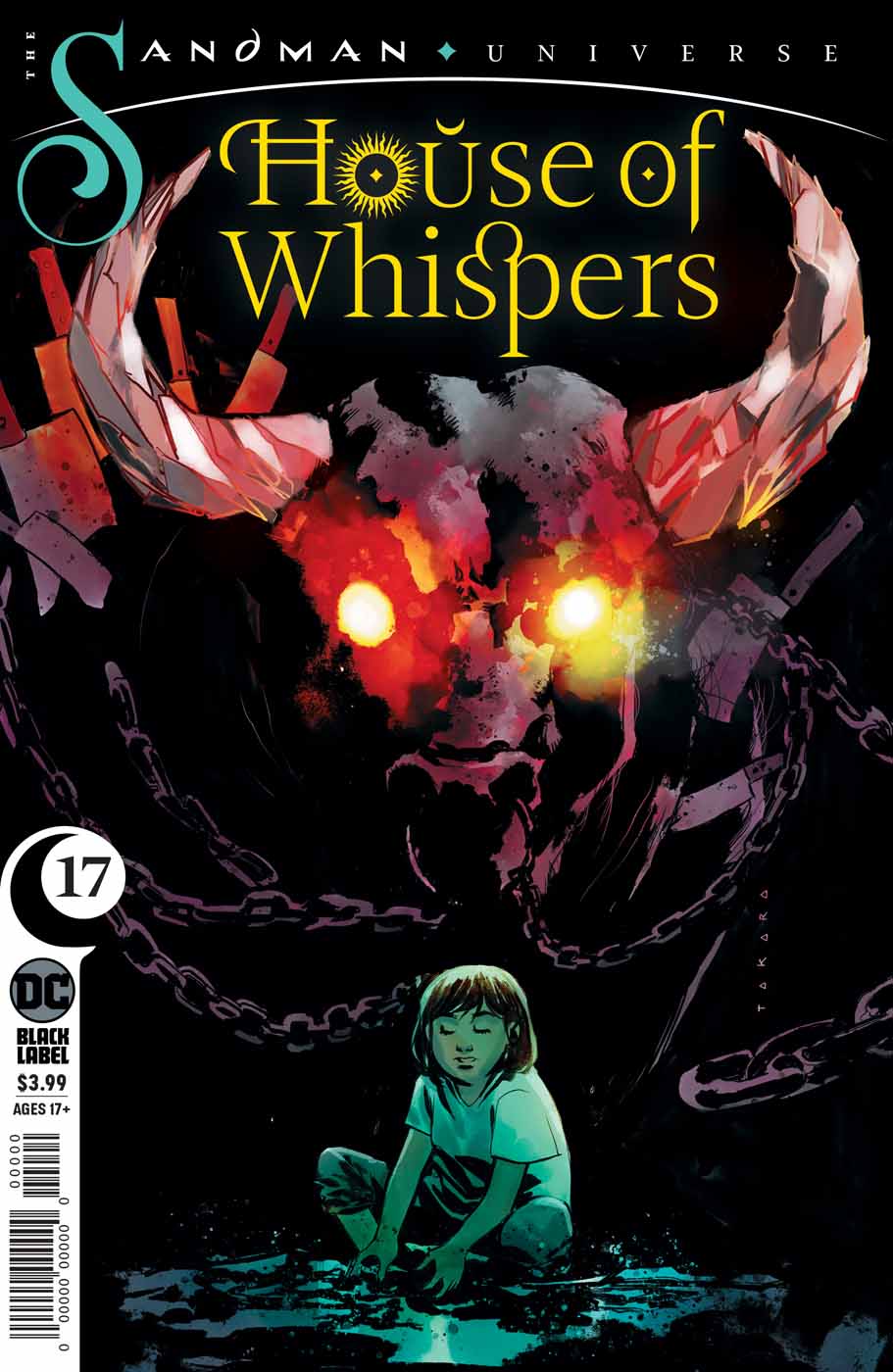 Written by NALO HOPKINSON and DAN WATTERS
Art by DOMINIKE « DOMO » STANTON
Young Poquita has fled the abusive foster family that's held her hostage…but in an abandoned refugee prison on the southern border, she'll find that her traveling companion is not the kindly, grateful kitten she started the journey with. It's an aspect of the Corinthian made flesh…and Erzulie may not hear her cries in time to intervene!
32 pages, $3.99, in stores on Jan. 8.
JOHN CONSTANTINE: HELLBLAZER #3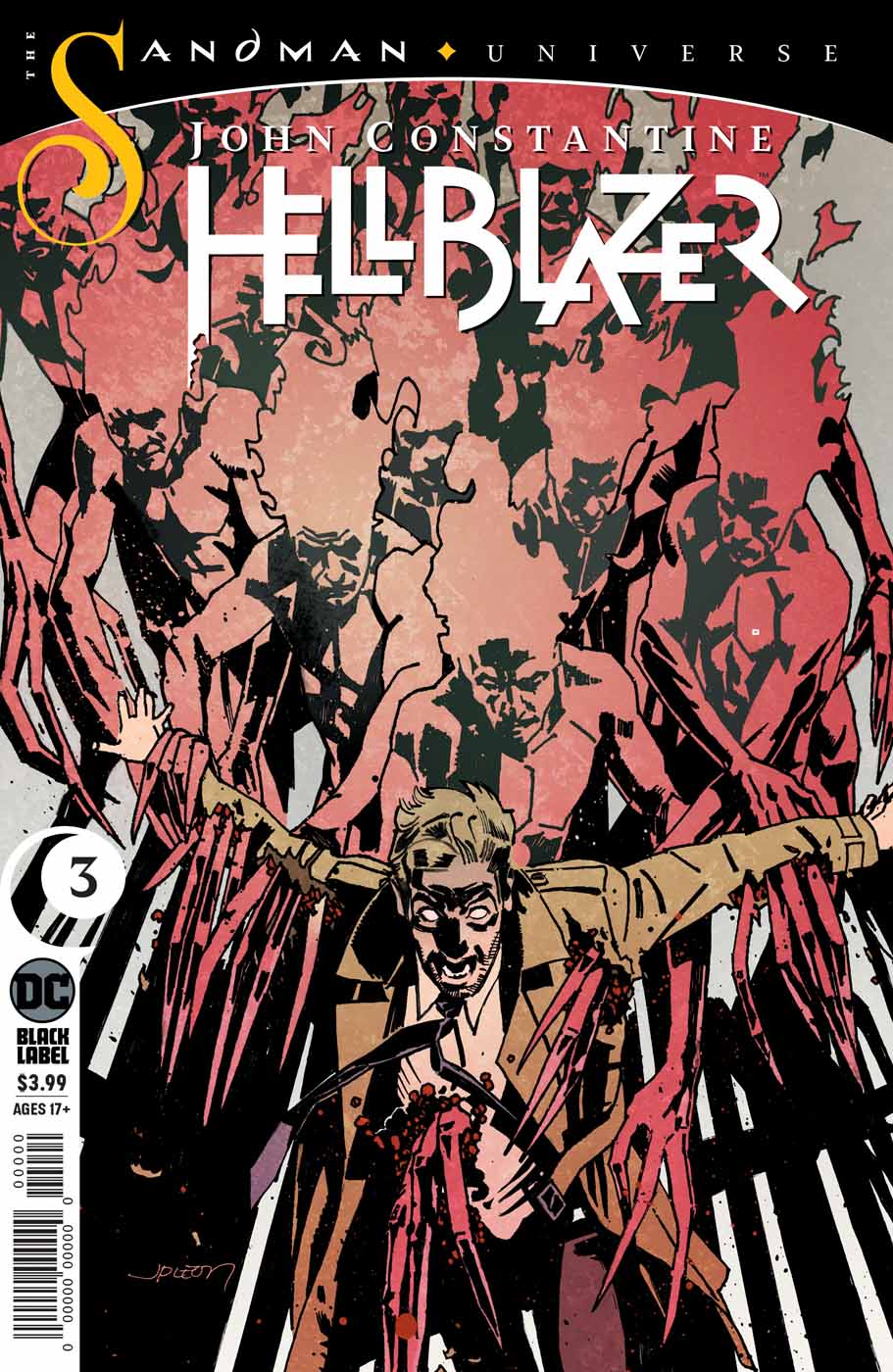 Written by SIMON SPURRIER
Art by AARON CAMPBELL
Cover by JOHN PAUL LEON
John has found the cause of the magical madness slaughtering gang members on Peckham Rye…and it's just one guy! How hard can it be to stop him? Well, when the gangs get involved and the source of his power becomes clear, the answer turns out to be « Near impossible, actually! »
32 pages, $3.99, in stores on Jan. 22.
THE LAST GOD #4
Written by PHILLIP KENNEDY JOHNSON
Art by RICCARDO FEDERICI
Cover by KAI CARPENTER
Beyond the edge of creation lies the Black Stair. And beyond it, amidst the void, he waits. Mol Uhltep, the Last God. This is the tale of those who claimed to slay him, and the world they doomed with their lies. With the wraith of King Tyr and Mol Uhltep hot on her trail, and the Last God's foul curse worsening, Queen Cyanthe must rally her surviving allies within the walls of the Guild Eldritch's newly restored stronghold, the Pinnacle, and convince them to join her on her quest to travel past the edge of creation once more and do what she could not 30 years ago: kill the Last God, Mol Uhltep, once and for all. In the past we watch as young Tyr and the first fellowship delve into the depths of the very same fortress 30 years earlier, where they uncover a terrible secret guarded by the dead. It will change the course of their lives forever…assuming they can survive.
32 pages, $4.99, in stores on Jan. 29.
LUCIFER #16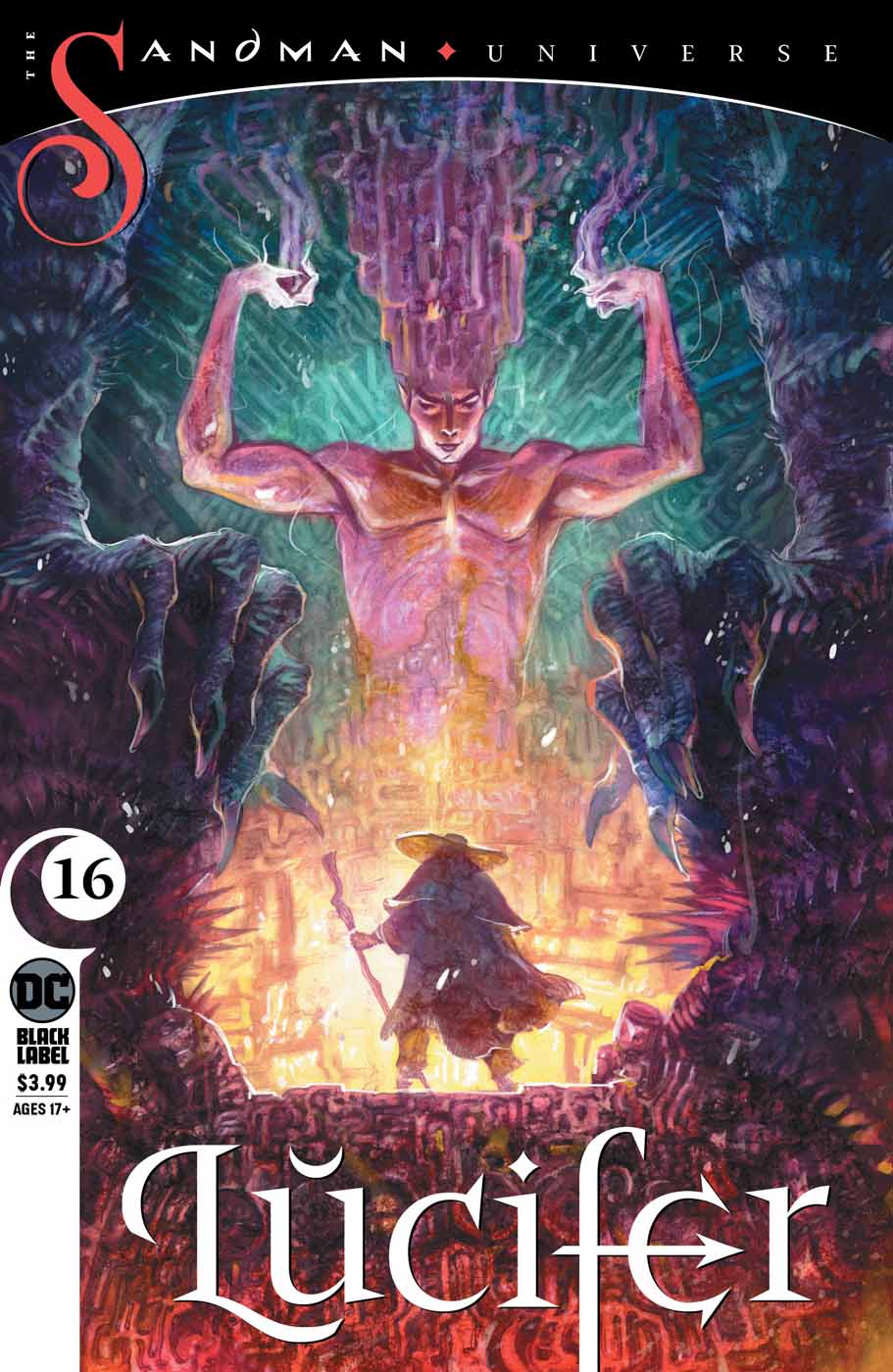 Written by DAN WATTERS
Art by SEBASTIAN FIUMARA
Cover by TIFFANY TURRILL
Who is the Hunted God? That is what Lucifer must discover after prophecy dictates he must save this mysterious prey from a deadly fate in the Wild Hunt, a mythic quest led by one of the most dangerous entities in existence: Odin himself.
32 pages, $3.99, in stores on Jan. 15.
DOOM PATROL: WEIGHT OF THE WORLDS #7
Written by GERARD WAY and JEREMY LAMBERT
Art and cover by NICK DERINGTON
Final issue. Everyone needs to be held like a baby. Bundle yourself up, slide into the loving arms of a friend, and strap yourself in for the thrilling conclusion to Doom Patrol: Weight of the Worlds.
32 pages, $3.99, in stores on Jan. 29.
FAR SECTOR #3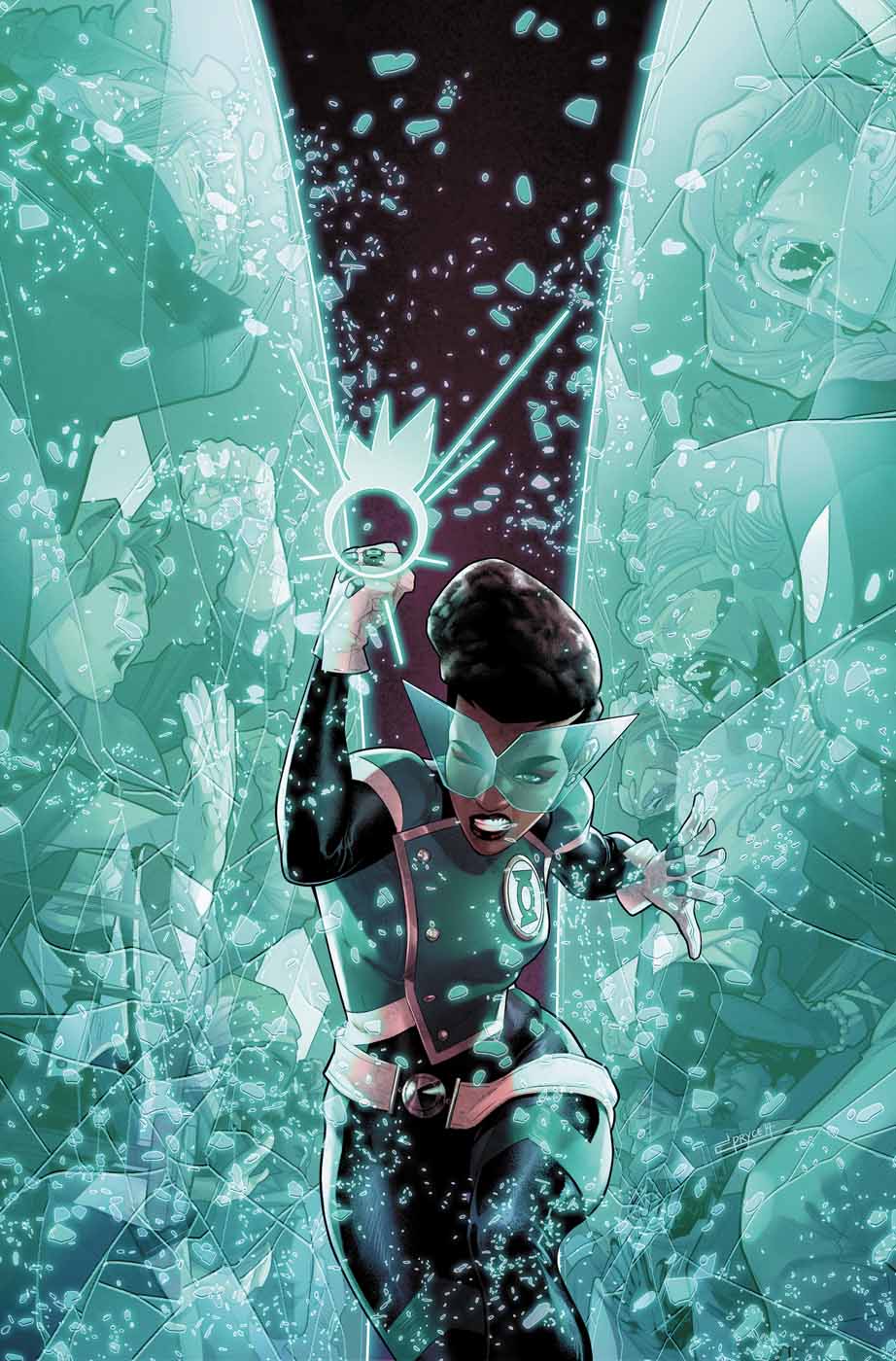 Written by N.K. JEMISIN
Art and cover by JAMAL CAMPBELL
Protecting the City Enduring's population of 20 billion aliens gets even harder when rookie Green Lantern Jo Mulein is thrust into the middle of a massive protest that's about to get out of hand. What do the protesters want? The right to feel.
32 pages, $3.99, in stores on Jan. 22.
DIAL H FOR HERO #11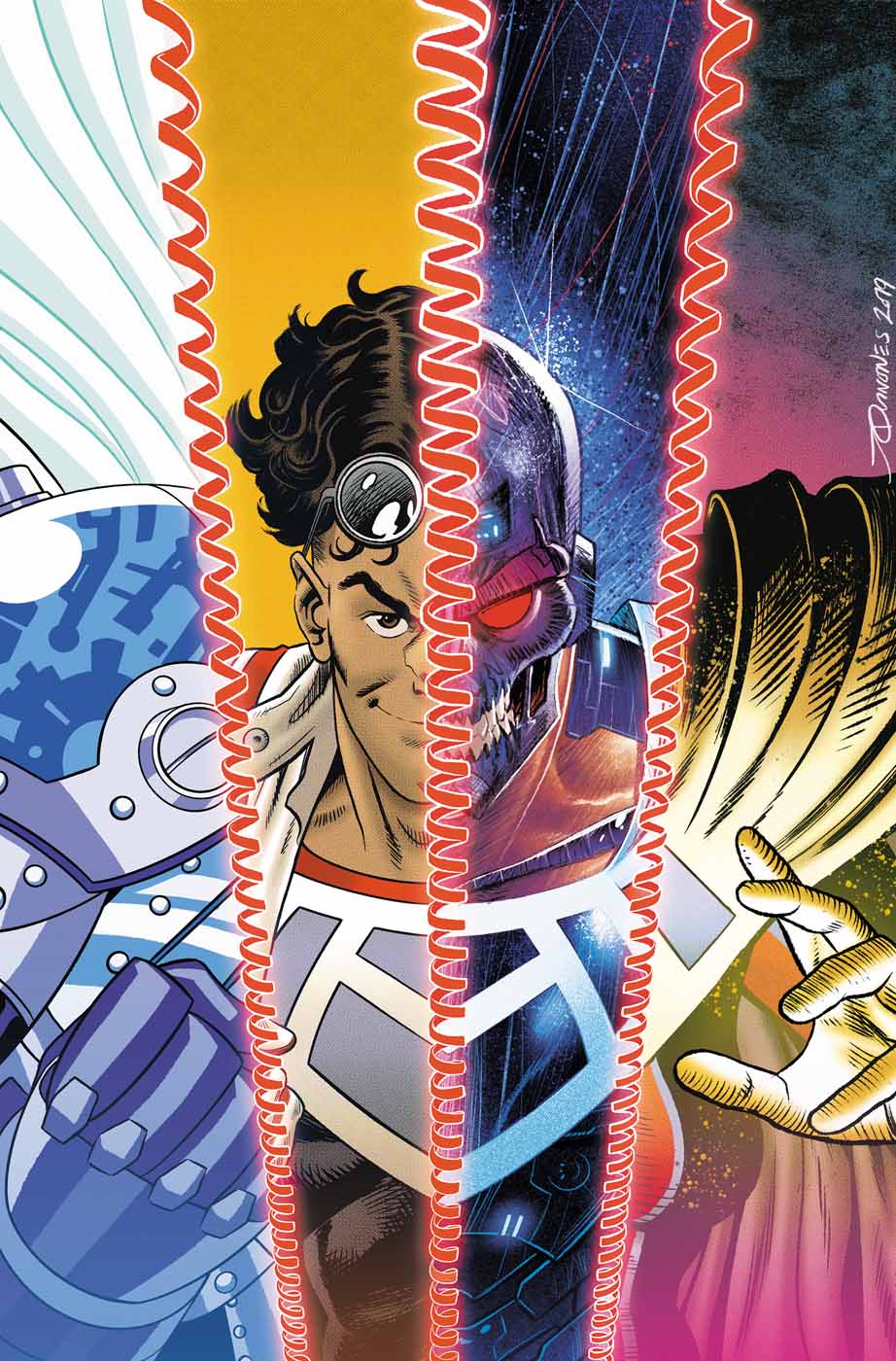 Written by SAM HUMPHRIES
Art and cover by JOE QUINONES
Miguel and Summer's quest for the H-Dial takes them to the most dangerous place yet: Apokolips! But even with victory so close, Mr. Thunderbolt always has one more trick up his sleeve.
32 pages, $3.99, in stores on Jan. 29.
WONDER TWINS #11
Written by MARK RUSSELL
Art and cover by STEPHEN BYRNE
Colonel 86 – the malfunctioning supercomputer that still thinks it's 1986 – has taken over the world! As its obsolete memory creates one disaster after another, the Wonder Twins must team up with Filo and Polly Math to stop it!
32 pages, $3.99, in stores on Jan. 22.
YOUNG JUSTICE #12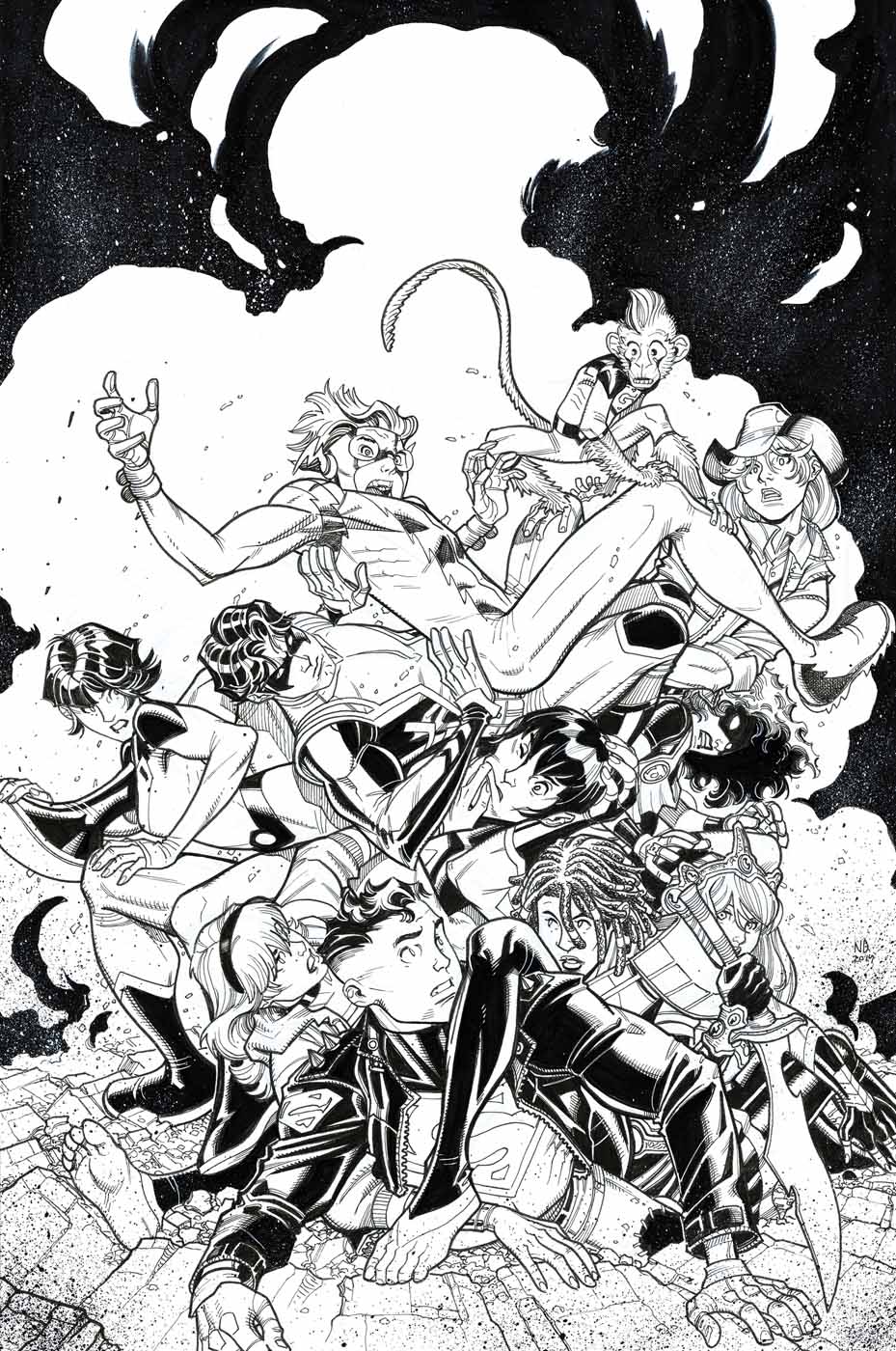 Written by BRIAN MICHAEL BENDIS
Art and cover by JOHN TIMMS
Card stock variant cover by NICK BRADSHAW
It's an epic Wonder Comics crossover: Naomi, the Wonder Twins, and Young Justice all come together for the first time to confront the secrets behind the entire first year of the teen team's series. Where did Connor Kent come from? Why does Bart Allen remember everyone but no one else does? How does it all connect to Jinny Hex's trunk? It's a Wonder Comics blockbuster!
32 pages, $3.99, (Cardstock, $4.99), in stores on Jan. 8.