DYNAMITE ENTERTAINMENT FOR AUGUST
Writer: Gail Simone.
Art: Walter Geovani.
Covers: Riccardo Federici, Lucia Parrillo, Tyler Kirkham, Ben Oliver, Inhyuk Lee.
The Winslow House is in shambles, but people call it home. It is a place for people who have almost nothing but are trying to make a life for themselves. It is also in a bad neighborhood, and no one will stop criminals from tormenting the residents…until The Death-Defying 'Devil shows up!
But when the 'Devil tries to step in and protect the innocent, things take a turn for the worse and he finds himself trapped inside the house, being taken care of by the same people he was trying to save. Â
The story of The Death-Defying 'Devil and a group of neighbors who will do what it takes to keep their home, and each other, safe!
32 pages, $3.99, in stores on August 7.
THE BOYS OMNIBUS VOL. 1 – PHOTO COVER EDITION
Writer: Garth Ennis.
Art/cover: Darick Robertson.
Get excited for Prime's new series based on Garth Ennis' and Darick Robertson's The Boys with this new Edition of Dynamite Omnibus Volume 1, featuring a photo cover from the series. This is going to hurt! In a world where costumed heroes soar through the sky and masked vigilantes prowl the night, someone's got to make sure the « supes » don't get out of line. And someone will!
Billy Butcher, Wee Hughie, Mother's Milk, The Frenchman, and The Female are The Boys: A CIA-backed team of very dangerous people, each one dedicated to the struggle against the most dangerous force on Earth - superpower! Some superheroes have to be watched. Some have to be controlled. And some of them - sometimes - need to be taken out of the picture. That's when you call in The Boys!
Contains: The Boys Vol. 1: The Name of the Game & The Boys Volume 2: Get Some.
344 pages, $29.99, in stores on July 24.
THE BOYS OMNIBUS VOL. 2 – PHOTO COVER EDITION TRADE PAPERBACK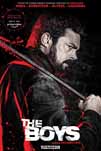 Writer: Garth Ennis.
Art/cover: Darick Robertson.
Get excited for Prime's new series based on Garth Ennis' and Darick Robertson's The Boys with this new Edition of Dynamite Omnibus Volume 2, featuring a photo cover from the series. Contains The Boys Volume 3: Good for the Soul & The Boys Volume 4: We Gotta Go Now.
In The Boys, Vol. 3: Good for the Soul, everyone has something to get off their chest: Frenchie and the Female are up to something nasty with the Mafia, Mother's Milk goes to see his mom, Annie January wants a word with God himself, and Butcher enjoys yet another ghastly tryst with CIA Director Rayner. The Legend, meanwhile, offers to tell Hughie everything he wants to know about The Boys - all Hughie has to do is take a walk with the dead.
In the fourth Dynamite collection, « We Gotta Go Now, » all is not well with mysterious millionaire John Godolkin's band of misfits. Silver Kincaid, one of the original G-Men, has just committed suicide in the most public and grotesque way imaginable. That's not good news for Vought-American's number one franchise, with G-Force, G-Coast, G-Style, G-Wiz, the G-Brits and the G-Nomads all depending on their slice of the G-pie. There's far too much at stake for anyone to go poking around the G-Mansion now. Who knows what dirty secrets might be waiting down there in the dark?
376 pages, $29.99, in stores on July 24.
THE BOYS OMNIBUS VOL. 3 – PHOTO COVER EDITION TRADE PAPERBACK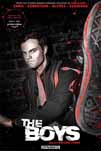 Writer: Garth Ennis
Art/cover: Darick Robertson
Get excited for Prime's new series based on Garth Ennis' and Darick Robertson's The Boys with this new Edition of Dynamite Omnibus Volume 3, featuring a photo cover from the series. Includes both volumes 5 & 6 of this acclaimed series in one volume.
An evil so profound it threatens all mankind! The mightiest heroes on the planet uniting to defend us all! A secret crisis of such utter finality that a countdown to civil or infinite war seems unavoidable! But have you ever wondered what really happens during Crossovers? The Seven, Payback, Teenage Kix, Fantastico, and every other superhero on Earth team up for an annual event like no other - and where the superheroes go, can a certain « five complications and a dog » be far behind? But as the fun and games begin, it seems our heroes have set their sights on bigger game than usual.
You can only maim and murder so many superheroes before someone decides to do something about it, and in The Boys' case that means Payback - a superteam of unimaginable power, second only to the mighty Seven. Pulping teenage supes is one thing, but how will our heroes fare against Soldier Boy, Mind-Droid, Swatto, the Crimson Countess, and the Nazi juggernaut known as Stormfront? Blood flies and bones shatter, as Butcher and company meet fire with fire.
344 pages, $29.99, in stores on July 24.
Writer: David Avallone.
Art: Julius Ohta.
Covers: John Royal, Scott Chantler, Vincenzo Federici, Julius Ohta, Photo.
So you fought the Great Old Ones, you visited four parallel universes and you saved the multiverse…what do you do for an encore? Easy! You meet up with a certain genius Princeton professor and try to figure it all out. Unfortunately, you're not the only one who's interested in what's going on inside that famous brain. The world's greatest model spy meets the world's smartest man in The Physicist and the Pin-Up…the senses-shattering epilogue to the CRISIS ON INFINITE BETTIES!
32 pages, $3.99, in stores on August 28.
CHARLIE'S ANGELS VS. THE BIONIC WOMAN #2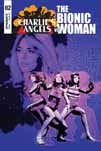 Writer: Cameron DeOrdio.
Art: Soo Lee.
Covers by Cat Staggs, Jim Mahfood.
Can Charlie's Angels escape Naris Corp.‹ s walled compound with the information they need, or will Naris's top guard, the Bionic Woman, put a stop to the Angels › latest job before it really begins? There's strength in numbers, but – as the Angels will soon find out – Jaime Sommers is much more than any infiltrators could have bargained for. It's the Angels' ingenuity and teamwork against the Bionic Woman's determination and superior technology in the fight for a secret patent that could change the world. Who will win – and what will it mean?
32 pages, $3.99, in stores on August 7.
Writer: Greg Pak.
Art: Robert Carey.
Covers: Dave Johnson, Khoi Pham, Phil Hester, Robert Carey.
« Goldfinger » continues. Final stakes are revealed. Thousands could die. And Bond…disappears.
32 pages, $3.99, in stores on August 21.
Writers: Jeff Parker, Ibrahim Moustafa.
Art: Ibrahim Moustafa.
Covers: Dan Panosian, Dean Kotz, Vasco Georgiev, Ibrahim Moustafa, Bob Q.
« The Debt: Finale. » In 1941, Lietuenant Bond finally learns the truth of his deceased mentor, Commander Weldon. But truth comes at a cost. The conclusion of Bond's adventures in 1941.
32 pages, $3.99, in stores on August 14.
JAMES BOND 007 VOL. 1 HARDCOVER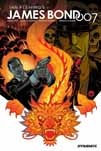 Writer: Greg Pak.
Art: Marc Laming.
Cover: Dave Johnson.
Agent 007 tracks a smuggler into Singapore to secure a dangerous case, contents unknown. But a Korean mystery man wants the case as well, for very different reasons. And if Bond and this new rival don't kill each other, the ruthless terrorist organization known as ORU will be more than happy to finish the job!
144 pages, $24.99, in stores on August 7.
Writer: Jeff Parker.
Art: Dean Kotz.
Covers: Dave Johnson, Rags Morales, Ramon Villalobos, Ben Caldwell.
« Warlord Of Earth. » As the Martians use their monster crab machines to destroy society as we know it, John must scour the deepest recesses of his mind, and find the memory of Barsoom (aka Mars!) that will unlock the secret to getting these damn lil' green dudes off our planet.
32 pages, $3.99, in stores on August 21.
Writer: Mario Mentasti.
Art: Ben Herrera, Emmanuel Ordaz Torres.
Covers: Ben Herrera.
Overcome with the desire for revenge after failing her mission and being soundly defeated by the Iron Eagle Elite, Vanessa enlists the help of Monty's contacts to track them down, acting without approval or permission from her boss. Vanessa is now hot on their tracks, with the deadly intention of paying them back for what they did to her with interest. Will Vanessa and Monty defeat the mercenaries, or will they perish trying?
32 pages, $3.99, in stores on August 7.
Writer: Amy Chu.
Art: Edu Menna.
Covers: Stuart Sayger, Jose Fornes, Denis Medri, Photo.
Jay and Mania's time-hopping, death-defying, rock'n'rolling adventure comes to its epic conclusion! Will they be able to get the Sword of Immortality back from KISS and return it before Jay is trapped in the Waste Land forever?
32 pages, $3.99, in stores on August 28.
Writer: Mark Russell.
Art: Mirko Colak.
Covers: Amanda Conner, Joseph Michael Linsner, Khoi Pham, Collette Turner, cosplay.
The incredible next chapter of the ongoing saga of Sonja The Red, Queen of Hyrkania. The invasion has taken its toll…hostage kings consider revolt…Sonja will venture into the woodlands, to seek help from a leaderless tribe, whose leader she killed.
32 pages, $3.99, in stores on August 7.
RED SONJA & VAMPIRELLA MEET BETTY & VERONICA #4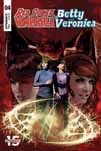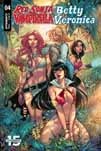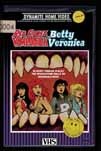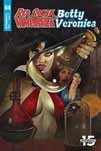 Writer: Amy Chu.
Art: Maria Sanapo.
Covers: Fay Dalton, Robert Hack, Laura Braga, Dan Parent, Cat Staggs.
With the investigation at a dead end, Betty and Veronica split over what to do next. Red Sonja decides to take matters into her own hands. Meanwhile the Pussycats decide to stage a benefit concert for the victims, with disastrous results.
32 pages, $3.99, in stores on August 28.
RED SONJA: BIRTH OF THE SHE-DEVIL #3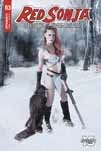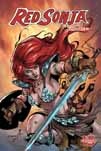 Writer: Luke Lieberman.
Art: Sergio Davila.
Covers: Lucio Parillo, Sergio Davila, cosplay.
The previously untold story of the early years of Red Sonja continues in Birth of the She-Devil #3! Sonja confronts the wreckage of her past as she finally comes face-to-face with the addled Shashana – a victim of a deadly new drug that seeks to enslave all of Hyboria!
32 pages, $3.99, in stores on August 14.
Writer: Vita Ayala
Art: Vasco Georgiev
Covers: David Mack, Rachel Stott, Paulina Ganucheau.
Xena's World Tour rolls on! Next stop…ROMANIA! Women and children are disappearing from a « haunted » village. Xena and Gabrielle must confront an Old God, one of malice and blood sacrifice, who craves a return to prominence, and will stop at nothing to gain new followers to carry out his awful bidding!
32 pages, $3.99, in stores on August 14.
Writer: Christopher Priest.
Art: Ergurn Gunduz.
Covers: Stanley « Artgerm » Lau, Guillem March, Fay Dalton, Ergun Gunduz, cosplay.
Vampirella's struggle to deal with the complex emotional consequences of a major disaster caused by her enemies is exacerbated by an unexpected visit from her mother, Lilith, with whom Vampi has a complicated relationship. But has the Mother of All Vampires come to help or destroy her daughter? And will Vampirella's hapless therapist survive the encounter?
32 pages, $3.99, in stores on August 21.
BARBARELLA/DEJAH THORIS TRADE PAPERBACK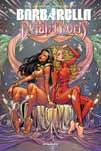 Writer: Leah Williams.
Art: German Garcia.
Cover: Laura Braga.
From opposite ends of time, two heroines unite for an otherworldly adventure! Barbarella, the siren of space, meets Dejah Thoris, Princess of Barsoom, and together they must solve a murder mystery that spans time and space in order to find their way home.
120 pages, $17.99, in stores on August 7.
BATTLESTAR GALACTICA (CLASSIC): COUNTERSTRIKE TRADE PAPERBACK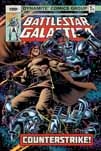 Writer: John Jackson Miller.
Art: Daniel HDR, Edu Menna.
Cover: Kelley Jones.
Commander Adama and the remnants of humanity discover a second fugitive fleet, fleeing a different mortal enemy. Can the two armadas join forces, making common cause against the dreaded Cylons? And what would success mean for the quest for Earth? A mini-series timed for Battlestar Galactica's 40th anniversary year!
120 pages, $19.99, in stores in September.
PIERCE BROWN'S RED RISING: SONS OF ARIES OGN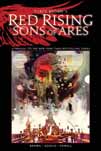 Writer: Pierce Brown, Rik Hoskin.
Art: Eli Powell.
Cover: Toby Cypress.
The world of Pierce Brown's Red Rising expands further in the next installment of the Sons of Ares storyline. Fitchner's quest for revenge continues as he and the other Sons of Ares seek out the Golds who have wronged his family. But actions come with repercussions and an elaborate game of cat and mouse is on. A battle of Gold versus Gold erupts further into more than acts of vengeance and becomes the seeds of a revolution.
152 pages, $19.99, in stores on August 14.
ERF HARDCOVER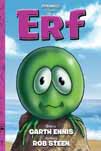 Writer: Garth Ennis.
Art/cover: Rob Steen.
At the dawn of time, Erf and his three amphibious friends, Figwillop, KWAAAH, and the Booper, take their first nervous steps out of the ocean, the beginning of an adventure into the primordial world. As they explore the exciting new lands beyond the shore, they discover that the prehistoric jungle is home to the mighty and terrifying Colossux. What follows is an evolutionary fable of love and loyalty for readers of all ages!
48 pages, $6.99, in stores on August 7.
PATHFINDER VOL. 3: CITY OF SECRETS TRADE PAPERBACK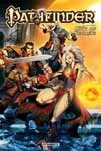 Writer: Jim Zub.
Art: Leandro Oliviera, Genzoman, Carlos Gomez, Sean Izaakse, Steven Cummings.
Cover: Genzoman.
The Pathfinder heroes head to the city of Magnimar, and danger isn't far behind. As the wizard Ezren seeks an audience with the Pathfinder Society, his adventuring allies explore the city's ancient magic, well-hidden secrets, and deep political divides. The dangers and opportunities of the big city could bring the adventurers closer together — or tear them apart! Ezren ambushed, Kyra targeted, Merisiel tempted by her past… will the group endure?
With a captivating story written by Jim Zub and explosive artwork by Leandro Oliveira, this third volume in the Pathfinder graphic novel series expands upon the mythos of Paizo's award-winning fantasy world, fiction line, and tabletop RPG. Bonus materials include over thirty-pages of encounters and world detail for the Pathfinder Roleplaying Game.
176 pages, $19.88, in stores on August 7.
HACK/SLASH VS. CHAOS TRADE PAPERBACK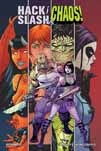 Writer: Tim Seeley
Art: Rapha Lobosco, Celor
Cover: Tim Seeley.
Cassie Hack, Slasher Hunter Supreme, thought she'd gotten rid of those teenager-perforating undead menaces. But now they're suddenly springing back to life! Cassie and Vlad are going to have to team up with megadeath dispenser Evil Ernie to stop the slaughter, putting them on a path that appears to lead through Chastity, the Chosen, and Purgatori! Tim Seeley returns to his beloved creations to pit them against the world's greatest horror universe and brings back some of the series' most beloved slashers!
132 pages, $19.99, in stores on August 7.
BETTIE PAGE: THE PRINCESS AND THE PINUP TRADE PAPERBACK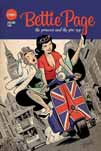 Writer: David Avallone.
Art Julius Ohta, Jordan Michael Johnson.
Cover: Scott Chantler.
The brand-new Queen of England has mysteriously vanished, and British Intelligence needs a helping hand from the world's greatest model spy! Can Bettie the First find Elizabeth the Second before the news gets out and panics all of Great Britain? Are UFOs involved? David Avallone (Elvira: Mistress of the Dark), Julius Ohta (Sherlock Holmes), and Jordan Michael Johnson show you all the stuff they cut out of the THE CROWN, as Bettie returns in THE PRINCESS AND THE PINUP!
132 pages, $19.99, in stores on August 14.
ELVIRA: MISTRESS OF THE DARK DULUXE ULTRA-PREMIUM TRADING CARDS
A Deluxe-Premiere set featuring Dynamite's spookily-spectacular ELVIRA trading cards! Proudly featuring a select group of ELVIRA's fan-favorite photos and artists portraying the Mistress of the Dark in all her gory glory, plus exclusive ELVIRA signed cards!Â
Played by actress-writer Cassandra Peterson, Elvira, Mistress of the Dark, has carved out a niche in popular American culture that is sure to endure for decades to come. Elvira's reign as 'Queen of Halloween' has now spanned thirty-five years and includes two nationally-syndicated television series, two feature films (Elvira, Mistress of the Dark and Elvira's Haunted Hills), an IMAX movie and two motion-control rides. She has appeared in national ad campaigns for Pepsi and Coors, recorded five albums, written four books, and licensed over four hundred products including pinball machines, action figures, guitars, three comic book series, a beer, wine, soda pop, perfume, slot machines and the best-selling female costume of all time.
This set includes an 18-card base set, PLUS Dynamite chase cards that include: 6 autographed cards (2 by Elvira and 4 by creators), 3 Peek-A-Boo cards, 9-card puzzle cards, 2-box-topper special cards, and thousands of one-of-a-kind hand drawn original art signed sketch cards. Every autographed card featuring a color ink or ultra-rare, gold ink signature! Every individual foil pack includes 2 Base Cards, 2 Sketch Cards, 1 Peek-A-Boo Card, 1 Puzzle Card, and 1 Autographed Card. Every specially designed, 4-color box includes 12 foil packs.
Featuring art from: Joseph Michael Linsner, Dave Acosta, Dan Parent, Fernando Ruiz, Reilly Brown, Craig Cermak, Robert Hack, Francesco Francavilla, J. Bone, Kyle Strahm and many, many more!
VAMPIRELLA JOSE GONZALEZ STATUE
Sculpted by Steve Kiwus, art by Jose Gonzalez.
Few artists have managed to capture the iconic look of Vampirella like Jose Gonzalez could. 2019 marks the 50th anniversary of comics' most memorable vampire, and Dynamite celebrates the occasion with a 1/6 scale tribute to her most memorable illustration! The classic « Warren era » of Vampirella is finally exemplified in this highly-detailed resin, the way it was meant to be. Vampirella stands over 12" high, from heel to bat, and rooted on a base modeled after her « bat » logo. This limited-edition statue will be a major collectible in Vampirella's long history, but it will only available for a short time!
12.5" height by 5" width, $249.99, in stores in November.
ELVIRA: MISTRESS OF THE DARK SPECTRAL SWITCHBOARD
Tired of the same old droll messages from the dead? Your favorite ghostly gal is here to open the lines of communication to the other side. Elvira Mistress of the Dark lends her particular brand of sexy snark to your party as you let the spirits visiting you speak their piece on the Spectral Switchboard. Follow the planchette as it dances across the custom board revealing the secrets of the other side. This game lets you get your hands-on Elvira's connection to the world of the spirits. Elvira Mistress of the Dark's Spectral Switchboard is a boxed game that comes with a custom planchette and instructions.
$39.99, in stores on Dec. 20.
Source : www.comicscontinuum.com