DYNAMITE ENTERTAINMENT FOR MARCH
VAMPIRELLA VS. PURGATORI #1
Written by Ray Fawkes, art by Alvaro Sarraseca, covers by Derrick Chew, Carlo Pagulayan, Joseph Michael Linsner, Szymon Kudranski, Marco Mastrazzo.
The unholy alliance you prayed would never happen! For countless generations, the fight between good and evil has been fought, as much behind the scenes as in plain view. Unbeknownst to the world at large, one force has stood as a safeguard against the potential triumph of evil and the unleashing of the apocalypse: The 36. Now, someone is after them, a creature of evil known as Purgatori, and the only thing standing in her way is Vampirella. So with all of existence hanging in the balance, what could possibly bring these two enemies to join forces? Hint: Whatever it is, it must be really bad.
$3.99, available on March 24.
Written by Dan Abnett, art by Roberto Castro, covers by Joseph Michael Linsner, Sebastian Piriz, Roberto Castro, cosplay.
Dejah Thoris has saved her world from the catastrophic End Winter. Now she must help rebuild Barsoom to its former greatness! But certain factions see benefit in keeping Barsoom cold and dark. Dejah will need help, and she may find it in the return of her true love…John Carter!
$4.99, available on March 31.
JAMES BOND: AGENT OF SPECTRE #1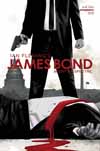 Written by Christos Cage, art by Luca Casalanguida, cover by Steve Epting.
AGENT OF SPECTRE Part 1! There's a civil war brewing within SPECTRE. An upstart American member of the international criminal organization is attempting a coup, threatening to depose Ernst Stavro Blofeld. She's on guard against Blofeld's men, so to take her out, Blofeld recruits a wild card - James Bond! With Blofeld threatening the life of Bond's friend Felix Leiter as leverage, Bond agrees…but he has a plan to use this internal strife to bring SPECTRE down once and for all. Will he succeed, or is this a dark path from which even 007 can't return?
$3.99, available on March 31.
RED SONJA #25
Written by Luke Lieberman, art by Drew Moss, covers by Jae Lee, Joseph Michael Linsner, Sanya Anwar, Will Robson, cosplay.
Special 25th Issue! New creative team! It has been generations since the end of Sonja The Red's travails. A Barren, reflecting on her life, will undertake a quest that will force the past to become undead.
$4.99, available on March 21.
RED SONJA: THE SUPER POWERS #3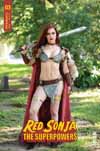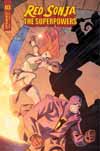 Written by Dan Abnett, art by Jonathan Lau, covers by Lucio Parrillo, Joseph Michael Linsner, Jonathan Lau, Lee Ferguson, photo.
Sonja does what she does best: Kills. But when she slays a magical being, hell (literally?) comes calling. The science explorers of The Project that had considered Sonja a threat, must now trust that the She-Devil With A Sword is actually…a hero?
$3.99, available on March 10.
SONJAVERSAL #2
Written by Christopher Hastings, art by Pasquale Qualano, covers by Jae Lee, June Chung, Joseph Michael Linsner, Will Robson, Mayara Sampaio, cosplay photo.
The mystery of The Sonja Curse unfolds, as the Red Sonja must determine which Sonja is friend, which is foe, and which Sonja's want to eat her body and/or soul.
$3.99, available on March 3.
VAMPIRELLA: THE DARK POWERS #4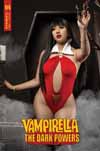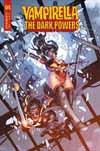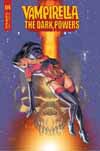 Written by Dan Abnett, art by Paul Davidson, covers by Jae Lee, Joseph Michael Linsner, Jonathan Lau, cosplay.
Vampirella has finally earned the trust of an interdimensional superhero collective and been assigned an Earth to protect. But when her superhero mentor goes missing, can Vampi rely on her training to defeat a worldwide threat, or will the evil be too much for one hero to handle?
$3.99, available on March 10.
NANCY DREW & THE HARDY BOYS: DEATH OF NANCY DREW GN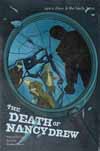 Written by Stefan Petrucha, art and cover by Sho Murase .
Teen detectives Frank and Joe Hardy have investigated many crimes in their lives, but nothing that hits this close to home. Their best friend died mysteriously after taking down a major crime organization. They must put together the clues to uncover the truth about this shocking crime, but the clues lead them to a stunningly unexpected direction! Includes issues #1-6 of Nancy Drew and the Hardy Boys: The Death of Nancy Drew.
$19.99, available on March 10.
Written by Christopher Priest, art by Julius Ohta, Stephane Roux, covers by Lucio Parrillo, Stephane Roux, Raymund Bermudez, Jay Anacleto, Warren Louw.
After all of Lilith's machinations, manipulations and subsequent cessation, the women of the Six are brought together by Drago to protect the vampires and ghouls of Sacred. What the likes of Nyx, Chastity and Draculina consider protection, however, are a far cry from what Drago's seeking. And to complicate matters further, Draculina's carrying a secret that not only puts her at odds with her uneasy compatriots but might well just get her killed. Meanwhile, the mystery of The Gardener deepens further. Plus: Continuing the origin of Nyx!
$3.99, available on March 31.
Written by Tom Sniegoski, art by Michael Sta. Maria, covers by Lucio Parrillo, Ben Oliver, Stephen Segovia, cosplay photo.
Vampirella and the new Danse Macabre plan their assault against Mistress Nyx who still suffers the infectious results of Vampirella's last attack. Lord Mazarin encased within the Armor Infernal gathers an army, and the mystery of Adam Van Helsing's return intensifies. This is where it all starts – the beginning of the end.
$3.99, available on March 17.
VENGEANCE OF VAMPIRELLA VOL. 2: THE SPOILS OF WAR
Written by Tom Sniegoski, art by Michael Sta. Maria, covers by Lucio Parrillo.
Still recovering from her final battle with Hemorrhage, Vampirella realizes that there will be no rest for the wicked and begins the process of assembling a plan that will hopefully result in the liberation of the Earth from the clutches of Mistress Nyx, and the Chaos Lords. Step One-the creation of a new Danse Macabre! Includes issues #7-12 of Vengeance of Vampirella.
$19.99, available on March 10.