DYNAMITE ENTERTAINMENT FOR OCTOBER
VAMPIRELLA #25
Written by Christopher Priest, art by Ergun Gunduz, covers by Lucio Parrillo, Shannon Maer, Rose Besch, KyuYong Eom, cosplay, Zoe Lacchei.
Red Mass is here! Can Vampirella cheat fate? That's the question our interstellar vampire faces as she unites in unholy matrimony with the man who would be Dracula! Yes, you read that right. Don't miss the wedding of the century OF as Vampi forges a bond in blood to save the life of an innocent man. And, unlike certain other weddings, this one will actually happen!
Plus: It's the final issue of the series! Yes, you read that right. The epic 25 issue journey comics to its conclusion! (or does it?) So check the registry, clean your tuxedo and save the date, because only Vampi could end her 50th anniversary celebration with a wedding!
32 pages, $3.99, available on Oct. 20.
Written by Ray Fawkes, art by Alvaro Sarraseca, covers by Antonio Fuso, Carlo Pagulayan, Russell Fox, cosplay.
From the team that brought you the seismic Vampirella vs. Purgatori series comes the solo follow-up for the demon of dark humor! Purgatori's really living the vampire demon life. She's got Lilith's nasty mind worm eating her willpower. She's going bug-nuts crazy. And now, there are a bunch of witches targeting her with their weird body-snatching schemes. Clearly, it's time for some quiet introspection and careful planning, right? Get ready for bloody mayhem instead!
32 pages, $3.99, available on Oct. 20.
JENNIFER BLOOD #1
Written by Fred Van Lente, art by Vincenzo Federici, covers by Lucio Parrillo, Joseph Michael Linsner, Lesley Li, Junggeun Yoon, cosplay.
So…once upon a time, a suburban housewife spent her nights as a mobster-murdering assassin, named Jennifer Blood. Then she died…or did she? Because in the cozy cul-de-sacs of Bountiful, Utah, a noticeable number of normal people have gone missing. And by « normal, » I mean « mobsters under witness protection. » And by « missing, » I mean killed by someone that looks, sounds, and murders a lot like Jennifer Blood…
32 pages, $3.99, available on Oct. 6.
Written by Rodney Barnes, art by Antonio Fuso, covers by Francesco Francavilla, Butch Guice.
Himeros is the Greek God of sexual desire and one of the Erotes, the winged gods of love. When Aphrodite was born from the sea-foams she was greeted by the twin loves Eros and Himeros. But when sexual desire goes too far, it takes the legendary super-spy James Bond to bring justice to the most vulnerable among us as he investigates the suspicious death of an accused sex trafficker – one whose ties run deep… and deadly.
32 pages, $3.99, available on Oct. 13.
JAMES BOND: AGENT OF SPECTRE HC
Written by Christos Gage, art by Luca Casalanguida, cover by Sean Phillips.
There's a civil war brewing within SPECTRE. An upstart American member of the international criminal organization is attempting a coup, threatening to depose Ernst Stavro Blofeld. She's on guard against Blofeld's men, so to take her out, Blofeld recruits a wild card - James Bond! With Blofeld threatening the life of Bond's friend Felix Leiter as leverage, Bond agrees…but he has a plan to use this internal strife to bring SPECTRE down once and for all. Will he succeed, or is this a dark path from which even 007 can't return? Collecting James Bond: Agent of SPECTRE #1-5.
120 pages, $24.99, available on Oct. 27.
SAVED BY A WHISKER SOFTCOVER
Written Kristen Deacon Rybandt, art and cover by Ken Haeser.
Saved By a Whisker is a new children's book based on the incredible true story of a cat who lost his family, and the long journey it took to reunite them. Before all of this, Cozmo was just an average cat living with a loving family in New Jersey. On the day his family packed up their belongings and moved to Florida, Cozmo gets separated and accidentally gets left behind. Alone in the outside world for the first time, Cozmo is 900 miles away from everything he knows! This is the whimsical retelling of how the real-life Cozmo went on the journey of his life, making friends, and finally finding his way back to his family!"
80 pages, $7.99, available on Oct. 20.
RED SONJA #2
Written by Mirka Andolfo, art by Giuseppe Cafaro, covers by Mirka Andolfo, Jay Anacleto, Joseph Michael Linsner, Erica D'Urso, cosplay.
Mother, Part Two. Sonja struggles to recover from injuries, relying on Sitha to help her. Their bond grows, as they travel from city to hamlet, and as Sonja discovers more about Sitha's past, the more dangerous their path becomes…
32 pages, $3.99, available on Oct. 6.
Written by Rodney Barnes, art by Tom Garcia, covers by Francesco Mattina, Arthur Suydam, Junggeun Yoon, Stuart Sayger.
The superstar creator of the hit Image Comics series Killadelphia brings his supernatural horror chops to one of the genre's most (in)famous characters. Ashley Joanna Williams finds himself this time in late 70s New York City. In a less cleaned up era, that means gangs tussle for every block in the South Bronx. And these particular gangs model themselves after zombies and vampires. Things only get even more out of control when they find the one and only Necronomicon!
32 pages, $3.99, available on Oct. 13.
VAMPIVERSE #2
Written by Tom Sniegoski, Jeannine Acheson, art by Daniel Maine, covers by Madibek Musabekov, Stephen Segovia, Maria Laura Sanapo, Meghan Hetrick, cosplay.
The mysterious and deadly Bloodwing is killing all the Vampirellas throughout the fabric of reality – but who is he, and why is he doing this? It's up to Vampirella to learn the secrets of Bloodwing and stop him. Thanks to the Book of Prophecy (in a very unexpected way), Vampirella embarks on her most mind-bending adventure yet, traveling the various Threads of the Fabric to rally the Vampirellas of the multiple realities to join her in stopping the extermination of her self. First stop, an apocalyptic world transformed by a Chaos Plague. Will the Vampirella of this ravaged world heed our Vampirella's warning, or will she too fall to the savagery of Bloodwing?
32 pages, $3.99, available on Oct. 13.
BARBARELLA #4
Written by Sarah Hoyt, art by Madibek Musabekov, covers by Lucio Parillo, Derrick Chew, Carla Cohen, cosplay.
Having come face-to-shocking face with the identity of her would-be assassin, Barbarella's quest has turned from merely combatting tyranny to one of survival! How handy that the two quests amount to one and the same. Barbarella and Vix follow the trail to Automata, a factory world populated solely by worker drones, which begs the question: do androids dream of electric freedom?
32 pages, $3.99, available on Oct. 26.
BETTIE PAGE & THE CURSE OF THE BANSHEE #5
Written by Stephen Mooney, art by Jethro Morales, covers by Marat Mychaels, Joseph Michael Linsner, Stephen Mooney, cosplay, pin-up.
This is it! The Irish adventure of Bettie Page is almost over? Will she escape the forever curse of the Banshee and return, unscathed, the life of a Hollywood starlet?
32 pages, $3.99, available on Oct. 20.
DEJAH THORIS VS. JOHN CARTER OF MARS #4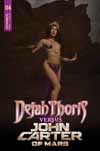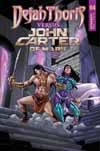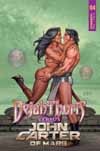 Written by Dan Abnett, art by Alessandro Miracolo, covers by Lucio Parrillo, Joseph Michael Linsner, cosplay.
Dejah and John…captured! Whoever gains control of the Earthman's secrets will rule all of Barsoom…just imagine a clone army of leaping John Carters! Can Dejah access arcanotech in time to receive help, or has she been reunited with her love just in time for their DOOM!?
32 pages, $3.99, available on Oct. 27.
DIE!NAMITE LIVES! #5
Written by Fred Van Lente, art by Vincenzo Carratu, covers by Lucio Parrillo, Arthur Suydam, Joseph Michael Linsner, Dave Acosta, cosplay.
Vampirella. Evil Sonja. Ash of Army Of Darkness. Pantha. Project: Superpowers. Peter Cannon: Thunderbolt. Jennifer Blood. Smiley. Frankenstein monsters. One…Will…Die! Or…Some…Will…Die! Or…All…Will…Die! (zombie stories make it hard to tell who's died, but trust us, it;s gonna be somebody!)
32 pages, $3.99, available on Oct. 27.
Written by David Avallone, art by Juan Samu, covers by Dave Acosta, Juan Samu, Anthony Marques, J. Bone, photo.
Elvira and Vincent's Ghost arrive in Cairo, hot on the trail of the missing movie that can save the world from Amun-Ra! It's a game of cat-and-mouse among the pyramids, as a pair of silent comedy assassins stalk Elvira and Vincent, ancient crypts are infiltrated, angry goddesses are awakened, and tourists are confused… in a story we call « Raiders of the Lost Schlock! » Adventure, horror, and temples of doom but no crystal skulls, we promise…
32 pages, $3.99, available on Oct. 20.
THE INVINCIBLE RED SONJA #6
Written by Amanda Conner, Jimmy Palmiotti, art by Moritat, covers by Amanda Conner, Joseph Michael Linsner, Celina, Frank Cho, cosplay.
Red Sonja is a woman possessed, and we do mean possessed! Lucky for her, she's also a one-woman army, which is good, as she's about to face off against an army! The price on her head, the missing crown, the rage of a certain wizard—it all comes home to roost this issue! The creators dish out the ultimate punishment where it's deserved, and there's plenty of punishment to go around!
32 pages, $3.99, available on Oct. 13.
RED SONJA: BLACK, WHITE, RED #4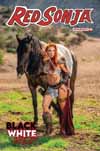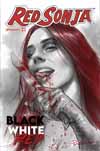 Written by Phillip Kennedy Johnson, Sanya Anwar, Chuck Brown.
Art by Steve Beach, Sanya Anwar, Drew Moss.
Covers by Lucio Parrillo, Cat Staggs, Jae Lee, cosplay.
Johnson and Beach show a bloody life in full. A white-haired Queen Sonja prepares to lead her armies into what could be her final battle, the touch of now-unfamiliar steel brings back a flood of bloody memories, and returns to her the bloodlust that carried her to so many victories.
In Anwar's tale, Sonja seeks shelter after a brutal battle in a foreign land. She will try to help someone in need, but discover that not everyone needs saving…
Brown and Moss present a Sonja bathed in fire, imbued with a purpose most glorious…
40 pages, $4.99, available on Oct. 20.
SONJAVERSAL #9
Written by Christopher Hastings, art by Pasquale Qualano, covers by Lucio Parrillo, Joseph Michael Linsner, Jae Lee, June Chung, Junggeun Yoon, cosplay.
Behold…Blue Sonja! She wears leather! Rides a motorcycle! Shoots guns! Beats the hell out of every villain that gets up in her grill! But nothing can prepare this badass champion for…Hellgoop!?
32 pages, $3.99, available on Oct. 27.
SONJAVERSAL VOL. 1 TRADE PAPERBACK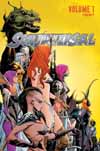 Written by Christopher Hastings, art by Pasquale Qualano, cover by Jae Lee.
« Behold, a tale of infinite Sonjas. Red Sonja, Blue Sonja, Green Sonja, Orange Sonja, Saint Sonja, Hell Sonja…and endless more. Across dimensions, a greedy god comes calling for every Sonja, to pay their debt. What do they each owe? Sonja's must kill Sonja's. It is up to Red Sonja to determine which Sonja's are friend, foe and…Dinosaur!? » Collecting Sonjaversal #1-5.
144 pages, $19.99, available on Oct. 13.
Written by Tom Sniegoski, art by Michael Sta. Maria, covers by Lucio Parrillo, Ben Oliver, cosplay.
Writer Tom Sniegoski continues to weave a post-apocalyptic tale featuring a literal hell on earth as a reborn Vampirella fights against the literal forces of chaos to save humanity from its ultimate destruction! A world ravaged by Chaos on the brink of change . . . but is it for the better? Vampirella and Jeannine have settled into their new lives believing that they've found a certain kind of peace, but there is a storm brewing on the horizon, and with the storm comes . . . The Danse.
32 pages, $3.99, available on Oct. 27.