IDW PUBLISHING FOR DECEMBER
SPIDER-MAN #2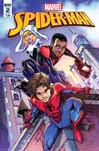 Delilah S. Dawson (W), Fico Ossio (A/C), Derek Charm (VC).
As if Peter Parker didn't have enough problems at high school, suddenly New York's crawling with Spider-People! Peter has no choice but to forge a tentative partnership with Miles Morales and Gwen Stacy, as a larger mystery threatens the trio! All-new web-swinging action in the Mighty Marvel Manner!
32 pages, $3.99.
Matthew K. Manning (W), Jon Sommariva (A/C), Sara Pitre-Durocher (VC), Sophie Campbell (VC), Gabriel Rodriguez (VC).
A new era of all-out Avengers action begins! A new team is formed to battle a mega-sized threat that is weirder and wilder than any the superheroes have met before! This new ongoing series will be the perfect opportunity for middle grade readers, and fans of all ages, to experience the thrilling adventures of Avengers comics for the first time!
32 pages, $3.99.
DISNEY AFTERNOON GIANT #2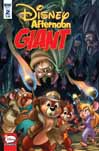 Ian Brill (W), Warren Spector (W), Leonel Castellani, Jose Massaroli, and Magic Eye Studio (A), Leonel Castellani ©
Our brand-new series continues with two second chapters as we present part two of Chip 'n' Dale: Rescue Rangers' "Worldwide Rescue" and part two of DuckTales' "Rightful Owners!"
48 pages, $5.99.
Steve Behling (W), Gianfranco Florio (A), Marco Ghiglione and Christina Stella (C/VC).
Webby Vanderquack has a big problem: She's shrinking right before everyone's eyes! Find out why – and how – in the action-packed two-part tale, "The Incredible Shrinking Webby!"
32 pages, $3.99.
UNCLE SCROOGE: MY FIRST MILLIONS #4
Fausto Vitaliano (W), Giampaolo Soldati (A), Marco Mazzarello (C/VC)
It's the last issue of our four-part miniseries detailing how Uncle Scrooge made his first millions! As co-founder of McDuck and Wreck Construction, Scrooge McDuck finds his business on less than stable ground. But will shoddy craftsmanship and a shady business partner lead to an unexpected windfall for our favorite miser? Find out in the action-packed conclusion!
32 pages, $3.99.
SONIC THE HEDGEHOG #12
Ian Flynn (W), Evan Stanley (A/C), Gigi Dutreix (VC), Nathalie Fourdraine (VC).
"The Battle for Angel Island," Part Four. The thrilling conclusion to the Battle for Angel Island saga! As Sonic and his friends work to restore Angel Island, two questions remain: is Neo Metal Sonic truly defeated, and what other trouble is brewing?
32 pages, $3.99.
ATOMIC ROBO AND THE DAWN OF A NEW ERA #2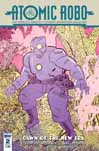 Brian Clevinger (W), Scott Wegener (A/C), Dave Baker (VC).
Atomic Robo just opened Tesladyne Institute's doors to the next generation of Action Scientists and that means hijinks are afoot! But with Vik, Lang, and Bernie off-campus, it's up to Robo and Foley to make sure the place doesn't burn down. Also, Robo's building a secret robot son using the automatic intelligence that tried to cook the Earth in nuclear flames a few years back. I bet that won't backfire on him!
32 pages, $3.99.
IMPOSSIBLE INC. #4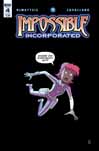 J.M. DeMatteis (W), Mike Cavallaro (A/C).
The threat of the Time Termites is ended… but the Exterminators are on the loose! Can the Impossible Inc. team stop them from remaking reality in their own fearsome image?
32 pages, $3.99.
MY LITTLE PONY: PONYVILLE MYSTERIES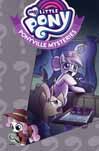 Christina Rice (W), Agnes Garbowska (A/C)
An all-new series filled with intrigue and adventure, starring everyone's favorite fillies! The Cutie Mark Crusaders are on the case, solving crimes nopony else can! Will they be able to discover who's behind the local mysteries, like the theft of supplies from Ponyville Hospital or the ransacking of the bowling alley? Most importantly, can they crack the case and get their homework done at the same time?
120 pages, $17.99.
MY LITTLE PONY: FRIENDSHIP IS MAGIC #73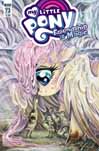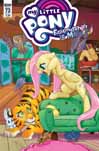 Thom Zahler (W/VC), Toni Kuusisto (A/C), Sara Richard (VC).
When a magical amulet helps Fluttershy get in touch with her wild side, she starts seeing things from a whole new perspective – that of her animal friends! What could possibly go wrong?
32 pages, $3.99.
MY LITTLE PONY: NIGHTMARE KNIGHTS #3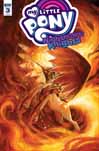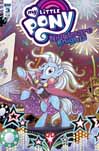 Jeremy Whitley (W), Tony Fleecs (A/C), Brenda Hickey (VC), Jennifer L. Meyer (VC).
The heist begins! As Luna's band of misfits infiltrates Eris' Palace and Casino, they are faced with challenges that will test each member's resolve. Will they complete their mission, or will they turn on each other first?!
32 pages, $3.99.
STAR WARS ADVENTURES #17
Chris "Doc" Wyatt (W) Kevin Burke (W), Michael Moreci (W), Valentina Pinto (A/C), Arianna Florean (A/VC), Nicoletta Baldari (VC).
Welcome to the Resistance! In the time before The Force Awakens, this all-new adventure follows the fledgling Resistance as it begins to realize the growing threat of the First Order! Based on Star Wars Resistance, an exciting new animated series coming to Disney Channel this fall!
32 pages, $3.99.
STAR WARS ADVENTURES: DESTROYER DOWN #2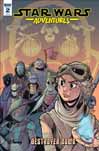 Scott Beatty (W), Derek Charm, Jon Sommariva (A/VC), Derek Charm ©
Swallowed by the shifting sands of Jakku, the Imperial Star Destroyer Spectral has been lost for two decades, giving rise to rumors of hauntings and buried treasure. But an epic sandstorm has revealed the ruins of the starship, and renowned scavenger Rey now leads the race to claim whatever lies within!
32 pages, $3.99.
GHOSTBUSTERS: CROSSING OVER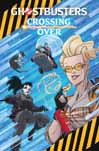 Erik Burnham (W), Dan Schoening (A/C).
All the Ghostbusters – the originals, the ladies of the 2016 film, and beyond – come together against a threat too powerful for any team to handle alone. For a while now, the original Ghostbusters have had access to an interdimensional portal that has given them all-new ways to research the paranormal and consult with Ghostbusters throughout the multiverse… but they haven't shared this tech with any of those other Ghostbusters, and some don't think that's fair. That's why, after a chance meeting, Jillian Holtzmann and Ron Alexander have decided to right this wrong and cobble together their own working portal… which unintentionally unleashes the contents of the Ghostbusters' Containment Unit! Collects all eight issues of Ghostbusters: Crossing Over and the Ghostbusters 2018 Annual.
224 pages, $24.99.
RISE OF THE TEENAGE MUTANT NINJA TURTLES #4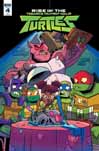 Matthew K. Manning (W), Chad Thomas (A/VC), Andy Suriano ©
To catch a mutant kidnapper sometimes means… getting kidnapped?! When the Turtles lay a trap to lure their latest mystery villain out into the open, they find themselves biting off more than they can chew.
32 pages, $3.99.
TEENAGE MUTANT NINJA TURTLES: URBAN LEGENDS #8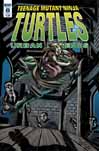 Gary Carlson (W), Frank Fosco (A/C/VC), Erik Larsen (VC), Kevin Eastman (VC).
The search for Casey Jones' daughter continues, bringing to light new, startling truths. As the strain on the Turtles and their family grows, a determined Mikey takes matters into his own hands… but will he be able to escape a showdown with the mob?!
32 pages, $3.99.
TEENAGE MUTANT NINJA TURTLES MACRO-SERIES #4: RAPHAEL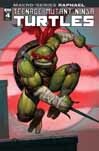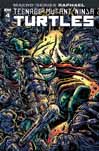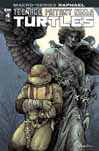 Kevin Eastman (W/A/VC), Ben Bishop (A), David Petersen ©, Ryan Brown (VC).
Raphael is pushed to his breaking point as he is separated from his brothers and forced to endure an onslaught from the nefarious Bishop unlike anything he has experienced in the past!
48 pages, $7.99.
TEENAGE MUTANT NINJA TURTLES #89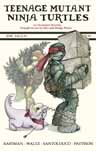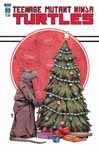 Tom Waltz (W), Kevin Eastman (W/VC), Michael Dialynas (A/C), Jody Edwards (VC)
Bah humbug! When Splinter forgets the true meaning of the holidays, it takes a visit from the Turtles of Christmas Past, Present, and Future to remind him that nothing is as important as family.
32 pages, $3.99.
Elsa Charretier (W/VC), Pierrick Colinet (W), Javier Pulido (A/C)
A Rocketeer for a new century! It's been 80 years since Cliff Secord first found an experimental jet pack and soared through the skies as The Rocketeer, becoming a hero along the way. Now, decades later, The Rocketeer is all but forgotten, a legend of a bygone era – until Cliff's jet pack is found, but in a most unexpected way – one that causes conflict for several people, each of whom are drawn to the jet pack… some for good and some for evil!
32 pages, $3.99.
Tom Scioli (W/A/C), Dash Shaw (VC), Jim Rugg (VC).
Cy-Kill and his Renegades declare war on human civilization… and they're winning. Go-Botics freshman A.J. Foster and cynical Go-Bot race car driver, Matt Hunter, along with their friendly Go-Bots Scooter and Turbo, flee for their lives as they desperately search for some way to stop the extinction of mankind and the dawn of the planet of the Go-Bots!
32 pages, $3.99.
TRANSFORMERS: HISTORIA
Chris McFeely (W), Various (A), Sara Pitre-Durocher ©
The year was 2005. The treacherous Decepticons and their heroic Autobot counterparts descended upon the Earth and unleashed a new era of Transformers comics through IDW Publishing. Thirteen years and hundreds of issues later, that universe has come to a close. Join Transformers historian Chris McFeely on a guide distilling the past 13 years of publishing history and remember the masterful storytelling of the first IDW Transformers run.
48 pages, $5.99.
TRANSFORMERS: BUMBLEBEE: GO FOR THE GOLD!
James Asmus (W), Marcelo Ferreria (A), Nicoletta Baldari ©
There are a lot of things other Autobots can do that Bumblebee cannot – they drive faster, hit harder, fly! But if there's one thing Bee has over any of them, it's a bigger heart! When his team's in danger, Bumblebee comes to the rescue in this fun adventure that pits the Autobots against Starscream's evil Decepticons!
32 pages, $3.99.
G.I. JOE: A REAL AMERICAN HERO #259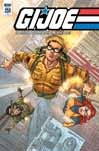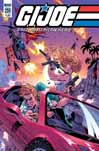 Larry Hama (W), Ron Joseph (A/C), John Royle (VC), Jamie Sullivan (VC).
"The Cobra's Venom," Part 4! Dr. Venom's destructive artificial intelligence campaign continues and nobody is safe – not G.I. JOE and not COBRA! Can anyone stop his insane robotic rampage before it's too late?!
32 pages, $3.99.
G.I. JOE: A REAL AMERICAN HERO: SILENT OPTION #4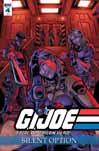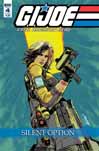 Larry Hama (W), Ryan Ferrier (W), Netho Diaz (A/C) Kenneth Loh (A/VC), SL Gallant (VC).
"Silent Option," Part 4! The mission is off the books and off the hook for Bombstrike and her covert team of G.I. JOE special operators – including new Snake Eyes, Dawn Moreno – as they battle human traffickers that have taken the enigmatic Agent Helix hostage. Join living legend Larry Hama and superstar artist Netho Diaz for the explosie finale of their latest team-up! Plus, Ryan Ferrier and Kenneth Loh conclude Helix's amazing origin tale in "Codename: Helix," Part 4!
36 pages, $4.99.
MAGIC: THE GATHERING: CHANDRA #2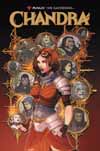 Vita Ayala (W), Harvey Tolibao (A), Ken Lashley ©
After her latest defeat, Chandra feels broken as events of the past continue to haunt her, and a familiar foe seizes the opportunity to strike! Will Ajani's heroic intervention be enough to help her overcome the threat and stop her from traveling farther down a self-destructive path? Rising star writer Vita Ayala and powerhouse artist Harvey Tolibao continue to expand the bounds of the Multiverse in the first Magic: The Gathering series in nearly five years!
32 pages, $3.99.
Paul Jenkins (W), Marco Castiello (A), Mark Buckingham ©, John Gallagher (VC).
Acclaimed British writer Paul Jenkins takes his first shot at Judge Dredd! With tensions rising, only Dredd and the forces of the Justice Department can stop Mega-City One from becoming a toxic wasteland!
32 pages, $3.99.
RICK AND MORTY VS. DUNGEONS & DRAGONS #4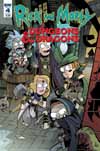 Patrick Rothfuss (W), Jim Zub (W), Troy Little (A/C), Mike Vasquez (VC), Tess Fowler (VC).
Dungeons & Morty & Destruction & Death & Rick & Swords & Sassery & Hashtag & Ampersand & It all ends here, people & oh, yeah – Dragons.
36 pages, $4.99.
John Barber (W), Mike Johnson (W), Philip Murphy (A/C), Priscilla Tramontano (VC), George Caltsoudas (VC).
With the Enterprise disabled by the Klingon-Decepticon alliance, things look dire for Spock, Optimus Prime, and the landing team. But with the Autobots' help, can Captain Kirk come up with a solution to save the day from a massive Cybertronian threat?
32 pages, $3.99.
STAR TREK: THE NEXT GENERATION: TERRA INCOGNITA #6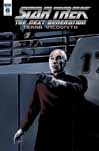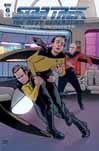 Scott Tipton (W), David Tipton (W), Angel Hernandez (A), Tony Shasteen ©, Photo (VC), Elizabeth Beals (VC), J.K. Woodward (VC).
The latest installment of The Next Generation Mirror Universe saga comes to a twisted conclusion as Mirror Barclay unleashes his fiendish plan on Captain Jean-Luc Picard and the crew of the U.S.S. Enterprise-D!
32 pages, $3.99.
STAR TREK: NEW VISIONS, VOL. 8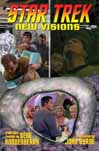 John Byrne (W/A/C)
Presenting all-new tales set in the Star Trek: The Original Series universe, done in a unique photomontage style, using images from the classic TV series. It's as close as fans will ever come to getting new episodes featuring the original cast. Features the stories "The Enemy of My Enemy," "An Unexpected Yesterday," and a reinterpretation and adaptation of the TV episode "The Cage."
128 pages, $17.99.
DICK TRACY: DEAD OR ALIVE #4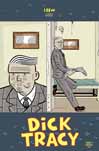 Lee Allred (W) Michael Allred (W/A/C), Rich Tommaso (A/VC).
The pop art event of 2018 continues! With Tess Trueheart by his side, Dick Tracy faces a final showdown with Yesterday Knewes in this shocking conclusion to Dead or Alive! Bear witness to the iconic comic-strip hero reimagined in the 21st century through a retro lens by the superstar team of Michael Allred, Lee Allred, Rich Tommaso, and Laura Allred!
32 pages, $3.99.
THE CAPE: FALLEN #4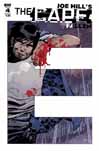 Joe Hill, Jason Ciaramella (W), Zach Howard (A/C) Nelson Daniel (A/C)
One by one they were consumed by Darkhole's violence, until only two remained. Eric has lost the battle against his personal demons and accepted his role as executioner to anyone he deems a threat. Are his dead father's words enough to pull his soul back from the Hellfire? Can anything stop this avatar of evil before more lives are lost? Find out in the final chapter of The Cape: Fallen, by the Eisner Award-nominated team of Jason Ciaramella, Zach Howard, and Nelson Daniel. Explore your dark side.
32 pages, $3.99.
SUKEBAN TURBO #2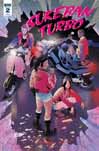 Sylvain Runberg (W), Victor Santos (A/C), Claire Roe (VC)
Shelby was once best friends with her cousin Sam, but they haven't spoken since he moved away to boarding school and later became a famous singer in the boy band Urban Smile. Determined to keep her connection to Sam a secret, she's only ever told her best friend, Kate. But Kate's priorities lay elsewhere, and she's willing to break Shelby's confidence to get what she wants.
32 pages, $3.99.
LOWLIFES
Brian Buccellato (W), Alexis Sentenac (A/C)
Human lives are supposed to be priceless. Theirs are worthless. Los Angeles is not all sunshine, surfing, and red carpets. Behind the facade, the City of Angels is an illicit, morally ambiguous world of fading dreams. Grand is a revenge-seeking cop clinging to the good man he was. Leonard is an addict who wants his family back. Rip is a haunted thug embroiled in underground fighting. And Wendall is the criminal corruptor pulling all of their strings. In the seedy L.A. underworld, lives intersect like freeway overpasses. When Wendall's poker game is robbed, three lowlifes attempt to stay one step ahead of each other, because redemption or destruction is their only ticket out.
128 pages, $19.99.
ROAD OF THE DEAD: HIGHWAY TO HELL #3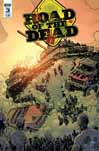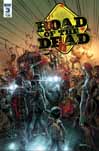 Jonathan Maberry (W), Drew Moss (A/VC), Santiperez ©
An over-the-top wild ride prequel to Road of the Dead! Written by Jonathan Maberry, New York Times bestselling author and creator of V-Wars. With everyone around her dying and turning into zombies, and new threats rolling her way from every direction, Harriet knows she is running out of time and options. She has a possible cure to the zombie plague. Well… maybe. How many of her friends have to die to help her find out if she can save the world?
36 pages, $4.99.
NIGHT MOVES #2
VJ Boyd (W), Justin Boyd (W), Clay McCormack (A), Chris Burnham (C/VC)
A horrific encounter with a possessed gangster changes everything for Chris and Alexis, leaving them both looking for revenge.
32 pages, $3.99.
SPIDER KING: FROSTBITE ONE-SHOT
Josh Vann (W), Simone D'Armini (A/C), Xurxo G. Penalta ©.
Viking warriors Hrolf, Sigrid, and the Laxdale clan continue their war against the alien invaders, traipsing across medieval Europe. Frostbite picks up where the last Spider King volume ended, as the clan make their way through an ominous snowstorm and are attacked by swarms of biting, fighting, talking animals.
36 pages, $4.99.
THE AMAZING SPIDER-MAN: THE ULTIMATE NEWSPAPER COMICS COLLECTION, VOL. 5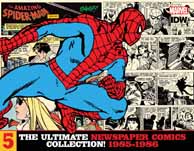 Stan Lee (W), Dan Barry, Floro Dery (A), Floro Dery ©
The woebegone web-slinger encounters problems that make Dar Harat seem like a sewing circle – if he can escape from their clutches, that is! Daily Bugle writer Jenny Sue Saxton arrives and falls for Peter Parker while trying to become Spider-Man's biographer, even as Aunt May faces financial ruin in a very modern kind of bank heist. Mary Jane returns just in time to learn an important secret – and to introduce Peter to her Uncle Spencer Watson. Spidey's reputation is under fire when he's accused of pushing drugs. And in a story that rivals the classic "drug issues" of Spider-Man's comic book, Stan Lee addresses one of the most heart-rending problems of modern times: child abuse.
238 pages, $49.99, in stores in February.
VOYAGE TO THE DEEP (IT'S ALIVE)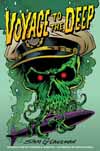 Sam Glanzman (W/A/C)
Follow the adventures of a shape-shifting atomic sub battling sea creatures, arctic monsters, sonic attacks, anti-matter generators, global terrorism, and more! Four tales of the atomic submarine Proteus and her crew in one graphic novel! First, the submarine Proteus has just finished its shakedown run and heads out to explore the Mariana Trench, but when the ship arrives, it not only has to deal with giant sea creatures, but an act of terrorism that threatens the entire world! Plus, a monster larger than the Proteus, a fanged sea creature and an anti-matter generator that threatens to tear apart the world, and an unknown enemy unleashes sonic destruction on the Proteus, and then the world! Only the Proteus and her crew can stop them!
144 pages, $24.99.
HOUSE AMOK #5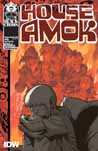 Christopher Sebela (W), Shawn McManus (A/C), Gabriel Rodriguez (VC).
Ten-year-old twin Dylan Sandifer is now in the driver's seat of more than the converted old school bus her family called home for a summer murder spree. Will she turn on her family and the sacred bond between twins and break free from the shared madness? Conspiracy theories, organ thieves, and secret histories collide in the explosive final issue!
32 pages, $3.99.
LODGER #3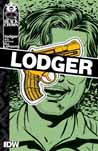 David and Maria Lapham (W), David Lapham (A/C)
As a mysterious grifter continues to corrupt and kill damaged souls on the open road, he accepts a request on the Lodger travel blog that might put his own heart in danger. Meanwhile, Ricky Toledo and Golddigger get one step closer to their prey.
32 pages, $3.99.
BELZEBUBS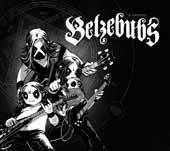 JP Ahonen (W/A/C)
Belzebubs is a "trve kvlt mockumentary" focusing on the everyday challenges of family life: raising kids, running a small business, and making time for worship. Except the kids are named Lilith and Leviathan, the business is a black-metal band, and the worship… isn't exactly aimed upstairs. In a few short years, what started out as improvised social-media doodles has now become a wildly successful webcomic with hundreds of thousands of fans. The irresistible cartooning of JP Ahonen (Sing No Evil) combines relatable slice-of-life humor with over-the-top occult antics and references from metal music to Lovecraftian horror, making Belzebubs a devil of a good time.
120 pages, $14.99, in stores in February.
YE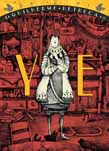 Guilherme Petreca (W/A/C)
Ye is a curious young man, named after the only sound he knows how to make. His voice must have been stolen by the Colorless King, the source of all the world's sorrows – terrifying, unrelenting, all-taking, and never-giving. Now, Ye has no choice but to embark on a long voyage over land and sea, past grizzled pirates, a drunken clown, and more, to find the famous witch who can help him defeat the Colorless King. What he discovers may be a lesson for us all.
176 pages, $19.99.
LEAGUE OF EXTRAORDINARY GENTLEMEN, VOL. IV: THE TEMPEST #4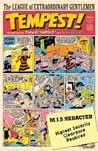 Alan Moore (W), Kevin O'Neill (A/C)
Legendary swords clash atop the Paris Opera in 1913, while almost a century later a declining London witnesses assassination attempts, summit meetings in Haggerston Park, and the catastrophic return of a 1960s super-adventurer. Elsewhere, in the four-dimensional territories adjacent to the North Pole, a lost Shakespeare play sees its first and last performance, while Queen Gloriana's conjurer finally reveals the nature of his 500-year-old game. Topping off an already heady mixture, this issue's classic Seven Stars reprint depicts our halcyon heroes as "Captives of the Creepyverse," another reason not to miss the unfolding of Moore and O'Neill's fulgurant finale in issue four of The League of Extraordinary Gentlemen, Volume IV: The Tempest.
32 pages, $4.99.
BOB LAYTON'S IRON MAN ARTIST SELECT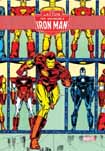 David Michelinie (W), Bob Layton (A)
Bob Layton's two long runs on The Invincible Iron Man, alongside writer/co-plotter David Michelinie and an array of peerless pencillers, remains the series' high-water mark for legions of fans. And now, many of the most beloved stories from both of Layton's long stays on the book, curated by Bob himself, are collected here in deluxe, oversized fashion! Nearly 400 pages of Iron Man classics, guest-starring Ant Man, the Hulk, Captain America, Spider-Man, two two-part Doctor Doom tales, and more! Also included is a comprehensive new interview with Layton! Each copy of this special IDW Limited release is signed by Layton, numbered, and packed in a gorgeous foil-stamped slipcase!
388 pages, $125.|