IDW PUBLISHING FOR JANUARY
MARVEL ACTION: AVENGERS #2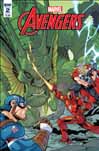 Matt Manning (W), Jon Sommariva (A/C), Nelson Daniel (VC).
Fiendish foes have taken control of Tony Stark's armor! With Iron Man out of the game, it's up to the rest of the Avengers to keep Fin Fang Foom out of villainous hands.
32 pages, $3.99.
MARVEL ACTION: SPIDER-MAN #3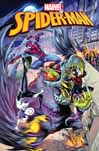 Delilah S. Dawson (W), Fico Ossio (A/C), Nick Roche (VC).
As if Peter Parker didn't have enough problems at high school, suddenly New York's crawling with Spider-People! Peter has no choice but to forge a tentative partnership with Miles Morales and Gwen Stacy as a larger mystery threatens the trio! All-new web-swinging action in the Mighty Marvel Manner!
32 pages, $3.99.
MARVEL ACTION: BLACK PANTHER #1
Kyle Baker (W/A/C), Paulina Ganucheau (VC), Elsa Charretier (VC), Gabriel Rodriguez (VC).
Readers of all ages can get lost in the technologically advanced African nation of Wakanda as they follow the adventures of its monarch, the Black Panther! King T'Challa is responsible for defending his people–and the world–from any threats. And he gets plenty of help–and sass–from his genius sister Shuri. A Marvelous new era begins here!
32 pages, $3.99.
TEENAGE MUTANT NINJA TURTLES: IDW 20/20
Paul Allor (W), Dave Wachter (A/C), Gabriel Rodriguez (VC).
IDW 20/20 kicks off IDW's year-long 20th anniversary celebration! An all-new weekly event giving a glimpse of your favorite characters 20 years into the future–or past! What made them into the heroes you love… and what twists does the future hold…? Meet the Turtles of tomorrow in this adventure set 20 years in the future! The Utrom Civil War rages across Earth. When news of a backup Technodrome threatens hundreds of millions of innocent lives, it's up to the Turtles to do what they do best–save the world.
36 pages, $4.99.
MY LITTLE PONY: IDW 20/20
Ted Anderson (W), Toni Kuusisto (A/C), Tony Fleecs (VC).
IDW 20/20 kicks off IDW's year-long 20th anniversary celebration! An all-new weekly event giving a glimpse of your favorite characters 20 years into the future–or past! What made them into the heroes you love… and what twists does the future hold…? Ponyville's most courageous and magical ponies celebrate friendship and fun in this adventure set twenty years in the past! Twilight Sparkle, Rainbow Dash, and the rest of your favorite pony friends are young fillies–surely things can't get too crazy, right?! One thing's for sure: no matter what escapades they face, the magic of friendship will see them through!
36 pages, $4.99.
GHOSTBUSTERS: IDW 20/20
Erik Burnham (W), Dan Schoening (A/C), SL Gallant (VC)
IDW 20/20 kicks off IDW's year-long 20th anniversary celebration! An all-new weekly event giving a glimpse of your favorite characters 20 years into the future–or past! What made them into the heroes you love… and what twists does the future hold…? Twenty years in the future, and a new generation of Ghostbusters… is sent on all the jobs Ray, Winston, Peter, and Egon just don't feel like taking on themselves. The Sanctum of Slime Ghostbusters–Bridget, Samuel, Gabriel, and Alan–have proven themselves many times over… first against the demon Dumazu, and later with the Ghostbusters of many other dimensions in the recent Crossing Over event. Now they're ready for an easy gig, something like a simple haunted house. But they better be careful… you never know Wat could happen.
36 pages, $4.99.
JEM AND THE HOLOGRAMS: IDW 20/20
Sina Grace (W), Siobhan Keenan (A/C), Gabriel Rodriguez (VC)
IDW 20/20 kicks off IDW's year-long 20th anniversary celebration! An all-new weekly event giving a glimpse of your favorite characters 20 years into the future–or past! What made them into the heroes you love… and what twists does the future hold…? Jem and the Holograms are back with new music, old flames, and good friends in this adventure set 20 years in the future! Join Jerrica, Synergy, and the rest of your favorite holographic gals for a rockin' reunion that's sure to please old and new fans alike!
36 pages, $4.99.
STAR TREK: IDW 20/20
Peter David (W), J.K. Woodward (A/C), Gabriel Rodriguez (VC)
IDW 20/20 kicks off IDW's year-long 20th anniversary celebration! An all-new weekly event giving a glimpse of your favorite characters 20 years into the future–or past! What made them into the heroes you love… and what twists does the future hold…?
Twenty years before he took command of the U.S.S. Enterprise-D, Jean-Luc Picard sat in the captain's chair of the U.S.S. Stargazer. Picard served with distinction aboard the Stargazer for many years on his way to becoming the most respected captain in Starfleet. But in this early mission, Picard showed that even he is merely a man.
36 pages, $4.99.
SONIC THE HEDGEHOG, VOL. 2: THE FATE OF DR. EGGMAN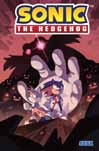 Ian Flynn (W), Tracy Yardley (A), Adam Bryce Thomas (A), Evan Stanley (A), Nathalie Fourdraine (C)
Following their last battle, Dr. Eggman's been mysteriously absent from Sonic's life. What shocking secret will Sonic discover when he learns the bad doctor's whereabouts? Plus, Sonic isn't the only one looking for Eggman–so's his old rival Shadow the Hedgehog! There are twists and turns in the course of this high-speed, action-packed mystery-adventure! But with a little help from his friends–including a new ally–Sonic's fast enough to overcome any obstacle! Collects issues #5-8 of the ongoing series.
96 pages, $15.99.
SONIC THE HEDGEHOG #13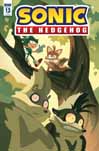 Ian Flynn (W), Adam Bryce Thomas (A/C), Kieran Gates (VC), Nathalie Fourdrainge (VC).
Time for a break! Sonic can finally take some time to catch his breath, secure in the fact that the day's been saved and his old greatest foe is… Wait. He's gone?! What does that…? Well, that smells like trouble…
36 pages, $4.99.
MY LITTLE PONY: FRIENDSHIP IS MAGIC #74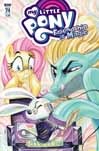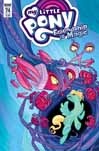 Ted Anderson (W), Kate Sherron (A/C), Sara Richard (VC), Lanna Souvanny (VC).
Nerves abound when Zephyr Breeze signs up for the All-Equestria Mane Styling Conference! Will he be able to prove to others – and to himself–that he belongs in the styling biz? Or will his fear of failure get the better of him?
32 pages, $3.99.
MY LITTLE PONY: NIGHTMARE KNIGHTS #4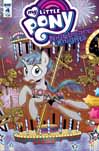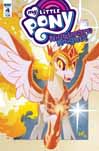 Jeremy Whitley (W), Tony Fleecs (A/C), Brenda Hickey (VC), Jennifer L. Meyer (VC).
The best-laid plans of ponies often go awry–and as the heist begins to fall apart, Luna's knights are put to the ultimate test. With teammates turning and new revelations coming to light, will the Nightmare Knights ever be able to defeat Eris and return Luna's powers?
32 pages, $3.99.
ATOMIC ROBO AND THE DAWN OF A NEW ERA #3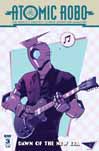 Brian Clevinger (W), Scott Wegener (A/C), Josh Burcham (VC).
Atomic Robo has opened Tesladyne Institute to the next generation of Action Scientists. Vik and Lang make an unscheduled appearance. Bernie's trapped in an extinct lava tube and probably losing his mind. Foley tries to keep the place from burning down. Fun Fact: Robo's building a secret robot son using the AI from Hashima Island that almost killed, uh, Earth. Twice. It's fine!
32 pages, $3.99.
Carlo Panaro and Stefan Petrucha (W), Paolo De Lorenzi and Jordi Alfonso (A), Marco Mazzarello (C).
Everyone's favorite series resumes its regular numbering this issue! First, not everyone wishes Uncle Scrooge a happy birthday as Magica De Spell is once again up to her old tricks in « The Vortex of Time! »; in « Et Tu, Deja Vu? » Scrooge encounters a piece of technology that leaves him with the feeling that it's all strangely familiar…
32 pages, $3.99.
DUCKTALES, VOL. 4: FOWL PLAY
Alessandro Ferrari, Steve Behling (W), Ciro Cangialosi, Cristina Stella (A), Marco Ghiglione (C)
Donald and Scrooge go on a fishing trip but stumble on the campsite of Ma Beagle! Then, when Donald, Scrooge, and the boys search for the treasure of the two-headed horse, they get a few more heads than they were bargaining for! And when Scrooge goes missing, his family is on the case! But what if he doesn't want to be found? Finally, when his lineage is brought into question, Scrooge and the kids take a trip to Scotland! This volume features six new tales and collects issues #9-11 of the ongoing series.
72 pages, $9.99.
DUCKTALES #17
Various (W/A/C).
Uncle Scrooge finds himself « Marooned in Mystery Mansion » in this special two-part story! Can Mrs. Beakley save the day before things get out of hand?!
32 pages, $3.99.
MICKEY MOUSE: FIRE EYE OF ATLANTIS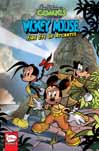 Andrea Castellan (W), Kirsten De Graaf (W), Mau Heymans (A), Andrea Castella (C)
Come along with Mickey, Goofy, and explorer extraordinaire Eurasia Toft for an action-packed adventure, hot on the dangerous trail of an uncharted world! But where there's action, there's trouble, and our heroes find it with the megalomaniacal Horde of the Violet Hare! Along the way, they'll uncover new mysteries: Did Earth once have a second moon? Did ancient Atlantis save the planet from a deadly interstellar collision? And the greatest mystery of all: will Mickey, Goofy, and Eurasia get out of another scrape alive? Collects Walt Disney's Comics and Stories issues #741 and #742.
96 pages, $12.99.
WALT DISNEY'S DONALD DUCK: THE DAILY NEWSPAPER COMICS, VOL. 5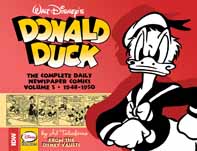 Bob Karp (W), Al Taliaferro (A/C)
From the Disney Vaults! The original Donald Duck daily strips, collected for the first time ever! This fifth volume includes 750 sequential daily comic strips from January 1, 1948, through the middle of 1950 drawn by Al Taliaferro and reproduced from original material in the Disney files! It's time to laugh again with Donald, Daisy, and those impetuous nephews: Huey, Dewey, and Louie.
272 pages, $39.99.
DISNEY COMICS AND STORIES #3
Enrico Faccini (W), Enrico Faccini (A), Paolo Campinoti (C)
This brand-new Disney series continues with two charming and delightful stories never before seen in the U.S.! First up: Mickey, Donald, and Goofy have a stressful time in « The Night in Sleepyhead Valley »; then Fethry tries his hand at construction with some very unexpected results in « Fethry at Work. »
48 pages, $5.99.
KIM POSSIBLE ADVENTURES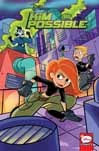 Michael Stewart (W), Abby Denson (W), John Green (W), Craig Rousseau (A), Tom Bancroft (A), Marco Mozzarello (C).
For the first time ever, the Kim Possible comic stories are all being collected in this exciting first volume, complete with a brand-new cover! Before you tune in to watch the new Disney Channel Original Movie, Kim Possible, on Disney Channel, make sure you catch up with Kim and all her friends in these action- and adventure-filled stories!
80 pages, $9.99.
TEENAGE MUTANT NINJA TURTLES #90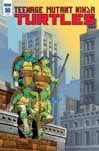 Tom Waltz (W), Kevin Eastman (W/VC), Michael Dialynas (A/C), Nelson Daniel (VC).
The Turtles and their allies take stock in the wake of a tragedy. Little do they know the greatest conflict is about to come!
32 pages, $3.99.
RISE OF THE TEENAGE MUTANT NINJA TURTLES #5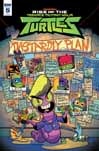 Matthew K. Manning (W), Chad Thomas (A/VC), Andy Suriano (C).
Welcome to the Teenage Mutant Ninja Turtles Reunion! With featured guests Raph, Donnie, Leo, Mikey, April, and… a whole host of angry villains?! Watch as Warren Stone's quest to reclaim his glory puts the Turtles in a spotlight they don't want to be in!
32 pages, $3.99.
TEENAGE MUTANT NINJA TURTLES: URBAN LEGENDS #9
Gary Carlson (W), Frank Fosco (A/C), Erik Larsen (VC), Kevin Eastman (VC).
When a plague of giant bats leads Leo to Midway City in search of Master Splinter, he finds help from a most unlikely source… the local vigilante known as the Knight Watchman! But will they be able to cure Splinter before it's too late?!
32 pages, $3.99.
TEENAGE MUTANT NINJA TURTLES: BEBOP & ROCKSTEADY HIT THE ROAD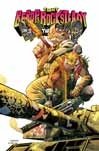 Dustin Weaver (W/A), Ben Bates (W/A), Cory Smith (C)
Everyone's favorite mutant warthog and rhino are on a road trip back to NYC, but can they make it before they become completely human again? As their journey across America begins, Bebop and Rocksteady run into a crazy old enemy that's bent on derailing their trip before it can even start. Plus, the duo is forced to do the unimaginable: get real jobs! Throw in appearances by time-traveling menace Savanti Romero, the Army, and ultimately a brand-new unbeatable foe that stands in their way, and you've got all the action you'd expect from a trip with these two!
120 pages, $17.99.
TEENAGE MUTANT NINJA TURTLES: SHREDDER IN HELL #1
Mateus Santolouco (W/A/C), Kevin Eastman (VC), Rafael Albuquerque (VC).
Abandon all hope…The Shredder returns in this brand-new mini-series! Oroku Saki's death is just the beginning, and his journey through the depths of the underworld proves to be anything but a divine comedy. How much of Shredder's soul will remain after he's faced the horrors of hell?
32 pages, $3.99.
STAR WARS: THE EMPIRE STRIKES BACK GRAPHIC NOVEL ADAPTATION
Alessandro Ferrari (W), Various (A), Eric Jones (C)
Faithfully bringing events from the series' defining installment to the comics page, read along as Luke Skywalker confronts the legacy of the Jedi; Han, Leia, and Chewie struggle to evade the Empire, encountering danger at every turn; and Vader pursues the Rebellion with greater determination than ever before. Plus, emerges from the shadows a certain 900-year-old Jedi Master does.
80 pages, $9.99.
STAR WARS ADVENTURES: FLIGHT OF THE FALCON
Michael Moreci (W), Arianna Florean (A/C), Valentina Pinto (VC)
The Flight of the Falcon ends here! We've followed Bazine Netal's quest for the legendary starship the Millennium Falcon, but here's one final tale yet to be told, featuring famous pirate captain, Hondo Ohnaka!
36 pages, $4.99.
STAR WARS ADVENTURES #18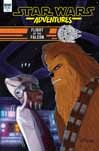 Delilah S. Dawson (W), Michael Moreci (W), Derek Charm (A), Arianna Florean (A/VC), Derek Charm (C), Valentina Pinto (VC).
Padme Amidala joins Jar Jar Binks on a quest to recover a legendary Gungan artifact. Uh oh! This one is going to be very messy! Plus, Gannis Ducain details his time with the Millennium Falcon!
32 pages, $3.99.
STAR WARS ADVENTURES: DESTROYER DOWN #3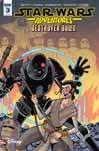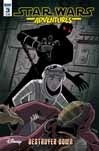 Scott Beatty (W), Derek Charm (A/C), Jon Sommariva (A/VC).
Swallowed by the shifting sands of Jakku, the Imperial Star Destroyer Spectral has been lost for two decades, giving rise to rumors of hauntings and buried treasure. But an epic sandstorm has revealed the ruins of the starship, and renowned scavenger Rey now leads the race to claim whatever lies within!
32 pages, $3.99.
RICK AND MORTY VS. DUNGEONS AND DRAGONS BOX SET
Patrick Rothfuss (W), Jim Zub (W), Troy Little (A/C)
Collects the entire miniseries! If you missed out on the Rick and Morty vs. Dungeons & Dragons miniseries when it was on shelves, you can stop kicking yourself, because now the whole thing is available in one convenient package–and with exclusive covers to boot! Collects issues #1-4 of the series, each issue with an all-new variant character sheet cover not available outside of this box set, as well as a blank character sheet sketch cover so you can get in on the fun. Wubba lubba dub dub!!
169 pages, $29.99.
STAR TREK VS. TRANSFORMERS #5
John Barber (W), Mike Johnson (W), Philip Murphy (A/C), Josh Burcham (VC), Chris Panda (VC)
The stunning conclusion! As the Klingon-Decepticon alliance prepares to wipe out their enemies once and for all, Kirk and the Autobots make one last desperate bid to merge Cybertronian technology with Starfleet ingenuity. It's a final conflict you won't want to miss!
32 pages, $3.99.
STAR TREK: THE NEXT GENERATION–THE MISSIONS CONTINUE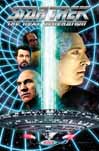 Brannon Braga, Scott Tipton, Zander Cannon, and more (W), David Messina, Gordon Purcell, and more (A), Joe Corroney (C)
Follow the intergalactic adventures of Captain Jean-Luc Picard and the crew of the U.S.S. Enterprise-D as they explore new worlds. Collects The Space Between, Intelligence Gathering, Last Generation, Ghosts, and Hive.
568 pages, $59.99.
STAR TREK: THE Q CONFLICT #1
Scott Tipton (W), David Tipton (W), David Messina (A/C), George Caltsoudas (VC), J.K. Woodward (VC).
When a dispute between godlike beings threatens the galaxy, it will take all of Starfleet's best captains to stop them. Join James T. Kirk, Jean-Luc Picard, Kathryn Janeway, and Benjamin Sisko as they go head-to-head in a competition that will determine the fate of the Earth and beyond. Will they be able to emerge victorious, or will they be torn apart by The Q Conflict? A soon-to-be-classic six-part miniseries begins here!
32 pages, $3.99.
OPTIMUS PRIME, VOL. 5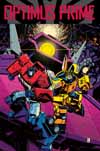 John Barber (W), Sara Pitre-Durocher (A), Kei Zama (A/C), Andrew Griffith (A), Priscilla Tramontano (A).
End of the Road! The Autobots are faced with multiple threats, one of them a danger not only to Cybertron, but to the whole universe! Trapped between Shockwave's attack and Unicron's onslaught, Optimus and the Autobots struggle to make sense of what's left of their world, as Optimus' colonist soldiers contend with a brutal reality – they have no homes to return to. Plus, Shockwave reveals ancient truths – as an old friend tries to reconnect with Cybertron. Collects the 2018 Annual and issues #22 – 25, which conclude the series.
144 pages, $19.99.
TRANSFORMERS: LOST LIGHT, VOL. 4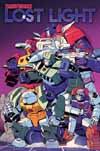 James Roberts (W), EJ Su (A), Casey W. Coller (A), Jack Lawrence (A), Brendan Cahill (A), Nick Roche (C)
The adventures of Rodimus and the crew of the Lost Light come to a close in this action-packed thriller! Years ago, the crew of the Lost Light fought a demonic Cybertronian mutant that fed on its victims' souls. Now, Rodimus and Co. are about to discover that the only thing worse than a sparkeater… is an army of sparkeaters! Plus, something is coming. It cannot be stalled. It cannot be avoided. It cannot be reasoned with. As the end of everything draws near, a simple instruction rings out across the universe: prepare, confront, repel. Collects issues #19-25.
160 pages, $19.99.
G.I. JOE: A REAL AMERICAN HERO #260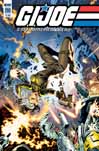 Larry Hama (W), Ron Joseph (A/C), John Royle (VC), Jamie Sullivan (VC).
« The Cobra's Venom, » Part 5. Mad scientists, even madder robots, and a small, desperate team of Joes left alone to defeat them at any cost! The final chapter in the latest bombastic arc of living legend Larry Hama's magnificent G.I. Joe: A Real American Hero run!
32 pages, $3.99.
Tom Scioli (W/A/C), Dash Shaw (VC), Ulises Farina (VC). Welcome to Gobotron. Leader-1 and the Go-Bots have built a planet of their own. Astronauts
Lee Spencer, Charlotte Scott, and Venyamin Alexander pay Gobotron a visit and find themselves victims of the strange and deadly politics of a Gobotocracy. If they can escape Zod the Go-Bot monster, they'll have to face the judgment of the Rock Lords. Is there a place for people in a post-human society?
32 pages, $3.99.
G.I. JOE: A REAL AMERICAN HERO YEARBOOK
Larry Hama (W), Tommy Lee Edwards (W/VC), Kei Zama (A), Davide Gianfelice (A), Kei Zama (C), Netho Diaz (VC)
Recap the explosive year that was with an all-new Dawn Moreno/Snake Eyes adventure from living legend Larry Hama and superstar artist Kei Zama. Backed-up by an original G.I. JOE: ARAH short story by fan-favorite writer Tommy Lee Edwards and artist Davide Gianfelice, this special oversized issue is chock full of extras for old and new G.I. JOE: ARAH fans alike!
36 pages, $4.99.
Elsa Charretier (W), Pierrick Colinet (W), Javier Pulido (A/C), Elsa Charretier (VC).
The incredible jetpack of Cliff Secord (AKA The Rocketeer) may have been created 80 years ago, but it is still far more advanced than anything borne of modern technology. Now, after being lost for decades, it has been uncovered–and several factions are desperately closing in to try and uncover its secrets…The race is on!
32 pages, $4.99.
THE CAPE: FALLEN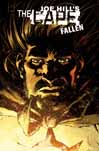 Joe Hill, Jason Ciaramella (W), Zach Howard, Nelson Daniel (A), Zach Howard (C)
If power corrupts, then surely with great power comes even greater corruption. Writer Jason Ciaramella and artist Zach Howard uncover new folds in Hill's cautionary anti-superhero tale with a story that takes place between the scenes of the original series. Eric's already killed his ex-girlfriend and (spoiler alert) soon he'll go after his mom and brother. But first he'll go missing for three torturous days. What other atrocities will Eric commit? What violent secrets does the Cape still hide? There's no telling, but the answers to those questions will further underline The Cape's central theme–that no amount of power will make a bad person good.
104 pages, $19.99.
MAGIC: THE GATHERING: CHANDRA #3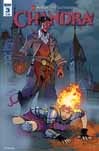 Vita Ayala (W), Harvey Tolibao (A), Siya Oum (C/VC)
Tibalt's attacks on Chandra get more personal – and closer to home–as he thrives on her anguish. Meanwhile, Ajani tries to help her make peace with the events of her past, but will Chandra's outrage be enough to overcome the devilish Planeswalker's empathic onslaught? Vita Ayala and Harvey Tolibao continue their exploration of one of Magic's most popular–and powerful–characters, pushing her closer to the brink than ever before!
32 pages, $3.99.
Sam Keith (W/A/C/VC), Ash Wood (VC).
Midnight, the witching hour. Arkham is the scariest and most dangerous place in Gotham on a good day… but when the power is suddenly cut… super-sophisticated magnetic locks are now useless… and the worst inmates are released! Meanwhile, in the bowels of Arkham, Dr. Disparu has added the Riddler and Killer Croc to his insane plot to uncover Batman and The Maxx's hidden secrets, buried deep in their inner psyches known as « Outbacks. » The plot thickens, and so does the tension, as Disparu's secrets are finally revealed!
36 page, $4.99.
JUDGE DREDD: TOXIC! #4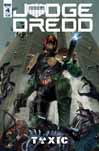 Paul Jenkins (W), Marco Castiello (A), Mark Buckingham (C), John Gallagher (VC).
The shocking conclusion to acclaimed writer Paul Jenkins' first Judge Dredd story! Mega-City One's last hope for avoiding total destruction lurks deep within the toxic sewer known as the Spillover. But with a horde of anti-alien fanatics closing in fast, Judge Dredd and Judge Anderson will have to risk it all in a conclusion you'll have to see to believe.
32 pages, $3.99.
RADIO DELLEY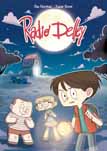 Alex Martinez (W), Xavier Bonet (A/C)
For three best friends, a small town, endless days of summer and an old radio form the recipe for an unforgettable adventure.It's summer in Delley, a quiet town in the American Midwest. Perhaps too quiet for Jeremy, Stella, and Sam, three inquisitive kids with a desire to solve mysteries and seek adventure in a place that, to be honest, doesn't offer a lot of either. However, when Jeremy gets an old radio that connects him and his friends to a girl who needs their help, the adventure they find themselves in may be a bit more dangerous than they hoped for.
64 pages, $9.99.
ROSE, VOL. 1: DOUBLE LIFE
Emilie Alibert (W), Denis Lapiere (W), Valerie Vernay (A/C)
Twenty-one-year-old Rose just wants to be left alone. But she has a secret: the ability to split herself in two. Rose's spirit can leave her body and wander around freely, going into apartments and watching people live their lives. When her father, a private detective working on a financial political scandal, is murdered, she takes it upon herself to find the man responsible. Each volume of the series presents a new part of her investigation, as Rose gets ever closer to discovering the truth in this story filled with mystery, romanticism, and supernatural twists.
48 pages, $14.99.
CORTO MALTESE: SECRET ROSE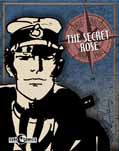 Hugo Pratt (W/A/C)
Corto Maltese enters the crossroads of magic and the occult, astrology and history, religion and mythology in the first English-language translation of Pratt's award-winning book. Visiting the writer Hermann Hesse while researching alchemists with his old friend Professor Steiner, Corto drinks from the « source of the Alchemy Rose » and becomes immersed in a surreal and dreamlike adventure that involves Klingsor, the quest for the Holy Grail, Death, the Devil, and the Sandman, among others. This complexly plotted graphic novel is among Hugo Pratt's most philosophical ruminations on the imagination.
80 pages, $19.99.
Sylvain Runberg (W), Victor Santos (A/C), Claire Roe (VC).
Shelby's done being abused by Jared–and now that she knows about Kate's betrayal, she's done with her best friend. But the Sukeban Tribe ain't nothing to mess with–and Shelby's got plans of her own to get ahead in the mean streets of Brooklyn.
32 pages, $3.99.
NIGHT MOVES #3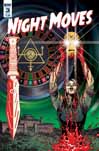 VJ Boyd (W), Justin Boyd (W), Clay McCormack (A), Chris Burnham (C/VC)
Chris and Alexis confront the darkness in their own pasts as they journey deep into the secret occult underworld of Las Vegas. Noir meets horror in this dark tale!
32 pages, $3.99.
FAMILY MAN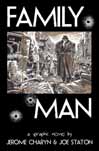 Jerome Charyn (W), Joe Staton (A/C)
Two brothers: one, a man of God; the other, a man of the Mob. In a city on the edge of chaos, they'll do anything to survive. The story begins in New York City… one hour into the future. Crime runs rampant, rogue cops patrol the rubble-strewn streets, predatory gangs steal anything that isn't nailed down, and the once powerful mafia Dons cower in fear in their tenement prisons. Someone is killing the mob chieftains one by one, and the last survivors call on Alonzo, the Family Man, to hunt down the murderer. But it won't be easy–not when Alonzo's own brother Charles, the gun-toting Monsignor of the corruption-ridden New York City police department, is a prime suspect.
300 pages, $39.99.
TREASURES RETOLD: THE LOST ART OF ALEX TOTH
Dean Mullaney (ED), Alex Toth (A/C)
A blockbuster collection of rare and little seen stories and artwork by the legendary Alex Toth. Included are complete stories from the 1950s and beyond, recently discovered color animation storyboards and presentation drawings, sketches and doodles, industrial comics, and individual pages from obscure comics and magazines. It's a treasure trove that makes a fitting companion to the three-time Eisner Award-winning Alex Toth: Genius trilogy. Toth's significance to comics and animation art cannot be overstated. During his career, he was the comics field's foremost proponent of modern design and composition. His work influenced almost every one of his contemporaries and has continued to work its magic on the generations that followed.
280 pages, $39.99.
FULL BLEED, VOL. 3: HEAVY ROTATION
Gavin Edwards, Tini Howard, Joe Lansdale, Josh O'Neill, Hannah Means-Shannon, Philip Kennedy Johnson, Adam Knave, Vivek Tiwary, Russell Sheath, Abdulkareem Baba Aminu, Kat Kruger, Jon Raymond, Benjamin Percy, and many more (W), Roger Langridge, Peter Bagge, Sara Richard, Julia Alekseyeva, Jen Vaughn, Noah Van Sciver, Danica Brine, Gideon Kendall, Tony Shasteen, Steve Beach, Brent Schoonover, Shannon Wheeler and many more (A), Michael Brophy (C)
The World's ONLY 200-page print-only hardcover magazine is back with Volume 3, and this is the best one yet! Welcome to HEAVY ROTATION.
Here's just the beginning: Rolling Stone's Gavin Edwards chimes in with a lost and unpublished Grant Morrison interview (that is absolutely bonkers), The Fifth Beatle's Vivek Tiwary pens an essay on the 50th anniversary of Yellow Submarine, Hannah Means-Shannon from Metallica and Scott Ian of Anthrax on their long friendship, and shared love of horror and all things geek.
New comics from Roger Langridge, Josh O'Neill & Gideon Kendall, Adam Knave & Andrew Losq, Kat Kruger & Jen Vaughn, Noah Van Sciver, Julia Alekseyeva, and more! New fiction from Joe Lansdale! New essays from Tini Howard, Abdulkareem Baba Aminu, Jarrett Melendez, Jon Raymond and more!
200 pages, $25.99.
LODGER #4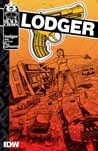 David Lapham (W/A/C), Maria Lapham (W).
The line between hunter and hunted gets blurred when the Lodger gives into temptation. And out on the open road, Ricky and Golddigger close in for the kill.
32 pages, $3.99.
EUTHANAUTS: GROUND CONTROL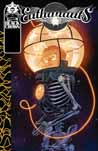 Tini Howard (W), Nick Robles (A/C) Death is like space: a seemingly unknowable, terrifying blackness, that yields incredible discoveries and truths – if only you've got the right kind of rocket ship.
What if suicide isn't a desire to die, but a desire to be somewhere else?
What if there is a place we can go after death, but we have no way to phone home about it?
What if the Freudian death instinct is not destructive… but discovery?
After a near-death experience, lonely funeral home receptionist Thalia Rosewood is recruited into the Euthanauts, a select group of psychonauts, sick folk, and other intrepid explorers who pass over willingly to determine What Lies Beyond. Tini Howard combines her trademark black humor and grounded, realistic storytelling with an otherworldly and mind-expanding exploration of the one thing we all have in common in this collection of the first five issues.
136 pages, $19.99.
FROM HELL: MASTER EDITION #3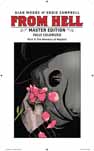 Alan Moore (W), Eddie Campbell (A/C)
« The Nemesis of Neglect. » The first modern serial killer strikes his first victims, and reluctant Inspector Abberline is assigned the case of a lifetime. Five unsolved murders. Two of the greatest creators in the history of comics. One sprawling conspiracy, one metropolis on the brink of the 20th century, and one bloody-minded Ripper ushering London into the modern age of terror. The award-winning bestseller FROM HELL, often ranked among the greatest graphic novels of all time, takes on haunting new dimensions in FROM HELL: The Master Edition, enhanced with impressionistic hues by Eddie Campbell himself. This volume contains Chapter 5, as well as all the original annotations.
72 pages, $7.99.
JOHNNY BOO IS KING! (JOHNNY BOO BOOK 9)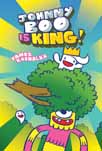 James Kochalka (W/A/C)
Johnny Boo is wearing a crown on his head, so that means he's the King! Squiggle wants to be king too, so he puts a rock on his head. After a brief argument, they decide to share their new flying castle and fly to the moon. Or are they just pretending? After a madcap encounter with the Ice Cream Monster, they finally get too sleepy to stay awake… making this silly story excellent for bedtime.
40 pages, $9.99.
BERNIE WRIGHTSON ARTIFACT EDITION
Len Wein and Various (W), Bernie Wrightson (A/C).
Bernie Wrightson began his career in the late 1960s, just barely out of his teens, and within a decade, rose to prominence as the preeminent horror artist of his generation. This loving tribute to comics' Master of the Macabre will showcase Wrightson's groundbreaking work in the DC Comics Mystery books and his legendary artistic turn on Swamp Thing. Additionally, we have assembled a number of rarely seen and completely (until now) unseen treasures.
152 pages, price TBA.
SWAMP MONSTERS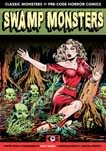 Steve Banes (W), Bob Powell, Lou Cameron, Hy Flieshmann (A), TBD (C)
Something's out there in the mad, murky depths of the fear-filled, sinister swamp… some… swamp… THING is coming for you! And it's out for mud!
The terror team that brought you Zombies, Return of the Zombies, and the petrifyingly popular hit series Haunted Horror takes you on an excursion of evil into the dankest, lagooniest corners of your nightmares, and dredging up over 240 pages of icky, drippy, slimy, grimy beasts from the grungy bottom of the Pre-Code comics' bog. Swamp Monsters includes a fascinating introduction by comics legend and acclaimed artist of Swamp Thing, « Swampy » Stephen Bissette!
144 pages, $24.99.
CLYDE
Jim Benton (W/A/C)
An all-new original graphic novel by the author of The New York Times-bestselling series Dear Dumb Diary. When Clyde the bear decides to ditch his safe and peaceful life in Cubville and head off for the mean streets of Grizzly City, he learns, with the help of a reformed juvenile delinquent butterfly, the Bad Life isn't always so great, and there's something to be said for helping your friends and family even though that really does kind of stink a little.
104 pages, $9.99.
Source : www.comicscontinuum.com