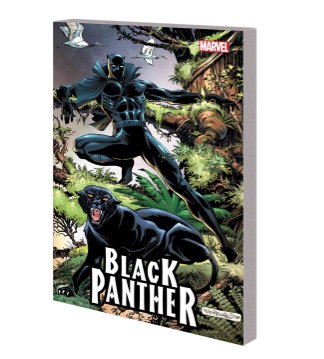 BLACK PANTHER: PANTHER'S QUEST TPB
Written by DON MCGREGOR
Penciled by GENE COLAN
Cover by BILL REINHOLD
A Black Panther epic by one of his signature writers, Don McGregor, and artistic legend Gene Colan! He is T'Challa: strong, sleek, resilient — prowling the night with panther-like grace! And this is his quest: a stealth mission in South Africa, following rumors that the mother he never knew may still be alive! The Panther will take on soldiers and social injustice in a harrowing tale filled with tragedy and hard-hitting action. He'll face bloody, brutal combat as he closes in on his prey as only the Black Panther can — with supreme strength of will. Discover a hidden gem in a Black Panther saga that unfolded across 25 chapters — collected here for the first time! Collecting material from MARVEL COMICS PRESENTS (1988) #13-37.
240 PGS./Rated T …$29.99
ISBN: 978-1-302-90803-4
Oh cool, ça c'est une agréable surprise.
Maintenant il ne manque plus qu'une réédition de la mini de 1991 pour que la "trilogie" de McGregor (Panther's Rage/Panther's Quest/Panther's Prey) soit de nouveau aisément accessible. L'Epic Collection contient déjà l'ensemble de ses épisodes de "Jungle Action" des 70's.
Panini n'aura plus d'excuse !
Tiens, j'ai une question : vous faites plus les sollicitations, les amis ?
Je demande, parce que je cherchais celles de janvier 2018, et j'ai trouvé sur Newsarama, mais pas ici. Je me demandais si c'était par choix ou par manque de temps.
Jim
C'est Blackie qui s'en occupe et je pense que c'est par manque de temps (ou alors il a complètement oublié). Je lui en touche 2 mots…
Pas de souci de mon côté, mais je sais que je ne suis pas le seul à aimer consulter ces informations.
Jim
C'est vrai que je prend jamais le pli de regarder ailleurs pour ma part.
Bon du coup j'ai regardé sur Newsrama et bien m'en a pris parce qu'en mettant de coté l'Epic Excalibur voila ce qu'Amazon me propose aussi :
To battle the Brethren! Thane Ector and his allies devastated the Collector - and now they've come for Earth. And to stop them, the Avengers must call in reserves, returnees - and a new recruit! But will the humbled Elder of the Universe aid Earth's Mightiest, or renew his collection obsession? Hate may conquer all when the Sons of the Serpent strike - unless the Avengers and New Warriors can do something about it! But how will our heroes react when a fallen comrade seemingly returns? Plus, the Subterranean Wars rage, and the Vault prison becomes a deathtrap filled with deadly menaces - including Venom!

COLLECTING: VOL. 21: AVENGERS (1963) 334-344, ANNUAL 20; AVENGERS: DEATHTRAP - THE VAULT; MATERIAL FROM INCREDIBLE HULK ANNUAL 17, NAMOR THE SUB-MARINER ANNUAL 1, IRON MAN ANNUAL 12, AVENGERS WEST COAST ANNUAL 6
J'ai vu aussi, sur Newsarama je crois, que Marvel prévoyait un TPB reprenait la série de Nicieza et Maguire (que je n'ai pas encore réussi à compléter, je crois).
Quand j'ai le temps, j'aime bien consulter le sujet. Si j'ai le temps, je me précipite dessus, mais parfois ça attend quelques jours, mais j'aime bien voir la liste, saliver sur de prochaines lectures, et venir en discuter.
Jim
Tout pareil
(erahhhhhhhhhh la suite de Batman & The Outsiders avec la période Alan Davis)