MARVEL COMICS FOR MAY
HEROES REBORN #1
JASON AARON (W), ED McGUINNESS (A)
Cover by LEINIL FRANCIS YU
VARIANT COVER BY ED MCGUINNESS
VARIANT COVER BY JEFFREY VEREGGE
TRADING CARD VARIANT COVER BY MARK BAGLEY
CENTER TRADING CARD VARIANT COVER BY MARK BAGLEY
GATEFOLD COVER BY IBAN COELLO
HIDDEN GEM VARIANT COVER BY GEORGE PEREZ
ACTION FIGURE VARIANT COVER BY JOHN TYLER CHRISTOPHER
SQUADRON SUPREME VARIANT COVER BY CARLOS PACHECO
STORMBREAKERS VARIANT COVER BY JOSHUA CASSARA
VARIANT COVER BY ARTGERM
VIRGIN VARIANT
COVER BY ARTGERM
A WORLD WITHOUT AVENGERS! Welcome to a world where Tony Stark never built an Iron Man armor. Where Thor is a hard-drinking atheist who despises hammers. Where Wakanda is dismissed as a myth. And where Captain America was never found in the ice because there were no Avengers to find him. Instead this world has always been protected by Earth's Mightiest Heroes, the Squadron Supreme of America. And now the Squadron faces an attack from some of their fiercest enemies, like Dr. Juggernaut, the Black Skull, the Silver Witch and Thanos with his Infinity Rings. But why is the Daywalker Blade the one man alive who seems to remember that the entire world has somehow been…reborn?
56 pages, $5.99.
JASON AARON (W), DALE KEOWN, ED McGUINNESS (A)
Cover by LEINIL FRANCIS YU
VARIANT COVER BY JEFFREY VEREGGE
TRADING CARD VARIANT COVER BY MARK BAGLEY
PREDATOR VARIANT COVER BY E.M. GIST
STORMBREAKERS VARIANT COVER BY NATACHA BUSTOS
ACTION FIGURE VARIANT COVER BY JOHN TYLER CHRISTOPHER
Make way for the adventures of Marvel's Mightiest Megastar, the all-powerful Hyperion! When America's solar-powered, super-sentinel of liberty looks to return his archenemy Victor Von Doom to the other-dimensional prison of the Negative Zone, mighty Hyperion must deal with a breakout of his most powerful enemies, such as Ultron, General Annihilus and the Immortal Hulk. Plus: A special backup tale starring Blade, Earth's last living vampire.
40 pages, $4.99.
JASON AARON (W), FEDERICO VICENTINI (A), ED McGUINNESS (A)
Cover by LEINIL FRANCIS YU
TRADING CARD VARIANT COVER BY MARK BAGLEY
VARIANT COVER BY NICK BRADSHAW
VARIANT COVER BY JEFFREY VEREGGE
STORMBREAKERS VARIANT COVER BY PEACH MOMOKO
ACTION FIGURE VARIANT COVER BY JOHN TYLER CHRISTOPHER
Chaos magic at Mach 5! Blur, the swiftest mortal alive, must win a race through the mind-bending Dread Dimension in order to save his soul from the hypersonic hexes of the Speedster Supreme, the Silver Witch. Plus a back-up tale takes us inside the dark secrets of the Ravencroft Asylum and its newest inmate, the Phoenix.
40 pages, $4.99.
JASON AARON (W), JAMES STOKOE & ED MCGUINNESS (A),
Cover by LEINIL FRANCIS YU
TRADING CARD VARIANT COVER BY MARK BAGLEY
SQUADRON SUPREME VARIANT COVER BY PACO MEDINA
VARIANT COVER BY JEFFREY VEREGGE
STORMBREAKERS VARIANT COVER BY CARMEN CARNERO
ACTION FIGURE VARIANT COVER BY JOHN TYLER CHRISTOPHER
With the cosmic might of his Power Prism, Doctor Spectrum has become the most feared lawman in the heavens. But now the dark forces of deep space have sent the galaxy's most notorious bounty hunter to end Spectrum once and for all. That's right, here comes Rocket Raccoon! Plus: In a backup tale, the all-new Starbrand finds herself alone in a strange new universe.
40 pages, $4.99.
HEROES REBORN: MAGNETO & THE MUTANT FORCE #1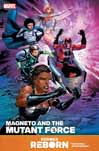 STEVE ORLANDO (W), BERNARD CHANG (A)
Cover by NICK BRADSHAW Variant
Cover by RYAN BENJAMIN
SPOILER VARIANT COVER BY BERNARD CHANG
CAN MAGNETO RESURRECT HOPE FOR MUTANTKIND BEFORE IT'S TOO LATE? Years ago, Magneto and Professor X led Earth's mutants in a final push for independence against the Squadron Supreme of America. What followed was the Squadron's Mutant Massacre, a violent rebuttal that left Mutantkind forever wounded, and Xavier dead…or so Magneto thought. Years later, Magneto discovers Xavier clinging to life in the astral plane and gathers his allies for a first-of-its-kind rescue mission. Too bad the same mission puts the Mutant Force back on the Squadron's radar!.Failure means the last gasp of mutantkind, but success means the first breaths of something even more elusive to the mutants of Heroes Reborn: HOPE.
40 pages, $4.99.
HEROES REBORN: YOUNG SQUADRON #1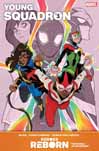 JIM ZUB (W), STEVEN CUMMINGS (A)
Cover by KARL KERSCHL
VARIANT COVER BY TAKASHI OKAZAKI
The Squadron Supreme of America have taken root in the hearts and minds of all, but none more so than a trio of youthful champions who call themselves the Young Squadron! Kid Spectrum (Sam Alexander), Girl Power (Kamala Khan) and the all-new Falcon (Miles Morales) are here to fight for truth, justice and the American flag…or are they? Beneath the flashy facade of colorful adventure, something grim is stirring and Deadpool is determined to bring it to light.
40 pages, $4.99.
HEROES REBORN: SIEGE SOCIETY #1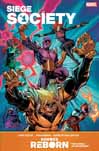 CODY ZIGLAR (W), PACO MEDINA (A)
COVER BY KEN LASHLEY
VARIANT COVER BY MARCELO FERRIERA
BLACK WIDOW & HAWKEYE LEAD AN ASSAULT ON THE SQUADRON!

After the Civil War that split the Squadron Supreme in half, Nighthawk formed his own Squadron in Europe.

But not all of Europe is okay with it. Baron Zemo has put together his own team to take them down. Who's on this team?

Natasha Romanov, Clint Barton, Scott Lang and Victor Creed.

The Squadron doesn't stand a chance.
40 pages, $4.99.
HEROES REBORN: HYPERION & THE IMPERIAL GUARD #1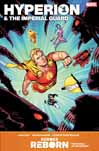 RYAN CADY (W), MICHELE BANDINI (A)
Cover by CHRIS SPROUSE Variant
Cover by BEN CALDWELL
The teenage Hyperion's cosmic quests with his Shi'ar friends near their end, but none of the young heroes are ready to say farewell. A quick mission in the Negative Zone sounds like the perfect coda to a storied fellowship…but what awaits Hyperion, Gladiator and the rest is horror and agony beyond their wildest nightmares! Also included in this issue: a special preview of the new spinoff series, THE STARJAMMERS!
40 pages, $4.99.
HEROES REBORN: PETER PARKER, THE AMAZING SHUTTERBUG #1
MARC BERNARDIN (W), RAFAEL DE LATORRE (A)
Cover by MIKE McKONE
VARIANT COVER BY GREG LAND
Peter Parker is the biggest Hyperion fan in the world, and he also just happens to be chummy with his favorite hero thanks to a photography gig at the Daily Bugle! SURELY, nothing can go wrong, with his camera (and him) in the heart of the action… Right?
40 pages, $4.99.
DAN SLOTT (W), R.B. SILVA (A)
Cover by MARK BROOKS
VARIANT COVER BY RON LIM
VARIANT COVER BY PEACH MOMOKO
HIDDEN GEM VARIANT COVER BY JACK KIRBY
VARIANT COVER BY SKOTTIE YOUNG
PREDATOR VARIANT COVER BY SUPERLOG
THE BRIDE OF DOOM! Part 1: « Betrothal »
The HUMAN TORCH's love life is changed forever when he must choose between his soulmate and his ex-wife…
And is Johnny Storm's first heartbreak, CRYSTAL, back in the book?! This is all too much! Fortunately, there is also a lot of punching, hitting and clobbering going on! All this and an ominous decree by DOCTOR DOOM! PLUS: A second tale in which Reed Richards duels Doctor Doom for the strangest prize imaginable!
40 pages, $4.99.
X-CORP #1
TINI HOWARD (W), ALBERTO FOCHE (A), COVER BY DAVID AJA
VARIANT COVER BY OTTO SCHMIDT
DESIGN VARIANT COVER BY TOM MULLER
HEADSHOT VARIANT COVER BY TODD NAUCK
VARIANT COVER BY SKOTTIE YOUNG
KRAKOA IS FOR CLOSERS! The deals have been made. Mutantkind is safe on Krakoa. As the Reign of X continues, what are the wants of the mutants who have everything? Leading the charge is X-CORPORATION, headed by CXOs Monet St. Croix and Warren Worthington, a duo as cutthroat and ruthless in the boardroom as they are on a battlefield. But X-Corp needs more than just its figureheads. As Monet sets out to staff their team with some of the brightest and most deviant minds in mutantkind, Warren finds himself in a tense meeting with one of Krakoa's first allies who wants to know the truth: on Angel's wings, will X-Corp crash or soar?
48 pages, $4.99.
X-MEN: CURSE OF THE MAN-THING #1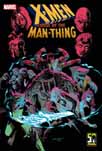 STEVE ORLANDO (W), ANDREA BROCCARDO (A)
Cover by DANIEL ACUNA
Variant COVER by NABETSE ZITRO
MAN-THING'S CURSE HAS BEEN REVEALED…BUT IT'S UNDER NEW MANAGEMENT! Years ago, DOCTOR TED SALLIS was ready to give up anything to crack the SO-2 serum and deliver success to his growing family. Unbeknownst to the rest of the world…he did. Today, as cities spanning from the U.S. to Krakoa are besieged by fear-driven blazes, the MAN-THING must reckon with his past deeds if he hopes to emerge renewed and rescue a world on fire. But fighting from his lowest means that Man-Thing can rise to his highest, especially with the unexpected help of the X-MEN'S resident sorceress MAGIK and her debuting team of monstrous mutants known as THE DARK RIDERS! Part 3 of 3!
40 pages, $4.99.
REPTIL #1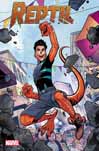 TERRY BLAS (W), ENID BALAM (A)
Cover by PACO MEDINA
Variant Cover by MIKE DEL MUNDO
VARIANT COVER BY ERNANDA SOUZA
Reptil on the brink of extinction! In the wake of Kamala's Law and his Grandfather's worsening health, Humberto Lopez, A.K.A. Reptil, has taken a step back from crime-fighting to refocus on his family. Perhaps its a sign that he should give up on becoming a hero and finally come to terms with his parents' mysterious disappearance…or perhaps not! When a mysterious figure ambushes Humberto, what unravels will shake the core of everything Humberto thought he knew about his past and will either change the course of his future–or end it forever!
32 pages, $3.99.
SHANG-CHI #1
GENE LUEN YANG (W), DIKE RUAN (A)
Cover by LEINIL FRANCIS YU
Variant Cover by SUPERLOG
Variant Cover by JUNGGEUN YOON
Variant Cover by BENJAMIN SU
Variant Cover by J. SCOTT CAMPBELL
Variant cover by MICHAEL CHO
SHANG-CHI VS. THE MARVEL UNIVERSE! Shang-Chi and his family are back! And this time, they're colliding head-to-head with the Marvel Universe's biggest heroes! Shang-Chi has finally taken his place as the leader of the Five Weapons Society. But using an evil secret organization as a force for good won't be easy. And it's about to get a lot harder when Shang-Chi's fellow super heroes, like the Amazing Spider-Man, start to see him as the bad guy! Gene Luen Yang and Dike Ruan return to bring you the next chapter of this Marvel legend!
32 pages, $3.99.
FANTASTIC FOUR: LIFE STORY #1
MARK RUSSELL (W), SEAN IZAAKSE (A)
Cover by DANIEL ACUNA
Variant Cover by Marcos Martin
Varoamt Cover by Paolo Rivera
Variant Cover by Brett Booth
In the tradition of SPIDER-MAN: LIFE STORY, and in celebration of the FF's 60th Anniversary, comes this series setting the lives of the fabulous foursome in real time across the years! Amid the backdrop of the Cold War and the Space Race, a terrible accident gives the Fantastic Four great powers, a terrible secret, and entangles them in the history of their planet.
40 pages, $4.99.
JASON AARON & TORUNN GRONBEKK (W), MATTIA DE IULIS (A/C)
Variant cover by PEACH MOMOKO
VIRGIN VARIANT COVER BY PEACH MOMOKO
PREDATOR VARIANT COVER BY JUNGGEUN YOON
THE MYSTERY OF THE NEWEST VALKYRIE UNFOLDS!
The biggest new addition to the Marvel Universe finally fulfills a promise years in the making! On the planet of Perdita lives an ancient power – imprisoned. Leashed. Valkyrie goes to free it – and herself. And she must work quickly, for back on Midgard, Jane Foster has fallen into the sights of Kraven the Hunter! The killer stalks a beast from another plane, one whom Loki claims threatens the lives of every mortal. But there is more to this creature than meets the eye. Can the gaze of a Valkyrie reveal the secrets behind the wolf and his unearthly origin?
32 pages, $3.99.
THE MARVELS #2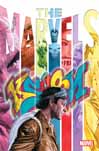 KURT BUSIEK (W), YILDIRAY CINAR (A).
Cover by ALEX ROSS
Variant Cover by DAN PANOSIAN
The Black Cat. Aero. The Punisher. Melinda May. The Terrible Tinkerer. And more! An explosive aftermath in New York, a crisis in Siancong and cosmic machinations affecting it all as Marvel's most wide-ranging thriller continues, from Kurt Busiek and Yildiray Cinar. Plus: Get to know Kevin Schumer, an ordinary guy with some big secrets…and the mysterious Threadneedle, as well. You'll never guess where things go next.
32 pages, $3.99.
SPIDER-MAN: SPIDER'S SHADOW #2
CHIP ZDARSKY (W), PASQUAL FERRY (A)
Cover by PHIL NOTO
VARIANT COVER BY TONCI ZONJIC
WHAT IF PETER PARKER BECAME VENOM? Spider-Man's vicious new approach to crime has every villain on high alert! No one is safe as Peter succumbs further to his new dark powers. Wilson Fisk wants to put an end to this deadly new Spidey once and for all, but who is really the one coordinating this takedown attempt? And with Peter haunted more by his past each day, will someone be able to save him from his own mind?
32 pages, $3.99.
PHILLIP KENNEDY JOHNSON (W), SALVADOR LARROCA (A)
Cover by INHYUK LEE
Variant Cover by PHILIP TAN
VARIANT COVER BY ADAM KUBERT
DANGER ON ALL SIDES!

Epsilon Station is overrun with danger, not all of it from Xenomorphs!

Cruz holds mission information back from his soldiers, but he's not the only one with secrets.

We are not who we say we are.
32 pages, $3.99.
THOR & LOKI: DOUBLE TROUBLE #3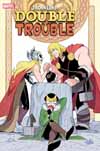 MARIKO TAMAKI (W), GURIHIRU (A/C)
Thor and Loki are transported to an alternate universe where they run into the Goddess of Thunder: JANE FOSTER! Can she help these misbehaving brothers find their way home?
32 pages, $3.99.
BETA RAY BILL #3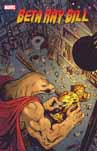 DANIEL WARREN JOHNSON (W/A/C) Variant
Variant cover by MIKE DEL MUNDO.
BILL MARCHES INTO THE HEART OF DARKNESS! Beta Ray Bill takes a bloody path to find his glory – and the perfect weapon to forge it with! And he's even got a few friends to brave the battle alongside him. But the journey is one even Odin would call treacherous…and not all of Bill's friends will survive. At least not in the form you know. Daniel Warren Johnson and colorist Mike Spicer will break Bill's heart – and yours!
32 pages, $3.99.
CARNAGE: BLACK, WHITE & BLOOD #3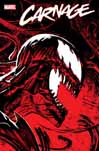 DAN SLOTT, MORE (W), GREG SMALLWOOD, MORE (A),
Cover by GREG SMALLWOOD
Variant Cover by KEVIN EASTMAN
Variant Cover by JOHN McCREA
Take a walk down memory lane with SPIDER-MAN scribe DAN SLOTT and SAVAGE AVENGERS illustrator GREG SMALLWOOD 〝 as they unleash a tale of psychological terror against the backdrop of MAXIMUM CARNAGE that'll have you seeing red!
40 pages, $4.99.
BLACK KNIGHT: CURSE OF THE EBONY BLADE #3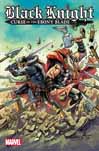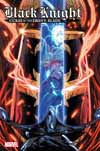 SI SPURRIER (W), SERGIO DAVILA (A)
Cover by IBAN COELLO
Variant cover by SERGIO DAVILA
Legend of the Black Knight Variant Cover by STEPHANIE HANS
THE MIGHTY THOR VS. THE BLACK KNIGHT!
Dane Whitman wields the magical Ebony Blade as the BLACK KNIGHT!

He needs ELSA BLOODSTONE's help if he's going to stop an enemy's murderous hunt for the EBONY ARTIFACTS.

But the EBONY CHALICE lies beyond this world in a wasteland of dangerous fantasies and predatory magic.

Their battle in the present will reveal dangerous secrets of the past as THE MIGHTY THOR duels the first Black Knight at Camelot!

The Chalice's power, like the Ebony Blade's, comes at a terrible cost…is Dane willing to pay it?!
32 pages, $3.99.
KYLE HIGGINS & MAT GROOM (W), FRANCESCO MANNA (A)
Cover by ARTHUR ADAMS
KAIJU VARIANT COVER BY ARTHUR ADAMS
It turns out that the forces aligned against the USP and Ultraman are far more widespread – and more organized! – than our heroes had ever suspected. If they're going to survive, they'll need a new ally of their own…and the man they're looking at just so happens to be one of the most powerful and influential people in the world. But what's his history with the USP, and why does he seem to have his own hidden agenda?
32 pages, $3.99.
THANOS QUEST: MARVEL TALES #1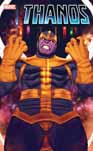 Written by JIM STARLIN
Penciled by RON LIM
Cover, Virgin Variant cover by JOSHUA « SWAY » SWABY
Thanos undertakes his most epic quest as we celebrate the legacy of the House of Ideas with MARVEL TALES! This anthology series shines a spotlight on fan-favorite characters, features timeless stories, and highlights some of Marvel's most impressive talent from the past eight decades. In THANOS QUEST (1990) #1-2, a star-spanning tale from the stellar team of Jim Starlin and Ron Lim, the Mad Titan returns – scouring the cosmos and battling the Elders of the Universe for the six all-powerful Infinity Gems! See how Thanos gains mastery of Mind, Power, Reality, Soul, Space, and Time…setting the stage for the tyrant to devastate the Marvel Universe with the Infinity Gauntlet! If you're a fan of cosmic action, then this evergreen classic is a must-have!
112 pages, $7.99.
SIMON SPURRIER (W), BOB QUINN (A)
Cover by GUISEPPE CAMMUNCOLI
Variant Cover by CHRISTIAN WARD
A VILLAIN REVEALED!

The dark force hiding within Krakoa begins to show its true form.

The answers are hidden…WITHIN THE MINDSCAPE. Kurt's 〝 and…others.

One of the most dangerous mutants is reborn!
32 pages, $3.99.
NEW MUTANTS #18
VITA AYALA (W), ROD REIS (A).
Cover by CHRISTIAN WARD
LOOKING FOR LOVE IN ALL THE WRONG PLACES!

The NEW MUTANTS' path seems simple: train, guide and mentor the youth. Sure, they didn't ask for the job, but they've been figuring it out together, right? How wrong could it go?
The NEW MUTANTS are about to find out.
32 pages, $3.99.
CABLE #11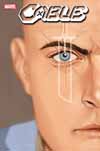 GERRY DUGGAN (W), PHIL NOTO (A/C)
SUMMERS END!
Some summers seem like they will never end. And some end too soon.
32 pages, $3.99.
MARAUDERS #20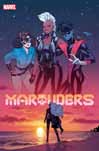 GERRY DUGGAN (W), STEFANO CASELLI (A)
Cover by RUSSELL DAUTERMAN
EYE OF THE STORM!
As the preparations for the Hellfire Gala come to a head, Ororo's eyes are pointed to the future, a future that takes her off the seas and over the horizon.
32 pages, $3.99.
CHILDREN OF THE ATOM #3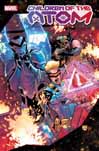 VITA AYALA (W), BERNARD CHANG (A)
Cover by R.B. SILVA
Variant cover by BERNARD CHANGE
ORIGIN REVEALED!
Who are the X-Men's sidekicks behind the masks? Meanwhile, a brand new alternative medicine is changing lives at school, but who's recruiting the victims – I mean patients?
32 pages, $3.99.
HELLIONS #11
ZEB WELLS (W), STEPHEN SEGOVIA (A/C)
Sometimes a fantasy…
Psylocke vs. Betsy Braddock in a 30-year-long battle! Empath's misdeeds come back to haunt him! And Mr. Sinister's teeth hurt. What IS going on here?!
32 pages, $3.99.
WOLVERINE #12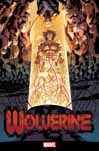 BENJAMIN PERCY (W), SCOT EATON (A)
Cover by ADAM KUBERT
Predator Variant Cover by KYLE HOTZ
LAST BLOOD! A last-ditch effort will put WOLVERINE and LOUISE within fanging distance of DRACULA…and a betrayal that will tear through the X-books!
32 pages, $3.99.
X-FACTOR #9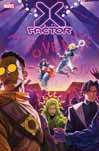 LEAH WILLIAMS (W), DAVID BALDEON (A)
Cover by IVAN SHAVRIN
Best! Concert! Ever!
The Morrigan needs to be destroyed!

The answer lies in the Mojoverse.

Looks like we're getting the band back together.
32 pages, $3.99.
X-MEN #20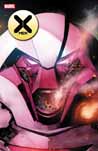 JONATHAN HICKMAN (W), FRANCESCO MOBILI (A)
Cover by LEINIL FRANCIS YU
Variant cover by MIKE DEL MUNDO
System online. Processing.
32 pages, $3.99.
LOUISE SIMONSON (W), WALTER SIMONSON (A/C)
Deadpool 30th variant cover by ROB LIEFELD
Action Figure variant cover by JOHN TYLER CHRISTOPHER
Things go from bad to worse for X-FACTOR when they must save the baby NATHAN CHRISTOPHER SUMMERS from the clutches of a deadly robot attacker. But who is really at the helm, and what will this mean for the FUTURE of the team and the SUMMERS clan?
Return to this classic era with Louise Simonson and Walter Simonson in this ALL-NEW tale set before the original X-FACTOR #43!
32 pages, $3.99.
IRON FIST: HEART OF THE DRAGON #5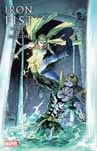 LARRY HAMA (W), DAVE WACHTER (A)
Cover by BILLY TAN
Variant Cover by EDUARD PETROVICH
TERROR TAKES FORM!
The Hierophant of the Eighth City rises!!!

The dragons have fallen. What remains?

Heaven itself is under siege! And only an Iron Fist can defend it!
32 pages, $3.99.
AMERICA CHAVEZ: MADE IN THE USA #3
KALINDA VAZQUEZ (W), CARLOS GOMEZ (A)
Cover by SARA PICHELLI
Variant Cover by BETSY COLA
WHERE'D YOU GO, AMERICA?
The face of America's mysterious tormentor is revealed – and while whom America sees is shocking, to say the least, it's what they say that will shake the foundations of everything she knows. And then? It's just a matter of whether or not to believe them…
32 pages, $3.99.
NON-STOP SPIDER-MAN #3
JOE KELLY (W), CHRIS BACHALO (A)
Cover by DAVID FINCH
Variant Cover by CHRIS BACHALO
Something is happening to the brightest young minds in New York City, and Spider-Man has found himself in the middle of it.

This story is going to show you a side of Peter Parker that neither you nor Peter thought existed. And neither of you will be able to handle it.
32 pages, $3.99.
NICK SPENCER (W), FEDERICO VICENTINI (A)
Cover by MARK BAGLEY
Predator Variant Cover by CORY SMITH
It is ALL-OUT WAR!

All the super crime lords of the Marvel U are competing at the whims of Mayor Wilson Fisk!

Their task? Get the Tablets of Life & Destiny and Death & Entropy.

Also, KILL BOOMERANG!

Spider-Man, Randy and Robbie Robertson are caught in the cross-fire!
32 pages, $3.99.
GIANT-SIZE AMAZING SPIDER-MAN: KING'S RANSOM #1
NICK SPENCER (W), ROGE ANTONIO (A),
COVER BY MARK BAGLEY
Everything comes down to this!

Kingpin's quest that violates all natural law!

Tombstone and Robbie Robertson's years' old enmity!

Randy Robertson and Beetle's timeless love!

Boomerang's scheme!

Spider-Man's whole status quo!
56 pages, $5.99.
AMAZING SPIDER-MAN #66
NICK SPENCER (W), MARK BAGLEY (A/C)
PREDATOR VARIANT COVER BY GABRIELE DELL'OTTO
On the other side of King's Ransom, Spider-Man is left to pick up the pieces.

If he can manage to put them together he is going to be horrified with what he finds!
32 pages, $3.99.
KARLA PACHECO (W), PERE PEREZ (A)
Cover by JUNGGEUN YOON
PREDATOR VARIANT COVER BY JUAN JOSE RYP
Who are the Brothers of the Sword? FIND OUT THIS ISSUE!

Jessica's visit to a jail goes horribly wrong with a few slashes of these powerful swords.

The most consistent action-hit of 2020 somehow finds new levels that could only be attained with Pacheco and Perez's ill-advised deal with interdimensional demons.
32 pages, $3.99.
BLACK CAT #6
JED MACKAY (W), MICHAEL DOWLING (A)
Cover by PEPE LARRAZ
PREDATOR VARIANT COVER BY MIKE MAYHEW
THE CAT'S OUT OF THE BAG!

Now that the Black Cat and the Black Fox have completed their heist, what does it mean for their standing in NYC?

For one thing, Felicia comes face to face with Spider-Man, and if you think he's going to be okay with what she's done, you've got another think coming.
32 pages, $3.99.
SALADIN AHMED (W), CARMEN CARNERO (A)
Cover by TAURIN CLARKE
PREDATOR VARIANT COVER BY MATTIA DE IULIS
THE CLONE SAGA CONTINUES!

Two Spider-Men find themselves face to face with the three terrifying clones.

Peter thought he knew what to expect out of a Clone Saga, but this one throws him for a loop and Miles into the deep end of the ocean.

Miles tries to keep his Spider-Side away from the rest of his life but this time he's got no say in the matter.
32 pages, $3.99.
SILK #3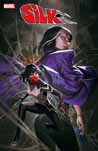 MAURENE GOO (W), TAKESHI MIYAZAWA (A)
COVER BY WOO CHUL LEE
VARIANT COVER BY EMA LUPACCHINO
What is the connection between gangland murders, a cat demon, and a futuristic tech company?

While Silk unravels the mystery, more people are getting hurt.

A perilous meeting with tech CEO Saya Ishii brings Silk one step closer to the truth!

And a classic Spider-Man villain sets his sights on Silk!
32 pages, $3.99.
AL EWING (W), JUAN FRIGERI (A)
Cover by BRETT BOOTH
Variant cover by RIAN GONZALES
PREDATOR VARIANT COVER BY CHRIS SPROUSE
A WHOLE GALAXY OF TROUBLE!

As half the team defends the Kree/Skrull Throneworld against a deadlier threat than they've ever faced before…
各…the other half investigates a terrifying sacrificial cult on a mysterious planet…with the power to plunge the universe into war.
Plus: A new space hero…joins…the team…
各…No way.
32 pages, $3.99.
BLACK WIDOW #7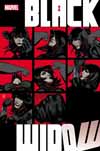 KELLY THOMPSON (W), ELENA CASAGRANDE (A)
Cover by ADAM HUGHES Variant
Variant cover by NABETSE ZITRO
PREDATOR VARIANT COVER BY MIRKA ANDOLFO
A NEW STORY ARC, A NEW MISSION! With a new suit, a new base of operations, new allies and a new perspective, Natasha sets her sights on a mysterious emerging villain in San Francisco known only as Apogee. But Natasha might not be as ahead of the game as she thought, and not everyone in her orbit is exactly what they seem. San Francisco desperately needs the Black Widow…it just doesn't quite know it yet.
32 pages, $3.99.
DAREDEVIL #30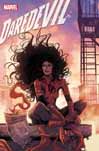 CHIP ZDARSKY (W), MARCO CHECCHETTO (A/C)
PREDATOR VARIANT COVER BY BILL SIENKIEWICZ
« DOING TIME » CONTINUES!

As Elektra gets her bearings in Hell's Kitchen, Matt Murdock finds an unlikely ally in prison.

Meanwhile, Wilson Fisk gets the phone call you've been waiting for.
32 pages, $3.99.
IMMORTAL HULK #46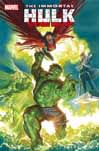 AL EWING (W), JOE BENNETT (A)
Cover by ALEX ROSS
Homage variant by JOE BENNETT
PREDATOR VARIANT COVER BY DALE KEOWN
We thought they were dead. We thought they'd been banished, controlled, made harmless. We were wrong.

The gamma monsters are coming back – converging, one by one, on New York City. And who can stop them now?

Who can save us…from the IMMORTAL HULK?
32 pages, $3.99.
IMMORTAL HULK: TIME OF MONSTERS #1
AL EWING, ALEX PAKNADEL AND DAVID VAUGHAN (W), JUAN FERREYRA, MORE (A)
Cover by JUAN FERREYRA
DEADPOOL 30TH VARIANT COVER BY ROB LIEFELD
Ten thousand years ago, something green and glowing comes to poison the ancient ground of the Fertile Crescent – and the hearts of its people.

One boy is left to bear the consequences – and, for the first time…to open THE GREEN DOOR.

Plus: Bruce Banner faces a challenge unlike any he's seen before as writer David Vaughan makes his Marvel debut!
40 pages, $4.99.
MAESTRO: WAR AND PAX #5
PETER DAVID (W), JAVIER PINA (A)
Cover by DALE KEOWN Variant
Cover by JOSHUA CASSARA
DOOM. The Maestro thought he knew his enemy. He thought he was facing a band of gods. The truth…is so much worse.
32 pages, $3.99.
THE UNION #5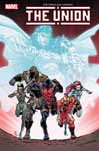 PAUL GRIST (W), ANDREA DI VITO (A/C) Variant
Cover by LEE GARBETT
THE DRAMATIC FINALE!

Doc Croc has defeated Union Jack and the team!

But can this truly be the end of the line for our new heroes?

Or can they receive one last push to pull it together?
32 pages, $3.99.
STRANGE ACADEMY #10
SKOTTIE YOUNG (W), HUMBERTO RAMOS (A/C)
Character Variant by ARTHUR ADAMS
PREDATOR VARIANT COVER BY RON LIM
FIELD TRIP! The students of Strange Academy are off on their first field trip. Hope everyone got their permission slips in!

They're off to Alvi & Iric's home-- ASGARD-- where you'll something truly shocking about these twins!

Emily hasn't fully recovered from the events of #6… will she find something in Asgard to help her heal?
32 pages, $3.99.
CHAMPIONS #7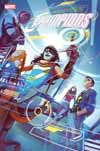 DANNY LORE (W), LUCIANO VECCHIO (A)
Cover by TONI INFANTE
CHANGE THE WORLD! THE KAMALA CON! The Champions are playing dirty to beat Roxxon at their own game – including implanting two of their own as interns to take down the corporation from within. But in order to earn the trust of their cutthroat Roxxon supervisors, they'll have to deliver an unwilling spokesperson: Kamala Khan. Will Ms. Marvel agree to become the face of a company and a law that she hates, or is it too high a price to pay for victory?
32 pages, $3.99.
RUNAWAYS #36
RAINBOW ROWELL (W), ANDRES GENOLET (A)
Cover by KRIS ANKA
« Come Away With Me » Part 5!

There is nothing we can tell you about this issue that wouldn't spoil what is possibly the best comic of 2021! We can't even show you the cover!
32 pages, $3.99.
CONAN THE BARBARIAN #21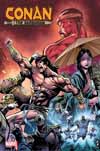 JIM ZUB (W), CORY SMITH (A).
Cover by GEOFF SHAW
VARIANT COVER BY Marco Mastrazzo
THE DEADLY SECRET OF HENG THE INSURGENT!

CONAN must fight for his life against the Bandit King's deadly power!

But will Conan have what it takes…even if it costs his very soul?

The barbarian's surprising saga in the LAND OF THE LOTUS takes a startling turn!
32 pages, $3.99.
STAR WARS: THE HIGH REPUBLIC #5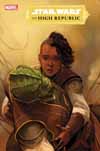 CAVAN SCOTT (W), ARIO ANINDITO (A).
Cover by PHIL NOTO
Variant Cover by BERNARD CHANG
ATTACK OF THE HUTTS!

The HIGH REPUBLIC JEDI clash with HUTT forces. GAMORREANS! NIKTO! BATTLE RANCORS!

STARLIGHT BEACON over-run by a creeping alien horror! Can VERNESTRA RWOH and her Padawan IMRI CANTAROS find a way to save Starlight's infected masses?

Plus, KEEVE TRENNIS learns the terrible secret MASTER SSKEER has been carrying for so long. Can she ever trust him again?
32 pages, $3.99.
STAR WARS: WAR OF THE BOUNTY HUNTERS ALPHA #1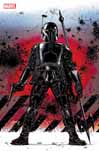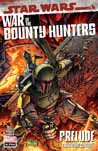 CHARLES SOULE (W), STEVE MCNIVEN (A/C)
BOBA FETT BLACK ARMOR VARIANT COVER BY STEVE MCNIVEN
CRIMSON VARIANT COVER BY STEVE MCNIVEN
VARIANT COVER BY LEINIL FRANCIS YU
ACTION FIGURE VARIANT COVER BY JOHN TYLER CHRISTOPHER
THE STAR WARS COMIC EVENT YOU'VE BEEN WAITING FOR!

The notorious bounty hunter BOBA FETT has finally landed his greatest prize 〝 HAN SOLO, frozen in carbonite for easy transport.

Fett will bring the smuggler to TATOOINE to collect the massive bounty placed on Solo's head by the fearsome crime lord JABBA THE HUTT.

Sounds easy. What could go wrong?
32 pages, $3.99.
STAR WARS: WAR OF THE BOUNTY HUNTERS - DIRECTOR'S CUT #1
CHARLES SOULE (W), STEVE MCNIVEN (A/C)
SKETCH VARIANT COVER BY STEVE McNIVEN
THIS YEAR'S BLOCKBUSTER STAR WARS COMIC EVENT IN DIRECTOR'S CUT FORM!

BOBA FETT will stop at nothing to get the job done. Transporting his latest, greatest bounty–HAN SOLO–should be an easy payday. But there's just one problem. A BIG one. And someone is going to pay for it…

Experience Charles Soul'se epic, space-shattering story in Director's Cut format, complete with Steve McNiven's mind-blowing black and white art and more incredible bonus features!
48 pages, $5.99.
ETHAN SACKS (W), PAOLO VILLANELLI (A)
Cover by MATTIA DE IULIS
CRIMSON VARIANT COVER BY MATTIA DE IULIS
EMPIRE STRIKES BACK VARIANT COVER BY CHRIS SPROUSE
PRELUDE TO WAR OF THE BOUNTY HUNTERS: « THE THREAT IN THE SHADOWS »

As VALANCE and his reluctant partner DENGAR race to intercept BOBA FETT and his precious cargo, who are the deadly pursuers that are after them?

A dark secret from Valance's past connection to HAN SOLO may get him killed all these years later.

But who is the mysterious leader of an assassination squad that is driving Valance into a life-and-death confrontation with his old friend?
32 pages, $3.99.
CHARLES SOULE (W), RAMON ROSANAS (A)
Cover by CARLO PAGULAYAN
CRIMSON VARIANT COVER BY CARLO PAGULAYAN
EMPIRE STRIKES BACK VARIANT COVER BY CHRIS SPROUSE
ARTIST VARIANT COVER BY TERRY DODSON
ACTION FIGURE VARIANT BY JOHN TYLER CHRISTOPHER
PRELUDE TO WAR OF THE BOUNTY HUNTERS: « THE HUNT FOR HAN »

CHEWBACCA has heard from an old friend with intelligence on the location of notorious bounty hunter BOBA FETT, known to be in possession of HAN SOLO.

Along with LUKE SKYWALKER, the loyal Wookiee sets off in search of his lost friend, on an adventure to Nar Shadaa… the SMUGGLER'S MOON!

But will this mission prevent plucky astromech droid ARTOO DETOO from passing along a crucial message to Luke, one that will affect the fate of the entire Jedi Order…?
32 pages, $3.99.
GREG PAK (W), GUIU VILANOVA (A)
Cover by AARON KUDER
CRIMSON VARIANT COVER BY AARON KUDER
EMPIRE STRIKES BACK VARIANT COVER BY CHRIS SPROUSE
PRELUDE TO WAR OF THE BOUNTY HUNTERS: « RESTORATION »

Returned to the fold after his rebellion against the EMPEROR, DARTH VADER faces the horrors of reconstruction in the secret laboratories of CORUSCANT.

As he blacks out under the knife, does he still dream of revenge against his master? Or do his thoughts drift towards his son 〝 and the friends who make LUKE SKYWALKER so vulnerable?

The next critical new chapter in Vader's ongoing evolution - featuring the revelation of the first time the Dark Lord learned the name HAN SOLO!
32 pages, $3.99.
ALYSSA WONG (W), RAY-ANTHONY HEIGHT (A)
Cover by SWAY
CRIMSON VARIANT COVER BY SWAY
VARIANT COVER BY RAY-ANTHONY HEIGHT
PRELUDE TO WAR OF THE BOUNTY HUNTERS: « THE INVITATION »

DOCTOR APHRA and SANA STARROS find themselves cornered by VUKORAH and the UNBROKEN CLAN!

Can they pull off a daring escape–even if that means surrendering the NIHIL HYPERDRIVE?

And what sets them on a collision course with one of the most deadly BOUNTY HUNTERS in the galaxy?
32 pages, $3.99.