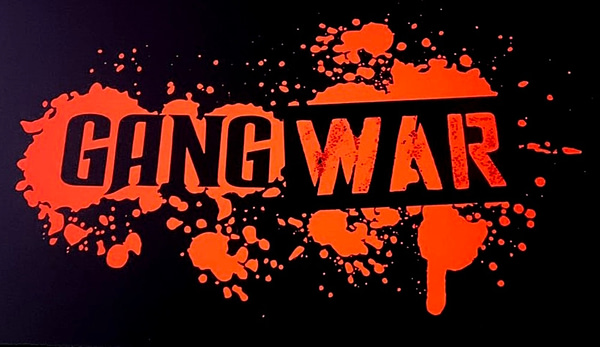 Une nouvelle guerre des gangs va mettre New York à feu et à sang dans l'event Gang War qui s'étendra de novembre 2023 à mars 2024.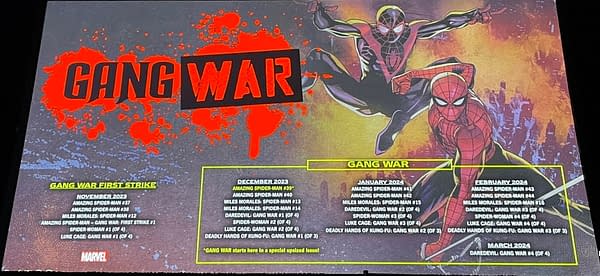 Tout commencera dans un prélude intitulé First Strike avant de toucher les séries de Peter Parker et Miles Morales.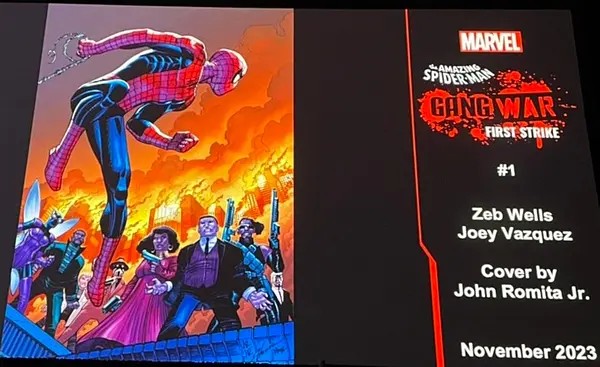 Amazing Spider-Man Gang War: First Strike #1
Written by Zeb Wells
Art by Joey Vasquez
Cover by John Romita Jr.
SPECIAL ONE-SHOT GANG WAR PRELUDE!
The super-crime landscape of New York has been on edge. This issue, they jump over that edge. What incites the war?! Who hired Shotgun and took out Tombstone? What, if anything, can Spider-Man do about it? Everything you need to know before GANG WAR officially kicks off next month is HERE.
Les Hommes Araignées ne seront pas les seuls à se battre pendant cette guerre car Marvel annonce aussi plusieurs mini-séries dérivées.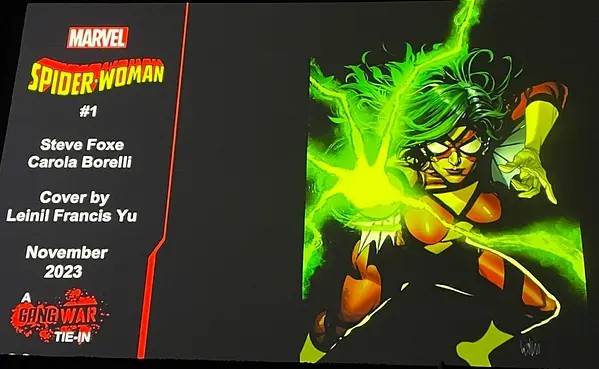 Spider-Woman #1 (of 4)
Written by Steve Foxe
Art by Carola Borelli
Cover by Leinil Francis Yu
GANG WAR: FIRST STRIKE!
The Web of Destiny restored Spider-Woman's life, but even Captain Marvel and Madame Web can tell something's changed. Now Spider-Man wants to recruit her for a new team because Viper has engineered a deadly union between Hydra and Diamondback that's about to tear the city apart, bringing forth a new foe powerful enough to destroy the city while burning Spider-Woman's world to the ground. Don't miss out on this action-packed premiere that introduces a terrifying new force of evil in Spider-Woman's world!
Luke Cage: Gang War #1 (of 4)
Written by Rodney Barnes
Art by Ramon F. Bachs
Cover by Caanan White
GANG WAR: FIRST STRIKE!
In the wake of the Anti-Vigilante Act, Luke has been trying to save the city from behind a desk. But a meeting with old friend Danny Rand reminds him of the good old days when problems could be punched in order to solve them. As New York descends into a GANG WAR, Luke must use every power he has to protect the innocent and save his city!
Daredevil: Gang War #1 (of 4)
Written by Erica Schultz
Art and Cover by Sergio Davila
GANG WAR TIE-IN!
Elektra Natchios, former assassin turned Daredevil, has been recruited by Spider-Man to stop New York City from tearing itself apart from gang rule as every mobster and super villain in town go to war! And Elektra is the only thing standing in the way of Hell's Kitchen's annihilation at the hands of a dangerous new gang—the HEAT—whose violent schemes from the pages of DAREDEVIL unfold!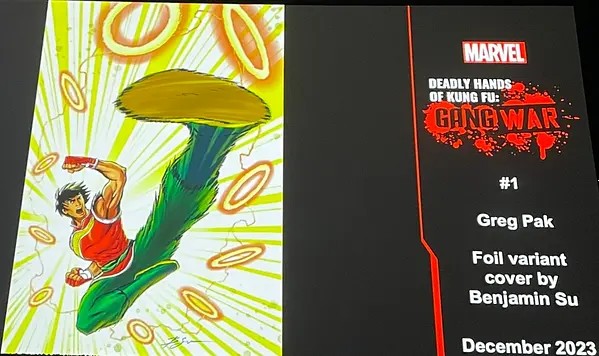 Deadly Hands of Kung Fu: Gang War #1 (of 3)
Written by Greg Pak
Cover by David Aja
Foil Variant Cover by Benjamin Su
THE ART OF GANG WAR!
GANG WAR has thrown the crime lords and super heroes of New York into a deadly conflict and as both, Shang-Chi must play each side against each other in a dangerous game of deception! When he became leader of his family's Five Weapons Society, he promised to use it for good, but friends and foes alike have been unsure of his true intentions. The stakes of Gang War will force his hand as he vows to protect Chinatown and use the opportunity to eliminate the Five Weapon Society biggest rivals! He'll use his world class fighting skills as well as deceit, calculation, and manipulation to navigate the battlefields as he learns the Art of War is all about the shades of gray!