Voici les one-shots liés à Dark Nights : Death Metal prévus pour août et septembre :
Dark Nights: Death Metal Guidebook (18 août) par Scott Snyder, James Tynion IV, Joshua Williamson, Becky Cloonan, Vita Ayala, Chip Zdarsky, Christopher Priest, Doug Mahnke, Dan Panosian, Eduardo Risso et Khary Randolph.
As Wonder Woman, Superman, Batman, and other heroes fight to survive in the strange new landscape of an Earth turned upside down and shrouded in a realm of darkness, one cloaked figure has been observing from the sidelines, creating a guidebook to this new world and its evil leaders. Find out how Wonder Woman became the queen of Hell! Discover how Batman finds the Black Lantern ring! And see what happens when Harley Quinn takes charge of the Wasteland, finding love in the process! All this and more in this jam-packed issue exploring the new world order.
Dark Nights: Death Metal Legends of the Dark Knights (25 août) par Scott Snyder, James Tynion IV, Joshua Williamson, Peter J. Tomasi, Warren Ellis, Garth Ennis, Daniel Warren Johnson, Frank Tieri, Tony S. Daniel, Jim Cheung, Joëlle Jones, Riley Rossmo et Francesco Francavilla.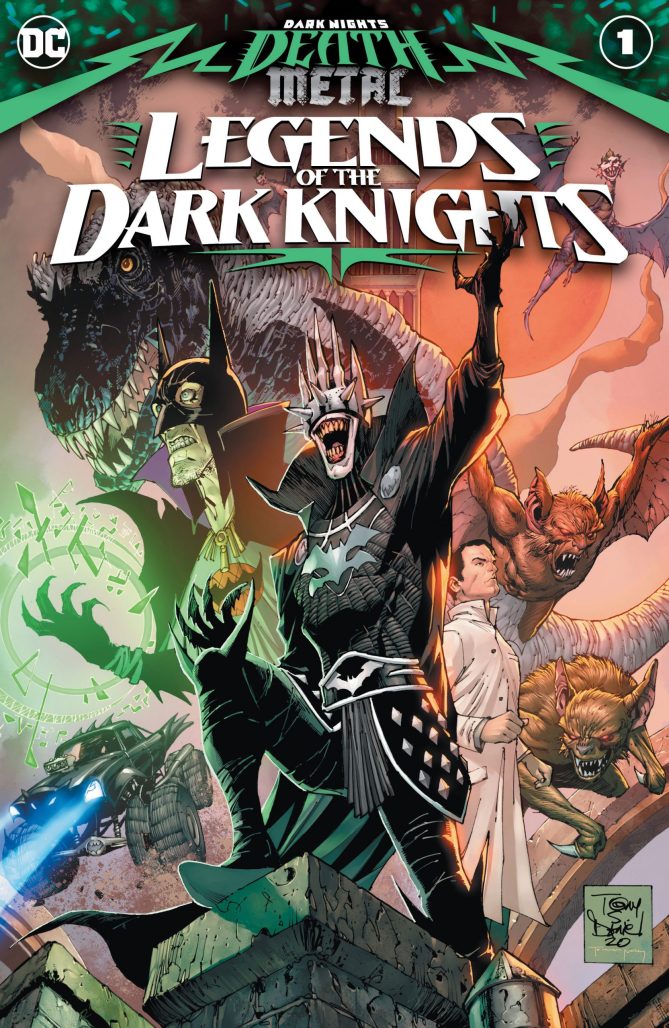 In this collection of short tales where demons dwell and reality is overrun by monstrous versions of the Dark Knight, learn the terrifying secrets of the new Bats Out of Hell and other creatures of the night like Robin King, whose origin is unimaginable! Plus, read about the secret buried beneath Castle Bat, the sentient Batmobile, and…how did Batman turn into a killer robot dinosaur?
Dark Nights: Death Metal: Trinity Crisis (8 septembre) par Scott Snyder et Francis Manapul.
With Superman freed from his New Apokolips prison, the classic Trinity lineup is back together and ready to rock their next gig. Wonder Woman, Batman, and Superman amp up their power to launch an assault on Castle Bat, and that's just the warm-up act! Three walking nightmares are hidden deep inside the fortress—but these Dark Multiverse versions of the Anti-Monitor, Superboy Prime, and Darkseid hold the key to humanity's survival. The Justice League have to face down their old nemeses, but will round two be the end for our heroes?
Dark Nights: Death Metal: Speed Metal (22 septembre) par Joshua Williamson, Eddy Barrows et Eber Ferreira.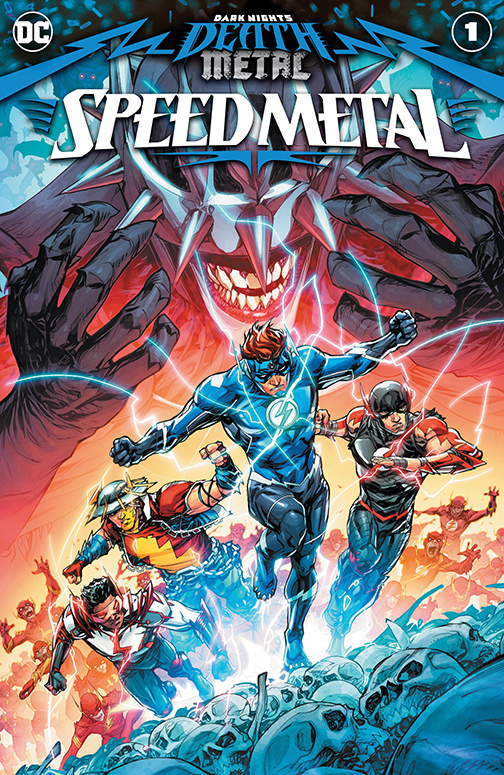 It's the drag race from hell! Taking place after the events of Dark Nights: Death Metal #3, the Darkest Knight is after Wally West and his Dr. Manhattan powers. Thankfully, Wally has back-up in the form of Barry Allen, Jay Garrick, and Wallace West! It's a knockdown, drag-out race through the Wastelands as the Flash Family tries to stay steps ahead of the Darkest Knight and his Lightning Knights!
Death Metal: Death Metal: Multiverse's End (29 septembre) par James Tynion IV et Juan Gedeon.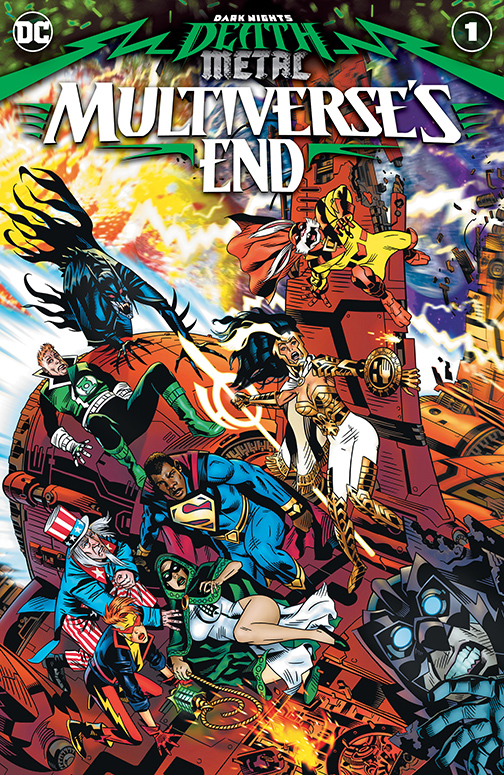 Perpetua, mother of all existence, has culled all life and creation in the Multiverse, condensing all beings to one planet: Earth Prime. In her quest for power and dominance, she rules absolutely and in totality, using her children—the Monitors and Anti-Monitors—as her heralds and destructors. But a group of heroes has banded together across multiple worlds in a last-ditch effort to stop her from destroying all of existence: Owlman, President Superman, Iris West, Captain Carrot, Guy Gardner and others choose to make their final stand in a battle they're destined to lose!